Cabrillo High School welcomed seven people and one team to its Hall of Fame Friday night.
During an induction dinner in the school's cafeteria for its sixth Hall of Fame class, Michael Coe, Bill Weber, Wendy Knowles, Hank Moore, Rob Nielsen, Greg Cox, Michelle Melone-Knight and the 1976 CIF champion boys water polo team were welcomed to the pantheon of Conquistadores' immortals.
"This is a special night, a great night," said Cabrillo's varsity head football coach A.J. Pateras who acted as the evening's master of ceremonies. "I always wondered why we didn't go to another venue but I found out that the people want to come back to our campus to visit their former classmates and other alumni. It's a great night, a nice coming together of the Cabrillo family."
Ray Moore and Hank Moore had been co-chairmen of the annual event but Hank Moore had to step away this year after he was voted into the Hall.
"This isn't a sports Hall of Fame, it's a Cabrillo Hall of Fame," said Ray Moore. "Many of these people were involved in sports but were also involved in many more things.
"Take Duane Solomon (Cabrillo Class of 2003, Hall inductee in 2014). He was an outstanding track athlete. He went on to be an Olympian. But he was also first-chair trombone in the school band."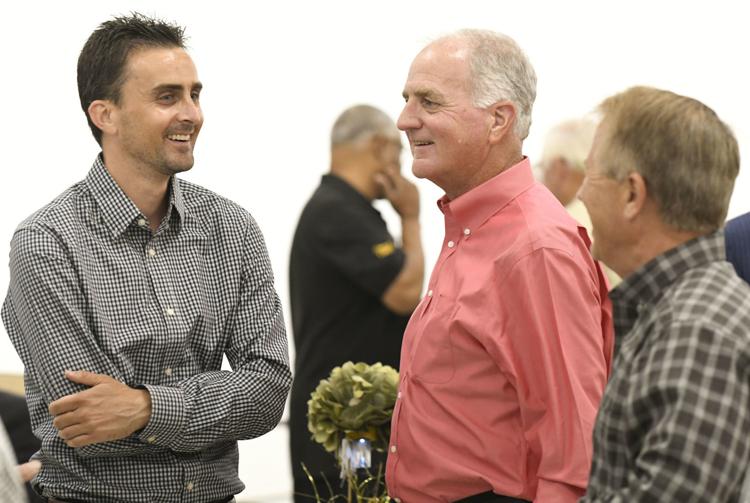 "I think being elected to the Hall is an honor," said Hank Moore, a member of the Class of 1967. "This is really celebrates all the people who helped me in my life. At Cabrillo, I was blessed with lots of friends — people who are still my friends to this day — and great coaching and teaching staffs."
Moore was a member of the first graduating class of Cabrillo High. He was a member of the first basketball and baseball teams to beat valley rival Lompoc, a member of the choir and student council.
Moore later went on to play in the NFL for the San Francisco 49ers and New England Patriots before turning to teaching.
The evening's first inductee was Wendy Knowles.
Knowles grew up in Seattle but came to the Central Coast to attend Cal Poly.
A student teaching stint at Cabrillo led first to a full-time job and then a 35-year teaching and coaching career.
She met her future husband, Ed Knowles, in her first year at the Vandenberg Village school.
They had three children, Brad, Craig and Paula with Craig eventually becoming a teacher and coach at the school. Craig Knowles coached football for six seasons and is currently the boys golf coach.
Wendy Knowles coached two girls swim teams to league championships.
"'We Care Cabrillo' was a motto for us and it was true for many of us," said Knowles. "I am proud and certainly honored to be inducted into the 2019 Cabrillo Hall of Fame."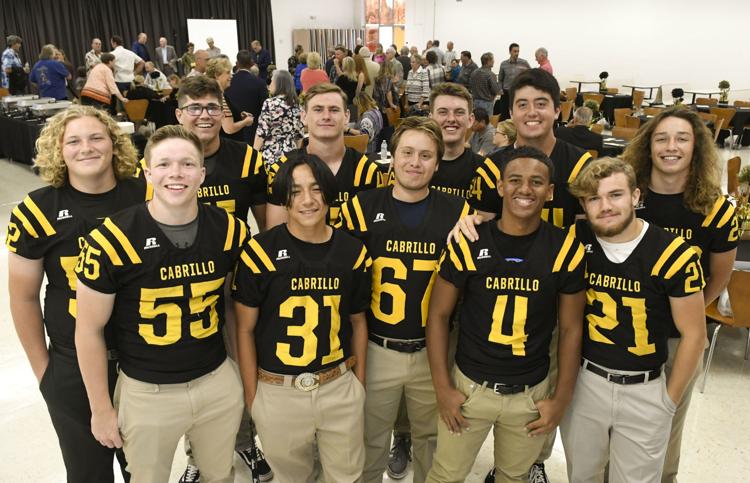 Michelle Melone-Knight (Co-Valedictorian of the Class of 1981) was an outstanding student, volleyball player and swimmer on the Northern League championship team during her Cabrillo years.
She went on to earn both her Bachelor's and Master degrees at UCLA and her PhD from UC Santa Cruz.
"This is a huge honor. Being elected to the Hall was such a surprise," said Melone-Knight. "Just to be a part of the Cabrillo family is super special. Cabrillo gave me the good base I needed to go forward in this world."
Bill Weber is not a Cabrillo High graduate.
Weber went to Culver City High where he was a student government leader and played on the school's football and baseball teams.
Cal Poly brought Weber to the Central Coast. It's where he played college baseball and earned both his Bachelors and Masters Degrees before beginning a 35-year Cabrillo High teaching career.
"I just felt very comfortable on the Central Coast," said Weber. "So I started teaching and coaching at Cabrillo in 1969 and stayed until I retired in 2004."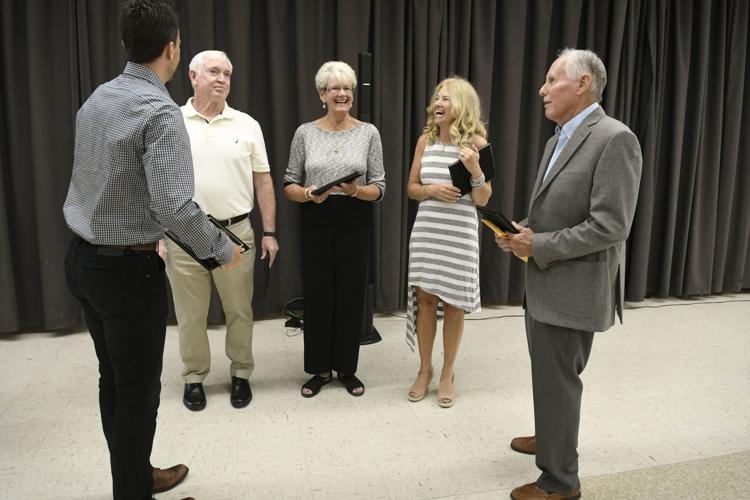 But that wasn't the end of his Cabrillo association. Weber continued coaching until 2010.
Michael Coe is the youngest member of this year's Hall class.
The 2006 graduate was a star runner, a five-time CIF Southern Section cross country and track champion, a five-time CIF state champion in the 1,600 and 3,200 meter races, the 2005 CIF state 5,000 meter champion, a three-time Los Padres League cross country MVP — just to name a few of his accomplishments.
He went on to a five-time All-American career in cross country and track at UC Berkeley.
"I'm very honored to be elected," said Coe. "Cabrillo was a special experience for me. The academics and athletics were special and I'm proud to be a part of a great group of inductees."
Rob Nielson (Class of 1978) was a leader in both student government and athletics.
Nielson lettered in both swimming and water polo but it was in water polo where he had his greatest success.
He was a leader on the 1976 team that won Cabrillo's first-ever CIF championship, and was voted All-League, All-CIF and All-America Honorable mention.
He attended West Point and became an attack helicopter pilot in the Army Aviation Corps.
He continued his water polo career and added boxing (career record 18-2) while at West Point.
"I was fortunate enough to be associated with some very, very good people who pushed me to do more," said Nielson. "Cabrillo High School was the most significant thing to kick-start my life. Being elected to the Hall of Fame is just an incredible gift.
That entire 1979 CIF championship water polo team joined Nielson in the Hall's Class of 2019.
That team included Mark Bray, Mike Ceruti, Art Courville, John Farthing, Mike Fioti, Chuck Mertz, Phil Pellerin, Chris Wall, Mark Midgley, Scott Mize, Keith Libby, Lloyd Cardone and student manager Jill Causby.
"Just being a part of that team was something special," said Libby. "I was one of the younger players and I was lucky enough to work with older guys who brought me along."
"This is great," said Cardone. "Cabrillo has always had a special place in my heart. I made lifelong friendships. I'm really honored to be brought into the Hall of Fame."
Greg Cox was inducted posthumously. Cox was the Class of 1980 valedictorian and student body President. He also played golf where he was the team captain and made All-League first-team, and basketball where he was a member of the 1979 CIF championship team.
Cox went on to earn three degrees from Stanford — a Bachelor of Arts, Masters in Business Administration and a law degree. Cox died in 2011.
"Tonight really kicks off our football season," said Pateras. "It highlights the traditions of our school and recognizes the players, coaches, staff and alumni for their achievements. This really highlights our traditions. It's an amazing thing for our Cabrillo family."