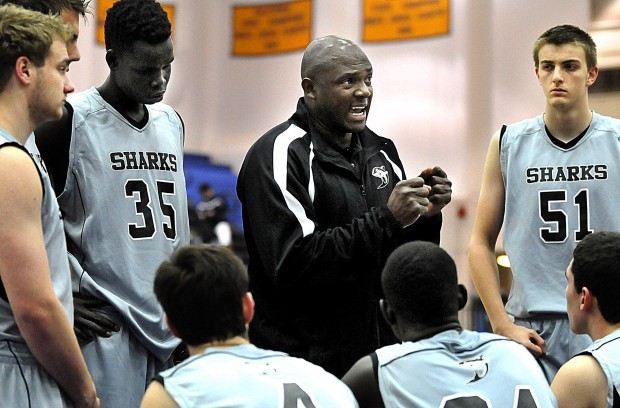 In over 20 years of professional basketball, Sedale Threatt has seen it all.
He played 14 years in the NBA, including five years as the point guard for the Los Angeles Lakers, then, after the NBA, he played in France, Greece and Switzerland.
In the NBA, he averaged over nine points and four assists a game and had over 1,100 steals.
Now, the energetic 51-year old is sharing that knowledge in a whole new world. Threatt and his son Sedale Threatt Jr. run a basketball school in Melbourne, Australia.
For the past two years, the academy, Australia Basketball Digest or AUBD, Threatt said that 17 players have earned scholarships to colleges in the U.S.
Two AUBD teams just wrapped up playing in the National Prep Classic in Santa Maria, hosted by St. Joseph High School and palyed at Hancock College's Joe White Memorial Gymnasium.
Threatt went to Australia when a friend was going to buy a professional team there and he wanted Threatt to coach. That didn't work out, but through his friend Threatt and his son opened the academy.
"We have about 200 kids," Threatt said after Friday's afternoon game. "We have a morning program from 6:30 to 7:30 for kids 10 to 18, then they go to school — that's year round."
While strong on basketball instruction, the academy also is strong on academics.
"First of alll, you have to be a student-athlete," Threatt explained. "We stress heavily on the books. You have to do the schoolwork to get looked at by colleges.
"If you don't perform in the class, then you are taken out of the program. We know at the end of the day, it's about being a good student because basketball can only take you so far."
Threatt, a graduate of West Virginia Tech in 1983 and a sixth round draft pick of the Philadelphia 76ers that same year, knows how important a college degree can be and he understands basketball can help someone get into college, but a college degree will last forever, long after basketball is over.
"I played 20 professional years," he said. "But after that what do you do?"
The academy is a year-long program which includes a league of its own.
"We have a league called the Super League," Threatt explained. "That's where the best 100 kids play and it's for seven weeks.
You have free articles remaining.
"Then we get a team over here for about a month. We played in Torrance, then San Diego, then here."
After the Prep Classic, the group will play in a tournament in Hawaii before the kids return home for Christmas.
"Then that's when I get my short vacation with my family here in America," Threatt said.
Threatt brought two teams on the trip. One, the senior team, consists of mostly seniors in school. A second team includes younger players in 10th and 11th grades.
The trip to the United States is a great educational tool for the program, exposing the players to a tougher style of play than most foreign countries play.
"We like to teach the physical play," Threatt said. "We play the same as they do over here. They let you play in America — they don't call the ticky-tack fouls.
"That's what we teach the kids, because we know when they play over here, there are tough kids playing."
If he could physically do it, Threatt would still be playing.
"I can't play anymore," he explained. "My knees are gone, the ankles are gone, but what I have to give is the knowledge.
"We are not going to be able to put all these kids in college, but we can give them the opportunity to come over here and play."
Basketball has always been part of his life. It's also a big part of his son's life —he still plays professionally in Australia. And now Threatt can share what he knows, even though he still has the urge.
"I see the NBA now and I see the Lakers struggling and they don't have a point guard," Threatt said. "And I say, Man, I wish I could go back now.'
Almost at the end of the long trip, Threatt is calling the experience a success.
"I think coming here has been an eye-opener for our guys and it's all about experience," Threatt said. "For me it's not all about winning, it's about giving kids an opportunity.
"It's successful because we've had about 100 e-mails from colleges that want some of our kids."
Basketball has given Sedale Threatt many opportunities to play the game he loves and to see the world. Now he is able to help a new generation of players realize their dreams.
"We had our chance," he said with a laugh. "Now it's about giving back."