It's difficult enough to beat San Luis Obispo as it is. 
It's nearly impossible to beat the Tigers when gifting them an own goal. 
Santa Maria found that out Tuesday night.
In a game that would decide the Mountain League championship chase, Santa Maria and San Luis Obispo were knotted up in a scoreless tie until the 10th minute of the second half. That's when the Tigers went ahead 1-0 on an improbable own goal from more than 20 yards out.
San Luis Obispo went on to win 2-0, improving to 17-2-2 on the season and 10-0 in league play. The Tigers entered the game ranked No. 8 in the state and No. 35 in the nation. Santa Maria is now 14-3-1 and finishes 8-2 in league, the other Mountain loss a 2-1 defeat at San Luis Obispo last month. Santa Maria was No. 16 in the state heading into Tuesday night's game.
The decisive goal came after halftime as a Santa Maria defender attempted to clear the ball off a San Luis Obispo attack in the middle of the pitch. The Saint defender kicked the ball intending to boot it out of bounds. He hooked it though, sending a booming shot right at goalkeeper Ozzie Andrade, who leaped high to his right and stretched out a hand, but was unable to stop the ball from ending up in the back of the net. 
The Saints were stunned, the Tigers jubilant. 
"That put us down a little bit and we weren't able to shake it off," said Santa Maria coach Eduardo Cuna. "That was the end of it right there. Before that we had a 1V1 with the goalie right there. If we would've finished that, totally different game."
Santa Maria did regroup, putting some pressure on the San Luis Obispo defense with time running out, starting with a free kick that resulted in a lofted shot from Jose Rodriguez that San Luis Obispo goalkeeper Lucas Berryman tapped out. The Saints then earned three consecutive corner kicks. Berryman saved a header on goal from Rodriguez on the first corner, tapping the ball over the crossbar. Rodriguez got his head on the ensuing corner kick, but couldn't get the shot on frame, though the Saints earned a third corner as a SLO defender hit the ball out. 
Santa Maria then couldn't get a solid shot on goal, though the Saints kept trying. As they pressed on offense, that created an opening on defense, as San Luis Obispo captain Moises Hernandez took a long pass down the right wing and flipped a through ball to Elvis Mensah, who rifled a shot past Andrade for a 2-0 lead with just minutes remaining. 
The final whistle finally came and the Tigers celebrated another league title on the Saints' field. 
Though the Saints are certainly a top team in the area, and one of the better teams in the state, Cuna is still waiting for them to hit their full potential.
"We're still waiting, we're still waiting for that," Cuna said. "We're hoping that we peak starting in CIF. We ended up playing with JV players toward the end and, man, those guys show heart. That's what I was trying to tell a couple of my varsity players. We need to show a little more heart when it comes down to it. That's what it's all about in CIF, so hopefully they'll shake it off and we'll be ready to go."
Santa Maria now awaits to see the CIF Central Section Division 1 bracket. The Saints are ranked No. 2 in the division, according to MaxPreps, behind San Luis Obispo. Fresno Central is No. 3, followed by Clovis North and Bakersfield Golden Valley rounding out the top five.
After a scoreless first period, Nipomo was able to score when Titan midfielder Annette Vargas' free kick was mishandled by the Mission Prep goalkeeper and teammate Hayde Gallardo put the ball into the goal.
The Titans ended their regular Ocean League season with a 9-3 record and will be headed to the CIF Central Coast Section playoffs.
Coastal Christian 36, VCA 32
The first-place Conquerors edged the Lions (12-7, 8-3) in a low-scorning Coast Valley League game at Valley Christian Academy.
Grace Cose, with 13 points and 12 rebounds, notched a double-double for the Lions. Jenna Mason blocked seven shots.
Orcutt Academy 53, St. Joseph 38
The Spartans (20-4, 8-0) wrapped up the first league championship for a girls basketball team in school history by beating the Knights (11-16, 5-3) in an Ocean League game at St. Joseph's Hofschulte Gym.
Giselle Calderon hit four 3-pointers and led balanced Orcutt scoring with 16 points. Erynn Padhal had 12. Vanessa Salazar and Mariah Lopez scored 10 apiece. Salazar made two 3's.
Jaylee Cantu led St. Joseph (11-16, 5-3) with 14 points. Natalie Reynoso had nine.
Though they saw their three-game winning streak snapped, the Knights were much more competitive than when the teams played each other at Lakeview Junior High School in the first round of league play. The Spartans took that one 56-25.
Nipomo 76, Paso Robles 47
Eight Titans, with point totals ranging from seven to 13, scored as the Titans (19-6, 6-4) beat the Bearcats in a Mountain League game at Nipomo.
You have free articles remaining.
Makennah Simonson led Nipomo scoring with 13 points. Kat Anderson scored 12.
Leah Miller put in 10 points for the Titans. Kacie Slover, Chloe Wells and Shantille Simonson all scored nine, and Kayden Sanders and Allyson Cramer had seven each.
Santa Maria 63, Templeton 62
In the Saints' fifth league game that came down to the last possession, they finally came away with their first Ocean League win, at Santa Maria's Wilson Gym.
Daisean Leekins gave Santa Maria a 63-62 lead when he made a driving layup with 18 seconds left. The Eagles missed a potential game winning shot with two seconds left and Santa Maria got the rebound.
"Total team effort," coach Dave Yamate said in a text after the Saints moved to 9-16, 1-8.
St. Joseph 78, Mission Prep 52
The Knights routed the Royals in a Mountain League game at Mission Prep and moved to 21-6, 6-2.
Jincho Rivera drooped in 29 points and led four Knights in double figures. Angel Ortiz had 13 points, and Andres Roman and Steven Vasquez scored 12 each.
Arroyo Grande 76, Righetti 59
Connor Angle led the Eagles with 26 points, hitting 10-of-18 field goals and going 4-for-10 from 3-point range. He added seven assists, five steals, two rebounds and two blocks.
Noah Pick added 14 points.
Righetti was led by Isaiah Tell's 12 points as Canaan Reynolds chipped in 11.
Nipomo 53, Orcutt Academy 30
The Titans (18-9, 9-2) beat the Spartans (13-12, 3-7) at Lakeview Junior High School on Orcutt's Senior Night to stay in first place in the Ocean League.
Daren Sosa led the Titans with 15 points. Nate Reese had nine. 
Aidan Carroll led the Spartans with nine points and Elijah Stephenson pitched in with seven. 
Coastal Christian 73, Valley Christian 49
The Valley Christian Academy Lions kept it close through most of three quarters before falling to Arroyo Grande's Coastal Christian Conquerors in a Coast Valley League game in Santa Maria.
"We played them tough and got their lead down to six points in the third quarter," said VCA head coach Christopher Maples. "The boys played well but Coastal just pulled away from us in the fourth quarter."
Gavin Edick led the Lions with 18 points. Jay Shin added 12.
"They out-rebounded us," said Maples. "We just couldn't handle them on the boards."
Valley Christian (9-9, 7-4 CVL) is in third place in the league standings. The Lions close out the regular season Thursday at Shandon.
"Shandon is a hard place to play at," said Maples. "We still want to finish the regular season with a win."
Coast Christian (11-0 CVL) wraps up the regular season Thursday at Cuyama Valley.
Girls Water Polo
Cabrillo 11, Santa Ynez 7
The Cabrillo Conquistadores topped the Santa Ynez Pirates in the opening round of the Channel League girls water polo tournament at Dos Pueblos High School.
Taye Luke led the Pirates with four goals, Ally Alderete had two goals and Hannah Allen scored once.
Pirates' goal keeper Peyton Pratt had 12 blocks, two steals and one assist.
020420SLOSMBSoc03.JPG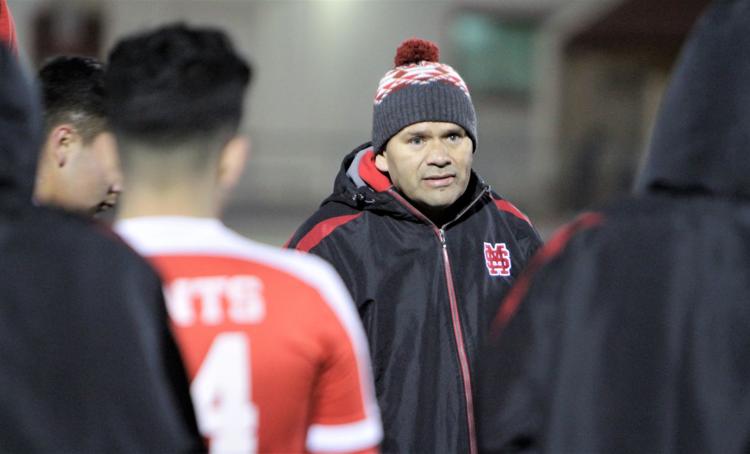 020420SLOSMBSoc01.JPG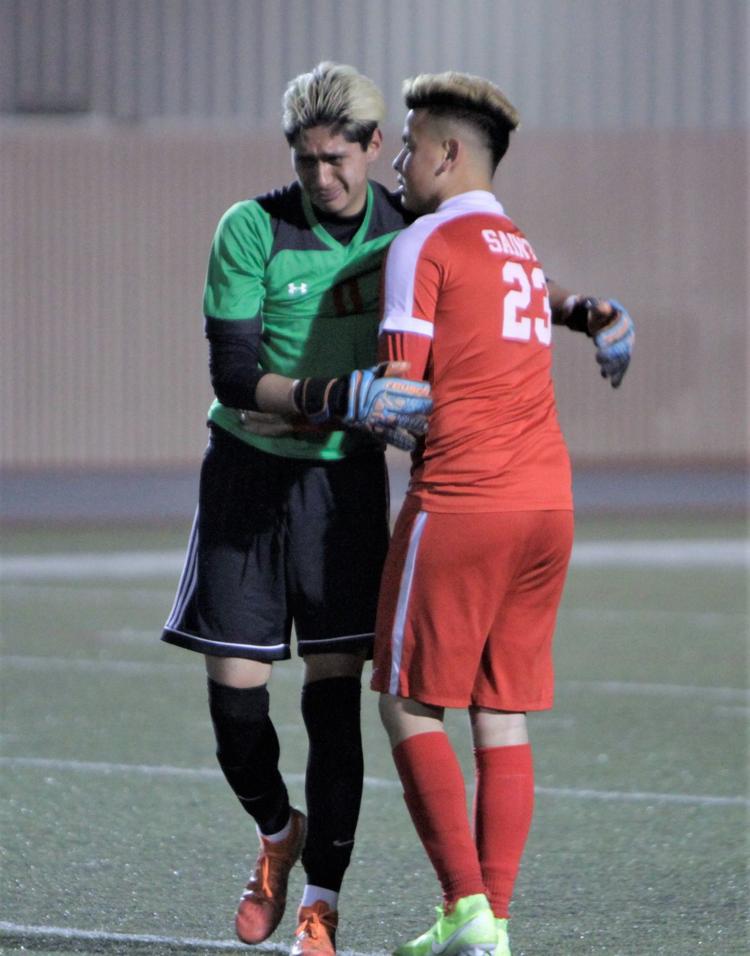 020420SLOSMBSoc02.JPG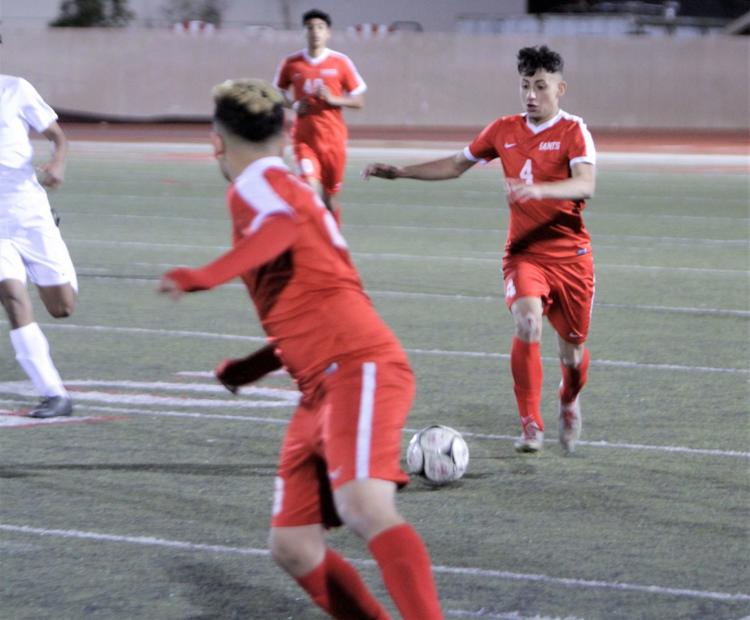 020420SLOSMBSoc04.JPG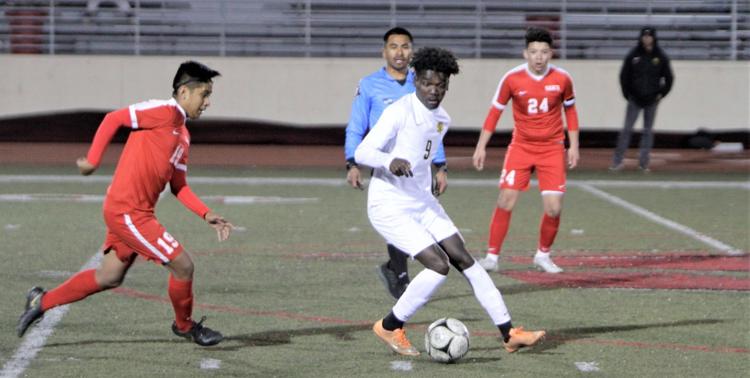 020420SLOSMBSoc05.JPG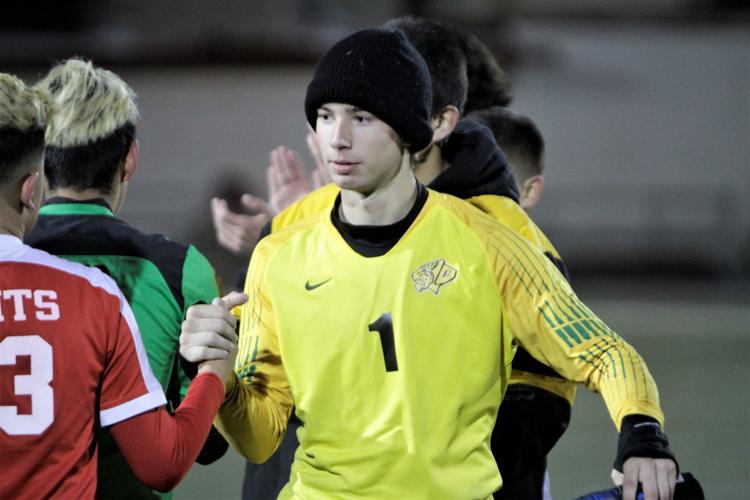 020420SLOSMBSoc06.JPG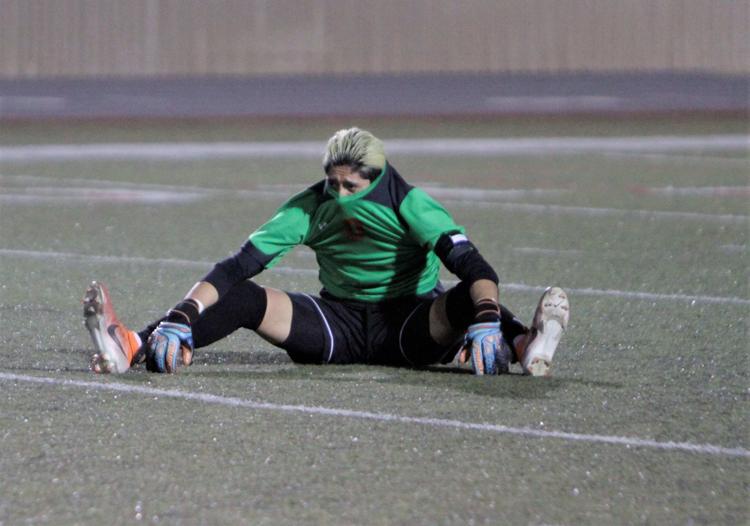 020420SLOSMBSoc07.JPG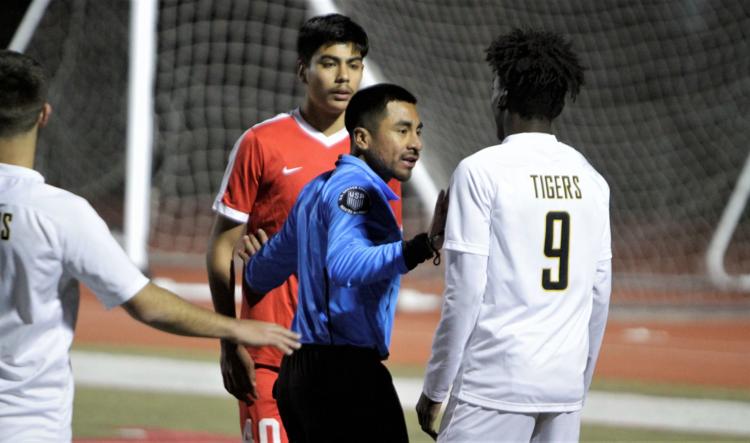 020420SLOSMBSoc08.JPG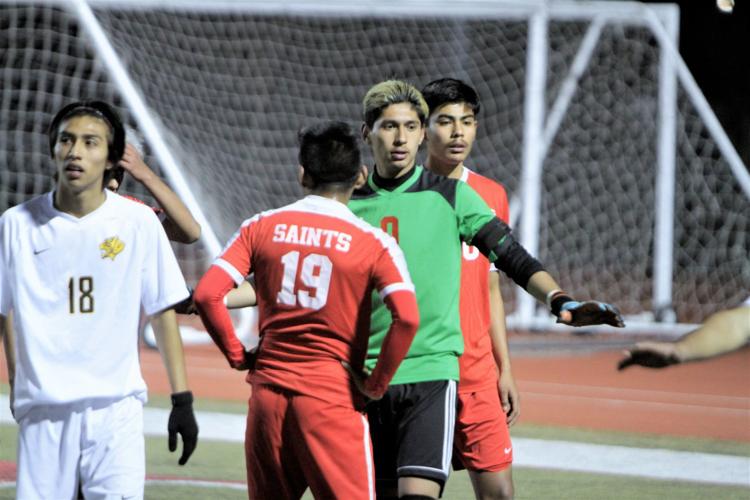 020420SLOSMBSoc09.JPG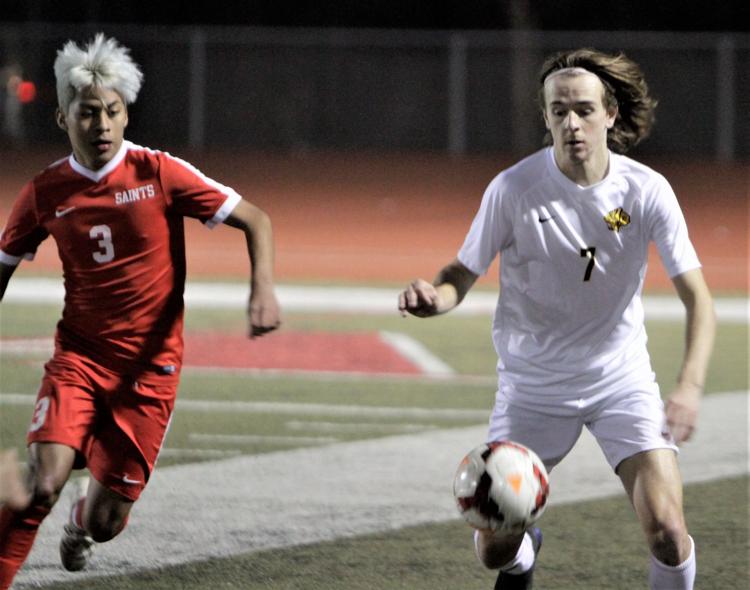 020420SLOSMBSoc10.JPG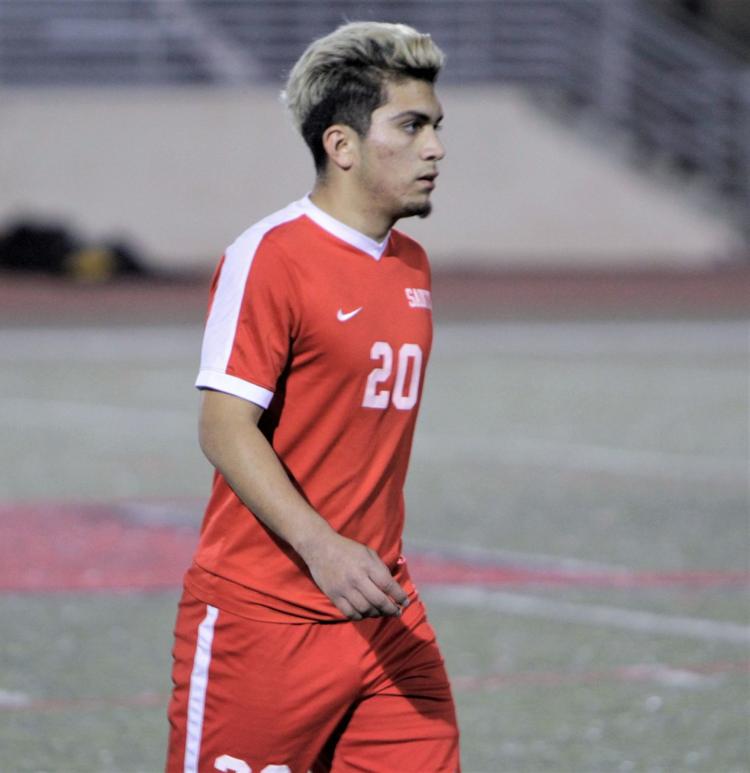 020420SLOSMBSoc11.JPG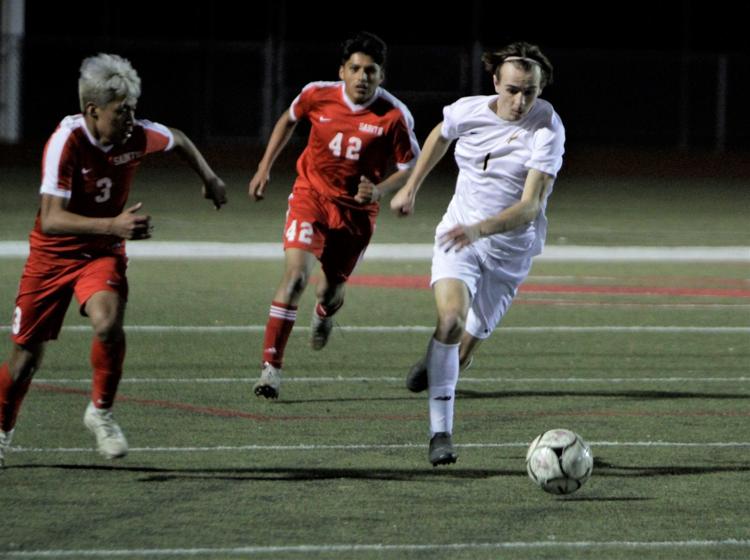 020420SLOSMBSoc12.JPG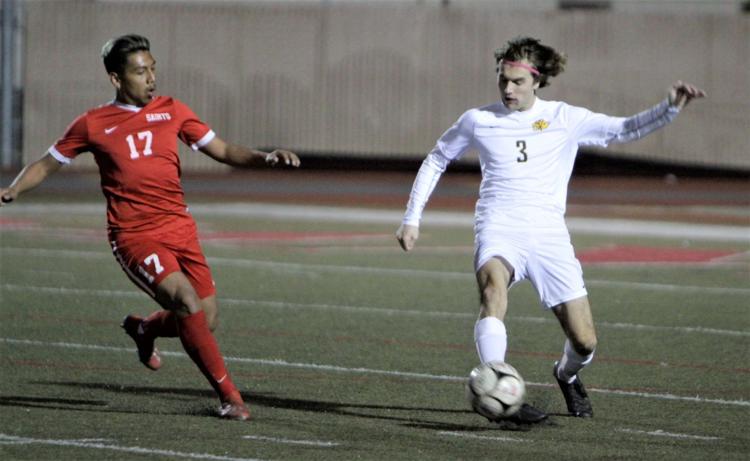 020420SLOSMBSoc13.JPG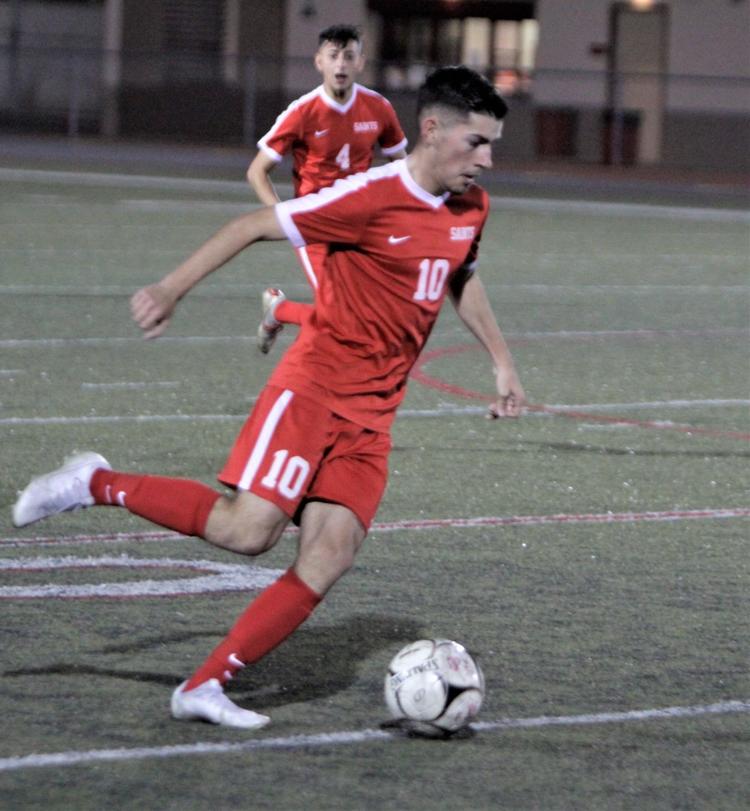 020420SLOSMBSoc14.JPG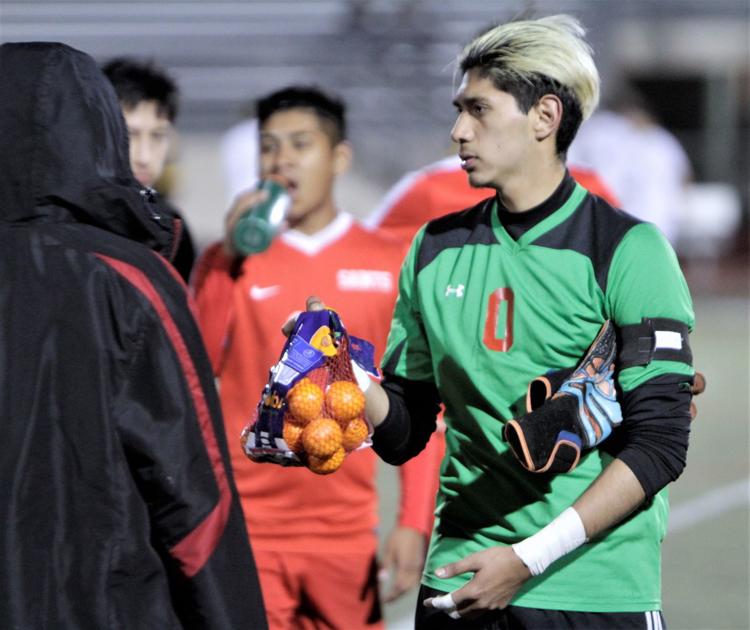 020420SLOSMBSoc15.JPG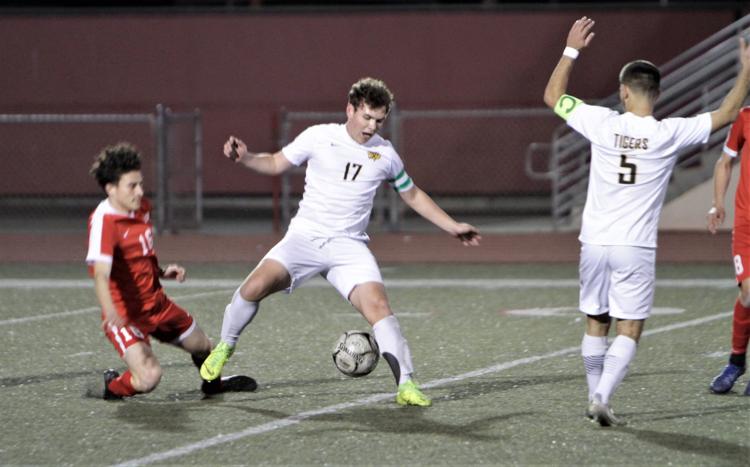 020420SLOSMBSoc16.JPG
020420SLOSMBSoc17.JPG