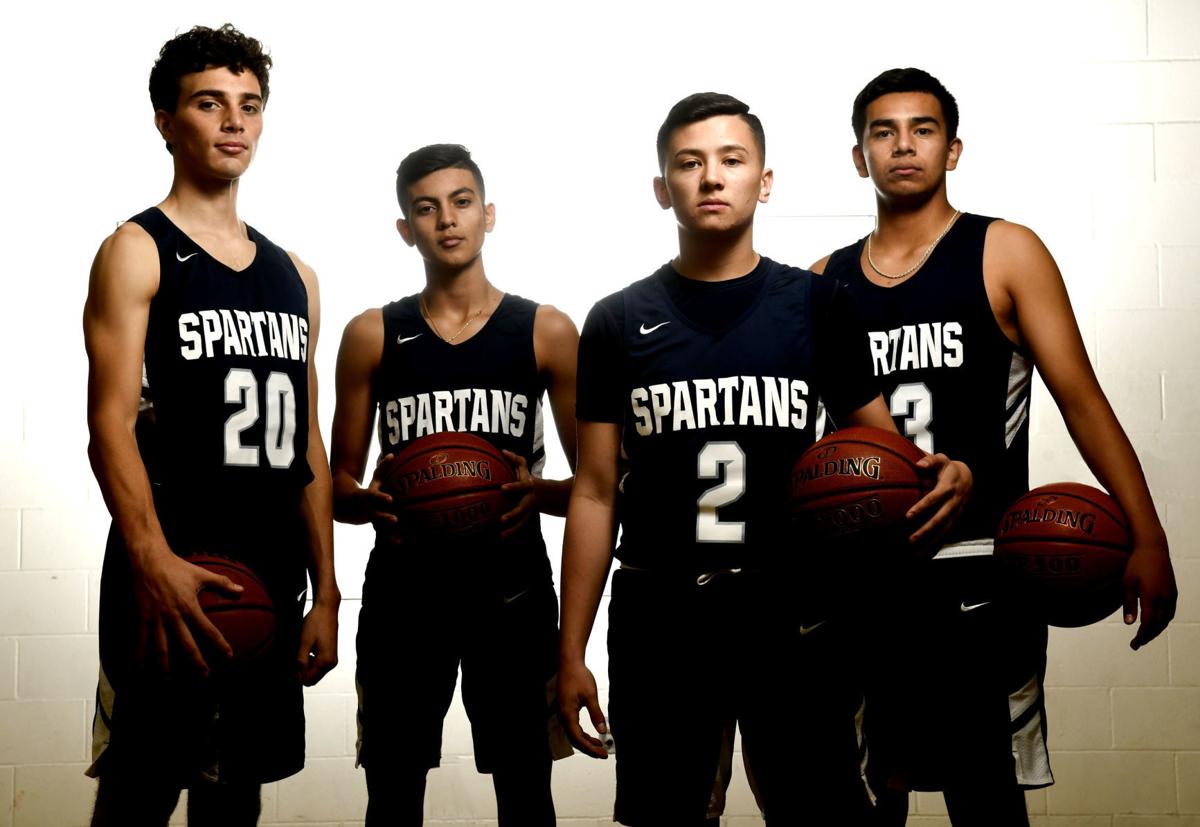 One word that veteran Orcutt Academy boys basketball coach Ryan Smalley hopes will define his squad this season is "versatility."
Smalley said "We have (several) guys who can shoot the 3."
Although, "We don't have a true center," Smalley said his squad will look to go inside on offense if it gets the chance.
Smalley is in his fourth year as Orcutt's varsity coach. He graduated from St. Joseph High School and played for the Knights' boys varsity basketball team while he attended school there. 
The Spartans are 3-4 on the young season. Smalley has been counting on veterans Elijah Stephenson and Camden Smith, and newcomers Neel Panchal and Atahan Candah to hit treys with regularity.
Smith is Orcutt's senior point guard. Stephenson is a senior shooting guard. Panchal and Candah are junior guards.
Erik Ramos played for the Santa Maria High School boys basketball team before graduating from the school in 2016.
Stephenson scored 25 points in Orcutt Academy's 67-64 win over Santa Ynez last Friday at the Morro Bay Holiday Invitational Tournament.
Though, "We don't have a tremendous inside presence like some squads do," Smalley said, the Spartans do have a core of front-court players.
That core consists of small forwards Aidan Carroll and Isaac Luque, and power forwards Kyle Zafiris and Connor Adams. All four are returnees.
"We have some guys in the 6-3 range," Smalley said. Plus Zafiris, a senior who led Orcutt's scoring last year at nearly 10 points a game, is 6-4.
You have free articles remaining.
Adams and Smith averaged just under nine points a game last season. Stephenson averaged just over eight. 
When the Spartans are on offense, "We'll look to push the ball and get it inside for the easy shot if it's there," said Smalley.
"If it's not, we'll pull it back out and look for the best shot."
When it comes to defense, "I think we'll have to rely mainly on man-to-man, but we'll work in some zone," said Smalley.
"In order to be a really good defense you have to be willing to mix it up, which we're looking to do."
Smalley figures depth will be an asset for his team this year. "We're looking to go nine deep in the rotation," he said.
Last season the Spartans, who finished 9-17, had a solid pre-season then finished 0-10 in the Ocean League. With their deep core of returners, they will try to reverse their Ocean League showing this season.
Morro Bay and Templeton shared the Ocean League title last season. They are back in the league for the 2019-20 campaign.
Along with Morro Bay and Templeton, Santa Maria, Nipomo, Atascadero and Pioneer Valley will join the Spartans in the Ocean League this year. Pioneer Valley is the only newcomer.
The Spartans will play in another area tournament, the Valley Christian Academy Tournament, before they start their Ocean League campaign at 6:30 p.m. Jan. 3 at Pioneer Valley.