Case Bruton had no illusions about his role on the basketball court. 
Bruton wanted to score. And score he did. 
The Los Osos native spent his first season of high school ball at Morro Bay and averaged 11.7 points per game with the Pirates as a freshman. 
Voting closes at 4 p.m. on Nov. 10.
He moved on to a bigger program for his final three years of high school, transferring to St. Joseph. There, Bruton proved his could lead the bigger program. 
Bruton put together one of the most impressive offensive careers -- and individual seasons -- with the Knights, scoring nearly 1,300 points in three seasons, including his 675-point campaign as a senior. 
In all, Bruton put up 1,593 points in four years of high school, averaging 15.3 points per game. 
Righetti principal Karen Rotondi notified parents in an email Wednesday night. St. Joseph High School, which did begin on-campus instruction weeks ago, shut down its campus and switched back to distance after learning a student at that school had tested positive for COVID-19, also after attending a Halloween party.
As a senior in the 2012-13 season, Bruton averaged 21.1 points per game as the Knights went 23-9. Bruton helped the Knights advance to the CIF Southern Section Division 4A semifinals and a state playoff win that year.
Bruton has been chosen as the next Player of the Decade nominee. The Times is compiling a list of 16 candidates for its Player of the Decade contest.
Bruton signed with Concordia University, an NAIA program, and played there after high school, ultimately playing professionally overseas. He's currently playing with a pro team in Lithuania.
"I think the thing that separates Case is his dedication and commitment, you know, not only to improving himself but improving the team," St. Joseph coach Tom Mott once said of Bruton. "He's the ultimate team player and someone you knew was going to lead every day on the court."
"We're definitely going to miss a guy who gets 20 points a game, but what we're going to really miss is his leadership," Mott said when Bruton signed with Concordia. "He definitely raised the bar."
Bruton raised the bar by playing high-level offense, a skill that was based on his outside shot. Bruton, at 6-foot-4, would spend most offensive sets running off screens, from baseline to baseline or on the wings, for what seemed like all 32 minutes of each game. He knocked down 58 3-pointers as a senior and hit over 100 in his final two seasons. 
The shooting guard averaged 11.1 points per game in his first season at St. Joseph and bumped that up to 14.5 points per game as a junior. Then, as a senior, his scoring averaged jumped up to over 21 points a game. 
Bruton wasn't a one-dimensional player. He did average 5.9 rebounds, 2.0 assists and 1.3 steals per game at St. Joseph. 
He finished his prep career with 1,593 points and over 600 rebounds, 200 assists and 130 steals.
Bruton developed into a capable player at Concordia, averaging about eight points a game over his final two seasons in Irvine. 
The Times is polling current and former coaches to develop its list of nominees for Player of the Decade. The rest of the nominees will be announced before a tournament-style voting contest will be held to determine the boys basketball Player of the Decade. Readers will be able to vote online at santamariatimes.com; lompocrecord.com and syvnews.com. Players from Northern Santa Barbara County and San Luis Obispo County whose final seasons where between 2009-10 and 2019-20 are eligible.
Player of the Decade Boys Basketball: Get to know the nominees before voting starts
We have been working to highlight the decade's best players in several different sports over the last few months, and now we continue with boys basketball. Go through this collection of profiles of our nominees and get ready for the voting.  We've really enjoyed the level of participation we've had with the football and girls basketball polls, so share these profiles and the contest with your friends to get the word out and support our local athletes.  
GBB: Player of the Decade Final Round
Kaitlyn Flowers vs. Tatiana Dunlap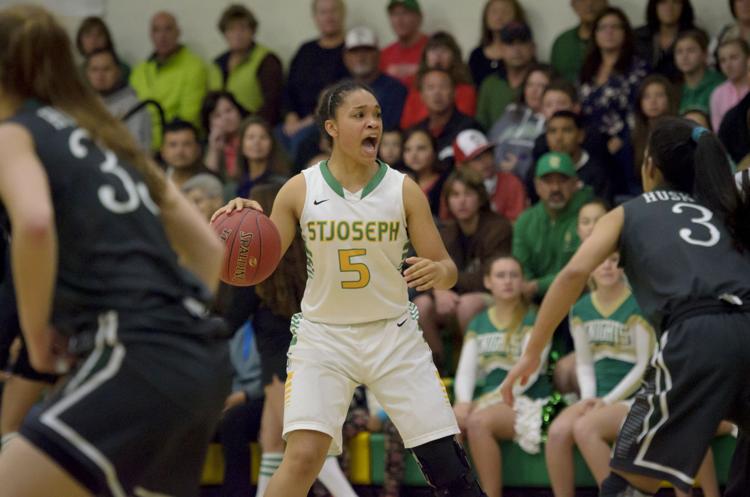 Flowers made it to the final round without too much drama. Dunlap, on the other hand, had to grind out a win over the top remaining seed.
Dunlap narrowly fended off Ashlyn Herlihy of Arroyo Grande in the semifinals. It was a close fight, but Dunlap pulled away late to score the victory, 1,089 to 876.
On the other side of the bracket, Flowers cruised past Heather Madrigal, who played at both St. Joseph High and Arroyo Grande with Flowers and Dunlap, in the semifinals. Flowers voters have consistently led the round-by-round voting. 
In this round, Flowers received 1,443 votes, edging Madrigal, who tallied 1,023 votes as of 4 p.m. Tuesday.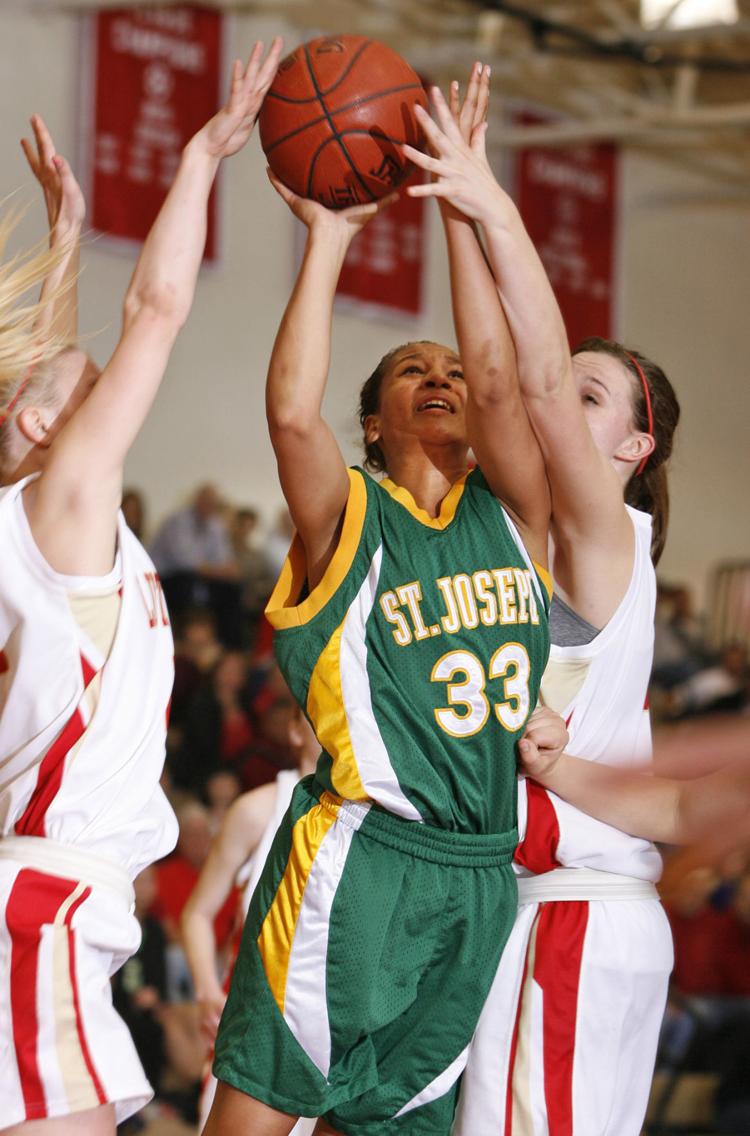 Voting ran from Wednesday, Oct. 28 to closing at 4 p.m. Tuesday.
In all, 4,431 votes were cast in the semifinal round. There were 3,044 votes cast in the quarterfinals and 4,500 votes in the opening round, meaning readers have cast about 12,000 total votes in this contest.
Flowers led the opening round with 446 total votes. She then had 520 in the quarterfinals before taking in over 1,400 votes in the semifinals. Dunlap had 422 votes in the opening round, then 351 votes in the quarterfinals before hauling in 1,089 votes in the semifinals.
Flowers defeated Lompoc grad Danielle Morgan 446-187 in the first round and Cabrillo High grad Erin Jenkins 520-88 in the quarterfinals before defeating Madrigal in the semifinals. Dunlap beat Santa Ynez grad Hailey King in the first round 422-76 and Righetti grad Mariah Cooks 351-260 in the quarterfinals.
Dunlap won a CIF state title in her sophomore season with the Knights. Flowers was a freshman that year and, as fate would have it, filled in for an injured Dunlap in the state title game, giving the Knights valuable defense and rebounding in their win over Bishop O'Dowd.
In Dunlap's three seasons at St. Joseph, she scored over 1,300 points and the 5-foot-8 guard averaged 23.7 points, 3.0 assists, 9.2 rebounds and 2.6 steals per game as a senior.
Dunlap earned one All-Area MVP award, during her senior season. For her career, Dunlap averaged 15.1 points over 87 games with the Knights. As a junior in 2011-12, Dunlap averaged a double-double for the season, with 15.3 points and 10.3 rebounds per game, while also dishing out 3.0 assists and swiping 2.4 steals per game. 
A 2014 St. Joseph graduate, Flowers eventually scored over 1,400 points during her Knight career. As a senior in the 2013-14 season, she averaged 17.9 points, 7.3 rebounds, 3.7 assists and 4.8 steals per game. 
As a junior, Flowers averaged 18.1 points, 4.5 rebounds, 4.9 assists and 4.7 steals. As a sophomore, she scored 18 points a game, adding 4.3 rebounds, 3.2 assists and 4.4 steals per game. She finished her St. Joseph career with 1,448 total points, 503 total rebounds, 326 assists and 391 steals in 110 games. She averaged 18 points a game over the 75 games she played in her sophomore, junior and senior seasons.
Flowers also averaged nearly five steals a game in that span.
Readers have cast votes on the Santa Maria Times' three websites, santamariatimes.com; lompocrecord.com and syvnews.com. The voting for the final round is now live on those three websites and will close on Tuesday, Nov. 10 at 4 p.m. The Times polled current and former coaches to develop its list of nominees for Player of the Decade.
Get in the game with our Prep Sports Newsletter
Sent weekly directly to your inbox!