What a difference two years makes.
The St. Genevieve Valiants edged the Dunn Earwigs 1-0 Friday in a non-league boys soccer match in Los Olivos.
It was three days short of exactly two years since these teams last met.
In that match, also played in Los Olivos, the Earwigs rolled to a 5-1 win.
This time, the Valiants (2-0) had a happier 120-mile ride home to Panorama City after Jose Ricardo Chinchilla found an opening in the Dunn (0-2) defense to score the game's long goal midway through the second half.
"The last time we met, they just killed us," said St. Genevieve coach Jose Mejia. "Dunn is a great team, they have great players. Honestly, I just wanted us to compete — play good defense and put up a good fight."
"We're still trying to find ourselves," said Dunn coach Mark Geriak. "We have four players who transferred in this year — my whole middle line — and  we've got a couple players out with injuries. We're still getting everyone situated."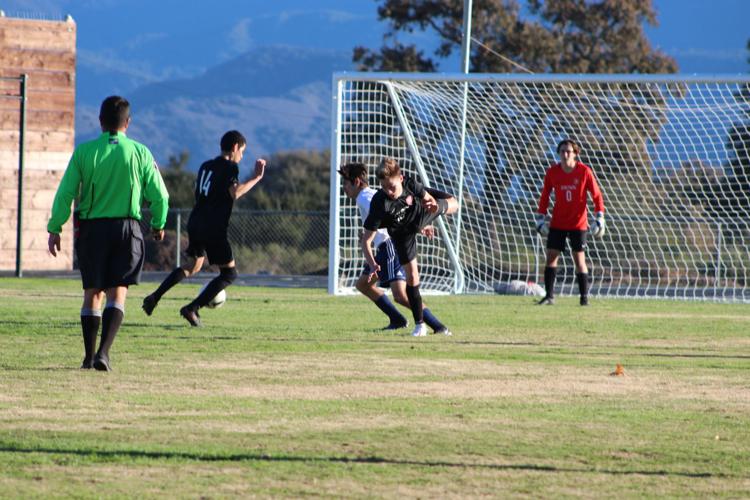 Both teams put up a good fight with non-stop action throughout.
Dunn had the edge in time of possession, constantly pressing the attack and almost scored a goal shortly before the end of the first half when team captain Brima Kamara got behind the Valiants' defense and rifled a shot past goal keeper Nick Roque.
But the Earwigs' celebration was short-lived as the play was ruled offside.
"Brima is actually our real goalie but he's so strong playing midfield that we've put him in the field," said Geriak. "Overall, I think we did pretty well. We had more possessions, more opportunities. We just didn't take advantage."
Roque stopped six Dunn shots in posting the shutout. Dunn got another 10 shots off that were at the goal but ended up going wide left, right or over the crossbar.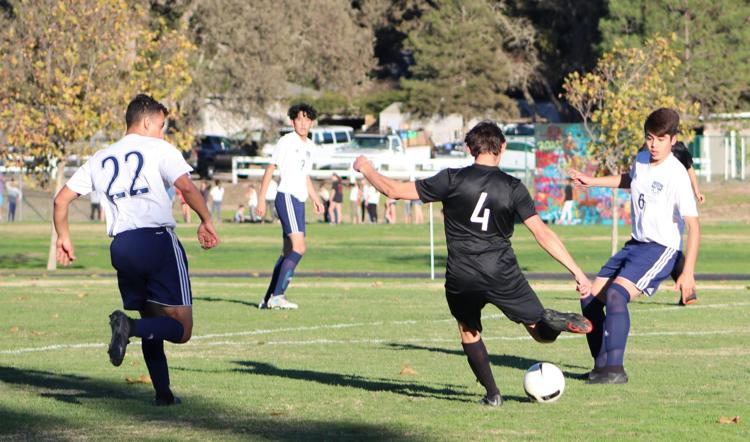 The Valiants kept pace, getting six shots on goal with another seven missing the mark to the wide side.
Dunn's Ben Ableman stopped one shot in the first half and saw two others go just wide of the net.
Carlo Marshall took over in goal in the second half, making four saves before giving up the game-winner.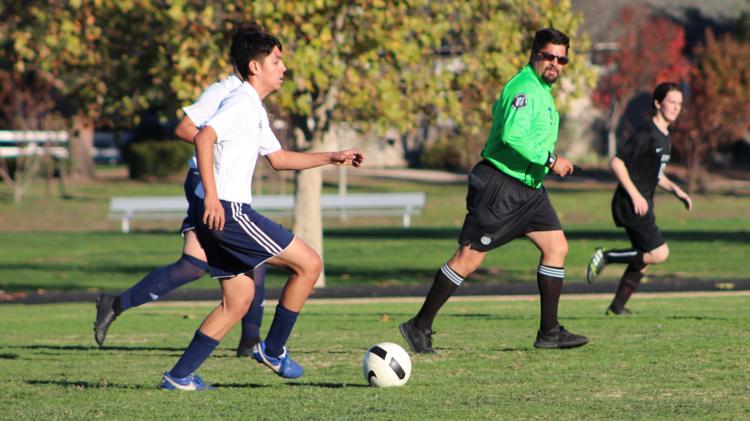 "Ricardo scored that goal unassisted, it was a great play," said Mejia. "And Nick made some great saves. It was a good job by the whole team today."
"Brima, Rene Pacheco, Alpha Sowe and Rio Peterson all played well today. They helped us win the battle for possession over and over. We just have to get stronger play from the whole team but we'll make sure we get it right before (Condor) league play begins."
Dunn is off until Thursday when the Earwigs will host the Lompoc Braves.
Boys Basketball
Santa Ynez makes final at tourney
FILLMORE — The Santa Ynez Pirates (6-4) won their first two games at Fillmore's Best of the West Tournament, defeating the Kingman, Ariz., Bulldogs 46-37 on Friday at Fillmore High.
Ryan Rennick led the Pirates with 11 points, five rebounds and five assists. 
Merek Mercado and Siggy Porter each added eight points, Ryan Devitt scored six and Henry Allen pulled down six rebounds.
The Pirates then lost to Oxnard's Santa Clara in the final round on Saturday, falling 55-40.
Santa Clara, led by 6-11 center Christian Oliver, defeated Channel Island 79-75 Friday night after opening the tournament with a 59-54 victory over Carpinteria on Thursday.
Orcutt Academy 51, Midland 34
The Orcutt Academy Spartans squared their record at 4-4 with a win against the Midland Oaks in Los Olivos.
Aidan Carroll led the Spartans with 10 points.
Connor Adams and Dylan Zafiris each added eight.
The Spartans had an excellent night from the free throw line, hitting seven of nine shots.
Orcutt Academy plays San Luis Obispo Classical Academy next Wednesday at Morro Bay High School.
Midland is off until Saturday, Dec. 15, when the Oaks host Besant Hill.