The Master's University in Santa Clarita was always Valley Christian Academy senior Grace Cose's university of choice, and that is where she will be heading for the 2020-21 school year.
"I saw the campus in person on March 16," days before the COVID-19 pandemic caused the closing of schools nationwide, said Cose.
"I've always loved it. I loved the campus. I also did like that they have a small campus enrollment, and you can get more one-on-one instruction from the professors."
Cose was an integral part of the girls basketball and volleyball teams at Valley Christian Academy. She ran the 800 and 1,600 meters, and ran on the mile relay team, at St. Charles Central High School in Missouri as a freshman before moving to California with her family.
Valley Christian Academy does not have a track program.
Cose was the VCA nominee for the Northern Santa Barbara County Athletic Round Table 2020 Female Athlete of the Year scholarship.
"I feel good about the military aspect. It's always good to give back to the country I live in," Langley said. "A lot of my dad's side has been in the Army so I am a little familiar."
Cose, with 14.2 points and 11.2 rebounds a game, averaged a double-double for the Lions basketball team her senior year. She led the team in rebounds and was second behind sophomore Lindsay Mikkelson in scoring.
VCA finished 13-8 and made it to the playoffs. The Lions got in all their games before the pandemic caused the cancellation of the rest of the CIF spring sports season in March.
She hopes to walk on to The Master's women's basketball team. Eventually.
"Just because it's college I think it would be a little too much for me to try to walk on to the team my freshman year," she said.
"I want to get adjusted to college academics first. I hope to walk on to the team my sophomore year."
The 5-foot-8 1/2 Cose said, "I would probably play power forward," for the Mustangs if she is able to walk on to the squad.
Power forward was her main position at VCA. "I did play center a few times," she said.
Cose was a three-year varsity player for Randy Stanford's VCA basketball squad and was a team captain her junior and senior seasons.
The Northern Santa Barbara County semifinals are set.
She was the team MVP her senior year and was an All-Coast Valley League selection. Cose was also All-Area Second Team.
Even in the midst of the COVID-19 pandemic, "I have been able to email (The Master's University) as far as enrolling," for the 2020-21 school year, said Cose.
As for the rest of her final high school year Cose, like most of the rest of the students across the nation, had to learn to live with learning online.
"I adapted to online learning," she said. Cose carried a 3.5 GPA at VCA.
Cose will major in pre-physical therapy at The Master's. "I want to become a physical therapist," she said.
TMU said Thursday that it plans on holding residential, on-campus instruction starting Aug. 27 and running through Nov. 24, though "The final two weeks of the semester, after the Thanksgiving break, may be completed off-campus."
No. 1 Toa Taua vs. No. 5 Mike McCoy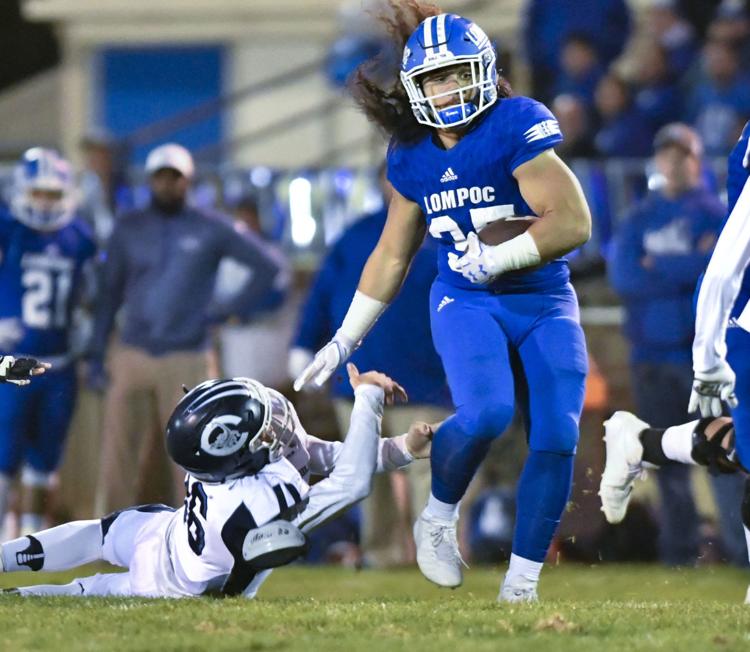 Toa Taua's career stats
Rushing: 501 carries, 4,612 yards, 73 TDs
Receiving: 13 catches, 151 yards, 1 TD
Defense: 193 total tackles (138 solo), 16 TFLs; 8.5 sacks; 2 INTs, 2 fumble recoveries, 5 forced fumbles
College: Mountain West Freshman of the Year at Nevada; entering junior season
Santa Ynez' Mike McCoy scrambles away from St. Joseph's Christian Tullos during their Nov. 4, 2016 game. 
Mike McCoy's career stats:
Passing: 141 for 251 for 2,524 yards, 23 TDs, 14 INTs
Rushing: 123 carries, 1,091 yards, 13 TDs
Receiving: 33 catches, 510 yards, 5 TDs
All-purpose: 2,488 yards
Defense: 90 tackles (56 solo), 5 TFLs; 11 INTs, 21 pass breakups, 205 INT return yards
Kicking: 103 kickoffs for 4,071 yards, 23 TBs; 90 punts, 2,998 yards, 18 inside 20
Returns: 32 kickoff returns 682 yards, TD
Scoring: 21 TDs scored, 108 kick points; 9 for 11 on field goals, long of 48; 81 for 85 on PATs
College: Set to play at Hancock
Vote: No. 1 Toa Taua vs. No. 5 Mike McCoy
No. 2 Lavon Coleman vs. No. 3 Caleb Thomas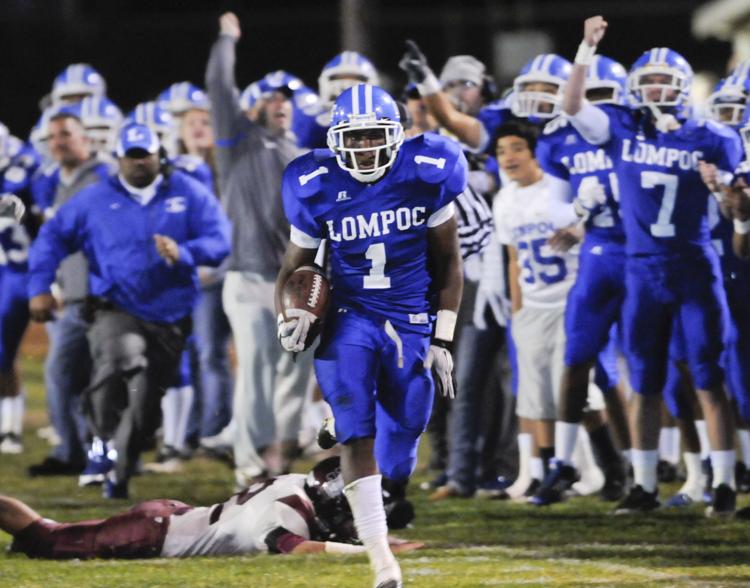 Lavon Coleman's career stats:
Rushing: 492 carries, 3,577 yards, 44 TDs
Receiving: 8 catches, 111 yards
All-purpose: 4,066 yards
Defense: 10 tackles; 1 sack; 1 INT
Scoring: 48 total TDs.
College: Starred at running back at the University of Washington, topping 2,000 career yards.
Note: 2011 All-Area MVP.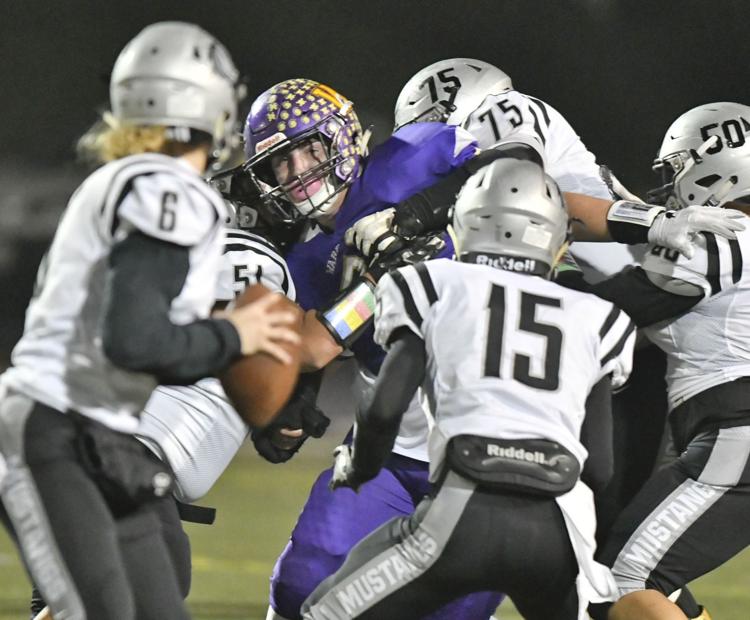 Caleb Thomas' career stats:
Defense: 103 total tackles (86 solo), 21 sacks, 2 forced fumbles, INT.
College: Red-shirted last year at Tulane. 
Note: 2018 All-Area MVP.
Vote: No. 2 Lavon Coleman vs. No. 3 Caleb Thomas
No. 8 Nick Kimball vs. No. 4 Garrett Owens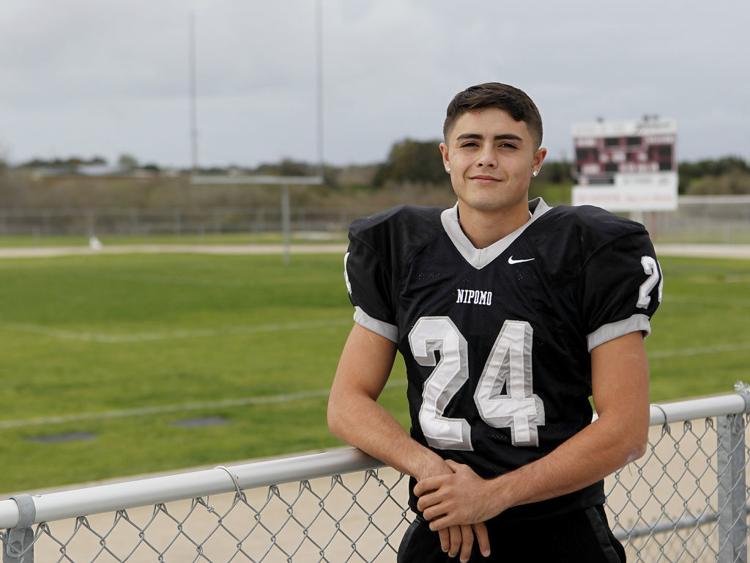 Nick Kimball's career stats: 
Receiving: 88 catches, 1,812 yards, 31 TDs (21 TD catches in 2014)
Defense: 35 total tackles, 3 INTs
College: Played at Hancock and the University of LaVerne.
Notes: 2014 All-Area MVP had 1,240 yards in receptions, and 21 touchdowns, as he helped lead Nipomo to the Southern Section Northwest championship. Also made 35 tackles that year.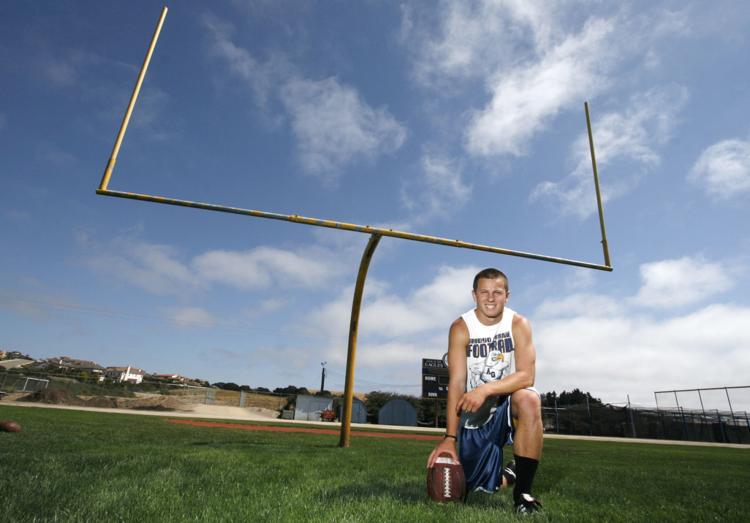 Garrett Owen's career stats:
Rushing: 371 yards, 4 TDs
Receptions: 90 for 1,363 yards, 12 TDs
Defense: 161 total tackles (149 solo), 10 interceptions
Kicking: 134 touchbacks on 174 kickoffs; averaged over 35 yards on 61 career punts; 23 for 36 on FGs; 118 for 124 on PATs; Made 57-yard field goal.
College: Kicked at Oregon State/Iowa State. Made 32 of his 45 career field goal attempts at Oregon State, with a long of 50. As a Cyclone, Owens was good on 17 of 22 FGs with a long of 45.
Vote: No. 8 Nick Kimball vs. No. 4 Garrett Owens
No. 2 Patrick Laird vs. No. 3 Bradley Mickey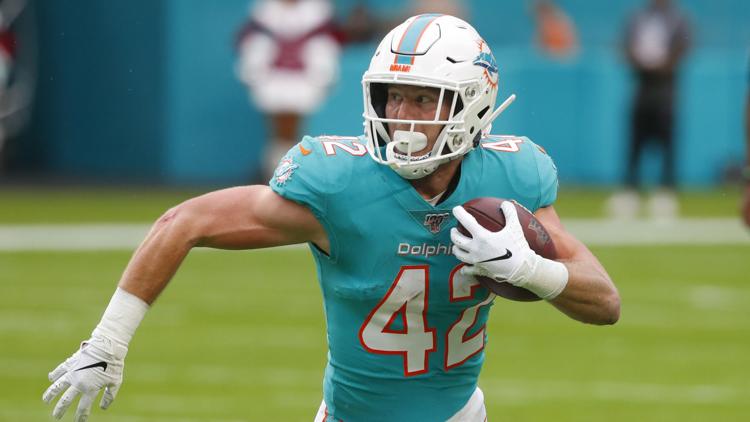 Patrick Laird's career stats:
Rushing: 4,551 yards rushing, 50 TDs (3,117 yards rushing, 32 TDs as senior)
College: Played running back at Cal.
Note: Currently on Miami Dolphins' roster. Only area player to score an NFL TD last decade.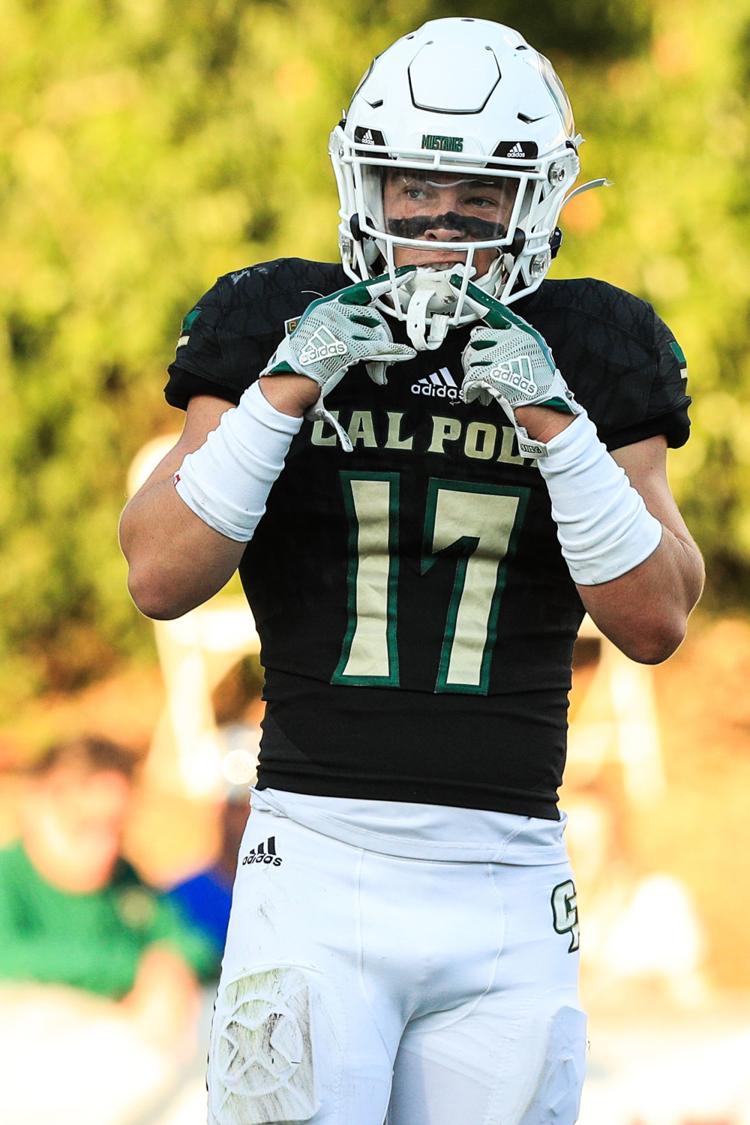 Bradley Mickey's career stats: 
Passing: 1 for 1, 26 yards, TD
Rushing: 132 carries, 1,244 yards, 15 TDs
Receiving: 82 catches, 1,106 yards, 9 TDs
All-purpose: 3,484 yards
Defense: 205 total tackles (129 solo), 3 TFLs; 21 career INTs for 284 yards, 38 passes defensed, 3 fumble recoveries, 4 forced fumbles
Scoring: 31 total TDs.
College: Saw significant playing time in the Cal Poly secondary the past two years.
Notes: 2015 All-Area MVP.
Vote: No. 2 Patrick Laird vs. No. 3 Bradley Mickey
Player of the Decade matchups set for regional semifinals
One round of action in and there's already been a top seed eliminated. 
The Santa Maria Times, Lompoc Record and Santa Ynez Valley News has developed a list of 16 nominees for Player of the Decade.
That list has been whittled down to eight after the first round of play and the 'regional semifinal' matchups are now set. 
Nipomo receiver Nick Kimball notched the biggest upset of the first round. Kimball, San Luis Obispo County's No. 8 seed, defeated Arroyo Grande's Seth Jacobs, who was SLO County's top seed. 
Votes from readers are determining the winners.
Kimball won that first-round contest over Jacobs with 355 total votes over a week. Jacobs finished with 259 total votes. 
Also moving on from San Luis Obispo County is No. 2 seed Patrick Laird, a former Mission Prep running back, who dominated his first-round matchup. Laird cruised to victory with a 395-41 victory over former San Luis Obispo quarterback Emilio Corona, who was the No. 7 seed. 
Bradley Mickey, from Arroyo Grande, narrowly topped former Nipomo quarterback Matt Albright in another first-round contest. Mickey, the No. 3 seed, edged Albright, the No. 6 seed, 282-242. 
Another former Arroyo Grande standout is advancing after a narrow victory. Former Eagles' kicker Garrett Owens received 283 votes, just enough to top former Paso Robles receiver Bailey Gaither, who finished with 269 votes. 
There was one minor upset in the first round of the Northern Santa Barbara County contest.
Toa Taua and Lavon Coleman, two running backs at Lompoc High, both won their first-round contests. 
Ainuu Taua, a former LHS defensive lineman and the No. 4 seed, was upset by Santa Ynez' Mike McCoy the No. 5 seed.  
Toa Taua and Coleman will both have their hands full in the next round.
Taua will face McCoy, who received the second-most votes of all the contenders in the opening round with 413. McCoy edged Ainuu Taua 413-316. 
Coleman is set to face off against Caleb Thomas, a former Righetti lineman who is now at Tulane. Thomas cruised past his first-round opponent, former Santa Maria quarterback Blake Truhitte, the No. 6 seed, 448-168. Thomas, the No. 3 seed, received the most votes out of all first-round competitors. 
Northern Santa Barbara County semifinals:
No. 1 Toa Taua vs. No. 5 Mike McCoy
No. 2 Lavon Coleman vs. No. 3 Caleb Thomas
San Luis Obispo County semifinals: 
No. 8 Nick Kimball vs. No. 4 Garrett Owens
No. 2 Patrick Laird vs. No. 3 Bradley Mickey 
The winners from this round will square off in the regional finals before the SLO County winner faces the Santa Barbara County winner to determine the Central Coast Player of the Decade.
Get in the game with our Prep Sports Newsletter
Sent weekly directly to your inbox!