The winning streak continues for Cabrillo High girls basketball against Lompoc.
The Conquistadores stretched their winning roll against the Braves to five straight games, this time rallying past their rival 32-31 on Friday evening inside Paisola Pavilion at Bryan Ayer Court.
Morgan McIntyre made sure that the streak would continue for CHS.
The junior snatched four steals in fourth quarter – and scored the last four points on fast break chances where it was just her and the rim.
Head coach Jared McCune spoke about the energy McIntyre used to ignite the Conqs in the game's final minutes.  
"Morgan has been a go-to-girl for us all year," McCune said. "She really stepped up right there in the end. We ran our trap on them and fortunately we made some plays."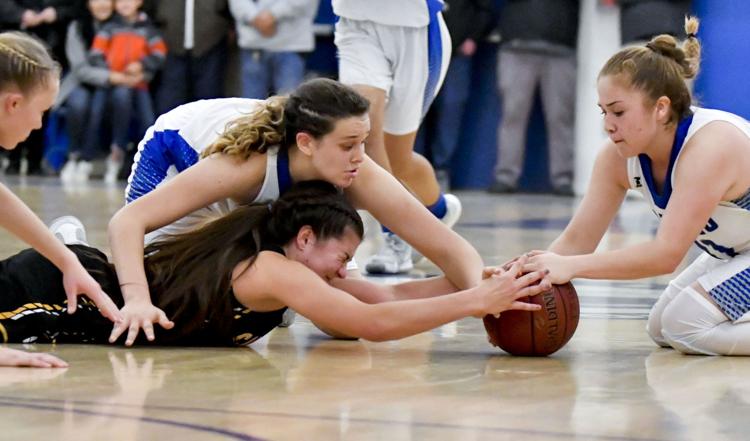 Lompoc led for most of the evening. And Kayla Taylor was largely responsible for that.
The junior scored 12 points in the second half – eight of them coming in the third quarter as she went inside to net her points. Taylor, however, fouled out toward the end of the fourth quarter.
She wasn't the only Brave who ended the night by not playing on the floor.
Sophomore Mya Mendoza, who led the Braves' fast break attack and played the role of facilitator, also fouled out during the fourth. That left Lompoc head coach Claudia Terrones and her staff with nine remaining active players the rest of the evening.
Terrones, though, had to remind her team after the game that the Braves are capable of winning with what they have without both All-League players.  
"One of the things I said was: We can still win without Mya and we can still play without Kayla. It's a team win and team loss," Terrones said. "We're going to bounce back. I thought we played a good game. We were prepared – and so were they (Cabrillo)."
McCune and the Conqs haven't lost to the Braves since Feb. 2, 2016 when LHS won 71-52. Outside of McIntyre, the likes of Jesse Jenkins, Alexa McCune and Kiki Dial added to the defensive energy for Cabrillo.
The veteran head coach concluded that games and the fan atmosphere between CHS and LHS continue to be a highlight for the season.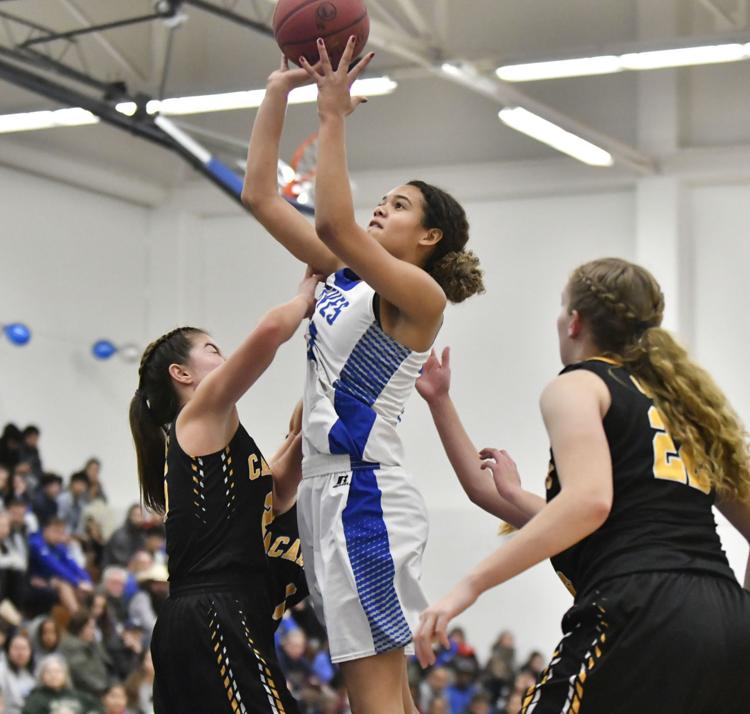 "It's always fun against Lompoc. They're a great team and Claudia does a great job with those girls," McCune said. "We knew they had the advantage inside and we struggled with that. We still got a long ways to go, I think. But this is also a good step in the right direction."
Lompoc (8-10 overall, 2-2 in the Channel League) will travel to Santa Ynez on Tuesday for a 7 p.m. game. Cabrillo (6-11, 2-2 in the C.L) will host Dos Pueblos on Tuesday at 7 p.m.