The drought is over, and Arroyo Grande has the inside track to the inaugural Mountain League girls basketball championship.
A shaken-up looking Jayci Bayne made two big free throws for the last points, finishing Righetti's hopes, and the Eagles beat back a Righetti comeback to edge the Warriors 65-60 at Righetti's Warrior Gym Tuesday night.
The Eagles (16-6, 5-1) beat a Desiree Hitch-coached Righetti team for the first time in eight tries. The Warriors went to 11-7, 4-2 in both teams' first CIF Central Section campaign since moving to the Southern Section earlier in the school year.
Righetti, bidding for its third consecutive outright league championship, stumbled Tuesday night as both teams opened the second half of Mountain League play.
"We're young, there were too many bad fouls, we made too many silly mistakes and it cost us the game," said Hitch.
Arroyo Grande was 13-for-27 on free throws to Righetti's 3-for-8.
The Warriors came all the back from the 54-42 deficit they faced at the 6:44 mark of the fourth quarter when Malia Cabigon scored inside for the last of her game-high 25 points to give Righetti a 60-59 lead with 1:07 left - the Warriors' first lead of the game.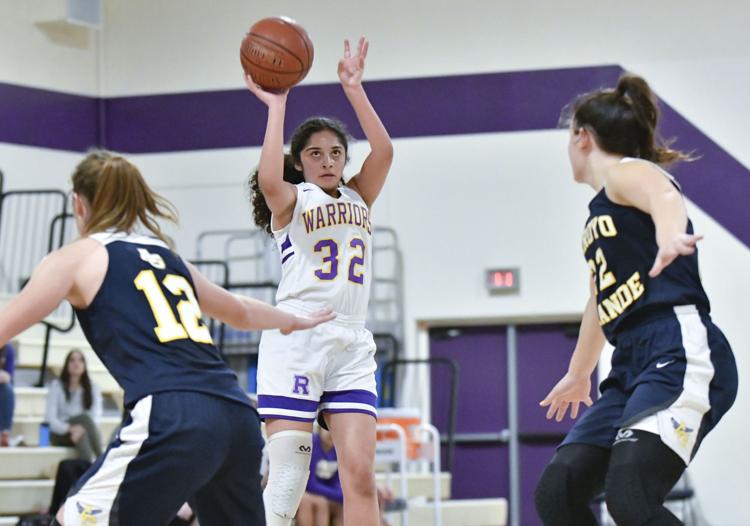 The lead lasted two seconds. The Warriors fouled in the Eagles' backcourt, and Bayne made the first of her two foul shots.
Earlier, the Warriors fouled immediately after Natalie Garcia scored to pull them within 57-55. Bayne made both free throws.
Bayne, the Eagles' leading scorer on the year, did not have a basket. She did, however, make six important free throws after Arredondo, who fouled out later, fouled her hard early in the fourth quarter.
Despite nursing four fouls, Bayne stayed in the rest of the way.
The Eagles got the ball on a disputed over-and-back call against the Warriors, and Bayne got the ball inside to Kaiya Ellison who scored the eventual winning basket with 40 seconds left.
Seemingly by sheer will, Cabigon kept the Warriors in the game. 
"She's a ballplayer," said Hitch. "She's a big girl, she's smart and she can hit from inside and out."
Cabigon did plenty of that Tuesday night. She just didn't get enough help.
"She's only a sophomore," Hitch said of Cabigon. "I'm looking forward to having her for two more years."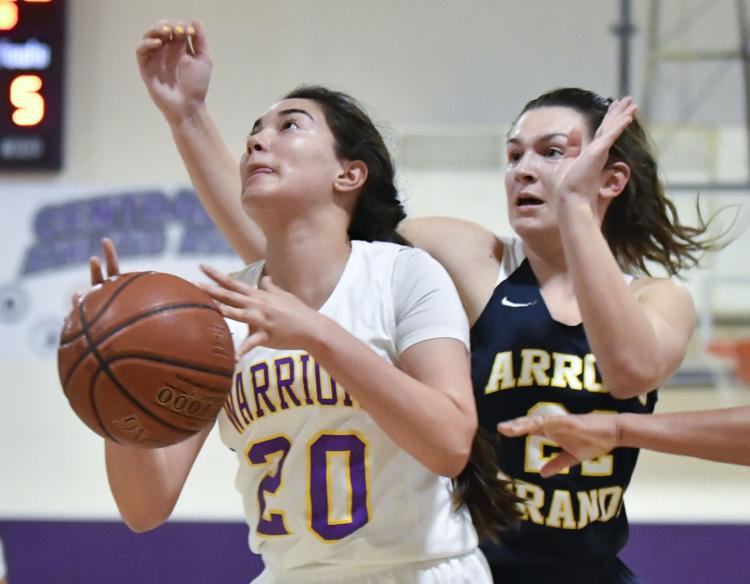 Andrea Stajic and Kathleen Hutchens nailed consecutive 3-point shots for the Eagles to put the visitors up 54-42 early in t he fourth, Hutchens finished with 22 points. Peyton Pelech put in 12, Ellison scored 11 and Stajic had 10 in balanced Arroyo Grande scoring.
Cabigon stayed in the game despite taking a hard fall after colliding with an Arroyo Grande player while going for a loose ball midway through the fourth quarter.
"She  fell on her hip and she cramped up," said Hitch.
After Cabigon gave Righetti its 60-59 lead, the Eagles simply made all the plays. They blocked consecutive Righetti 3-point shots and made enough free throws to salt away the win.
Alex Paquet made three 3-pointers en route to scoring 15 points for Righetti. Her sister Alijah, Righetti's leading scorer on the year, had just two points.
Alijah Paquet had a big fourth quarter in Righetti's 64-56 win at Arroyo Grande in both teams' league opener.
This time, "They were face guarding her, and she couldn't get open," said Hitch.
"They didn't do that the first time we played them."
Righetti will host San Luis Obispo at  6:45 p.m. Friday night. The Tigers beat the Warriors 60-51 at San Luis Obispo earlier in the season to end Righetti's 30-game league winning streak but at press time had dropped three straight since.             
Nipomo 55, Orcutt Academy 30
The Titans moved to 8-1 in the Ocean League with a win at home over the Spartans (5-3 Ocean League) at Nipomo.
Katie Slover led the Titans with 10 points. Abbey Gutierrez and Shantille Simonson had eight apiece.
Girls soccer
Santa Maria 2, Nipomo 0
Isabella Medina, with assists from Yvette Abundiz, scored the Saints' goals in a win over the Titans in an Ocean League game.
Boys basketball (Saturday night)
San Luis Obispo 68, Pioneer Valey 24
Steven Fuerte scored eight points for the Panthers. who lost a Mountain League game to the Tigers.
Arroyo Grande 85, Paso Robles 37 (Saturday night)
Caleb Whalen scored 17 points and led four Arroyo Grande players in double figures as the Eagles rolled to a Mountain League win over the Bearcats.
Bryan Smith put in 13 points for the Eagles. Gage Gomez and Connor Angle added 12 and 11 points respectively.
Boys wrestling
CIT Tournament, Morro Bay High School
Righetti placed third out of 90 teams at this two-day tournament.
Righetti freshman Matt Rodriguez won the 145-pound weight class championship. Four other Warriors placed.
Dominic Mendez placed third at 106 pounds. Benny Banduenga finished fifth at 152 pounds, and Adan Solis (160) and Ronald Kim (170) both wound up in seventh place.