The 2011 St. Joseph girls basketball team had state title aspirations. To get to the state title game, however, the Knights had to get to the regional final. And that meant getting past a tough Orange Lutheran team in the Southern California Division 3 regional semis at Orange Lutheran.
St. Joseph did just that, holding off the Lancers for a 54-50 win on March 12, 2011.
"That game was an excellent high school basketball game," St. Joseph athletic director Tom Mott would tell a gathering sometime later at a St. Joseph pep rally.
With a little extra time on our hands, we are taking a look into the past of prep sports on the Central Coast. Our sports staff has been going…
Going in, both teams had nearly equal state rankings. Orange Lutheran was seeded second in the Southern regional. St. Joseph was seeded third.
St. Joseph had won handily twice in the regional after losing 66-58 to Gardena Serra in the CIF Southern Section 3AA title game. Orange Lutheran won the CIF-SS 3A championship.
Aly Beebe, St. Joseph's 6-foot-3 junior center, came in averaging 20.7 points and 11.2 rebounds a game. Heather Madrigal, a 5-8 guard-forward, was averaging 11.2 points and 6.2 rebounds a game for the Knights.
Senior team captain Kelsi English, Brianna Bognuda and Tatiana Dunlap rounded out a strong St. Joseph starting five. Freshman Kaitlyn Flowers was a tough defender and was scoring some crucial points in the post-season.
The Righetti baseball team's first playoff game in the CIF Central Section, in 2019, was a success. It was a success because Ryan Delgado guessed right in the sixth inning.
Orange Lutheran was led by senior point guard Krissy Karr and fellow senior guard Natalie Luzar.
The Lancers opened an early lead, but the Knights, led by Beebe inside, eventually passed them and took an 18-11 lead into the second quarter. St. Joseph led 33-26 at halftime.
In the second half, Beebe was plagued by what had suddenly beset her the past few games — foul trouble. St. Joseph coach Ed Torres had expressed puzzlement sometime earlier as to why fouls were suddenly being called on Beebe more frequently.
The Lancers kept coming, but the Knights hung in. Reserve Kim Ritchie hit a timely basket near the end of the third quarter to put St. Joseph ahead 43-35.
Orange Lutheran closed the quarter on a 5-0 run and ultimately tied the game at 43-all in the fourth. Then the Knights, who made just half of their 26 free throws, buried some foul shots at some of the most crucial times.
Lachemann was hoping for an eventful send off in 2020, but the season was cut short due to the coronavirus pandemic. It's a shame, too, as Lachemann's Eagles were 8-1 on the season and had hopes for a Mountain League title and a deep run in the CIF Central Section Division 2 playoffs.
Dunlap sank two free throws to put St. Joseph ahead for good at 45-43. English — one Knight who did shoot foul shots well that day, making five of six — sank two more big free throws later.
Orange Lutheran managed to keep the game a halfcourt one rather than the faster pace the Knights preferred, and Karr helped the Lancers stay in contention. However, St. Joseph had enough to win.
English shot just 5-for-17 from the field, but she made enough shots to lead the Knights in scoring with 16 points. Even with the foul trouble Beebe, with 14 points and 14 rebounds, notched another double-double. Dunlap finished with nine rebounds.
The match would be a good one, Walter Tyler figured, so he decided to take the reins as the new boys basketball coach at Santa Ynez High School.
St. Joseph's win put the Knights in the SoCal final against Serra at USC.
Beebe tore an ACL during club ball later that summer and had to miss her senior year of sports. She subsequently signed with Stanford but ultimately had to medically retire from basketball after another knee injury.
Madrigal transferred to Arroyo Grande for her senior season and led the Eagles to the CIF-SS Division 3AAA championship. Karr signed with Idaho and then transferred to Westmont. Luzar signed with UC San Diego.   
The 2011 St. Joseph girls basketball team had state title aspirations. To get to the state title game, however, the Knights had to get to the …
Santa_Maria_Times_Sun__Mar_27__2011_.jpg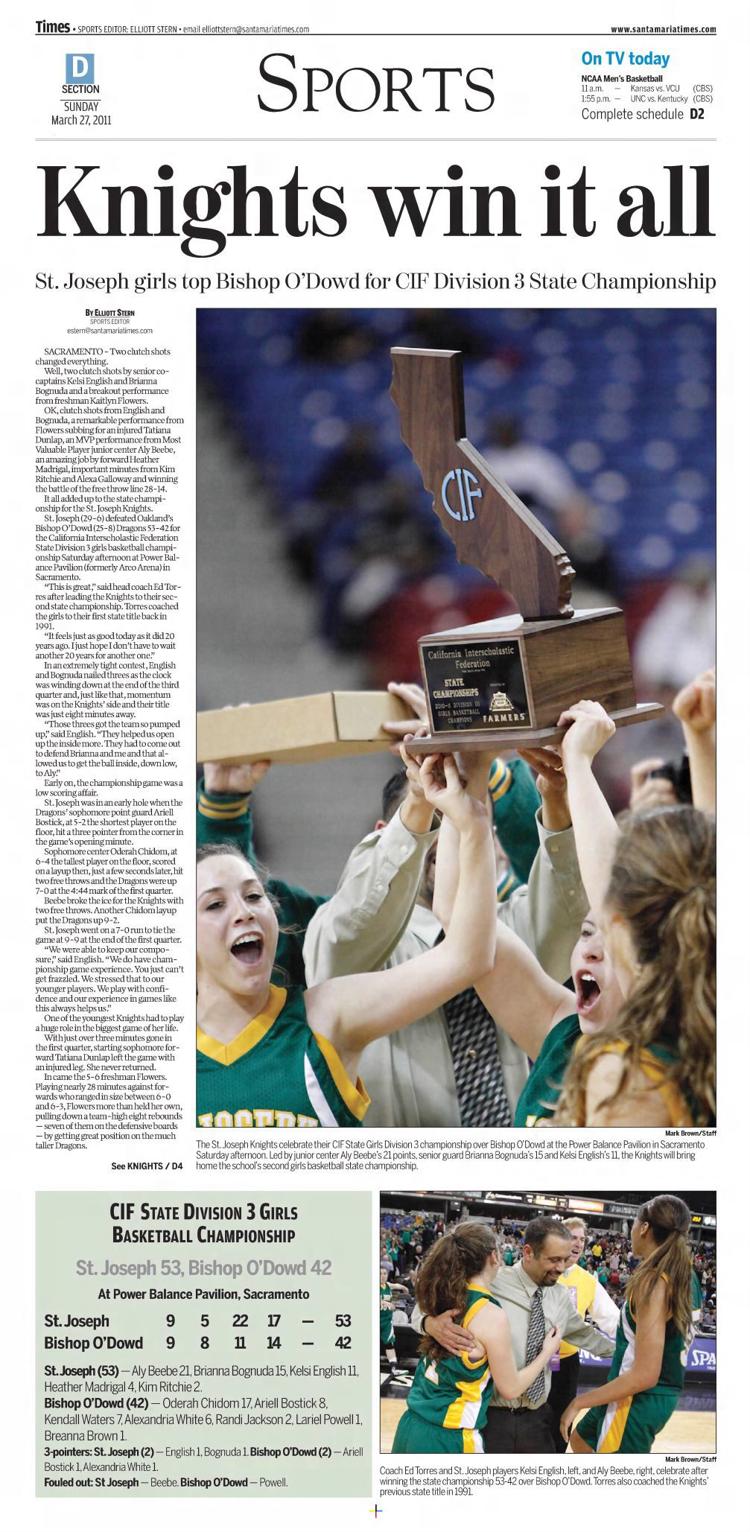 Santa_Maria_Times_Sun__Mar_27__2011_ (1).jpg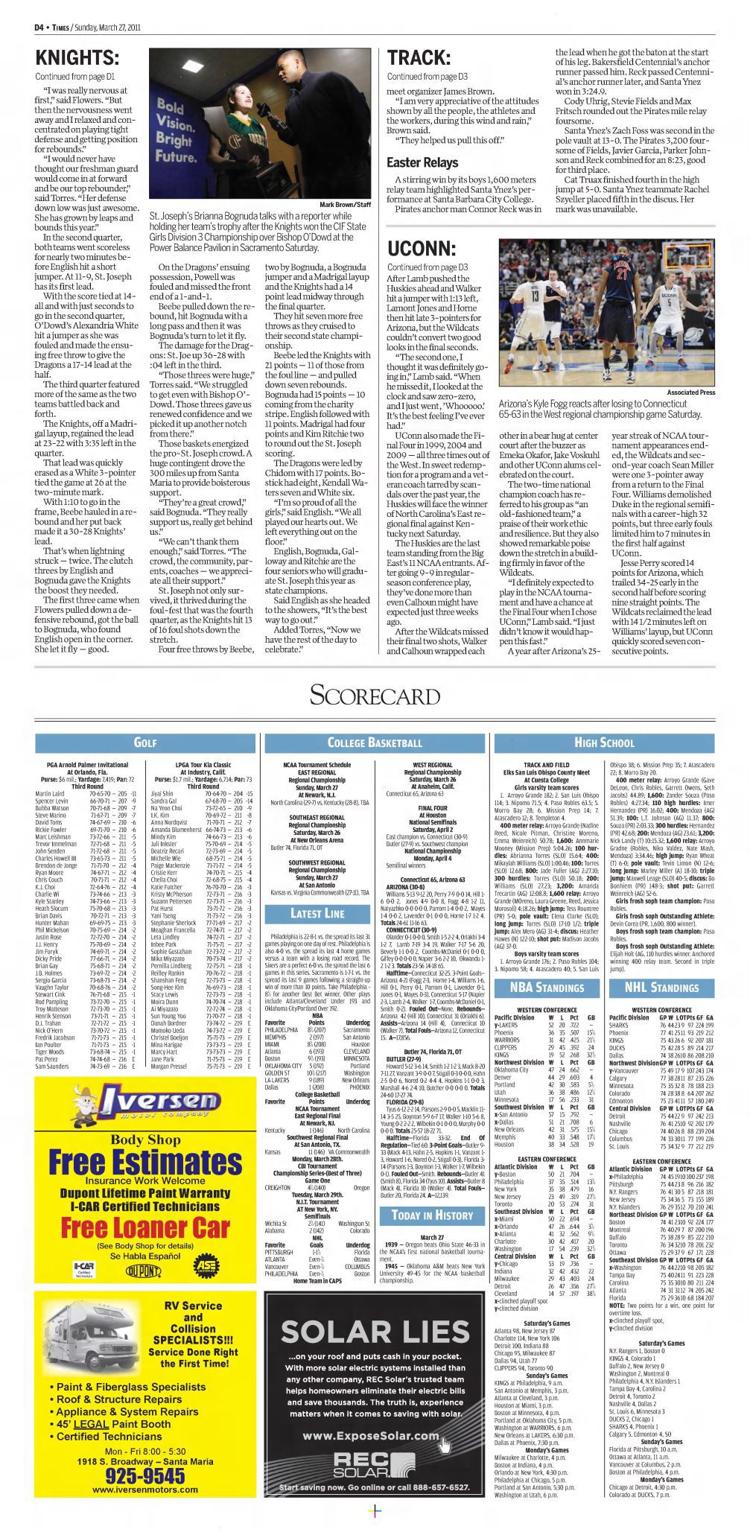 Santa_Maria_Times_Sun__Mar_27__2011_ (2).jpg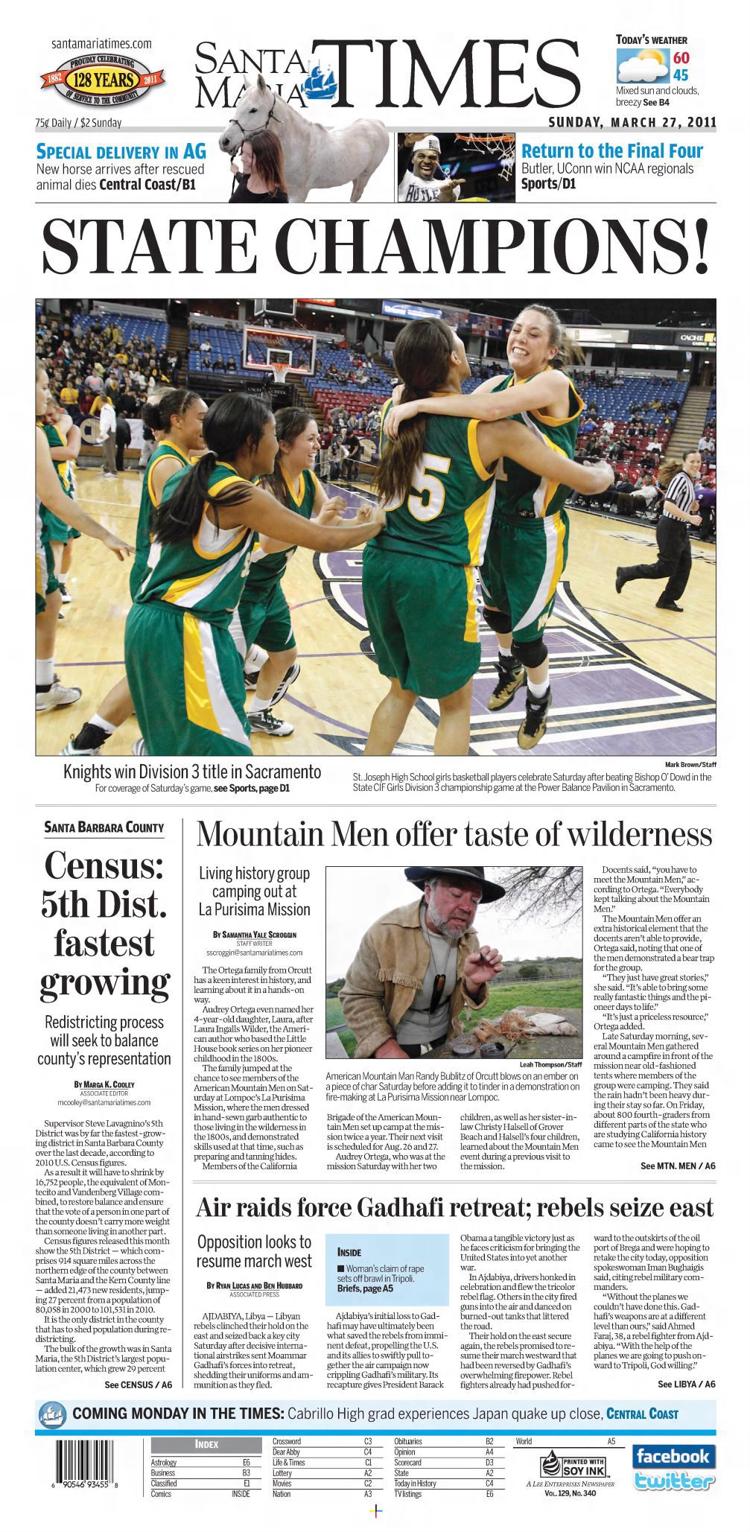 Santa_Maria_Times_Thu__Mar_24__2011_.jpg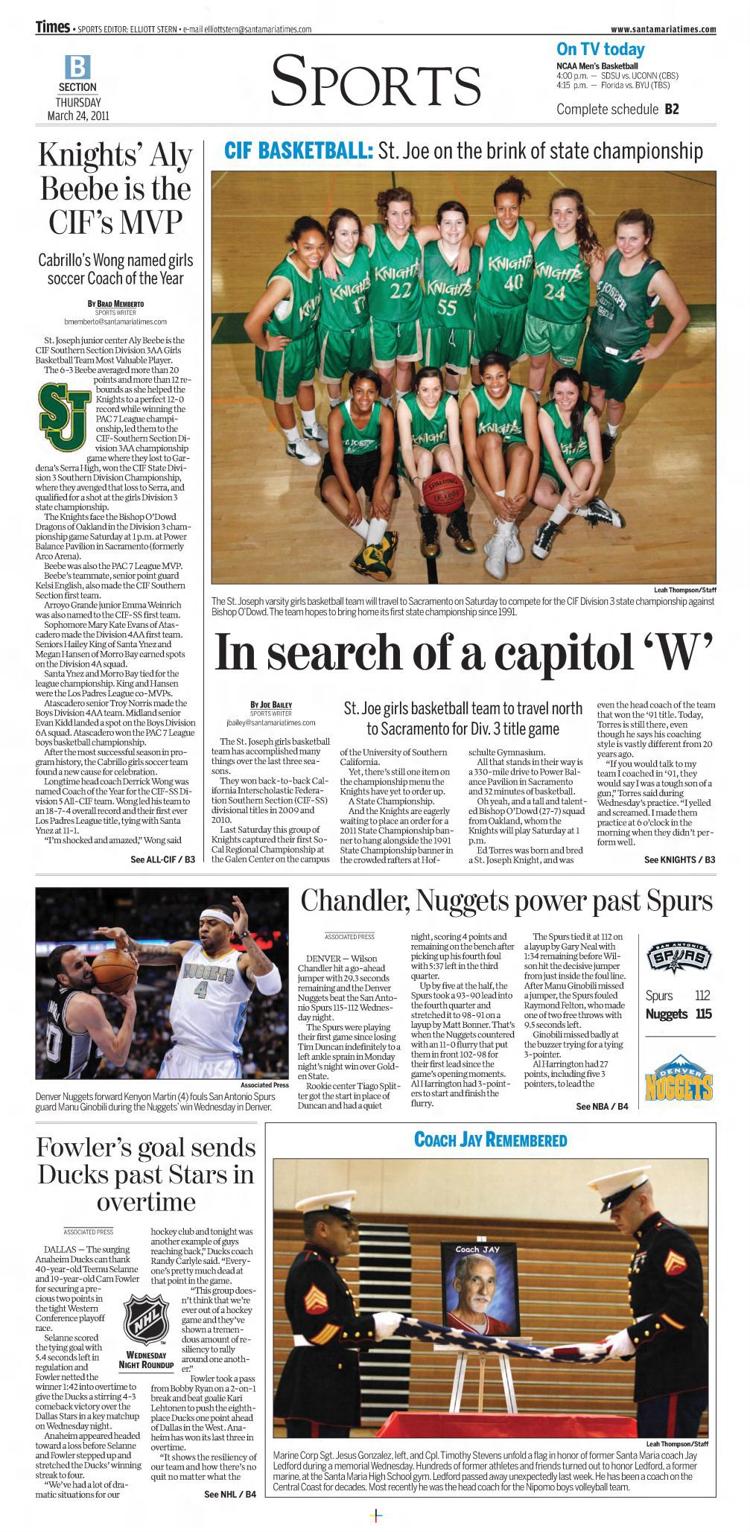 Santa_Maria_Times_Sun__Mar_20__2011_.jpg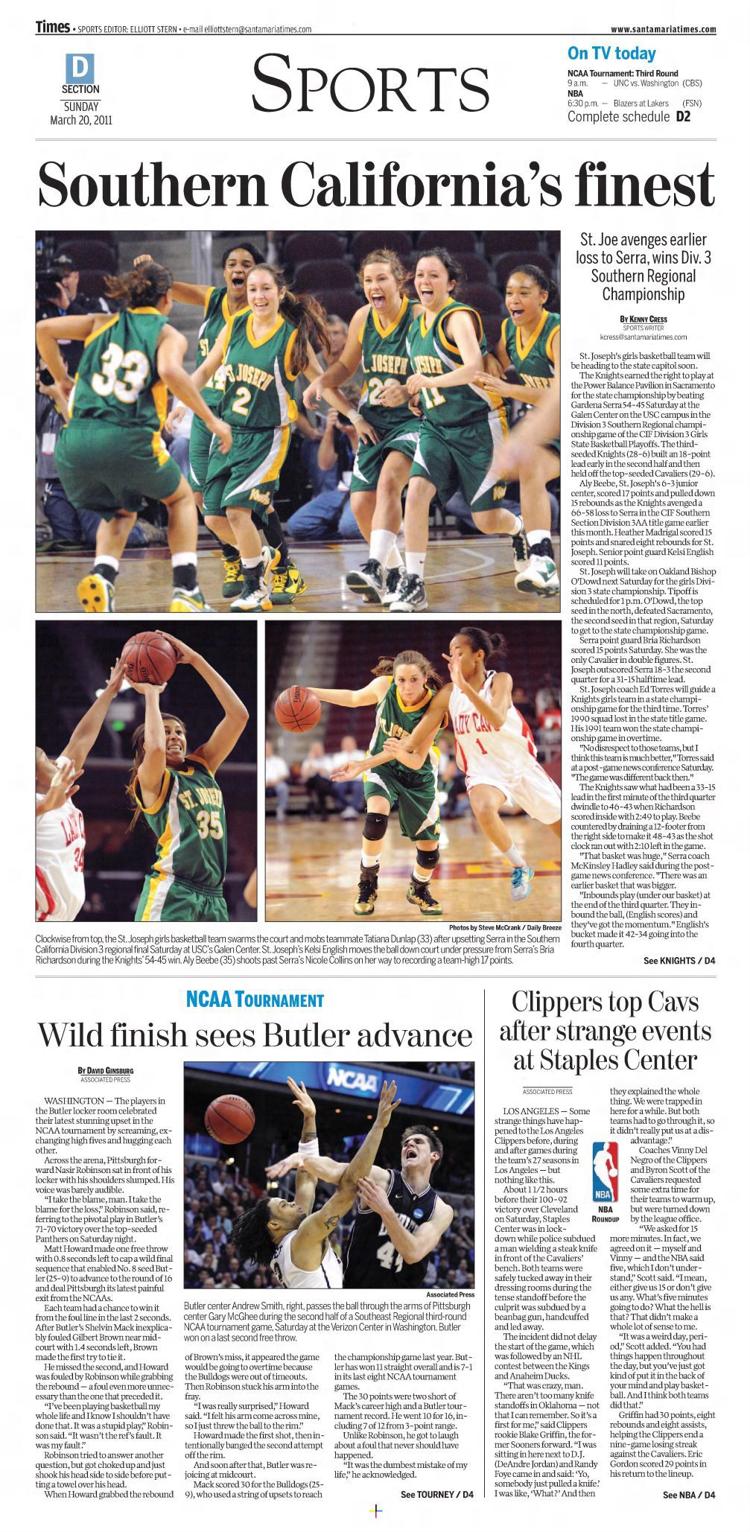 Santa_Maria_Times_Sun__Mar_13__2011_.jpg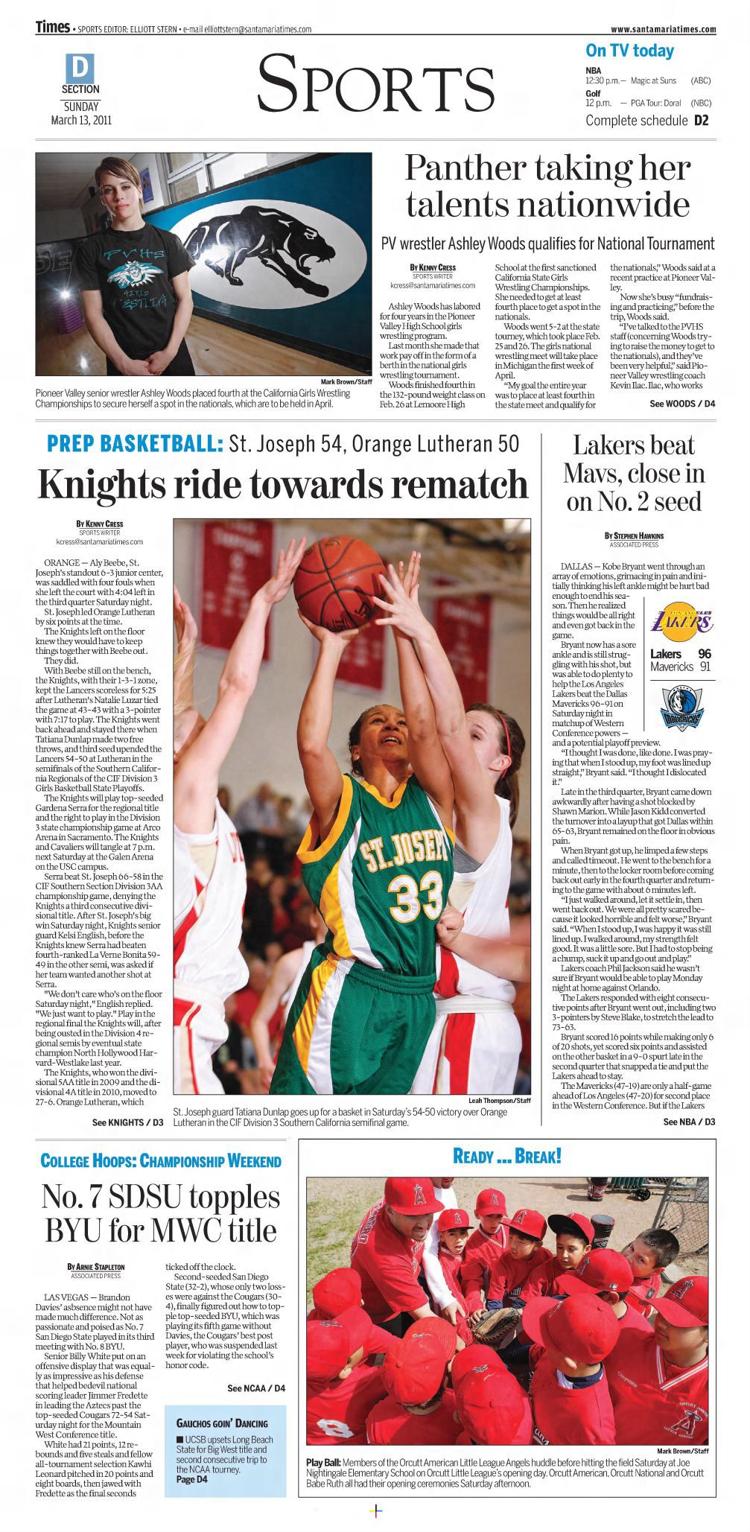 Santa_Maria_Times_Fri__Mar_11__2011_.jpg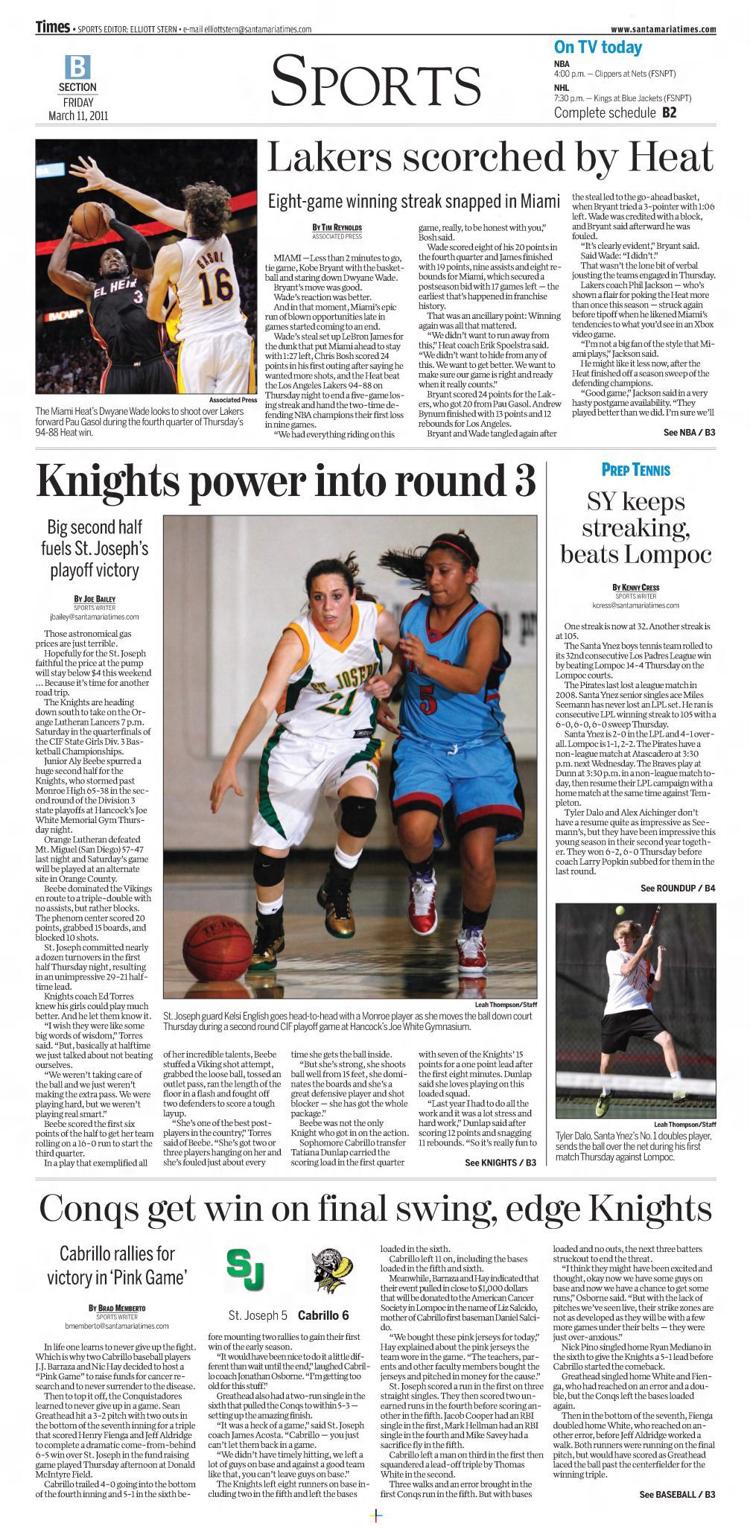 Santa_Maria_Times_Wed__Mar_9__2011_.jpg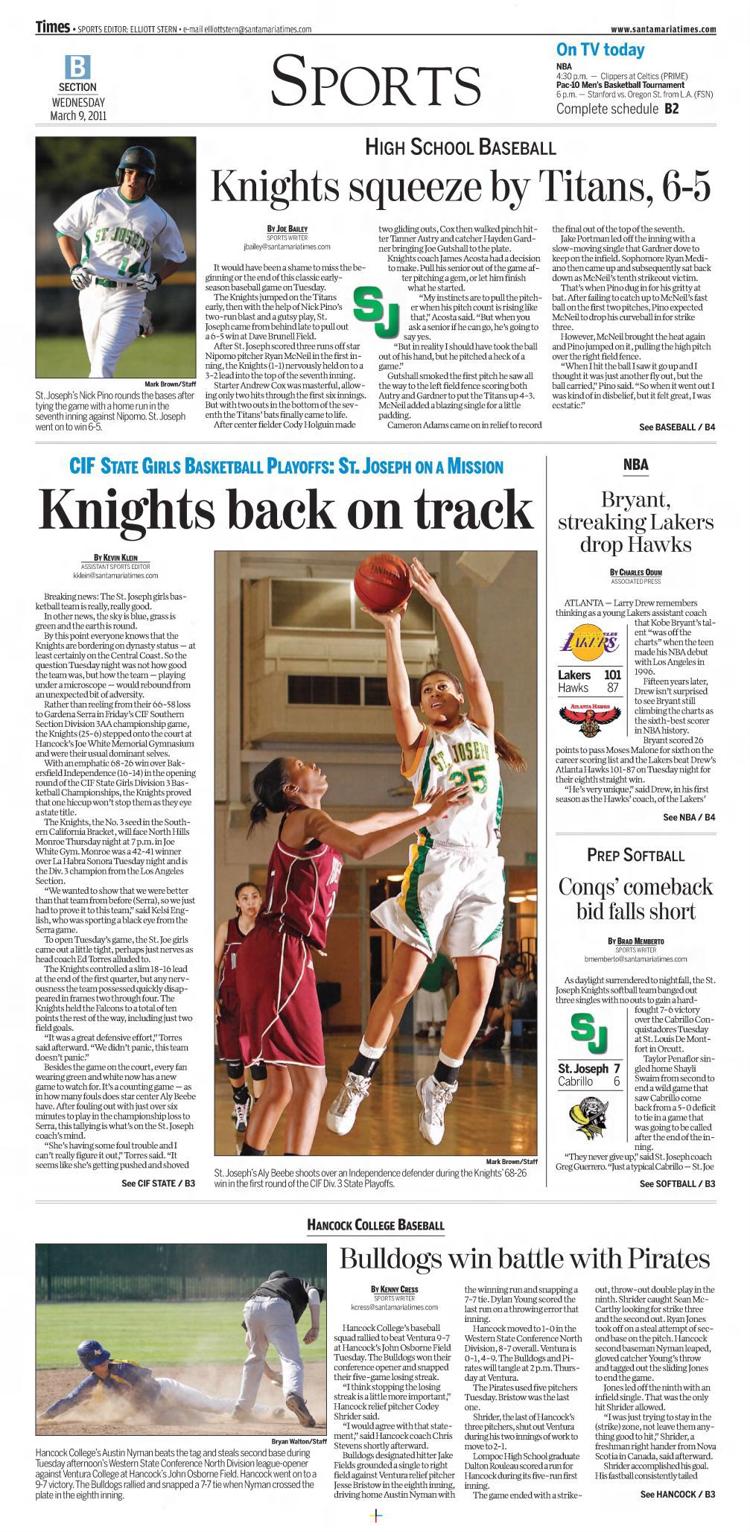 Santa_Maria_Times_Sat__Mar_5__2011_.jpg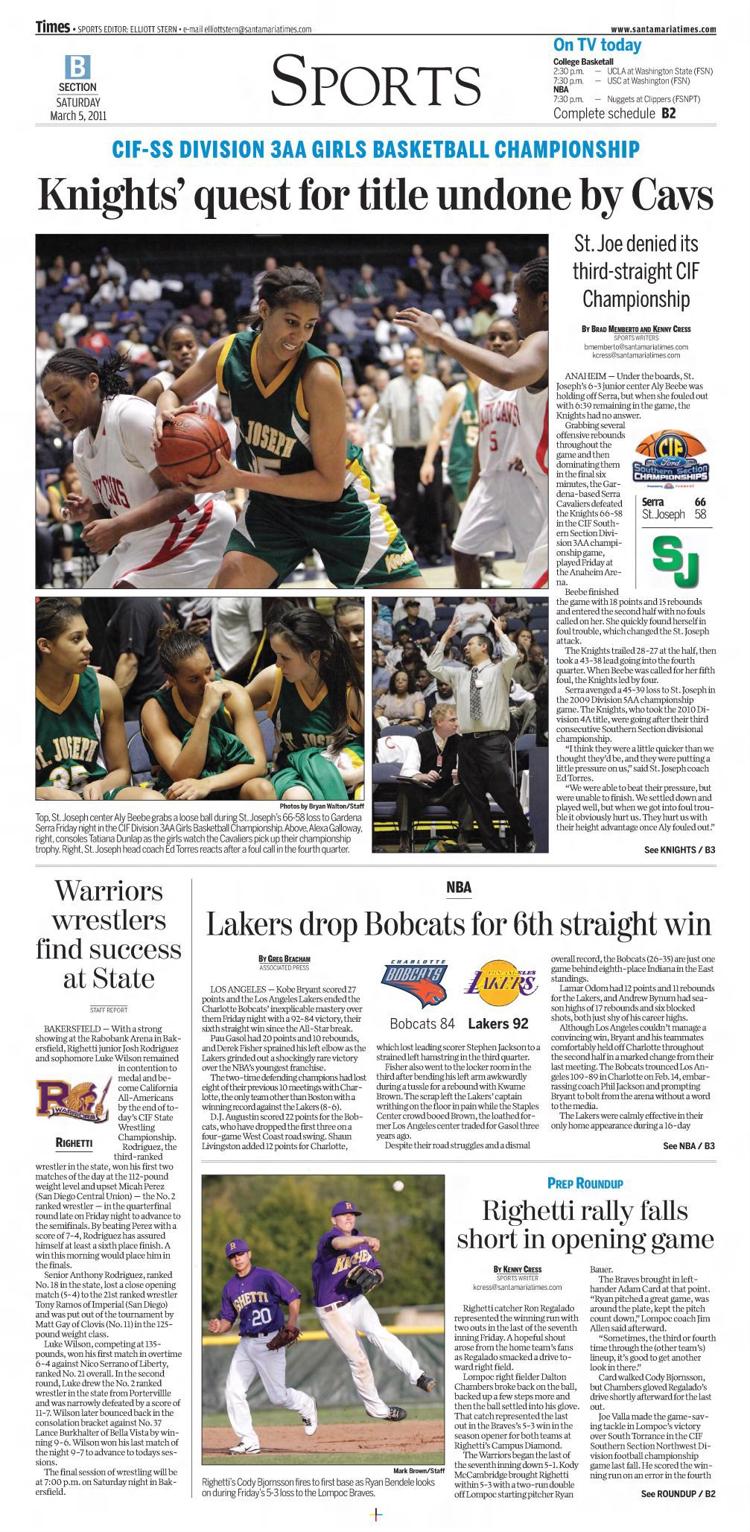 Santa_Maria_Times_Sat__Mar_5__2011_ (1).jpg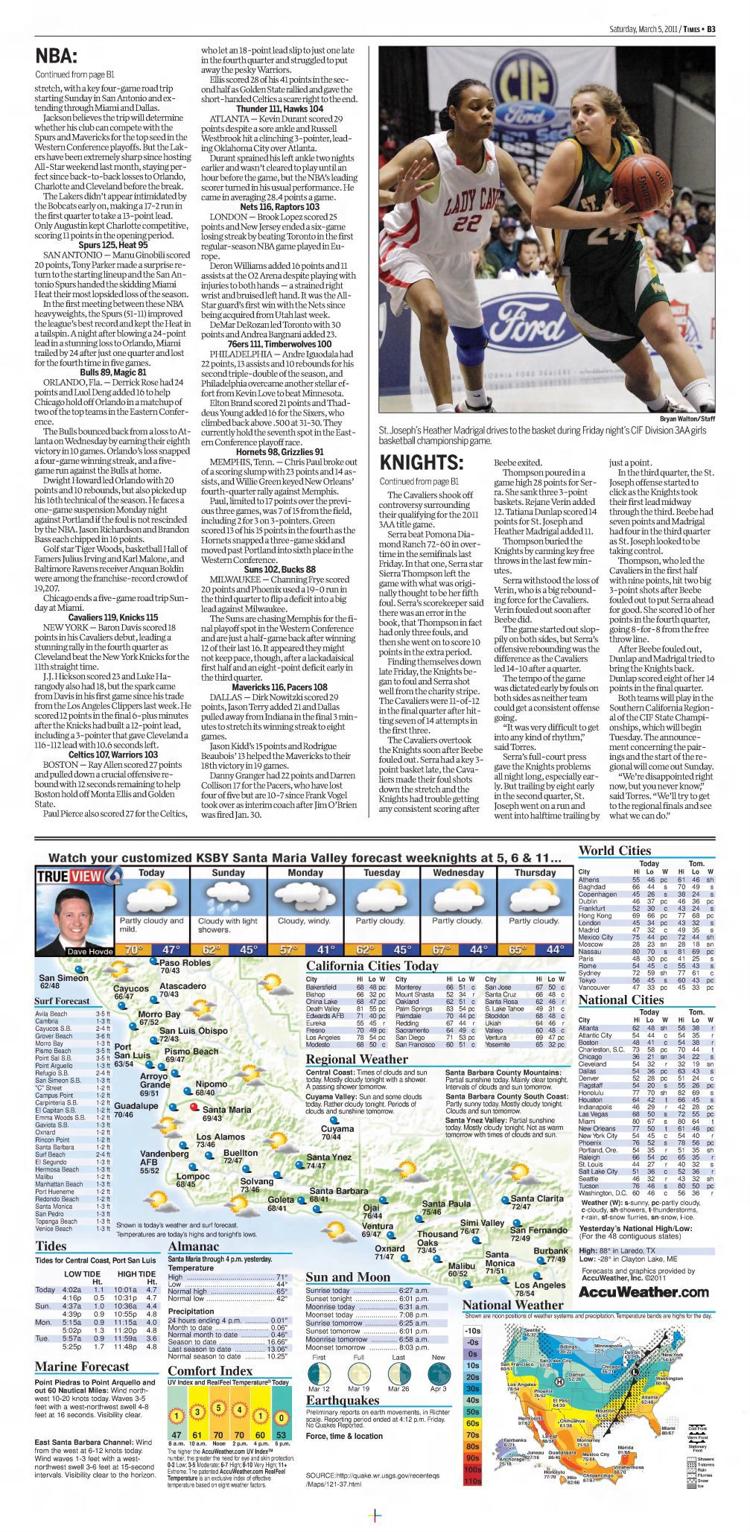 Santa_Maria_Times_Thu__Mar_3__2011_.jpg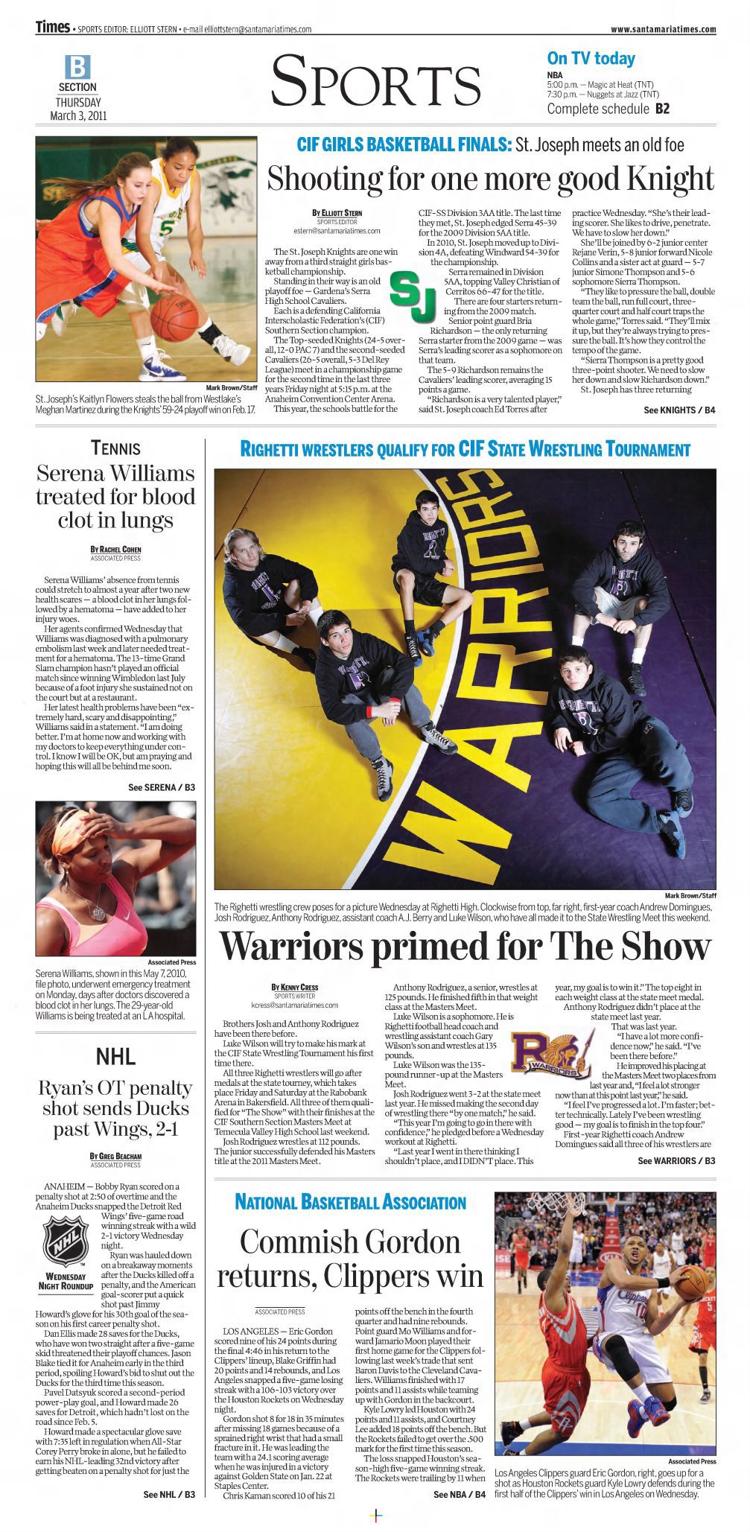 Santa_Maria_Times_Fri__Feb_18__2011_.jpg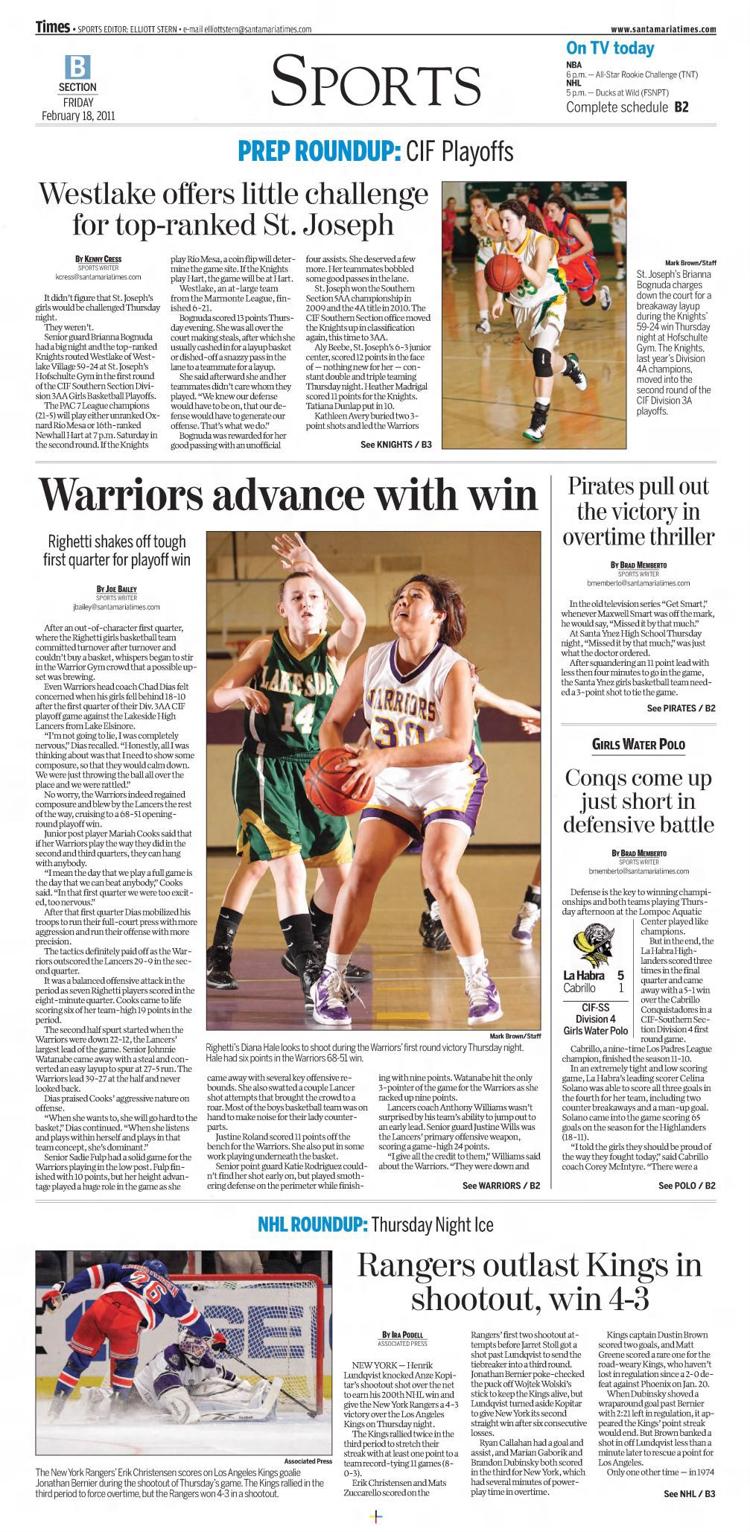 Santa_Maria_Times_Sun__Jan_30__2011_.jpg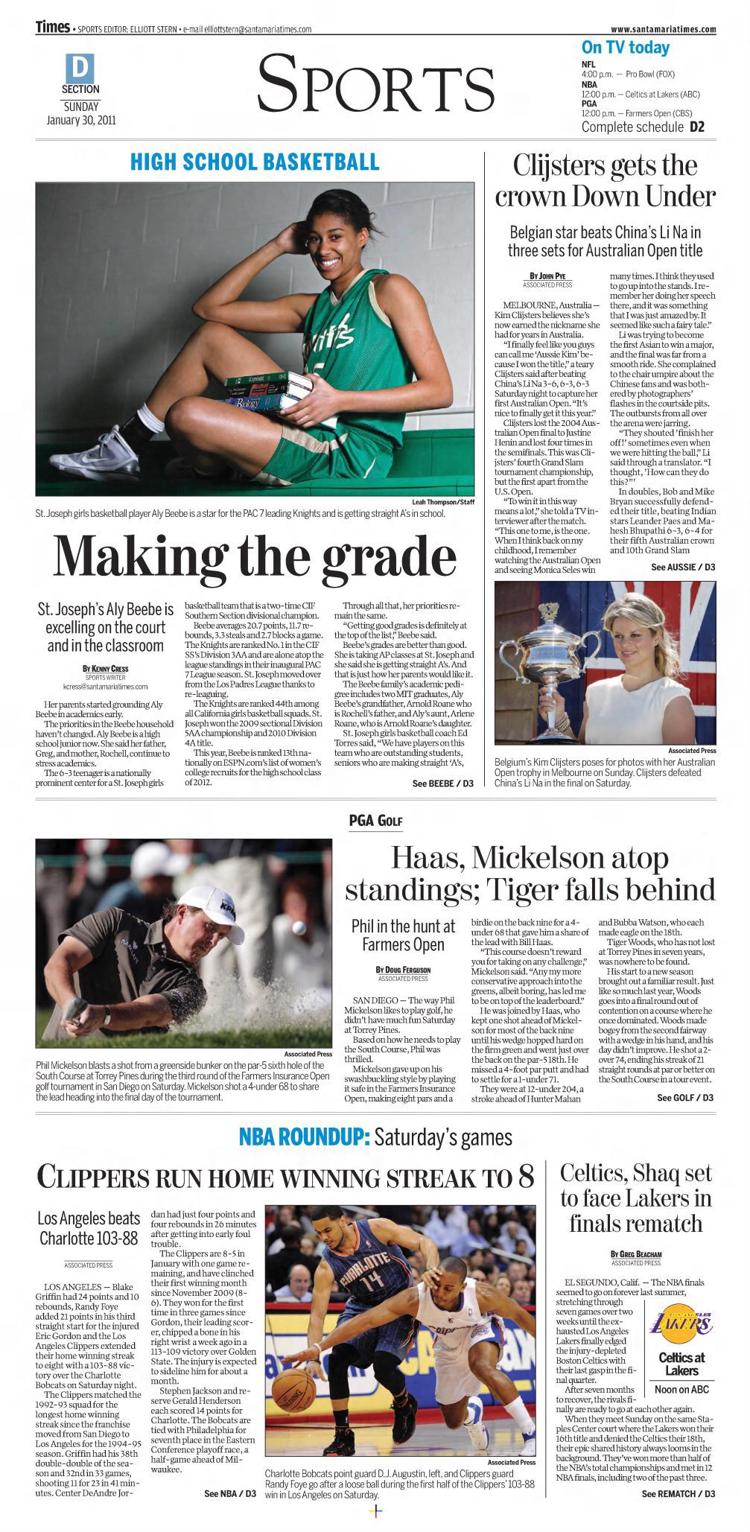 Santa_Maria_Times_Sat__Jan_22__2011_.jpg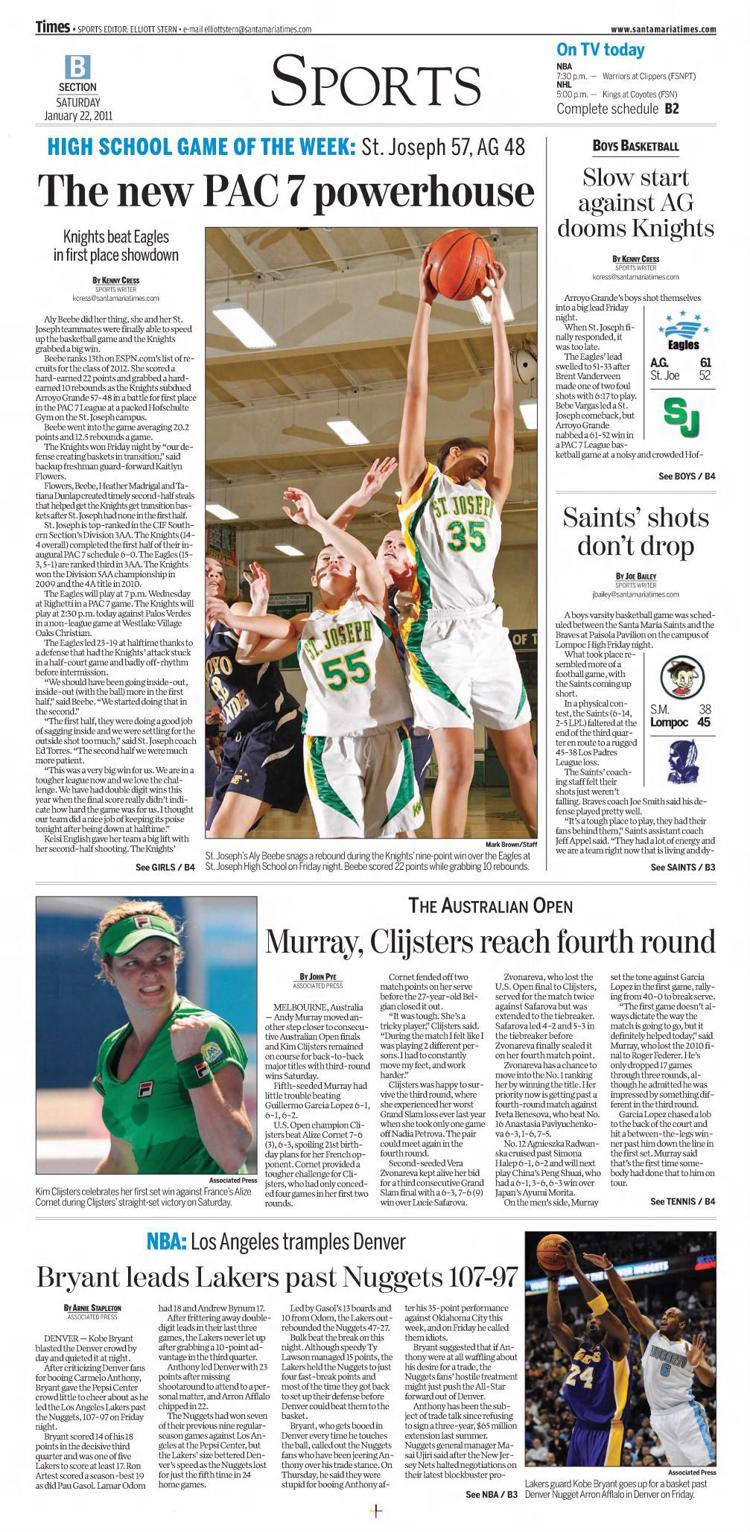 Santa_Maria_Times_Fri__May_20__2011_.jpg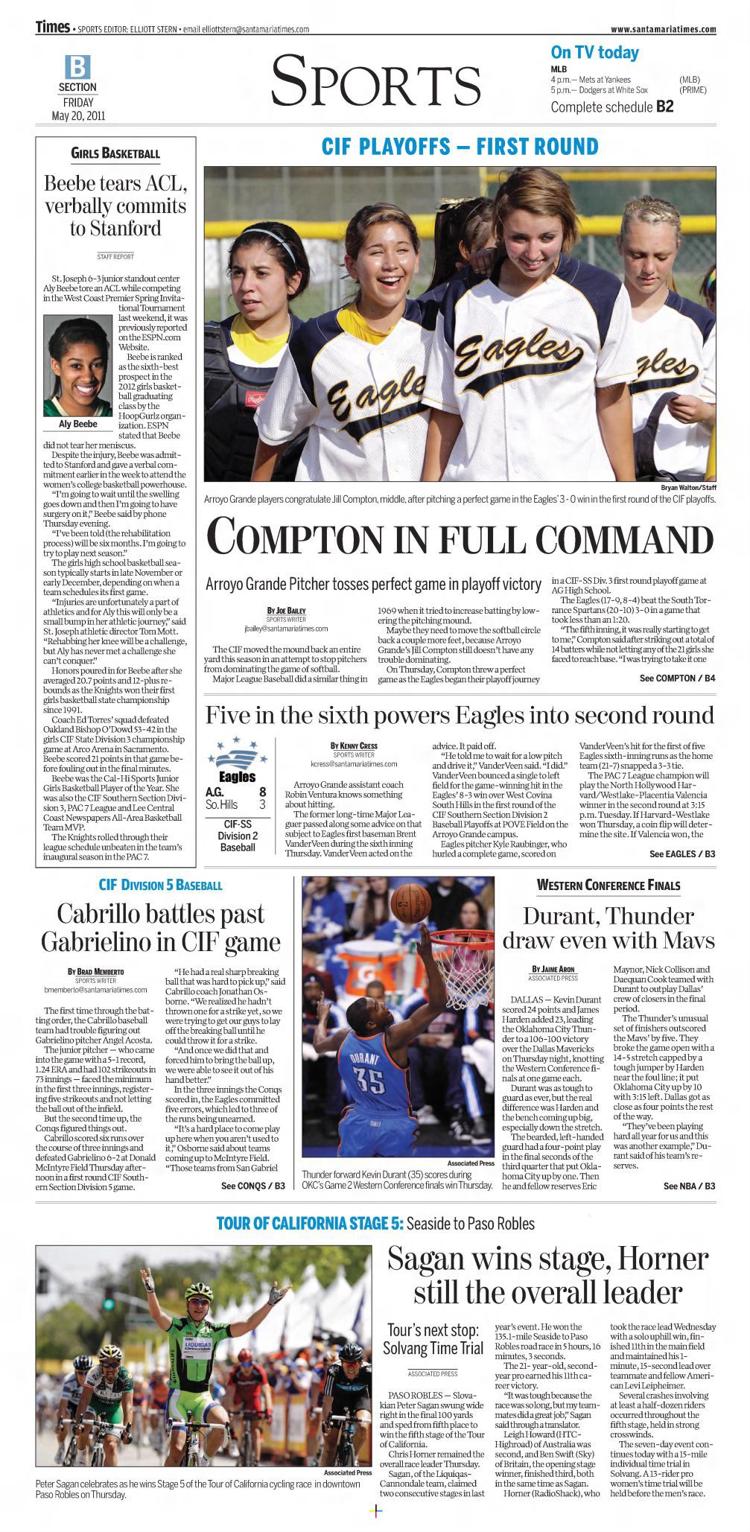 Santa_Maria_Times_Thu__Nov_10__2011_.jpg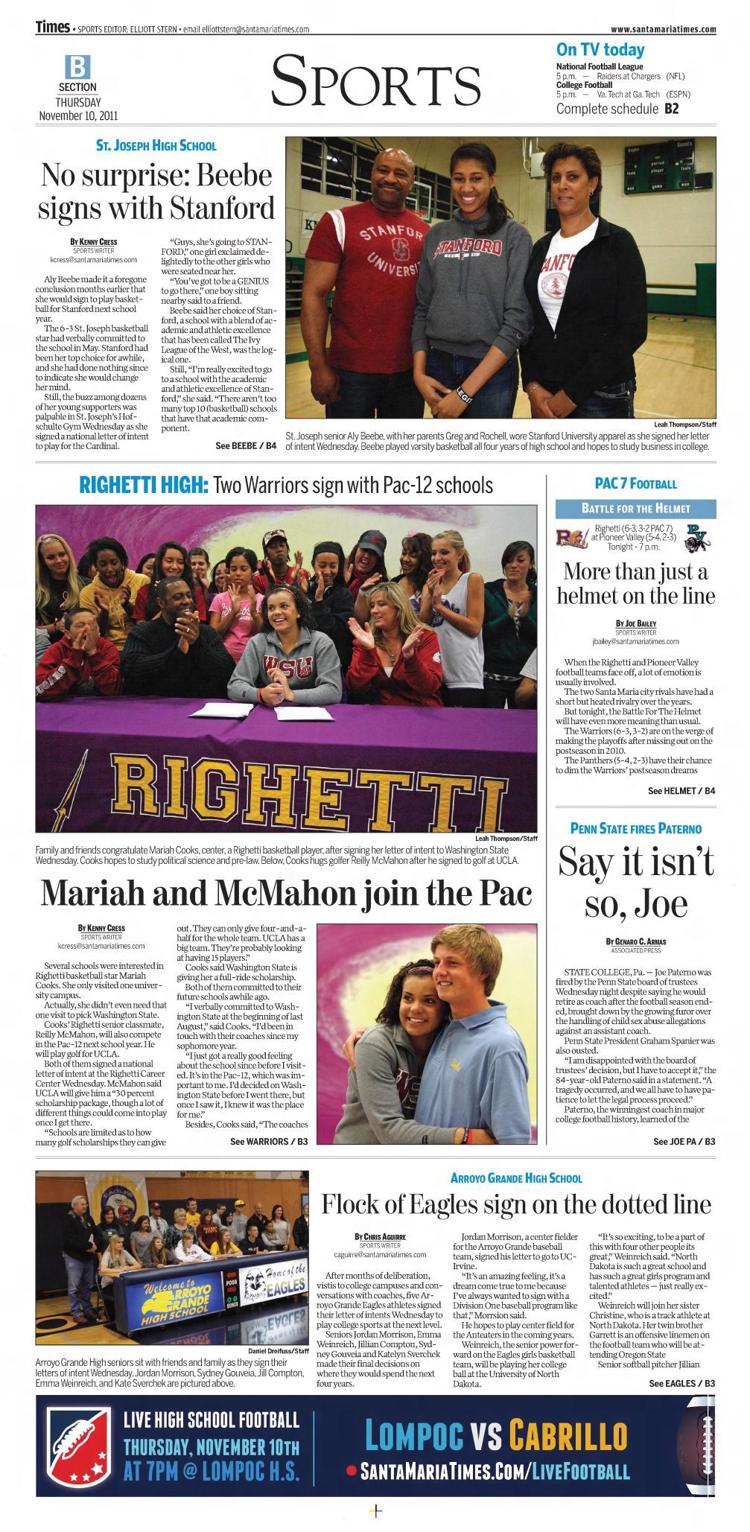 Santa_Maria_Times_Thu__Nov_10__2011_ (1).jpg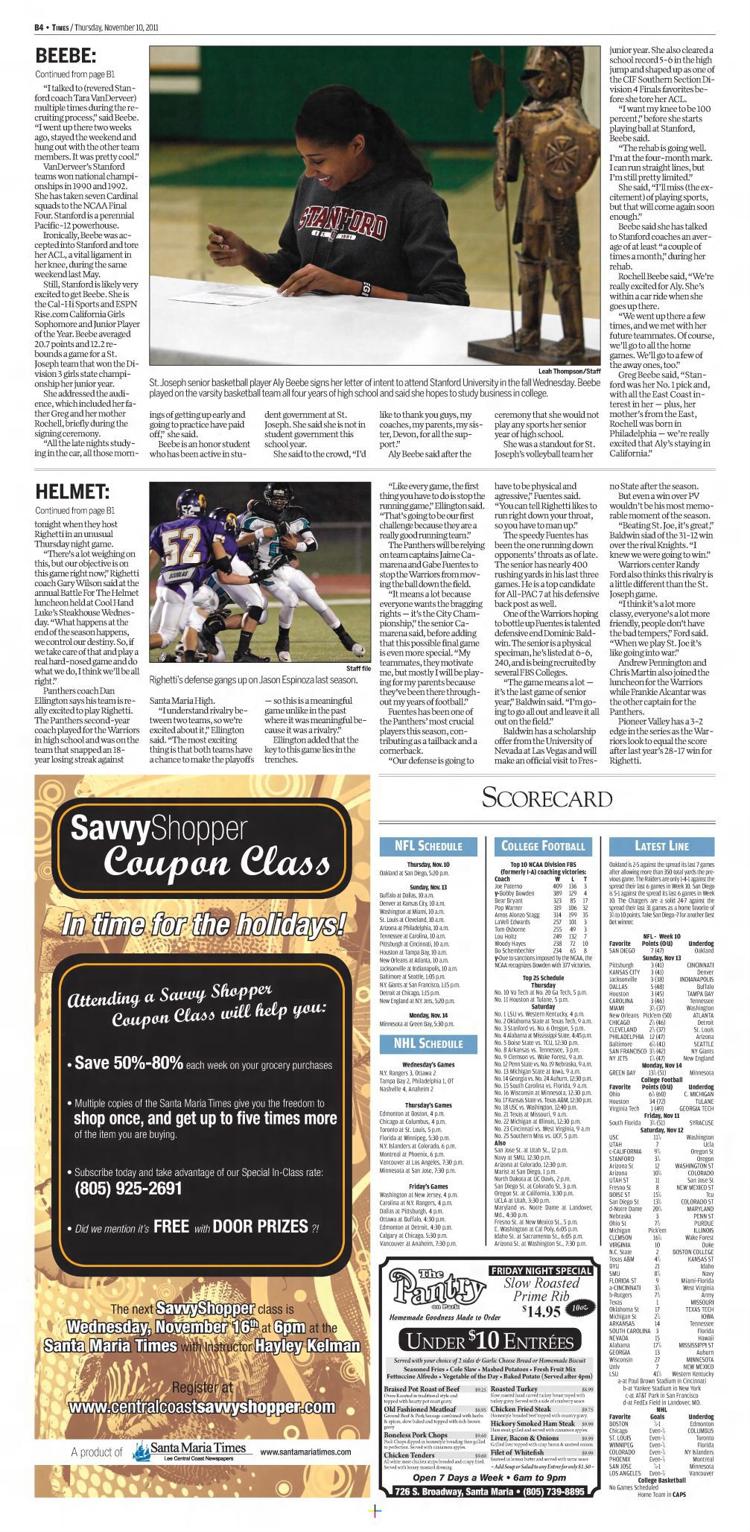 Get in the game with our Prep Sports Newsletter
Sent weekly directly to your inbox!