The Santa Ynez Pirates and San Marcos Royals staged an epic Channel League baseball battle Tuesday afternoon at Santa Ynez High School.
Ben Perez blasted a walk-off double off the left field wall, scoring Dante Berouty, to give the Pirates a 2-1 win in 13 innings.
"I struggled all day waiting for my pitch and I finally got it and hit it down the line," said Perez. "I thought, if it stayed fair, it was gone. I was happy it got down. It was a good way to go out."
Before the game, the Pirates (5-9 Channel League) celebrated Senior Day, honoring the seven seniors on their squad; Perez, Berouty, Justin Koslosky, Cole Knightley, Casey Hickman, Merek Mercado and Aiden Sisemore.
As the final score indicates, it was a pitchers' duel throughout — actually five pitchers.
Junior Tyler Rasmussen got the start for Santa Ynez, giving up two hits and one run in 5 1/3 innings.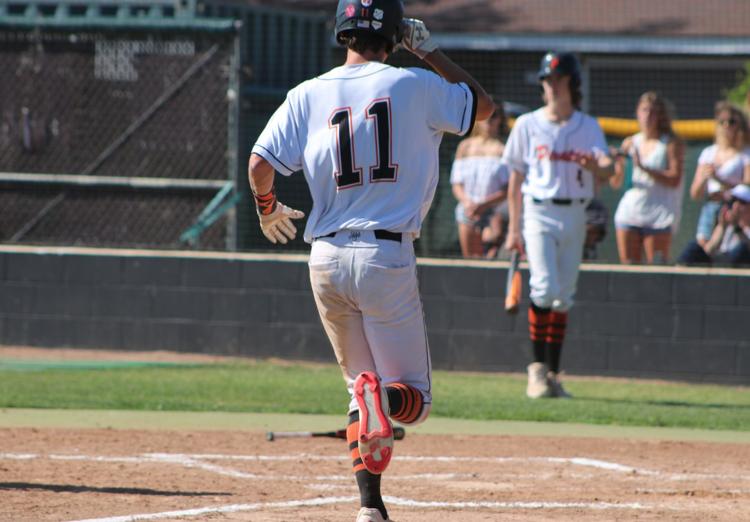 Koslosky came on in relief and pitched 7 2/3 innings (longer than a regulation seven inning game), giving up five hits but no runs to earn the win.
"I throw about 90 percent fastballs," said the sidearming Koslosky. "My whole mentality is to throw strikes, put the ball over the plate and let them put the ball in play – ground balls or infield choppers – and let the defense do its work. I don't have a lot of velocity on my pitches but if I hit my spots, I'll get the job done."
The Royals (4-10 Channel) used three pitchers; Jack Winterbauer went the first 5 2/3, giving up one run, Josh Swanson pitched a scoreless 3 1/3 before Brent Hyman finished up, getting the loss.
Both teams had chances to end the game earlier than 13 innings, but when there were men in scoring position, pitching and defense came through for both sides.
San Marcos' Diego Sandoval was hit by a pitch to start the Royals' first. Sandoval tried to steal second but was cut down on a perfect throw from catcher Berouty — the first of two Royals' runner Berouty threw out trying to steal second base.
"The both were throws to our second baseman (Victor Heredia)," said Berouty. "I can usually see them going out of the corner of my eye but Ben (first baseman Ben Perez) also lets me know they're going."
Santa Ynez had bases loaded in the first inning after Koslosky and junior Mason Young led off with back-to-back-singles and Knightley was hit by a pitch. A strikeout and fly ball got Winterbauer out of the jam.
Berouty led off the Pirates' second with a single to center field.
With two outs, Koslosky doubled to left, scoring Berouty with the game's first run.
The Royals tied the game in the top of the sixth without getting a hit.
With one out, Rasmussen walked three straight Royals.
Santa Ynez coach Warren Dickey brought in Koslosky to pitch.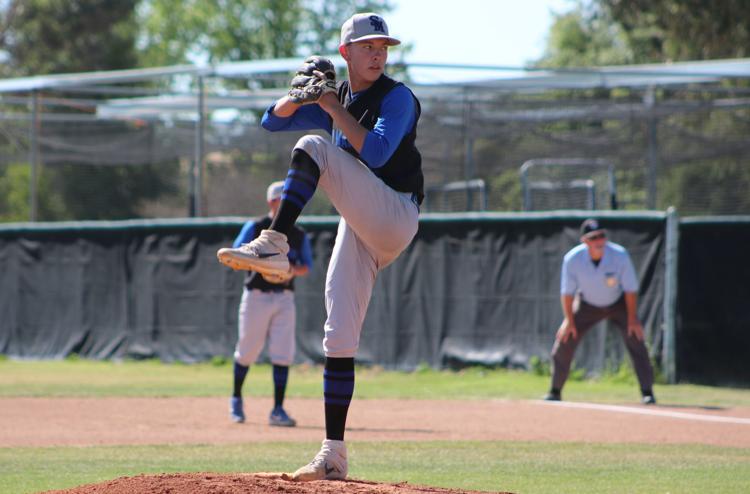 San Marcos' Henry Manfredonia hit a sacrifice fly to deep center to tie the game.
Koslosky then struck out the next batter to end the Royals' threat.
San Marcos had an excellent chance to score in the eighth when, with one out, it loaded the bases on back-to-back singles and a walk.
But the Pirates fielding ended that threat with a double play from shortstop Knightley to second baseman freshman Victor Heredia to Perez at first.
The Royals opened their half of the 11th with back-to-back singles, but Koslosky picked up one of his seven strikeouts, followed by a fly out and a ground out to end the threat and starting a string of nine straight San Marcos outs to end their part of the game.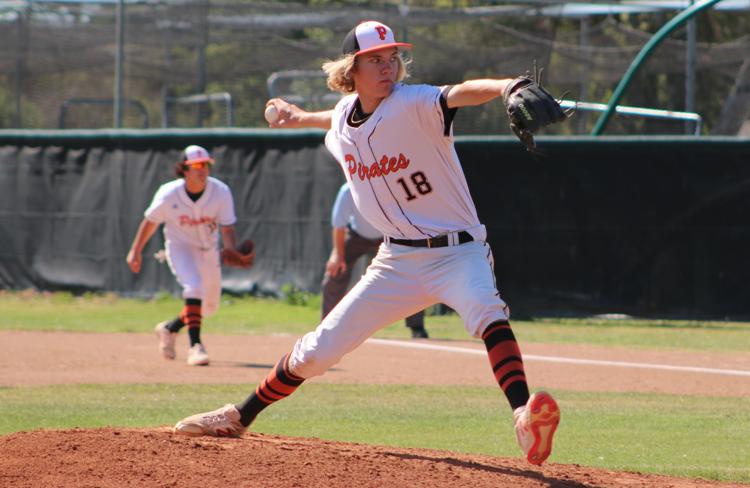 "They were a tough team. I had to power through," said Koslosky. "You can definitely feel the stress in extra innings. You just have to focus and do your job. But it was a great senior day. To end our home season with a win couldn't have ended any better than that."
The Pirates had men in scoring position in the third, fifth, sixth and ninth innings but couldn't get a run across the plate as Santa Ynez left 15 stranded men on base in the game.
And then Berouty led off the bottom of the 13th with a single to right center field.
"I just really let my hands do the work," said Berouty. "I finally got a pitch I could work with and it paid off. It feels nice to end Senior Day with a win. It was definitely an action filled game."
Perez came up and, facing a 3-1 count, got the pitch he wanted and sent it flying to the 330 foot sign at the corner of the left field wall.
The teams met again Thursday at San Marcos in the regular season finale.