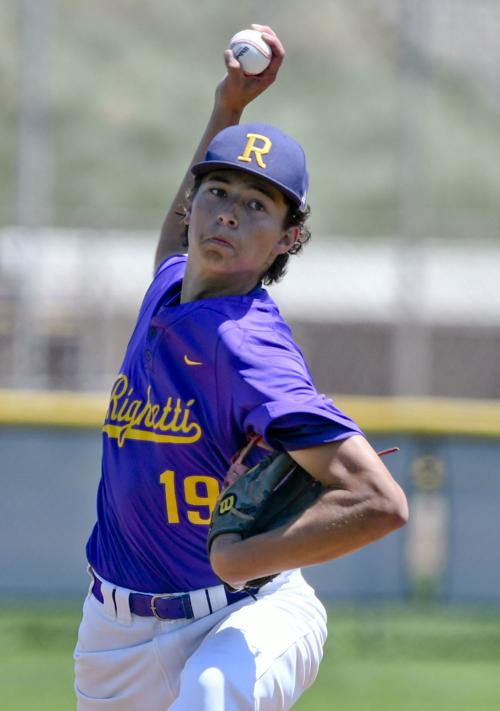 Righetti's Ryan Delgado has made his college choice.
The class of 2020 right-hander announced on Monday that he has committed to play ball at Cal Baptist University, located in Riverside.
Delgado primarily played third base or shortstop when he wasn't pitching for the Warriors in the 2018 season as they won the Mountain League title outright and made the CIF Central Section Division 1 semifinals. 
"Truly blessed to be able to say that I'm officially a Lancer," Delgado said on Twitter Monday. "Anxious for nothing but patient for everything." 
Delgado, at 6-foot-3 and 180 pounds, hit .316 with three home runs, four doubles, 18 runs and 13 RBIs. Delgado's walk-off double lifted the Warriors into the semifinals as it gave Righetti a 3-2 win over Bakersfield Liberty in the quarterfinals. 
On the mound, Delgado went 6-4 with a 2.83 ERA in 47 innings with 53 strikeouts. He walked 23 batters and allowed 47 hits. 
The Lancers moved up to the NCAA Division I level in 2018 and are members of the Western Athletic Conference, along with California schools Cal State Bakersfield and Sacramento State. Also fielding teams in the WAC are Chicago State, Grand Canyon University, Northern Colorado, Seattle, Utah Rio Grande Valley, Utah Valley and New Mexico State.  
Registration open YMCA soccer leagues
Registration for YMCA fall soccer leagues is open until Sept. 22.
Everyone knows about all the work players and coaches put in to get ready for the high school football season.
Age groups are 3-5-year-olds and 6-9-year-olds. The season will run from Oct. 19 to Dec. 14. Games will take place in the YMCA's outdoor Arena soccer facility.
Registration fees are $70 for YMCA members and $90 for participants. Scholarships are available. For registration, visit smvymca.org or go to the YMCA front desk.
For more information, contact YMCA sports director Cathy Otero at cotero@smvymca.org or 1-805-937-8521.
Orcutt Academy basketball camp
Until recently, Ashley Coelho was a full time match teacher, the head of the school's student testing program and a coach on four different teams — girls golf, football, basketball and track. Now Coelho can add the title of Athletic Director to her resume.
The Orcutt Academy basketball team is holding a basketball camp through Thursday, from 9:15 a.m. to 12 p.m. at Lakeview Junior High School each day.
Daily drop ins, with a fee of $20, will be accepted. 
The training is for all positions, grades and skill levels. Instructors will include former and current college and high school coaches, with current varsity players assisting.
Instruction is slated to include team work, shooting, ball handling, passing, rebounding, offense and defense.
To register, call or text 1-805-286-2864 or email Tom Robb at tomrobb62@yahoo.com.
Get in the game with our Prep Sports Newsletter
Sent weekly directly to your inbox!