A little while after the group of young men had celebrated with the customary dog-pile near home plate that follows a thrilling come-from-behind win in a big game, he went to work.
After the celebration, the 25-year-old walked to the equipment shed and grabbed the bag of dirt and something to tamp it down with and went to his mound.
There, he filled in the empty space and smashed down the dirt, working to repair the damage a seven-inning game inflicts.
Alone on that mound, Ryan McNeil was home. He wasn't in some far-away town on some foreign patch of dirt.
Nipomo was up against it Tuesday. The Titans were running out of time at home, trailing Mission Prep 3-2 in the seventh inning of a game that would go a long way in determining the Ocean League baseball champion. So, Nipomo coach Samm Spears decided it was time to put the ball in play.
McNeil was at Nipomo High, his alma mater. He just helped his old high school win a league championship after his Titans stormed back to beat Mission Prep in a walk-off win.
Working that mound is something McNeil has done a lot this year. He spent the spring as an assistant at Nipomo High, the pitching coach on head coach Samm Spears' staff. 
After the Titans beat Mission Prep last week to clinch a share of the Ocean League title, McNeil took pictures with the rest of the coaches and then quickly began his post-game duties. Staying well after the game had ended to make sure the field was pristine. 
It wasn't too long ago that McNeil was seen as a future major leaguer. He was drafted straight out of Nipomo High in the 2012 MLB Draft. The Chicago Cubs took him in the third round.
He threw for Tennessee in the Southern League, Myrtle Beach in the Carolina League, with stops in Mesa and Boise. But this spring, McNeil has been happy to stay on the Central Coast.
In high school, he was the best athlete in town. At 6-foot-3, 200 pounds, McNeil was a standout basketball player who had a 95 mph fastball and, though he never played football, probably could've been his high school's starting quarterback. 
But after he was drafted, McNeil blew out his arm and had to undergo Tommy John surgery. Later, he had a major operation on his hip.
But there's been highlights, like when he led the Carolina League with 22 saves in 2016. In six minor league seasons, McNeil accumulated a 3.73 ERA in 190 innings. 
But the Cubs released him after he threw just 11 innings in 2018. 
His MLB dreams aren't done, though. In fact, he's been following the major league season very closely, especially with his older brother Jeff McNeil in the starting lineup for the New York Mets. 
The younger McNeil has been rehabbing and throwing nearly every day in hopes of signing on with an Independent club and eventually landing back with an MLB-affiliated team sooner than later. 
"Most offseasons I help out and I usually don't make it to their season because I go and play," McNeil said. "This year it's kind of a catch-22 because I haven't been able to sign with anybody yet. But that also allowed me to come out here and watch these guys achieve something special. Winning a league championship is something these kids will remember forever. It's awesome to be a part of it with the guys."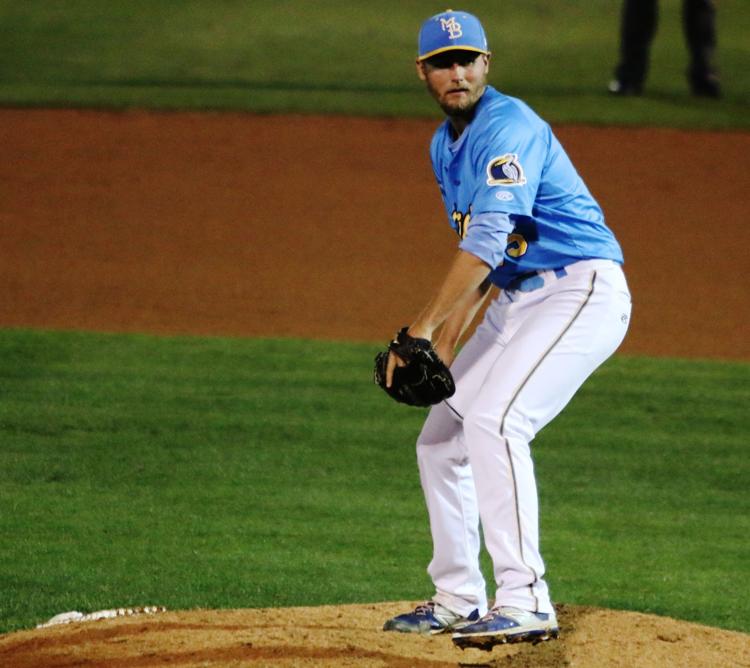 From all accounts, McNeil has taken pretty well to coaching.
"It's been huge having Ryan on the staff," Spears said. "I didn't have a pitching coach and I told him, 'Dude, until you get picked up, do you want to be my pitching coach?' And he said, 'I'll be here every day. Let's do it.'"
Spears started coaching at Nipomo when Ryan McNeil was a senior in 2012 and has worked with him in some capacity every year since. Spears says McNeil has worked extensively with Nipomo's pitchers throughout the year and calls pitches during games.
Both McNeils spent the offseason working at NHS.
"Ryan and his brother, during the offseason, they come out here every single day, they work on their stuff and they help the kids," Spears said. "The kids text Jeff right now and in the middle of the season Jeff will send them text messages."
Spears said Jeff McNeil donated new Under Armour cleats and trainers for the players and coaches before the season.
With Ryan McNeil currently out of professional baseball, Spears was happy to see him helping out his hometown. 
"Ryan's rehabbing, he's throwing and looking for a job and he wants to give back to the school that gave him a chance," Spears said. "He's helping these kids every single day while he's trying to work." 
Nipomo's season continues Wednesday with a game at Kerman in the CIF Central Section Division 3 playoffs.