His team's top two hitters gave him a lead Tuesday, and Nipomo right-hander Anthony Campos did the rest.
Ricky Iniguez (.485 average going into the game) snapped a 1-all tie with a go-ahead single in the bottom of the fifth, Carmelo Hernandez (.510 average going in) followed with another RBI single and Nipomo stayed on top of the Ocean League standings with a 4-1 win over visiting Santa Maria.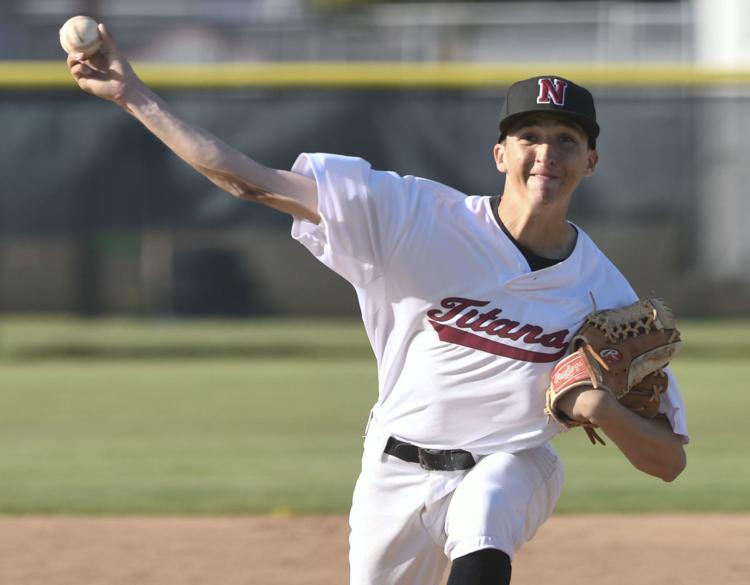 Nipomo scored another run in the sixth on a Carter Stevens squeeze bunt that Stevens beat out for a hit. Campos, who pitched a three-hit complete game and struck out 12, closed out the Saints in the last two innings and cemented the win.
The Titans moved to 11-8-1, 6-1. Mission Prep moved to 6-1 in the Ocean League after winning its Tuesday game against Orcutt Academy, 10-0.
Iniguez and Hernandez each delivered with two outs in the fifth.
"Great piece of hitting by both of them," Nipomo coach Samm Spears said afterward.
"They spoiled breaking balls (with two strikes) then delivered. They both had their best at-bat I've seen all year from them."
Campos said, "They're studs. I don't know where I'd be without my teammates."
The junior right-hander did plenty to help himself Tuesday. Santa Maria batters consistently took called strikes or swung through Campos offerings.
Santa Maria catcher Brayan Nunez helped the .478 average he had going in belting a solo homer to right in the third to tie it at 1-1. That was it for the Santa Maria scoring.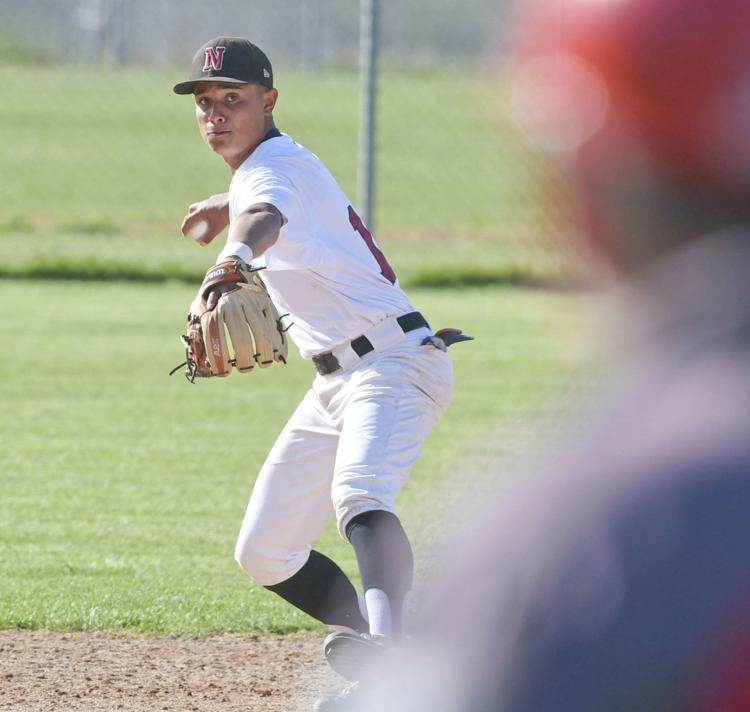 The Saints were hitting just .258 as a team going in and Tuesday, "Our plate discipline just wasn't very good," said Santa Maria coach Michael Roberson.
Santa Maria could not take advantage of a solid Tommy Herrera pitching outing. The Saints' starter pitched into the bottom of the sixth and pitched well enough to keep the Saints in contention.
One flaw was, "We gave up too many two-strike pitches down the middle that went for hits," said Roberson. "We'll fix that."
Campos' outing began ignominiously. The first batter of the game, Nunez, hit a shot off the right-hander's left shin that went for a hit.
The Nipomo junior threw some warm-up pitches afterward, pronounced himself good to go and went about striking out a dozen.
"This was my first seven-inning complete game," Campos said. "I pitched a complete game before, but that one ended after six because of the (10-run) rule.
"My fastball and curve were working, and so was my slider. I was able to locate the slider much better than I did before, especially late in the game when I was losing velocity on my fastball."
Hernandez, Campos and Stevens all finished with two hits for Nipomo. Carter doubled. Hernandez tripled in the first run of the game, in the bottom of the first.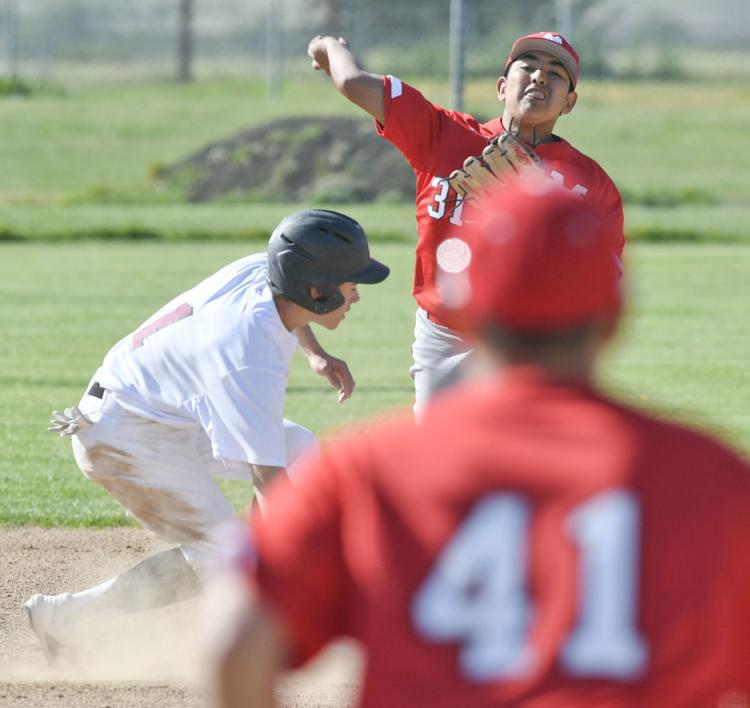 Nunez was 2-for-4 for the Saints.
"We'll just go get 'em Thursday," when the Saints host the Titans at 4:30 p.m. at Santa Maria, said Roberson.
Merced College 2, Hancock College 1
Hancock freshman Trevor Garcia pitched his first complete game of the year, but the Bulldogs (17-18) stranded 12 runners and fell to the No. 14 Blue Devils (19-15) in a non-conference game at Hancock.
After stranding five runners over the first two innings, Hancock finally broke through in the third when Izzy Hernandez scored Jake Shusterich with a single.
Garrett Nishihama singled in the tying run for Merced in the fifth inning. Tyler Butterfield scored the winning run on a fielder's choice in the sixth.
Hancock put a runner in scoring position in each of the last three innings but could not score in any of them.
Garcia took the loss despite limiting Merced to four hits and one earned run. He struck out eight, one shy of tying his career high.
Hancock will host its Spring Classic Wednesday and Thursday at Hancock. Games will be played at Hancock, Cuesta College and Elks Field.
The Wednesday schedule calls for Cuesta to play Cypress at Cuesta at 2 p.m.; Merced to play College of the Canyons at Elks Field at the same time; Hancock to play East Los Angeles at 2:30 p.m. at Hancock; and Cerritos to play Fresno at 6 p.m. at Elks Field.
Righetti 8, Paso Robles 4
The Warriors stayed atop the Mountain League standings as Ryan Delgado struck out seven over five innings of work.
Brandon Giddings went 1-for-3 with three RBIs. Isaiah Navarro, Jake Steels and Caleb Dulay each drove in a run. Steels scored twice.
St. Joseph 8, Atascadero 7
The Knights (7-14, 4-7) edged the Greyhounds (4-14, 3-6) in a Mountain League game at Atascadero.
St. Joseph trailed 5-4 going into the top of the fifth, but the Knights scored twice that inning and twice more in the sixth.
Miles Enos had three hits for St. Joseph. Chris Cervantes had two. Enos had two RBIs, and Cervantes had one. Jacob Galloway homered for St. Joseph on the first pitch of the game.
Cabrillo 9, Raymore-Peculiar 5
PECULIAR, Missouri — The Conquistadores are 1-0 in baseball games in the Show-Me State.
Cabrillo erupted with six runs in the top of the fourth inning to seal the rally over the Panthers on Tuesday evening.
Coach Jon Osborne said CHS (8-12 overall) had to battle back from the Panthers putting up four runs in the bottom of the second.
"It was exciting. We came back in the fourth to score six runs, and they had a hard time catching up," Osborne said by phone Tuesday night.
Cesar Frausto was one of the catalysts behind the comeback charge for the Conqs – sending the ball toward the fence for the double that brought two runners in. Patrick Garcia added a double that resulted in two RBIs.
Vincente Canchola and Alec Brown also added RBIs, the latter bringing two Conqs home.
Luke Kovach took the victory on the mound. Kovach pitched in two innings (the third and fourth) and surrendered zero hits and no runs during that sequence.
Softball
Mission Prep 3, Nipomo 1
Anna Reed pitched a one-hit complete game for the Royals, who won an Ocean League game at Nipomo.
Lissette Coria had the Nipomo hit. Genuine Reyes scored the Nipomo run.
Valley Christian Academy 23, Coastal Christian 13
The Lions locked down second place in the Coast Valley League with a win over the Conquerors at VCA.
Samantha Trenkle was 3-for-4, tripled and scored four runs for the Lions. Mayley DeBernardi was 2-for-3, tripled and scored three VCA runs, and  Malia Bullock had two hits, scored three runs and drove in another.
Pioneer Valley 12, Orcutt Academy 2
Amaya Yebra pitched a six-hit complete game, and the Panthers (8-12, 6-1) breezed to an Ocean League win over the Spartans (7-11, 0-7) at Pioneer Valley.
The game was called after five innings because of the 10-run rule.
Danica Black went 2-for-3 with a triple and a run scored for the Spartans. Arianna Contreras doubled and drove in an Orcutt run, and Rachel Golden doubled for the Spartans.
Boys volleyball
Orcutt Academy 3, Templeton 2
The Spartans rallied for a 25-21, 14-25, 21-25, 25-16, 17-15 Ocean League win at Templeton.
Kyle Zafiris had seven kills for Orcutt. Luke Clark and Dylen Zafiris racked up six each, and Tanner Buzard made 16 digs. Eston Williams had six assists.
Youth soccer
The Santa Maria-based Chivas Soccer academy will send two teams, one with players born in 2005 and a seven-on-seven squad of players born in 2011 and 2012, to the annual age group tournament, Copa Chivas in Guadalajara, Mexico, that the Chivas professional team in Mexico hosts.
Chivas Soccer Academy Director Juan Velasco said his club has a direct affiliation with the Chivas pro team in Mexico.
The Chivas Soccer Academy 2005 team consists of Emmanuel Velasco, Caleb Toleda, Johan Marcial, Kevin Barrueta, Benito Torres, Emilio Rojas, Omar Garcia, Santiago Gallo, Eliseo Lopez, Francisco Zamora, Brian Martinez, David Montesinos, Bryan Guillen, Stephanie Guzman and Victor Parra.
The 2011 and 2012 squad consists of Raelina Perez, Olivia Uribe, Mackenzie Roberts, Elijah Barron, Julian Uribe, Elijah Gonzalez, Gerardo Santillan and Adrian Escobar.  
Boys golf (Monday)
Atascadero 227, St. Joseph 228
Medalist Tory Nurmile shot a 39, and the Greyhounds edged the Knights by a stroke in a Mountain League match over nine holes at Santa Maria Country Club.
Chase Gamble led St. Joseph with a 42. Teammates following were Grayson Arnsdorf (43), Caleb Rodriguez (43), Dylan Spiess (44) and Ryan Cossa (56). 
Track (Saturday)
Russell Cup
Orcutt Academy's boys team finished fifth at the 100th edition of this meet at Carpinteria High School.
Orcutt's Josiah DeBruno won the boys long jump with a best of 42 feet, 5 inches. Teammate Max Daniels finished third in 23.17 seconds in the 200 and sixth in a school record 52.58 in the 400.
The Orcutt Academy girls 4x200 team of Alexx Asencio, Emily Greene, Brooke Stewart and Sydney Elwell finished fourth in 2:05.30. Orcutt's Ashley Mason (18.70, 100 hurdles) and Viviana Lopez (4-7, high jump) finished third in those respective girls frosh/soph events.
Correction
Soleil Orca was the batter who hit a two-run, walk-off double for St. Joseph in the bottom of the fifth inning to give the Knights a 4-3 win over Soledad in a Best of the West Tournament softball game at Pioneer Valley High School Saturday.