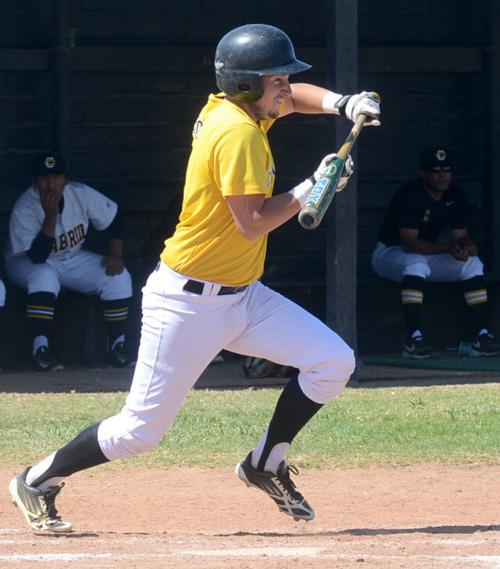 Cabrillo stayed in the Osborne family tree to find its latest baseball head coach. 
Cole Osborne, a class of 2013 CHS grad, will take control of the varsity baseball program in Vandenberg Village—succeeding his father and 26-year head coach Jon Osborne, the former head baseball coach confirmed on Tuesday. 
Jon Osborne announced his retirement following Cabrillo's 8-3 loss at Santa Barbara on April 26, ending the Conquistadores' season at 8-16 overall in their first year as a Channel League member. 
But now, another Osborne will run the show at Don McIntyre Field. 
"It's kind of surreal. But after meeting with the boys and other coaches, it's getting real," Cole Osborne said by phone on Tuesday. 
Cole ventured out to Orange County with his wife last season in what he called "a growing season" as they resided in Irvine. But, the Lompoc Valley gave them a nostalgic feeling. 
"I missed being in the dugout with my dad and the boys," Cole Osborne said. 
Cole Osborne, 24, was with Cabrillo during its last season in the Los Padres League in 2018. He was not on the field or dugout in CHS's first go-round in the Channel League this past season. 
You have free articles remaining.
Once the final out was called, a 25-year run came to an end down in Santa Barbara last Friday — a run that saw multiple Los Padres League titl…
He's aware the league will be more competitive in his own first taste of the Channel League. 
"The schools have had a lot of success there. But we'll be working hard during the off-season starting in the summer. And we'll be working on our mindset, including overcoming adversity," Cole Osborne said. 
The Osborne family now has three generations of baseball head coaches. Jon Osborne's father John was a longtime skipper for Hancock College. Jon Osborne coached at Mt. Whitney in Visalia, then Bullard High in Fresno before settling in the Lompoc Valley in 1994. 
And while the son was sharing the dugout with his dad, Cole believed that one day he would have a team of his own. 
"I knew I wanted to be a head coach," he said. "That baseball field is a second home to me." 
Will Cole Osborne have a similar coaching style that resembles his dad and grandfather? 
"I'll be my own guy," he said. "My baseball knowledge comes from the both of them. But I'll definitely be my own guy." 
Cole Osborne concludes that he will be working on the Cabrillo campus as an instructional assistant while coaching baseball. 
After celebrating a championship win with his Lompoc Babe Ruth baseball team Sunday, coach and equipment manager Dave McNamee is ready to hang up his bat bag after 40 years of service. "My days of carrying equipment are over with," said McNamee, 60, after guiding his team, the Lompoc Elks, to a title on Sunday. "It's time to fill some bucket list items."