The St. Joseph Knights' Noah Skarda is the man of the hour.
Skarda scored the winning run and was the winning pitcher in the Knights' 4-3 extra inning victory over the ninth-seeded Bakersfield Ridgeview Wolf Pack (18-10) in a CIF Central Section Division 3 first round baseball playoff game Tuesday afternoon (and evening) at the Knight's Dave Brunell Field.
And the eighth-seeded Knights (12-16) scored the game-winner without getting a base hit.
With the score tied at 3-all, Skarda led off the bottom of the ninth inning with a hard fought, eight-pitch walk.
Michael Tackett followed with a sacrifice bunt down the first base line. Ridgeview's Julian Sandoval fielded the ball and placed a hard tag on Tackett for the out but Skarda was safe at second.
"Tackett did his job," said St. Joseph head coach Ron Regalado. "Execution — it's all about execution in baseball and he executed that play perfectly."
That brought Justin Maldonado to the plate.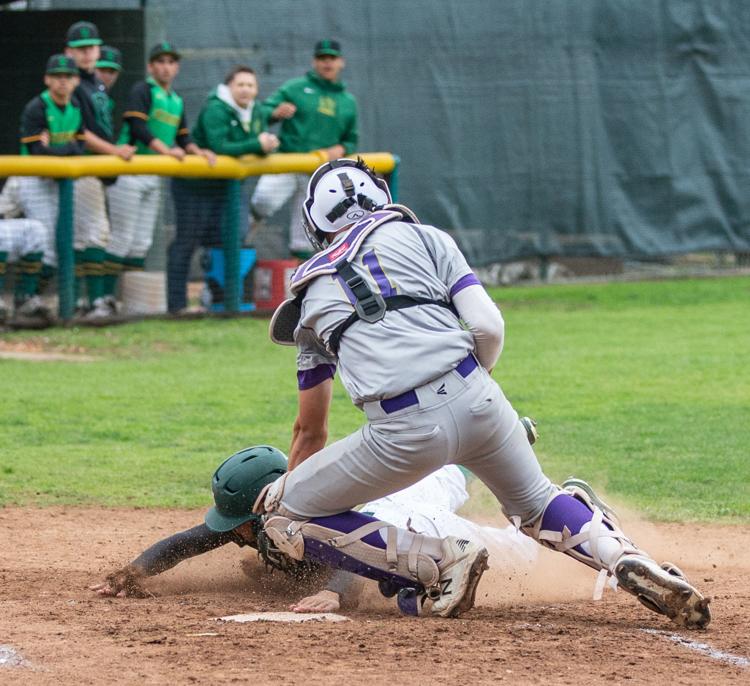 Maldonado took a called first strike and then fouled off the next two pitches.
The next pitch from Ridgeview's Riley Moran was a ball that got away from the Wolf Pack catcher.
Skarda broke for third and slid in under the tag attempt. The throw from the catcher got away and rolled into short left field. Skarda got up, raced home and again slid under the tag to score the game-winning run.
"Skarda came through," said Regalado. "He filled in big coming the way he did to pitch in the ninth inning and he fought through a 3-2 count to get on base. That's what started the winning rally. When he was on second and there was a passed ball — that's an automatic run. He knows he has to run in that spot and when the ball got past third base, he knew he had to break for home." "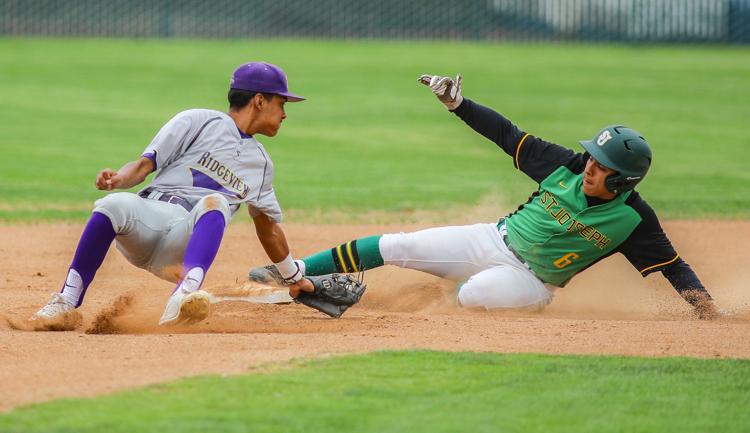 St. Joseph starter Alex Ontiveros pitched the first eight innings with Skarda coming on in relief in the top of the ninth.
The Wolf Pack's Gavyn Siefert led off the ninth with a ground ball single through short.
But Skarda got out of trouble with the help of some excellent Knights fielding.
Ridgeview's Ethan Trejo tried to move the runner up with a bunt but St. Joseph third baseman Chris Cervantes charged the ball and threw out the lead runner at second.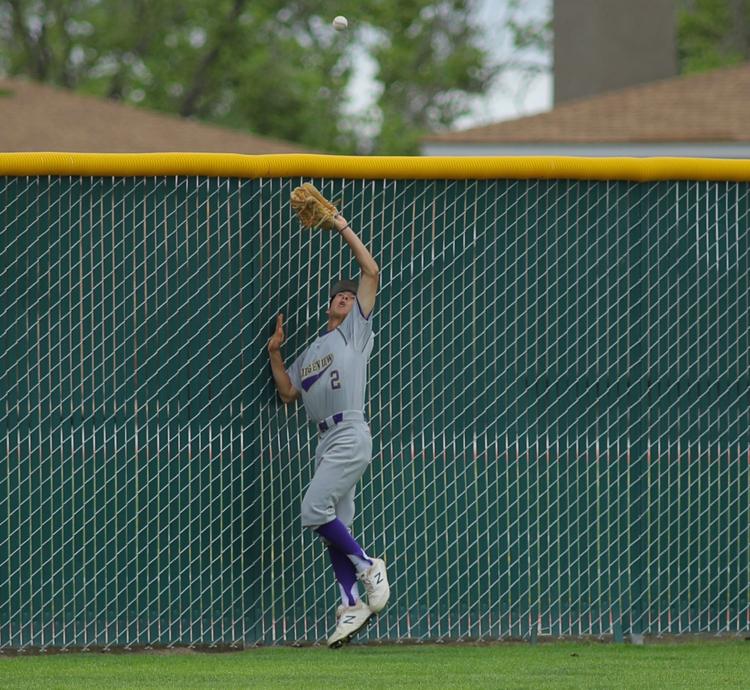 Then Bakersfield's Jeremy Castro, whose seventh inning RBI single tied the game at 3-all, hit a shot to second baseman Hunter Barnhart who, again, cut down the lead runner.
Bakersfield's Julian Sandoval hit a hard grounder to Cervantes who scooped the ball up and threw to Ontiveros, who moved over to first base when Skarda took the mound, to end the Wolf Pack's final threat.
The Knights scored single runs in the second, third and fifth innings to take a 3-0 lead.
Ontiveros singled to lead off the second, went to second on a balk and took third on a wild pitch.
He scored on Hunter Barnhart's grounder to short.
Jacob Galloway hit a one-out double down the first base line in the third inning.
He scored on Cervantes' line drive single to deep right field.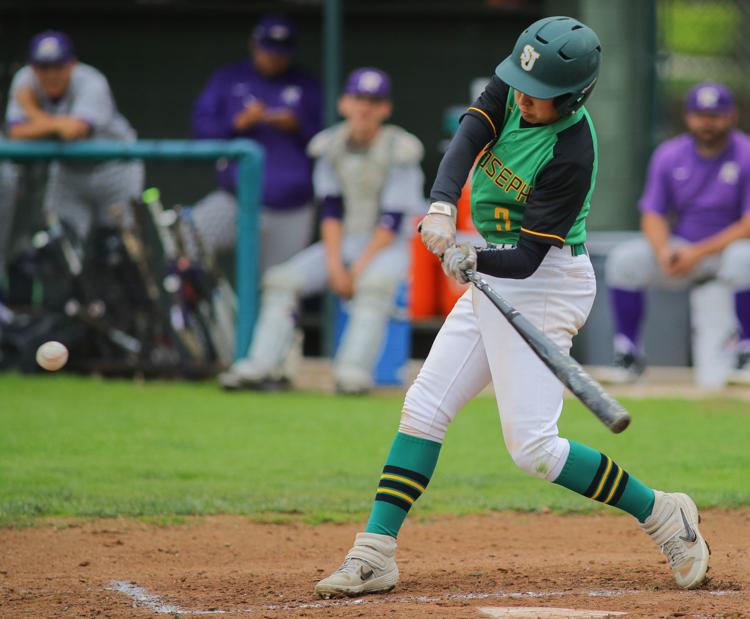 Some daring base running led to the Knights' third run.
Ridgeview coach Jason Hunsaker replaced starter Jacob Gutierrez with Jesse Villalobos in the fifth.
Aden Anderson was hit by a pitch leading off the inning and went to second on Maldonado's infield single.
Galloway hit into a fielder's choice that moved Anderson to third while Maldonado was forced at second.
The Knights scored on a double steal.
First Galloway broke for second and slid safely under the throw.
When the throw went to second, Anderson broke for home and he slid safely under the return throw to make the score 3-0.
Hunsaker brought in Moran to pitch after the double steal.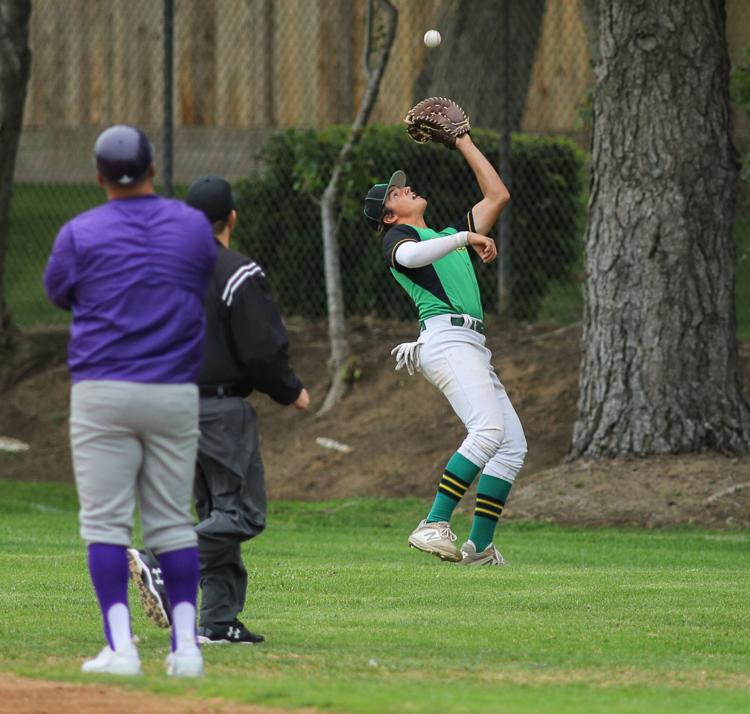 Meanwhile, Ontiveros was cruising.
He had a not hitter, with one walk, through five.
He gave up his first hit, a two-out double to Ridgeview's Jose Ruiz in the sixth and then ran into big trouble in the seventh.
Moran led off with a walk, went to third on Miguel Castillo's double and scored when Trejo got aboard on an error that got him to second base.
Castillo scored on a passed ball that moved Trejo to third and then Trejo scored on an infield single by pinch hitter Castro.
Two fly ball outs ended the Wolf Pack rally and Ontiveros held Ridgeview scoreless in the eighth before giving way to Skarda.
"Ontiveros — he's our workhorse. He must have over 100 strikeouts this year. He throws with his heart," said Regalado. "He's a tough guy to keep out of the game but he gave us eight great innings before he reached his pitch count."
"I'm proud of my boys. They're a good group of kids," said Hunsaker. "There was no quit in them even when we were down 3-0. They battled back. That's what they've done all season."
St. Joseph hosts No. 16 seed Templeton Friday. Templeton upset top-seeded Selma on Tuesday.