The Nipomo Titans are heading to the semifinals.
The 10th-seeded Titans (16-12-1), the Ocean League's second-place team, defeated Santa Maria 4-3 Friday afternoon in a CIF Central Section Division 3 baseball quarterfinal game at Nipomo High.
"Sometimes you need a close game like this. It helps the team grow in a way that winning by a lot of runs doesn't. It makes you bear down to win the ballgame," said Nipomo coach Samm Spears.
"I felt like we should have won the game," said Santa Maria coach Michael Roberson. "We came up short but all our guys did a great job. It took everybody working together to get this far and they all met the challenge."
Nipomo's Anthony Campos got the start and pitched 6 1/3 innings, giving up three runs on six hits with three strikeouts with two walks — one intentional — before tiring in the seventh and being replaced by Brayden Groshart who picked up the save.
"I always try to throw as many strikes as possible; let them hit it and trust my defense," said Campos. "I was getting tired in the seventh and the velocity on my fastball was going down so I relied more on my curve and changeup. I knew my teammates would come through. There are no other teammates in the world I'd rather have."
"He was a little tired at the end but he pitched a great game," Spears said of Campos. "He's done that for us all year, mixing up his pitches, throwing strikes."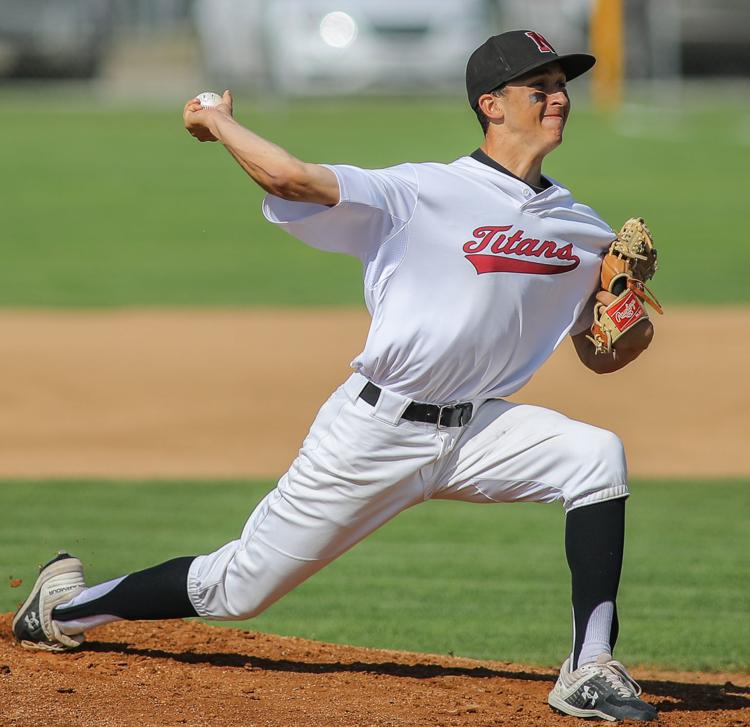 Santa Maria used three pitchers.
Luis Guerrero threw the first 4 2/3 innings, giving up two hits — both doubles — with one strikeout and two walks.
Brian Espinoza came on in the fifth, giving up one run on one hit with one walk in one inning of work before Ricky Figueroa finished out the game.
The 15th-seeded Saints (12-15), the fifth-place team from the Ocean League, scored first.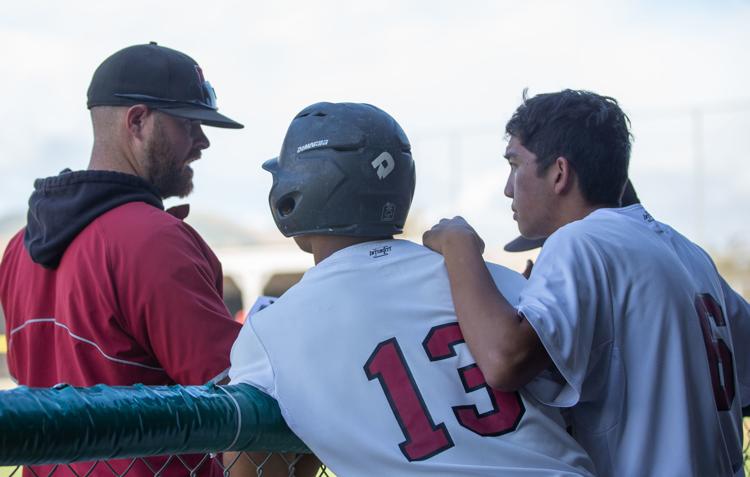 With one out in the top of the third inning, Carlos Hidalgo walked and went to second on Brayan Nuñez's single into left field.
Ricky Figueroa then hit into a fielder's choice — short to second — and an error on the double play relay to first allowed Hidalgo to score.
Figueroa tried to take second on the play but was caught in a rundown to end the inning.
The Titans came right back, scoring three times in the bottom of the third.
Ricardo Rodriguez got aboard on a one-out walk and went third on Wade Arkinson's sacrifice bunt.
You have free articles remaining.
Register for more free articles
Stay logged in to skip the surveys
Ricky Iniguez then walked and both runners scored on Carmelo Hernandez's double to the left centerfield fence.
Hernandez later scored on Groshart's double to center, giving Nipomo a 3-1 lead.
"Carmelo did what he has done for us all year," said Spears. "That was an important at-bat."
Santa Maria loaded the bases in the top of the fifth but failed to score.
Justin Gutierrez led off with a single and was sacrificed to second. Austin Peinado walked and both advanced on another sacrifice bunt.
Nuñez was then given an intentional walk, loading the bases, but there were two outs and Campos got out of the jam on a fly ball to center.
Nipomo scored its fourth run in the sixth.
Campos led off with a walk and went to second on a wild pitch.
Justin McKee singled, sending Campos to third and then Carter Stevens laid down a sacrifice bunt along the first baseline, allowing Campos to score.
"We needed that fourth run," said Spears. "When it was 3-1, all they needed was a walk and a home run to tie it. They got just that later but we still had a one run lead."
The Saints rallied in the top of the seventh after a one-out single by Luis Guerrero was followed by a first-pitch, two-run home run over the 330-foot sign in right field by Austin Peinado.
Pinch hitter Julien Sepulveda followed with a single to right, ending Campos' afternoon.
The Saints were still alive after Nuñez singled and, with two outs, Tommy Herrera walked to load the bases.
Groshart induced a ground ball for the final out to preserve the win.
"We had our opportunities, but that's baseball," said Roberson. "I'm proud of the guys, proud of the way they battled all year. We had a great season and we're still a young team — we'll be back next year."
Nipomo will next play at either No. 3 seed Highland or No. 6 seed Firebaugh in the semifinals next Wednesday.
The Highland/Firebaugh quarterfinal game will be played Saturday.