Heading into Wednesday's baseball game against Arroyo Grande—the Mountain League opener for both squads—St. Joseph had suffered four losses by two or fewer runs.
After the game, that total stands at five. 
St. Joseph lost 1-0 to Arroyo Grande at Dave Brunell Field Wednesday.
Nathan Teixeira drove home the game's only run with a bases-loaded walk to score James Gilmet in the fourth inning. Gilmet started the inning by drawing a walk and Justin Trimble then followed suit with another base on balls. Both runners moved up on a wild pitch and then Ethan Royal reached base to load the bags up and bring Teixeira to the plate. 
Matt Melena started for St. Joseph and went four innings, striking out five while issuing seven walks. Alex Ontiveros pitched well in relief, striking out three over two innings. Noah Skarda threw one inning of relief and struck out one.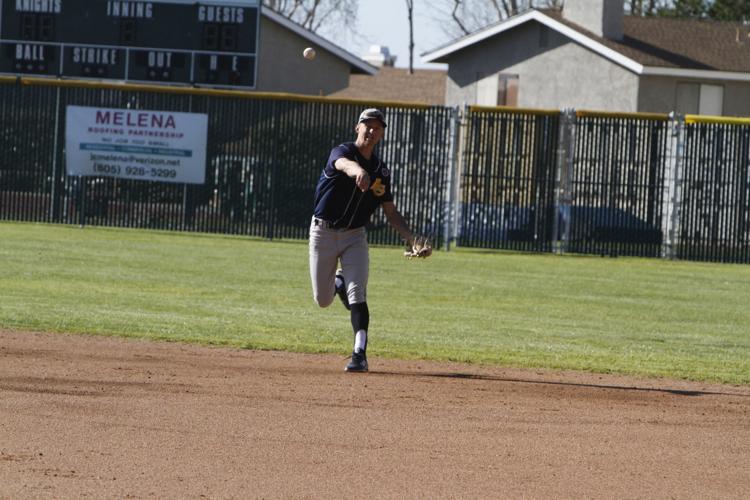 "Some of these close games we should be winning. It's just been mental mistakes," St. Joseph coach Ronnie Regalado said. "Some of our guys are still young, but these are good kids. This is a good group."
There's help on the way for the Knights. Jacob Galloway, the team's shortstop, missed the game with a hip injury, but Regalado said he'll be back Friday. 
Paso Robles transfer Hunter Barnhart is expected to make his debut with St. Joseph within the next couple of weeks. 
"He'll be back in the Paso series," Regaldo said of Barnhart, a standout infielder who has committed to play for Arizona State. "So he'll be back for that series against his hometown."
Arroyo Grande's Andrew McCoy started for the Eagles and the Knights had trouble making contact off his three-quarters delivery. The Knights had three hits. Michael Tackett, Chris Cervantes and Jackson Stahl each went 1-for-3. 
Though there weren't many runs Wednesday, the game still had plenty of theatrics on the defensive side. 
St. Joseph centerfielder Miles Enos ended the top half of the seventh inning by throwing out Arroyo Grande's Brady Lachemann at the plate. Enos scooped up a groundball single in shallow center and threw a dart to catcher Michael Tackett, who had to lean backwards and stretch out to tag out Lachemann, who had doubled earlier in the inning. 
St. Joseph right fielder Justin Maldonado made a diving catch to end the top of the sixth inning and keep it a one-run game.
Royal, Arroyo Grande's left fielder got on his horse and made an over-the-shoulder catch to rob Chris Cervantes of a base-hit in the bottom of the fifth.
The game ended with Dean Hopper striking out Maldonado with runners on second and third. The inning started with Ontiveros reaching base on a slow chopper to short. A bunt advanced the pinch-runner to third. Jackson Stahl was hit by a pitch and Noah Skarda grounded out before Maldonado went down swinging. 
The Eagles moved to 5-3 on the season and 1-0 in the Mountain League. St. Joseph fell to 3-7 and 0-1.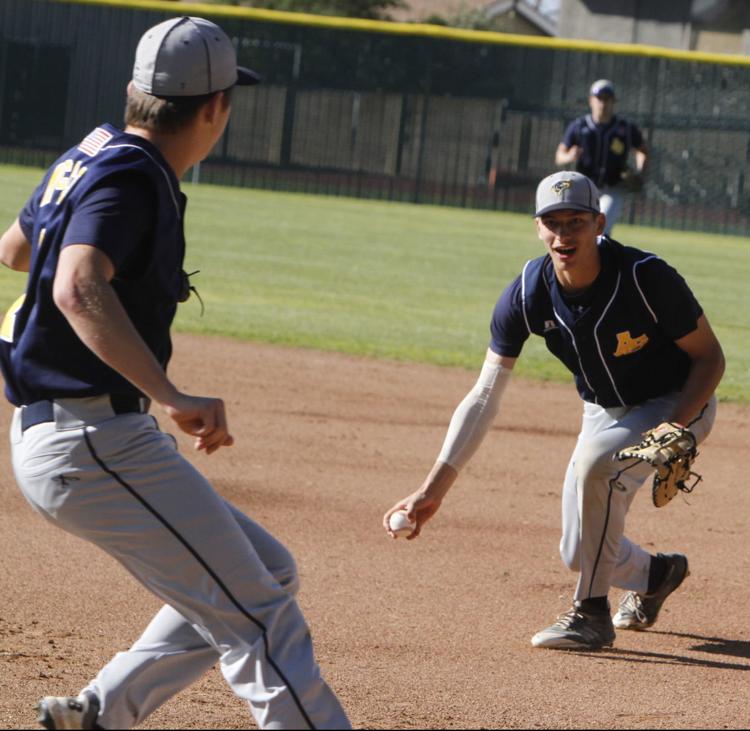 Arroyo Grande is scheduled to host St. Joseph in another league game Friday at 4:30 p.m.
Righetti 11, Atascadero 1, 5 Inn.
The Warriors captured their first Mountain League win in their first try and improved to 7-2 on the year. 
Brandon Giddings went 3-for-3 with two runs and three RBIs. He had a double and a triple.
Ryan Delgado, the Warriors' starting pitcher, went all five innings and allowed just one hit, striking out seven. Delgado went 2-for-3 at the plate with two runs scored.
The Warriors outhit the 'Hounds 9-1. Each team made one error.
Andrew Gonzalez, the team's young catcher, drove in two runs. Isaiah Navarro scored and tripled. Logan Mortensen had a run and an RBI.
Bryan Rivera scored twice and drove in a run.