The final Round Table of 2019 honored the top athletes of the year and added three names into its Hall of Fame.
The Northern Santa Barbara County Athletic Round Table met once more on Wednesday night inside Santa Maria's Elks Lodge — this time to recognize the athletes of the year, the 2019 Hall of Fame class and honor the scholar athletes.
Maggie Usher of Santa Ynez softball took home Female Athlete of the Year honors. Usher, who is also active in rodeo, wasn't present to accept her award because she was at Santa Ynez High's annual athletic awards banquet which was being held at the same time.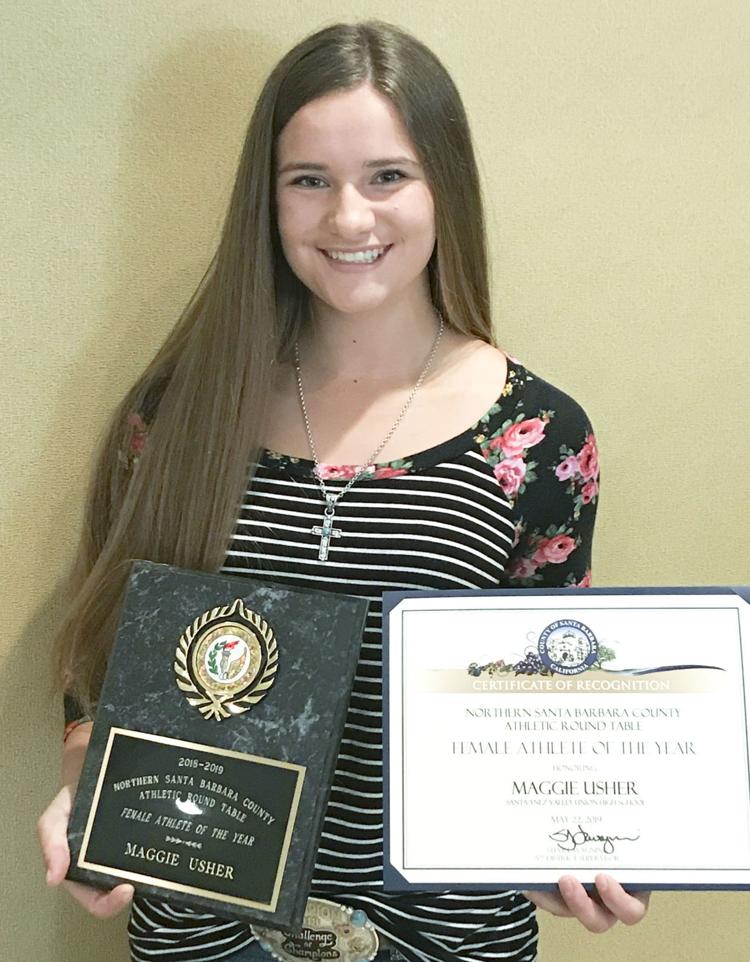 Usher finished this past softball season with an astonishing batting average of .506 in 24 games played according to Max Preps. Usher is also the reigning California High School Rodeo Association's state goat tying champion.
Caleb Thomas of Righetti accepted the Male Athlete of the Year award. Thomas, who will soon leave to attend and play football at Tulane University, showed his dominance in football cleats during the Warriors' first-ever run at a CIF section crown for football, which ended in defeat at the hands of Tulare Union in the Central Section Division 2 championship game.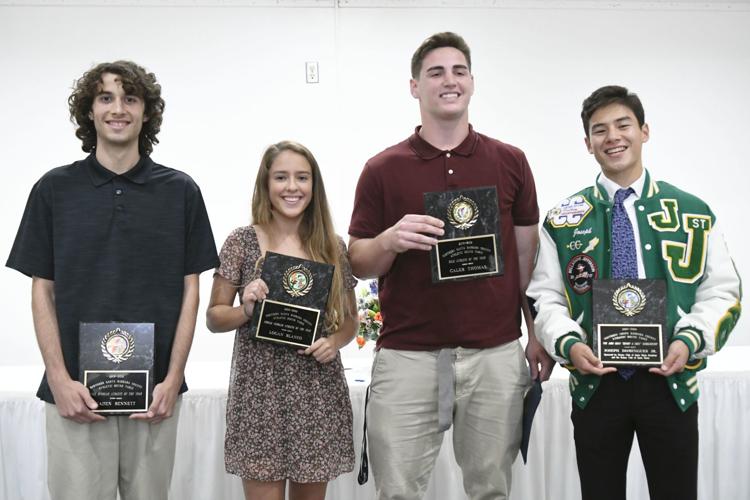 Thomas recorded 14 sacks, 16 tackles-for-loss and 42 solo tackles as a senior, landing Mountain League co-MVP honors. 
Thomas' strength at anchoring both lines, plus showing rare athleticism on the basketball court following football season, were enough for the Round Table to hand him the top male honor.
"It feels great to have all my hard work and dedication show up with all these athletes," Thomas said. "I'm just honored."
A new tradition that began at last year's awards gala is the announcement of the Joni Gray "Heart and Soul" award, which honors the late district supervisor, Round Table president and longtime supporter of area athletes. The 2019 recipient is future Naval Academy student-athlete Joseph Domingues Jr. of St. Joseph — who went on to add several accolades to his cross country and track and field résumé.
But Domingues' greatest achievement that got him recognized for the Joni Gray honor? Surviving cancer in 2011, when he was diagnosed with non-Hodgkin's Lymphoma.
"I'm honored to have this award," Domingues told the crowd. "I wouldn't be here today if it weren't for the support of my family and friends."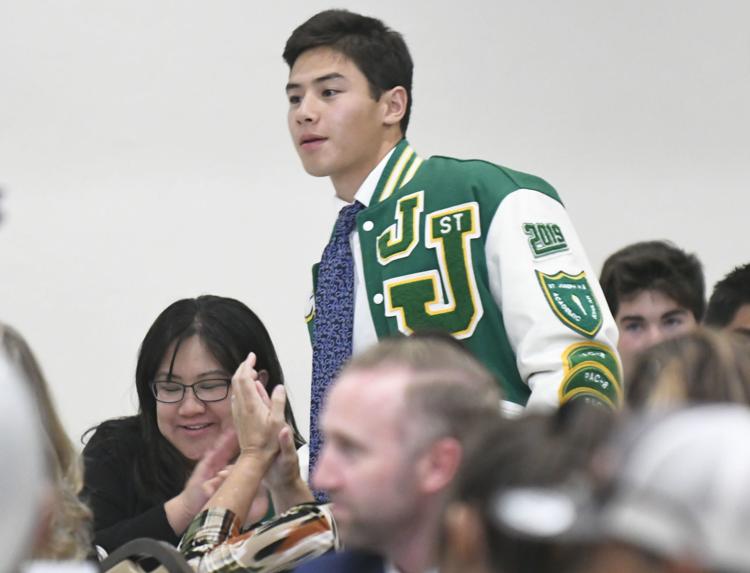 The awards event continued another tradition: announcing the female and male athlete scholar recipients. This year's winners were Logan Blanco of Lompoc High and Kaden Bennett of Orcutt Academy. Both were multi-sport athletes at their respective schools.
You have free articles remaining.
Blanco starred in girls volleyball and swam for the Braves. She will soon attend UC Berkeley.
Bennett starred in soccer and also shined in the classroom — as he was revealed to be at the top of his graduating class for OAHS and was named Valedictorian for his 4.66 grade point average.
Outside of the high school athletes who were honored, the Round Table added three new members to the Hall of Fame class: Ginny Barnett, Claudia Terrones and Ben "Benji" Williams.
Longtime football coach Ed Barnett had the honor of inducting his wife into the hall class, recognizing her accomplishments as a league and conference champion winning tennis coach who instilled motivational quotes into her players.
Ginny Barnett fought back tears following her husband's speech.
"Never in my wildest dreams would I be up here. I'm proud to be up here," Ginny Barnett said.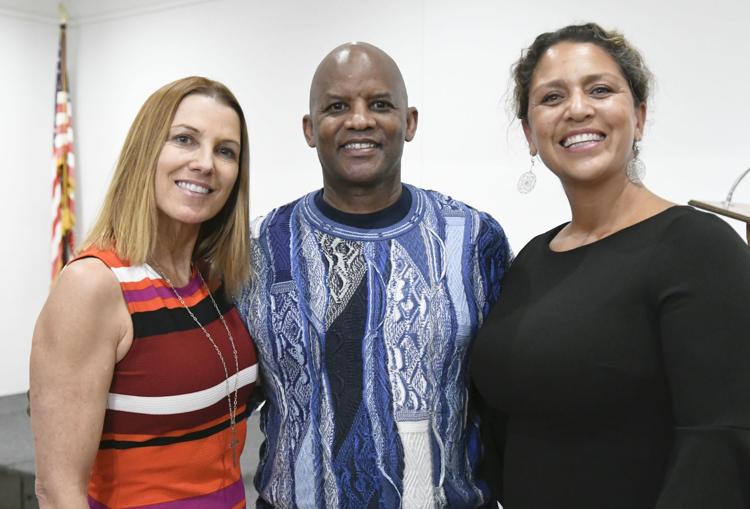 Terrones also expressed her emotions — citing everyone who played an integral role in shaping her into the person she is today. She honored her former coaches at St. Joseph, her current colleagues at Lompoc High, all the way to her immediate and extended family. She was introduced by LHS principal Paul Bommersbach, who described her as someone who likes to be in charge.
Terrones' biggest message: Make a difference in someone's life.
"Taking the time to serve others is something we can all learn from," Terrones told the crowd. "When you donate your time, do you realize you are making a difference in someone's life? In closing, I would like to challenge all of you here tonight to go out and make a difference in someone's life. Be the reason someone smiles. For the greatest leader to walk this earth was a servant first."
Williams was honored for his wrestling merits at Cabrillo High that included CIF and AAU wrestling championships. His former wrestling coach Dave Long inducted him.
But Williams, who is now an orthopedic surgeon in Auburn, didn't want to reflect on his own championship accolades, he wanted to shine a light on what sports really do.
"It's really not the sport itself, it's what you learn from the sport. Because of what I learned in wrestling, I learned how to push myself," Williams shared.
Also, the Jim Glines Scholarship was awarded to two Hancock College athletes who were honored not only for their academic and athletic accomplishments, but also perseverance: Women's basketball star and single mom Tashara Pruitt and Izzy Hernandez of AHC baseball.