The Santa Maria Valley lost a golf icon last week.
Jack O'Keefe, a former PGA Tour pro and longtime owner of Rancho Maria Golf Club, died last Friday at the age of 86.
As a young man, O'Keefe came to Santa Maria in 1953 and quickly got to work.
St. Joseph High, which has yet to resume in-school instruction, reopened its campus to athletes on Monday, though all activities were held outdoors. For instance, basketball players were seen training on the school's tennis courts. Lompoc schools hope to start athletic activities by Sept. 8. Santa Maria public schools have yet to get approval to resume.
O'Keefe, born in Huron, South Dakota, and raised in Los Angeles, attended Santa Maria Junior College and then transferred to Hancock College in 1954. He played four sports with the Bulldogs before focusing his attention solely on golf. He joined the PGA Tour in 1961 and went on to win the California State Open at Santa Maria Country Club in 1963.
In 1970, he became a principal owner of Rancho Maria Golf Club.
"He's been a great role model for myself, my brothers and our sister Dana," said O'Keefe's son, Jeff Morris. "He was a successful businessman with super-high integrity. My dad was friendly to everybody and he loved the golf course. That was his passion, that was his life. He loved keeping the golf course in good shape."
O'Keefe played basketball from 1954-56 at Hancock College under coach Bill Bertka. He played baseball from 1955-56 under coaches Leonard Porterfield and Pinky Bebernes. He played two years of golf at Hancock under Porterfield and played a year of football in 1955 under coach Perino Merlo.
O'Keefe eventually graduated from Hancock in '56 and attended San Jose State for a year before he was drafted into the U.S. Army, where he spent two years in service.
"I want to use my platform to bring attention to the grueling conditions and low pay that our field workers are experiencing every day," Araujo wrote on Friday. "If anyone has any further information on ways that I can help, please reach out. These men & women deserve better."
O'Keefe returned to Santa Maria in 1959 and started his professional golf career a year later, joining the PGA Tour in 1961. O'Keefe played on the Tour through 1964, where he then went into business with one of his brothers to run a furniture store in Santa Maria.
O'Keefe married his wife, Evie, in December of 1964. They raised four children: Jeff, Dana, Erik and Sean.
O'Keefe first became involved with Rancho Maria in 1970 when he became a principal owner of the golf course located off Highway 1, south of Santa Maria, with his partners Stan Brown, his brother, Jim O'Keefe, and Keith Adams.
O'Keefe closed the furniture business located on North Broadway in 1984 to put all his energy into the golf course.
O'Keefe was inducted into the Southern California PGA Hall of Fame and was named to the Santa Maria Valley Sports Hall of Fame in 1991.
While serving in the Army, he managed the nine-hole golf course in Verdun, France.
O'Keefe won the '63 California State Open and also played in major senior tour championships. He played in the PGA Senior Championship four times and the U.S. Senior Open three times. He played in the British Senior Open at Turnberry in 1989 and '90, at Royal Lytham & St. Anne's in 1991 and at Royal Portrush in 1995 and '98. He finished in 14th place at the Senior British Open at Turnberry, which was O'Keefe's favorite course.
"He was a really good golfer in his own right and played the senior golf tour in the late '80s and '90s," Morris said. "He probably played in 10 senior major golf tournaments over the years. He did really well, those are hard to get into."
O'Keefe stepped down from Rancho Maria's board a few years ago. The club has remained in the family as Mike O'Keefe is the head professional and Kirk O'Keefe is the course superintendent.
Schlemer is the second nominee for the Santa Maria Times' Player of the Decade award for girls basketball, joining the first, Erin Jenkins of Cabrillo High. The list of nominees is compiled by the sports staff at the Times, Lompoc Record and Santa Ynez Valley News, which is polling current and former coaches and researching individual and team accolades. Players in graduating classes from 2010-2020 are eligible.  
Mike O'Keefe says his uncle Jack started the Challenge Cup, which became a popular tournament for seniors from Northern and Southern California. Jack O'Keefe arranged for the players to meet up for dinner the day before the tournament at the Hitching Post.
"The players would be there for four hours, they'd chat and hang out and the next morning we'd go and play a best ball format on Saturday at the Santa Maria Country Club and have the singles matches the next day at Rancho Maria," Mike O'Keefe said. "He started a couple great traditions. The Challenge Cup is epic."
Morris and Mike O'Keefe say they intend to maintain the tournament in Jack O'Keefe's honor. A pro-am tournament held in Santa Maria will be named after Jack O'Keefe as well.
"I think he was a guy that was a very astute businessperson, a hard worker and was committed to whatever he was doing, whether it was running the golf course or the O'Keefe furniture store," Morris said, adding that his dad was also adamant about getting local youth involved in the game.
"My dad had a real interest in growing the game of golf on the Central Coast," Morris said. "If you want the game to grow, that's how you do it and Rancho Maria has had a real good junior golf program. Mike is working on that really hard."
Memorial services will be planned at a later date.
In lieu of flowers, the family asks that memorial contributions be made to the Jack O'Keefe Junior Golf Foundation at Rancho Maria Golf Club, 1950 State Highway 1, Santa Maria, CA 93455.
Santa_Maria_Times_Mon__Aug_26__1963_ (1).jpg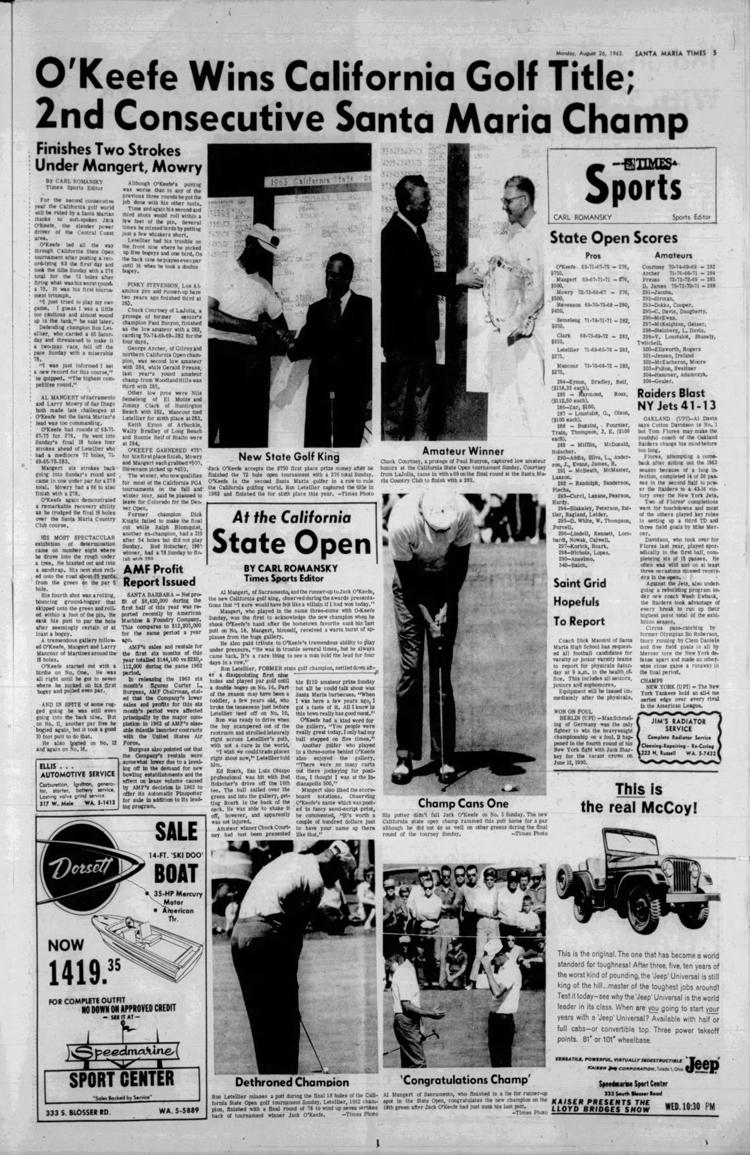 Santa_Maria_Times_Sat__Aug_24__1963_.jpg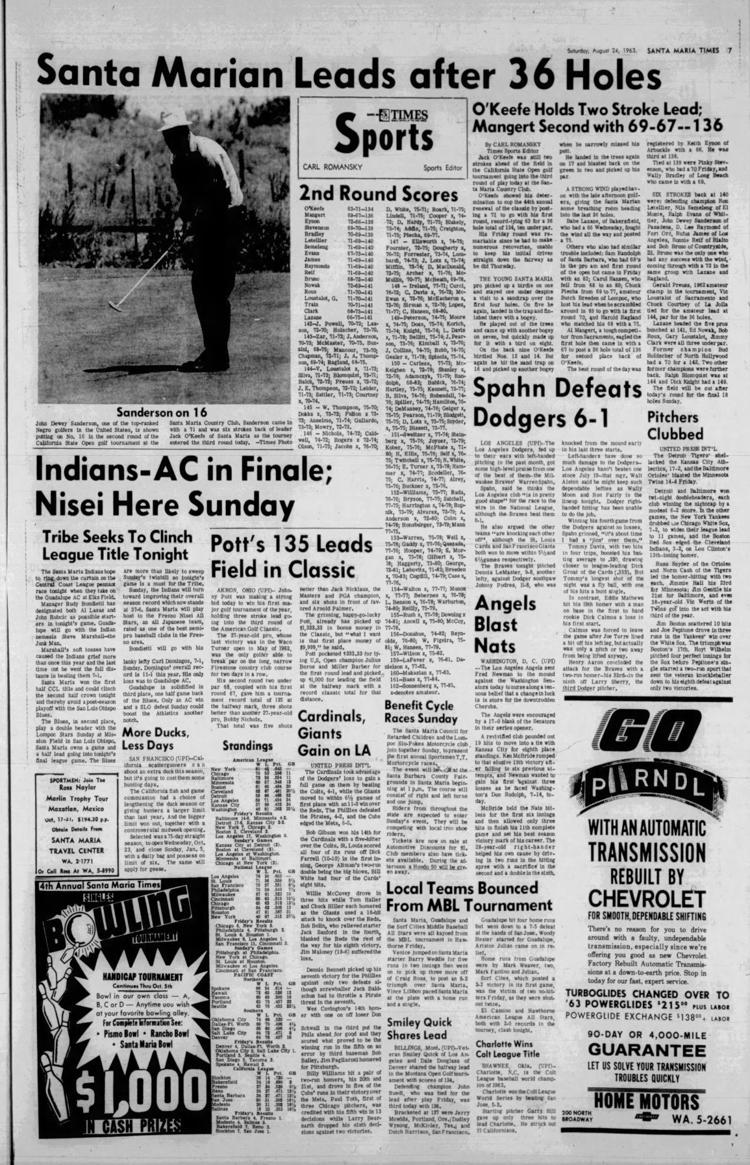 Santa_Maria_Times_Fri__Aug_18__1967_.jpg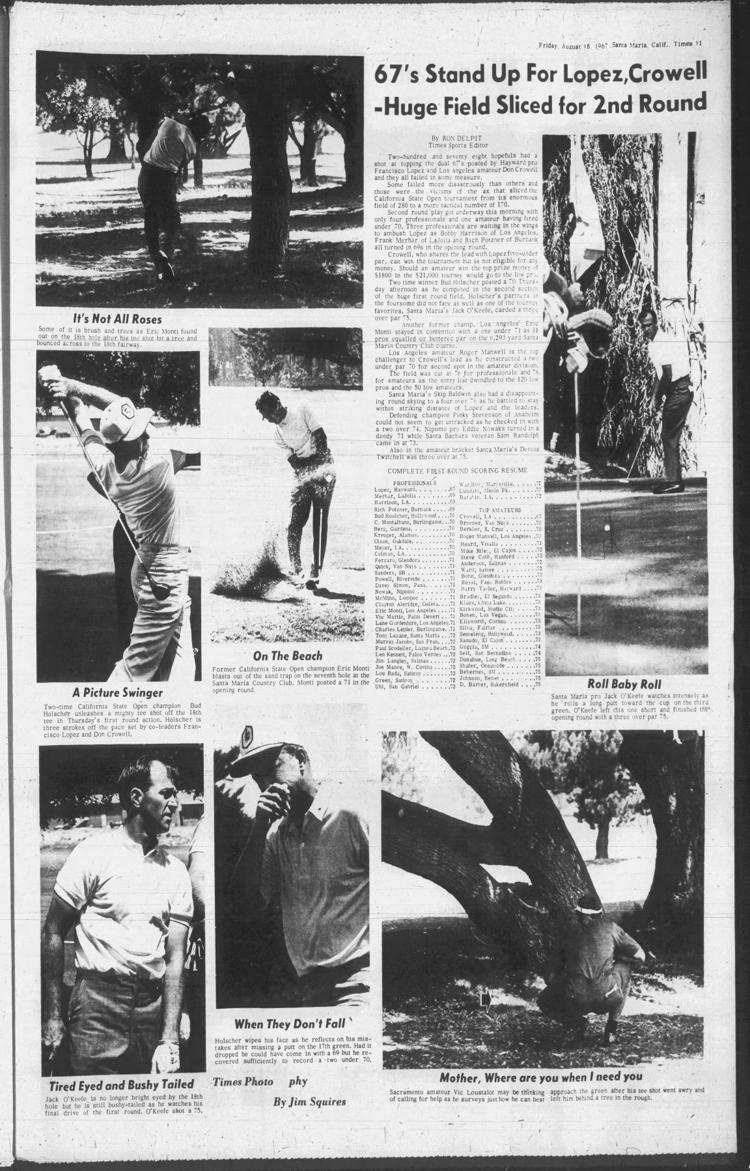 Santa_Maria_Times_Fri__Aug_22__1969_.jpg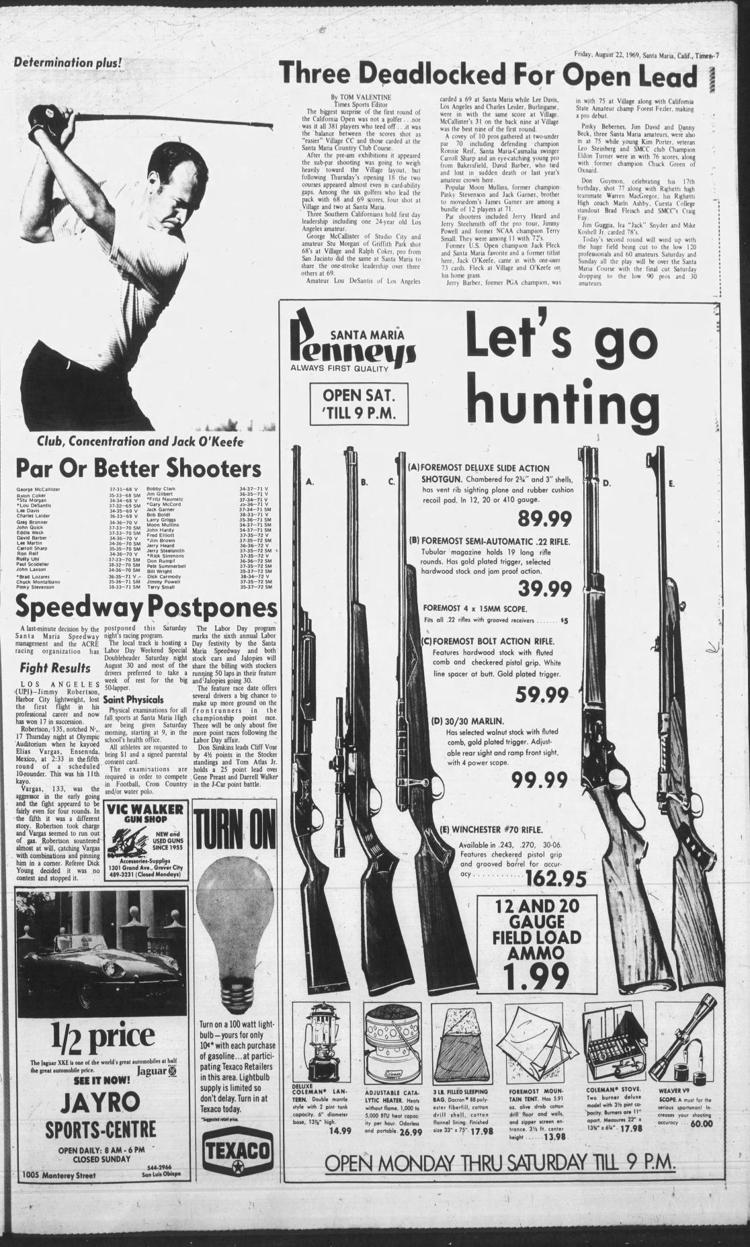 Santa_Maria_Times_Fri__Jul_26__1957_.jpg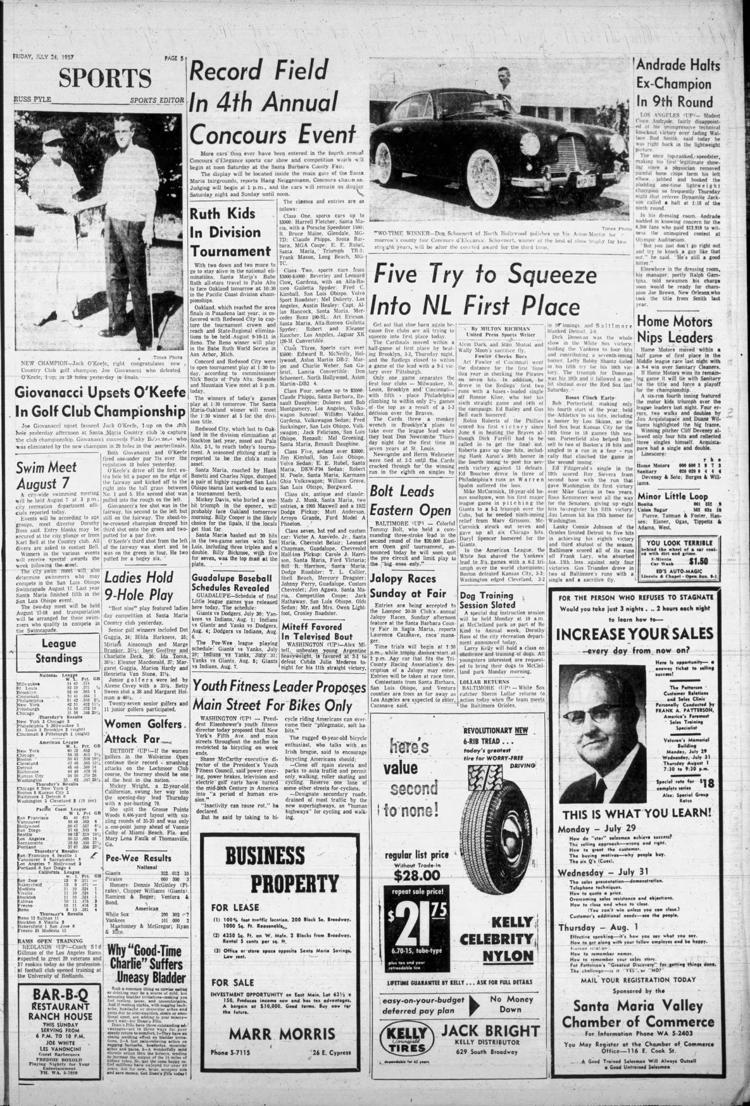 Santa_Maria_Times_Sat__Aug_17__1974_.jpg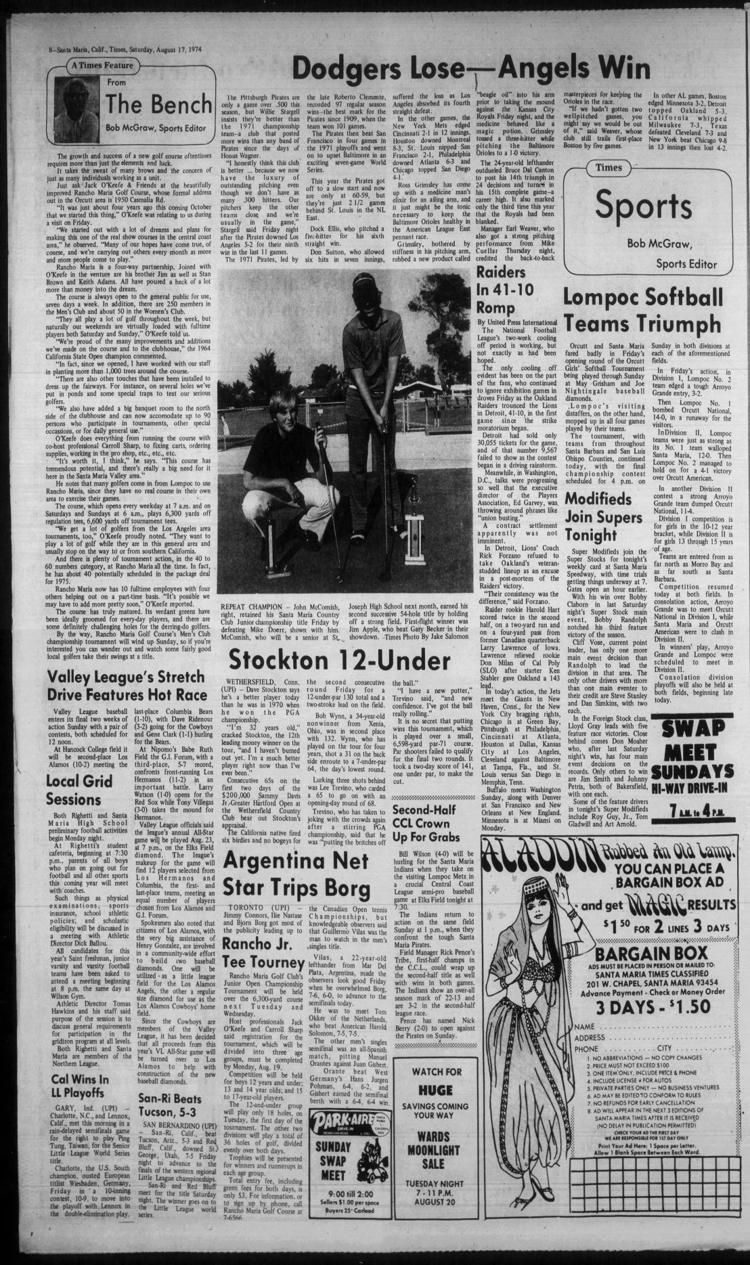 Santa_Maria_Times_Sat__Jun_14__1969_.jpg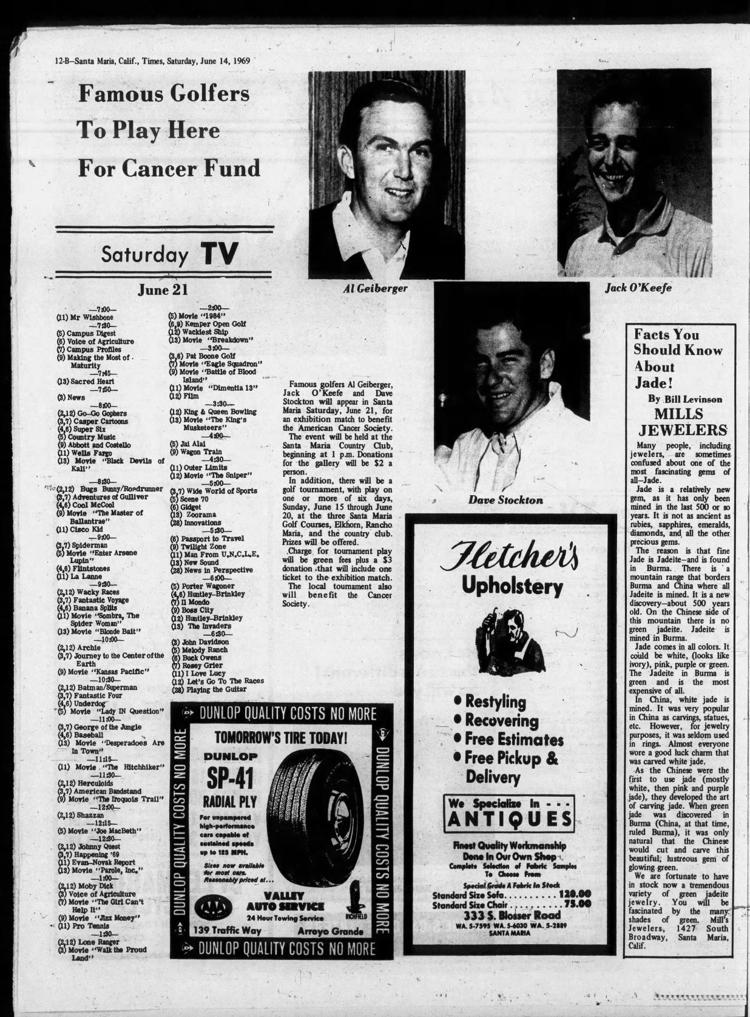 Santa_Maria_Times_Sun__Jul_22__1984_.jpg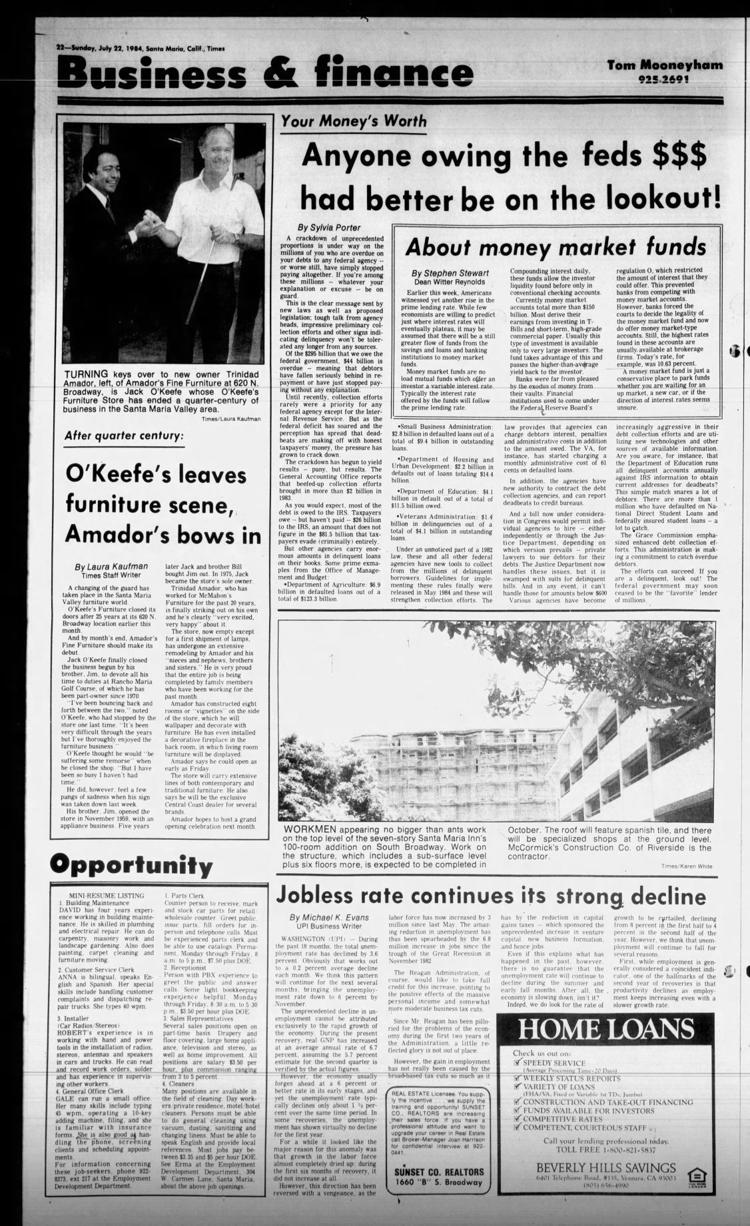 Santa_Maria_Times_Tue__Aug_15__1967_.jpg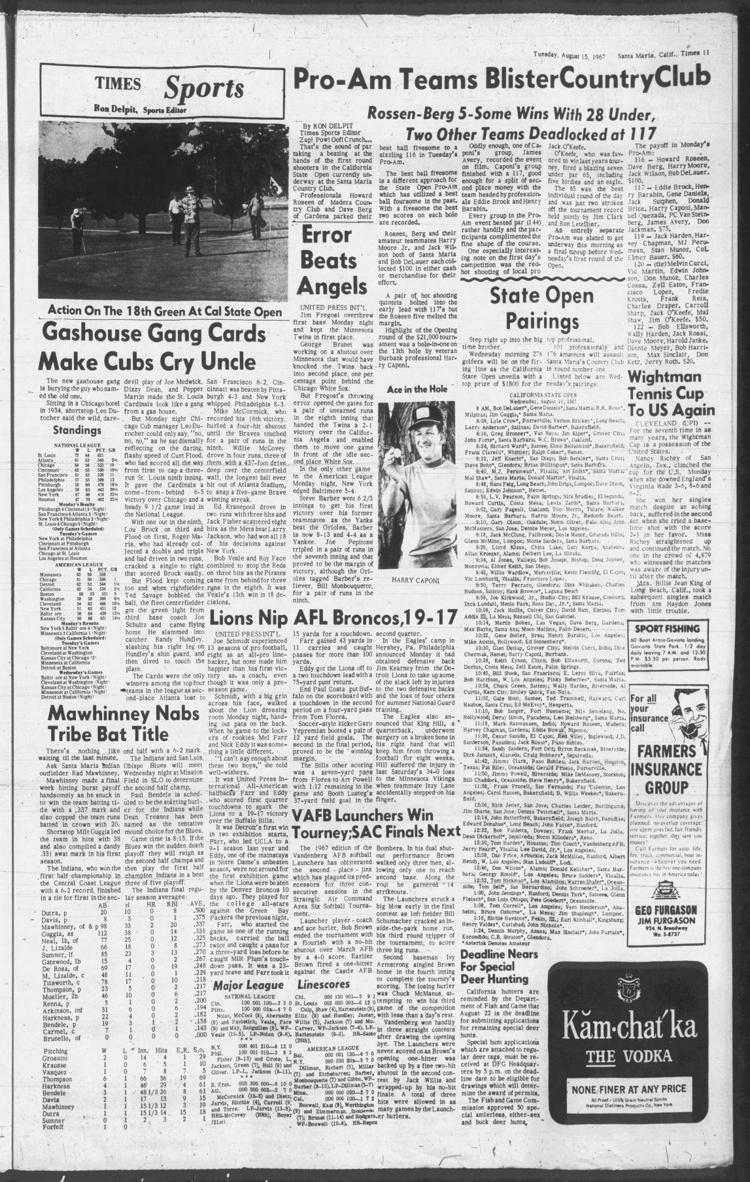 Be the first to know
Get local news delivered to your inbox!