"Big John" McComish had the kids out on the golf course Thursday.
Not his kids — they're all grown up, although his 26-year-old daughter Sarah is usually working beside "Big John."
"I've always been big. I was big as a 3-year-old," said the 60-year-old McComish. "And I've always been called "Big John."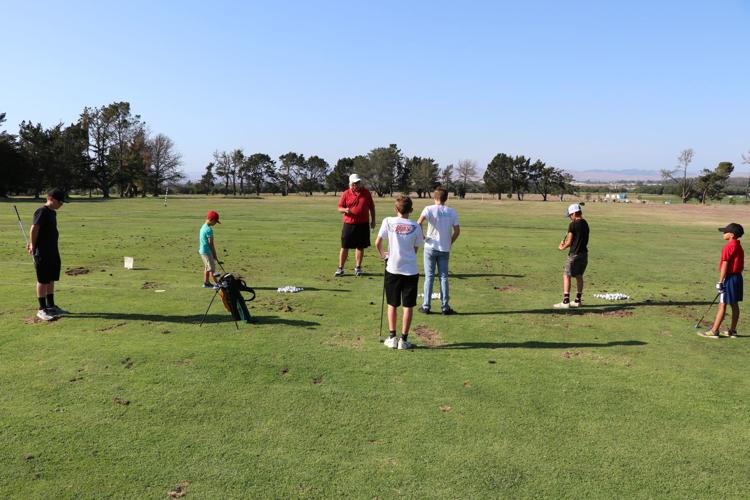 This was a group of mostly local children who were attending a five-day junior golf camp at Rancho Maria Golf Club, the third of five summer camps Rancho Maria is hosting.
It was mostly local children because 13 of the 14 come from the Santa Maria area.
The 14th, J.J. Sanchez, came all the way from Hawaii.
But Sanchez didn't cross the Pacific Ocean just to play golf.
"My grandparents live here and we're visiting," said the 9-year-old Sanchez, who is taking up the sport for the first time. "My parents thought this would be a fun thing to do and I am having fun. I'm learning a lot. I like chip shots the best but you have to practice a lot to get a good shot."
That was a common theme among all the young golfers who, in this camp are between 6 and 14-years-old.
For most, it's the first time they've played.
Shanae Heredia and Laura Hernandez answered quickly and simultaneously when asked what their…
"I play miniature golf but this is the first time playing this," said 7-year-old Jaxsen Walker, who will be entering the second grade at Patterson Road Elementary in the fall. "I'm having fun and learning a lot."
"I'm a beginner," said 13-year-old Paityn Lorencz, who will be entering the eighth grade at Valley Christian Academy in the fall.
Lorencz will be moving over to St. Joseph High School when she enters the ninth grade.
"One of my friends and I want to play golf on the St. Joseph team. I've learned a lot at the camp. I have a much better understanding of the game. I like hitting the long shots the best but I still need to learn a lot. My two brothers Brooks and Brody are here, too, and we're all having a lot of fun."
While Paityn is the oldest of the three Lorencz children, it's not by much — just minutes.
Paityn, Brody and Brooks Lorencz are triplets.
All three will be in the eighth grade at VCA in the fall. They'll move together to St. Joseph for high school and all are hoping to make the St. Joseph golf team.
 "I want to play golf at St. Joseph, too, when we go there," said Paityn's brother Brooks. "Paityn, Brody and I all want to play golf in high school and we're here to learn as much as we can."
While Sarah McComish had to miss Thursday's camp, "Big John" has another veteran coach helping out, Righetti High School's longtime girls' golf (and baseball and soon-to-be softball) coach Brian Tomooka.
"I've known John — sorry, Big John — a long time and he asked me to help out. I've helped with the camps for a couple years," said Tomooka. "It's always fun to work with the kids, especially the younger ones who are just starting out. We have a lot of beginners. The first couple days are kind of rough but it's fun to see the improvement they make by the end of the week.
"We see their swing has improved, their stroke has improved. We hope they find that it is fun and that they'll take up the game and play for the rest of their lives."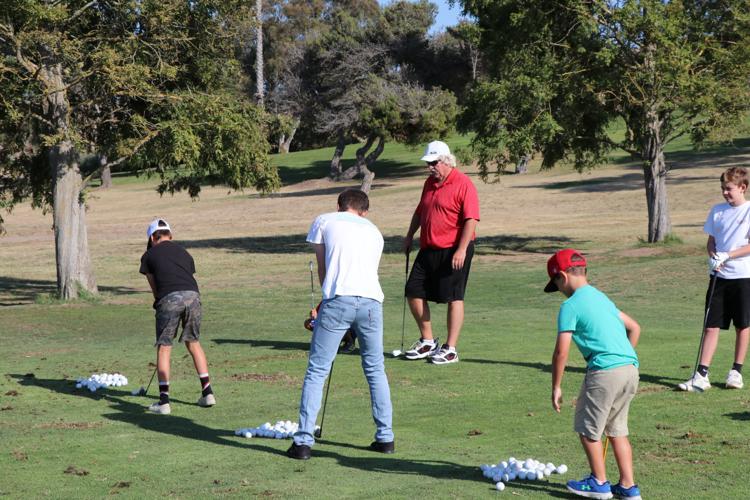 "We make sure they learn the basics," said McComish. "We teach them the proper form for putting, chipping and hitting full shots. They learn about club selection and the rules and etiquette of the game."
The golfers are split into groups and rotate between full swing, chips shots and putting before they get out their drivers and work on their tee shots.
McComish is Rancho Maria's teaching professional and has played the game at an elite level his entire life.
He played for St. Joseph High School and then Hancock College — he's just been named the college's new head golf coach — before accepting a full scholarship offer from Cal State-Northridge where he was named a second team All-American.
"And then I played golf for a living for the next 13 years," said McComish. "I played on the mini tours, I played overseas and I played on the PGA Tour for five years."
He was a contemporary of players such as Fred Couples, Dan Forsman and the late Payne Stewart.
"I was paired with Jack Nicklaus at a tournament the week after Nicklaus won the 1986 Masters," said McComish.
After his PGA Tour days were over, McComish moved his family to Oregon where they lived for the next 21 years.
"But it rains too much there," said McComish. "So we moved back here three years ago."
And keeping it all in the family, McComish began teaching and helping out around Rancho Maria.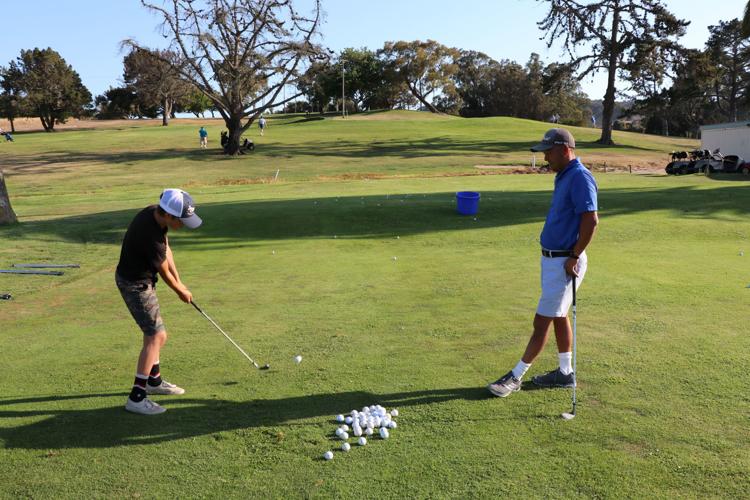 "Jack O'Keefe (Rancho Maria's owner) is my uncle and Mike O'Keefe (Rancho Maria's General Manager and its other PGA pro) is my cousin," said McComish. "My daughter Sarah and Mike's Daughter Dani even went to college together at Chico State."
After four days of practice, the campers will get to see just how much they've learned on Friday's final day when they'll each play four holes on the Rancho Maria course.
"They'll have the chance to put what they've learned to use," said Tomooka. "It will be good to see them out on the course."
There are still two more junior golf camps on the schedule — July 23-28 and Aug. 13-17 from 5:30 p.m. until 7 p.m.
The cost is $75 per camper.
To register or receive more information, call McComish at (503) 409-9289 or send an email to golfpro313@gmail.com.