Though there weren't any full-ride football scholarships on the table, four St. Joseph standouts sat down and finalized their commitments Thursday.
Three Knights will walk-on at major Division I programs in the fall, while linebacker Zak Wilson signed with Division II Missouri Western State. 
Quarterback Chase Artopoeus landed a preferred walk-on offer from Chip Kelly's staff at UCLA. Kicker Nathan Halsell is a PWO with Kevin Sumlin's program at the University or Arizona, also a member of the Pac-12.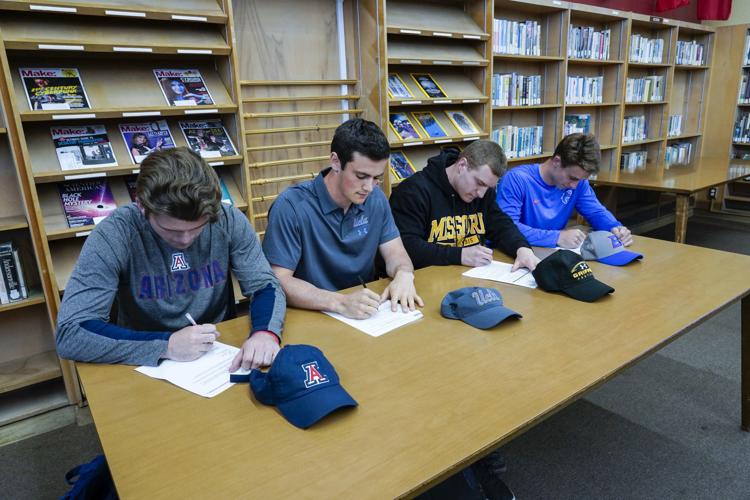 Receiver Trevor Cole has a walk-on opportunity at Bryan Harsin's Broncos at Boise State, a member of the Mountain Western Conference.
The four players announced their college decisions inside the St. Joseph High School library in front of dozens of attendees, including friends, family members, teaches and coaches. 
The quartet of Artopoeus, Wilson, Cole and Halsell helped the Knights clinch the inaugural Mountain League championship in the fall. 
Halsell, St. Joseph's record-breaking kicker, summed up the feeling all four players felt after making a decision that will affect them for the rest of their lives.
"There's a lot of relief that the process is finally over," said Halsell, who booted a 58-yard field goal in the playoffs as a junior. "I can finally focus again on playing football and being part of the team and putting my best foot forward when I get there."
Artopoeus' journey to UCLA included four seasons of varsity football at three high schools. Artopoeus started at Righetti as a freshman and sophomore, then played a season at Thousand Oaks before reuniting with his good friend Wilson at St. Joseph last season.
Artopoeus was named the Mountain League co-MVP in 2018 along with Righetti's Caleb Thomas, who has signed with Tulane and also showed up to see the four Knights make their commitments.
Artopoeus had opportunities to play elsewhere, including some interest from Ivy League schools, but UCLA was always his dream destination. The 6-foot-2 signal-caller, who threw 26 touchdowns against just one interception last season, said UCLA coaches had been monitoring his senior season but really turned up the recruiting heat in January. He was offered in February and accepted the opportunity a day later.
"I've always wanted to compete at the highest level I possibly can," Artopoeus said. "I want to challenge myself and see what I'm made of. I really don't think there's a better opportunity academically or athletically than UCLA."
Artopoeus acknowledged the difficulties of playing for St. Joseph after starting his prep career at rival Righetti.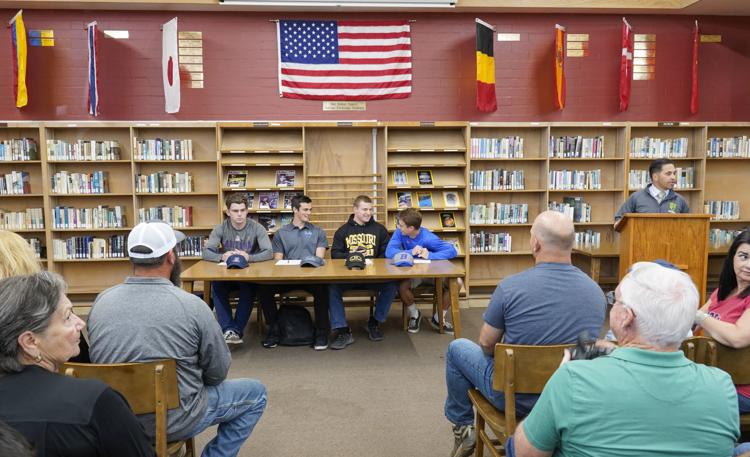 "It's been a ride. At Righetti, I wasn't the most successful and everybody let me know about that," Artopoeus said with a laugh. "Eventually I went down to Thousand Oaks and thank god for (former Lancers coach) Mike Leiben and coach Snyder for giving me the opportunity to play the game I love. Then I came back here and won a league championship and won co-MVP for the league.... Everything turned out great towards the end."
Wilson transferred from Righetti to St. Joseph as well, coming after his sophomore year.
"I came here and had a great time balling out with my brothers, then Chase, my best friend, transferred up here and I had a great time with him," Wilson said. "These are great guys, man. They're my brothers. We grind together all offseason, we're really close and always hanging out. It's a brother mentality and I'm really happy for them."
Missouri Western State is located in Saint Joseph, Missouri, a town of about 80,000. 
"It's Missouri," Wilson said. "It's actually a pretty town, it's out in the middle of nowhere. Great facilities, great school. I like the weather, it's a little colder out there. I'm excited, man."
Cole's decision to join Boise State comes after he hauled in a school record 15 touchdown passes last season. Cole didn't generate much recruiting buzz despite putting up numbers, both on offense and defense, throughout his career.
Now he has a chance to make the team at Boise State, the premiere mid-major program. 
"I'm just grateful I got the opportunity at St. Joe's to be able to go over there and play for (Boise State)," Cole said. "...I'm just going to play wherever they tell me to and I'm going to do as best I can and contribute as much as possible.
"(Being overlooked) really did motivate me to be the best player I can be and give me a chip on my shoulder. I just go out and play the best I can on Friday nights."
Halsell didn't play football until seventh grade, spending his early athletic career on the soccer field. He said working with Kohl's Kicking Camps took his game up to another level.
"I was definitely a soccer player that came into kicking," Halsell said. "I was the kicker on our seventh-grade team and that was the first time I kicked a football."
Halsell said he'll focus exclusively on kicking field goals at Arizona. 
Be the first to know
Get local news delivered to your inbox!