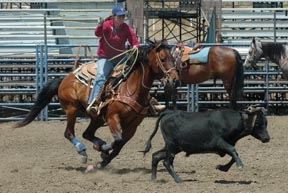 The first day of the 2007 Santa Maria Elks Rodeo is in the books.
Although the big event 8 The 64th Annual Santa Maria Elks Rodeo 8 is still two weeks away, the competition began in earnest Saturday at the Elks/Unocal Events Center.
It was the day for Elks Team Roping 8 the day nearly 100 cowboys and cowgirls try to win the local team roping championship in one of four handicapped divisions.
Each team consists of two ropers 8 a header and a heeler.
BAt least one of the team members has to be a member of the Elks 8 although it doesn?t have to be Santa Maria Lodge #1538,C said Keith Barks, the President of Elks Recreation. BSo, yes, this really kicks off the rodeo competition for us.C
BEach roper is given a handicap and the total of the two men or women on the team can?t add up to more than that division?s number,C said Paulette Teixeira, one of the main organizers and head honcho of the team roping event.
Champions were crowned in four divisions; 8, 7, 6 and 5 1/2 with the top five teams in each division being invited back for a second championship round during each of the Elks Rodeo performances at the May 31-June 3 event. The competitor who earns the most points on the day earns the title of Santa Marias Elks champion roper.
BDuring each of the rodeo?s performances, there?ll be a championship run,C said Barks. BThis year they?ll be competing for custom saddle blankets.C
BSanta Maria is one of the few rodeos on the circuit that has local cowboys competing in their own event,C said Marvin Teixeira, Paulette?s husband and the man who oversees the action in the arena. BThere aren?t many places that mix local cowboys in with the professionals from the PRCA (Professional Rodeo Cowboys Association) and WPRA (Women?s Professional Rodeo Association).C
BSome of the teams here are made up of fathers and sons or fathers and daughters,C said Barks. BWe have teams of brothers or brother and sister 8 it really is an activity that involves the whole family.C
And the competitors can mix and match. They can partner up with different people to create new teams for the championship chase.
BIn the 8s, you can be on as many as nine teams,C said Paulette Teixeira. BIn the other divisions, you can partner up on four teams. The 8s have four runs 8 they have to rope four steers before a champion is crowned. The other divisions have three go-rounds. You can compete in several divisions 8 as long as your team?s total handicap matches the division number 8 so a rider could theoretically make 72 runs today. The ones that compete on a lot of teams and in a lot of divisions all bring more than one horse. The riders may be out there a lot but the horses never 8 ever 8 have to make 72 runs.C
BWith all that competition, we have to keep the teams going out one after the other,C said Marvin Teixeira. BWe?ve been going since 8:30 this morning. We took a half hour for lunch and that?s it for breaks for us today. After lunch we went right back at it until the final run was made.C
The top five teams in Division 8 were (with header listed first) Eric Rybas and Luke Andrews with a four go total of 35.46-seconds, John Fleming and Rob Donlon (35.77), Cody Mora and Danny Fleming (36.87), Dustin Hemreck and Todd Ruffoni (36.97) and Cody Mora and Josh Wineman (41.50).
The top four teams in Division 7 were John Fleming and Rob Donlon, Pete Simmons and Derrek Ehee, Cody Mora and John Chaves and Hannah Luis and Sonny Smith.
The top four teams in Division 6 were Eric Pybas and Josh Wineman, Mike Draper and Glenn Teixeira, Cheyne Torres and John Chaves and Jon Fleming and Rob Donlon.
The top four teams in Division 5 1/2 were Jeff Smith and Todd Ruffoni, Eric Prybas and Danny Fleming, Andy Larouch and Danny Fleming and Shane Torres and Glenn Teixeira
Eric Prybas had the most points on the day and won the Santa Maria Elks 2007 champion ropers title and saddle.
The action continues today with the Elks? annual Youth Rodeo.
BWe?ll have Pole Bending, Barrel Racing, Junior Junior Team Roping and Breakaway Roping,C said Paulette Teixeira. BIt?s good practice for the kids and it?s great for the ones who are going to State (the state high school championships) to have one more competition before they go.C
BThe top finishers from Sunday?s Youth Rodeo are invited back for a special performance on the Elks Rodeo?s opening day,C said Barks. BThe stands will be full (Thursday morning, May 31) with kids coming from all the area schools.C
Today?s action gets underway at 8:30 a.m. Admission and parking are free and the public is encouraged to attend.
Sports Editor Elliott Stern can be reached at 739-2235 or by e-mail to elliottstern@santamariatimes.com.
Be the first to know
Get local news delivered to your inbox!