The Pioneer Valley Panthers completed a remarkable comeback Tuesday night, defeating the Santa Ynez Pirates 3-2 in a non-league girls volleyball match at PVHS.
Despite dropping the first two sets, Pioneer Valley junior Rachel Ramos launched a kill shot in the fifth set to give the Panthers a come-from-behind 25-27, 16-25, 25-19, 25-20, 15-7 victory.
"That shot, it was amazing," said Ramos. "To know that you can come back from being down so far is awesome. We really had to push ourselves and we did it."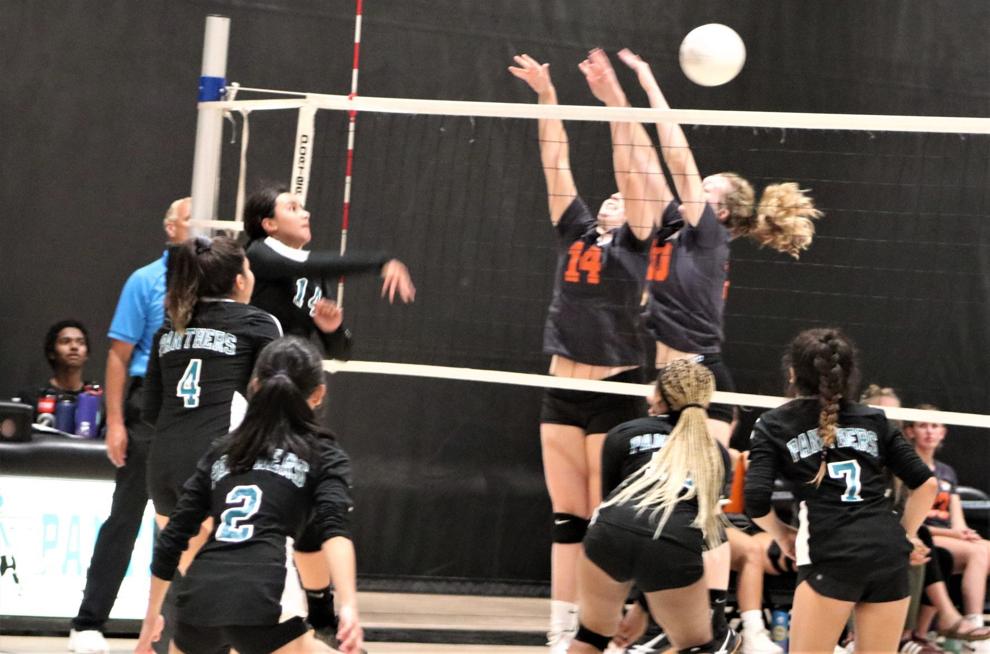 Led by the Panthers' Amaya Yebra's nine aces, Santa Ynez had few answers for the strong serving of Pioneer Valley.
Yebra also contributed 10 kills for the 3-5 Panthers. Jennifer Basulto added nine kills.
Rylynn Ibarra led Santa Ynez with nine kills. Natalie Robles had 12 assists. Michaela Baker had two blocks and Lauren Bradley came through with 40 digs.
Despite an early run that saw the Pirates go out to a 12-3 first set lead, the Panthers hung in there, battling back with a 6-0 run to get them back in the set.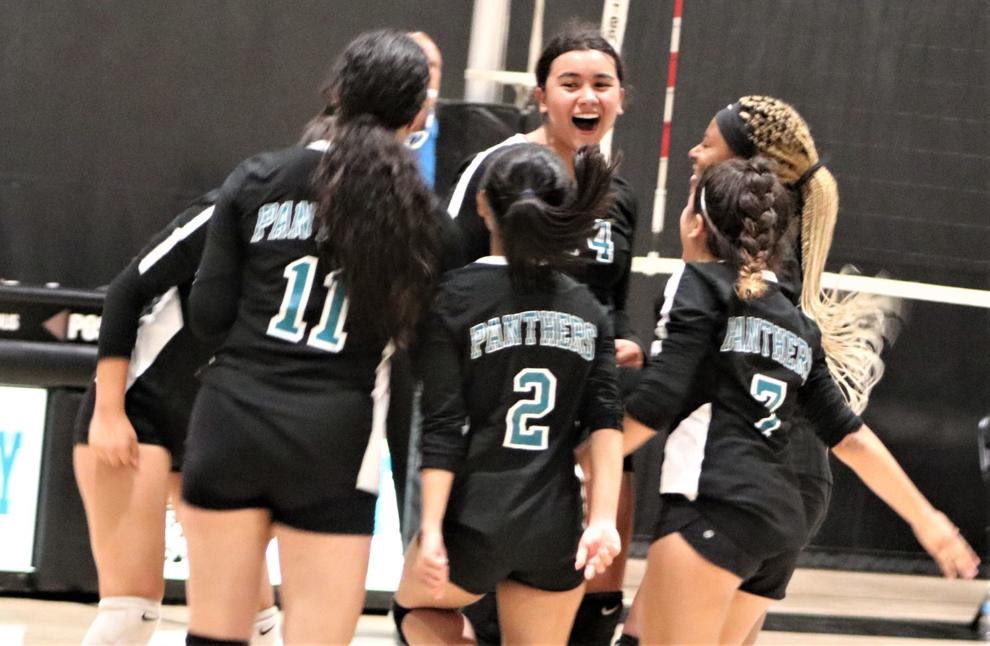 At 25-all, Santa Ynez's Bradley blasted a kill shot and when Lauren Swing blacked a Pioneer Valley kill attempt, the Pirates closed out the first set.
In the second set, the Pirates sailed out to leads of 7-1 and 11-3.
But behind the strong serving of the Panthers' Yebra, in a run that included four straight aces, Pioneer Valley tied the set at 14.
Tied at 16, Santa Ynez won the serve and then Natalie Robles served out the set and things were looking bad for Pioneer Valley.
The Panthers turned the match around in the third set.
Rebecca Escobar and Haezel Ortega led an early serving surge to put the Panthers up 8-3.
Santa Ynez kept battling and got the score to 13-10 before Pioneer Valley pulled away.
The fourth set was a constant back-and-forth battle.
But at 18-all, the Panthers got another Ortega ace, a kill from Yebra, a block from Ramos and a ball into the net by the Pirates put Pioneer Valley into firm control.
Ramos tipped a ball over the net that fell in for the set's final point.
The fifth set was tied at 5 when the Panthers went on a roll.
Yebra got it rolling with a an ace followed by a Ramos kill, two more aces and a Basulto kill for a 13-5 lead.
Pioneer Valley closed out the win with another Basulto kill and Ramos' final blast.
"The girls never gave up," said Pioneer Valley coach Nikki Knowlson. "We, as coaches, knew they weren't quitters. I think they proved it to themselves that they can come back from anything if they just fight."
"Our girls weren't expecting the fight they put up tonight," said Santa Ynez coach Tom Wright who had to play the match without his leading inside blocker, Kylie Clouse who was out with a minor injury. "Pioneer Valley played an exceptional game and really put us on our heels. I think they wanted it more."
Righetti 3, Atascadero 1
The Warriors (7-4, 1-0) beat the Greyhounds 25-15, 25-13, 23-25, 25-23 at Righetti in the Warriors' Mountain League opener.
Kyra Allen racked up 17 kills and served two aces for Righetti. Mackenzie Kestler amassed eight kills, four aces and three blocks.
Katrina MacKinnon and Kapri Espinosa had 11 and five kills respectively for the Warriors.
San Luis Obispo Classical Academy 3, Valley Christian Academy 0
The Grizzlies swept the Lions (2-4, 1-2) 25-7, 25-16, 25-22 in a Coast Valley League match at VCA.
Girls tennis
Orcutt Academy 5, Pioneer Valley 4
The Spartans (2-7, 2-2) were able to withstand a doubles sweep for the Panthers by winning five of the six singles sets between these crosstown rivals in a Mountain League match at Hancock College.
Orcutt's singles winners were Kayla Pablo (6-1, 6-0 at No. 1), Melani Amaresekora (6-1, 6-1 at No. 2), Isabelle Lopez (6-2, 6-1 at No. 4), Riley Speer (6-0, 6-0 at No. 5) and Shivani Panchel (6-1, 6-1 at No. 6).
In the doubles sets, Samantha Ramirez and Ashley Barbosa won 8-4 at No. 1, Tabitha Ortiz and Nicole Estrada won 8-2 at No. 2, and Ange Rivas and Fatima Nunez won 8-2 at No. 3 for Pioneer Valley.
Estefani Chavez, with a come-from-behind 3-6, 6-2 (10-6) win at No. 3, garnered the Panthers' singles point.
With Orcutt having clinched the win in the singles portion of the match, doubles sets followed an eight-game pro set format.
Mission Prep 6, Nipomo 3
The Royals defeated the Titans (2-2 Ocean League) in a league match at Mission Prep.
Morro Bay 5, Santa Ynez 4
Morro Bay won this battle of Pirates in a cross-section match at Morro Bay.
Sierra Redman, at No. 1 singles, won 6-1, 6-1 for Morro Bay, Jaycie O'Day, at No. 3, won in straight sets and the pair teamed for an 8-3 win at No. 1 doubles. That was enough to give Morro Bay the win.
Lilly Mazza won in straight sets for Santa Ynez at No. 6 singles and teamed with Camilla Curti for a win at No. 3 doubles.
Clara Newton and Isabella Curti won at No. 2 doubles for Santa Ynez, and Alexa Yacoub prevailed at No. 2 singles.
Morro Bay out-scored Santa Ynez 4-2 in singles. Since Morro Bay, a member of the CIF Central Section, was the home team, the match followed a Central Section format.
Templeton 9, Santa Maria 0
The Eagles blanked the Saints in an Ocean League match at Templeton.  
Girls golf
Righetti 245, San Marcos 280
Medalist Claire Alford shot a 39 for Righetti over nine holes on the par 35 Rancho Maria course, and the Warriors (3-2) beat the Royals in a non-league match.
Teammates following Alford were Kayla Minetti (48), Kira Kase (50), Cameron Reynoso (53) and Analyssa Hoyos (55).
Alex Manion led San Marcos with a 45.
St. Joseph 261, Santa Maria 358 (Monday)
The Knights defeated the Saints in an Ocean League match at Santa Maria Country Club.
Medalist Lita Mahoney led St. Joseph with a 48. Teammates following were Macie Taylor (50), Jacqueline Mengel (52), Bella ALdridge (55) and Sophia Cordova (56).
Michaela Melena led Santa Maria with a 69.
Orcutt Academy 274, Morro Bay 297
The Spartans beat the Pirates in an Ocean League match in blustery conditions at Rancho Maria Golf Course.
Orcutt Academy's Karli Lundberg was the medalist in the nine-hole match with a 43. Teammates following were Mellisa Burns (50), Luna Sahagun (54), Lauren McClung (62) and Grace Howard (65).
Selina Garcia (54) and Juli Bishop (56) led Morro Bay.
Men's soccer
Cabrillo 7, Hancock 0
APTOS — The Bulldogs (1-4-0) dropped their fourth straight with a non-conference road loss to the Seahawks.