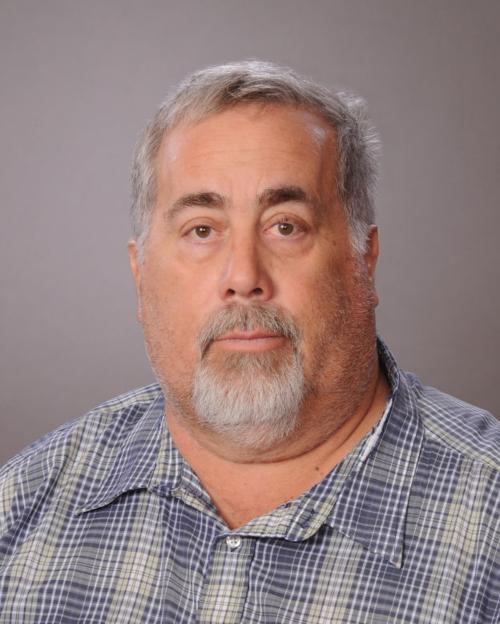 Those of us in the Lee Central Coast News sports department are usually the "good news" guys.
Brad Memberto, a well-known local media personality and Lee Central Coast News sports and entertainment reporter from 2006 to 2015, died Sunday at the age of 63 due to complications from diabetes.
He was in a long-term care facility in Mesa, Arizona, at the time of his death.
Brad was a fixture in the Santa Maria sports and broadcasting community before his medical issues forced him to retire four years ago.
A couple of months ago, Brad asked me to write his obituary.
"But make it funny. Don't make it a big deal," he said, knowing his time was running out.
I'm not feeling very funny with news of a dear friend's passing and, sorry Brad, I'm not alone in thinking this is a big deal.
Brad had so many friends — everyone he ever met — and they all have funny stories.
He was known to many as "Brad-a-tee" because he was similar in size to a manatee.
He was the only person I know who admitted to liking Pabst Blue Ribbon beer.
He loved the Catalina Jazz Festival where he always got some kind of blue drinks.
Brad grew up in Reseda and lived for a time in St. Louis and Chicago. He loved the Bears and Cubs and, above the others, the Dodgers.
He thought the rest of the sports desk was misguided in rooting for anyone else — Kenny Cress for the Angels and Giants, Joe Bailey for the Yankees and me, for my hometown Red Sox — but he forgave us.
From Little League on up, his greatest joy was covering the kids — watching them grow up, joking with them, letting them know that he rooted for all of them to succeed.
One of his favorite stories was how he got the job as our Lompoc Valley sports reporter.
That was back in December of 2006.
Brad and I were broadcasting a high school football game on our Santa Maria Times website and I actually did his job interview and hired him while we were on the air.
We had just lost our Lompoc Valley sports reporter, David Carrillo, who had only been with us for a couple of months.
Brad had been working at KUHL and as the part-time Sports Information director at Hancock College while also working at the Big & Tall men's clothing store on Broadway.
But the KUHL job was gone, the clothing store closed and Hancock was changing the SID job.
So he needed work and we needed help.
I said "why don't you consider coming to work at the Times?"
His job interview was pretty much our entire halftime show.
Brad didn't have any experience as a print journalist and that worried him.
He was a great storyteller and I said you tell the stories and I'll fix up your grammar … and a new career was born, although he never could figure out the difference between "their, there and they're or hour, our and are."
So he joined the Lee sports department, mostly covering Lompoc and Cabrillo High School sports along with the Northern Santa Barbara County Athletic Round Table.
Because of ongoing health problems, Brad retired at the end of June 2015.
Many of you will remember Brad's introduction to the Central Coast.
From 2000 to 2006, he co-hosted KUHL radio's morning show with Ben Heighes — the Ben and Brad show (I still have one of their coffee mugs) — and, along with Rick Blaemire, SportsTalk weekday afternoons.
That's actually where I first met Brad.
Shortly after I joined the Santa Maria Times sports team in January 2001, I learned that part of my job was a weekly appearance on SportsTalk, so Brad and Rick were two of the first people outside of the paper that I met after coming over from KEYT-TV.
"He was a great individual, he was a great sports guy, a great human being," said Blaemire. "It was a pleasure to work with him. This is such a sad day."
After he retired, Brad moved in with his older brother Greg in Mesa. About a year ago, Brad had to move to the extended care facility.
"We got to meet so many of his buddies from Santa Maria — Brad's Santa Maria gang," Greg Memberto told me Monday morning. "They became our friends, our family, too. The Santa Maria people are something special and Brad cherished all of them."
Brad is survived by his mother Marie, older brother Greg and younger sister Jackie.
His family is holding a private memorial in Mesa.
Plans are being made for a celebration of life in Santa Maria.
Be the first to know
Get local news delivered to your inbox!