Around 20 Hancock College athletes from various sports were honored Tuesday as they committed to play at four-year universities. 
A dozen or so more students were recognized for having the opportunity to compete at a four-year university but had yet to decide which school to attend. Others will be transferring to universities to continue their academic careers.
Hancock recognized them all.
The student-athletes took photos and signed their papers as they were surrounded by teammates, friends and family, many of whom helped get these kids to the next level. 
"Everyone in this room had something to do with somebody signing today," said Kim Ensing, Hancock's associate dean and athletic director. 
Ensing also noted the work of one particular staff member for her work in getting students qualified for four-year universities.
"This is largely due to the work of our academic counselor, Lainey Campos," Ensing said. "She's the MVP of our department."
Ensing says Campos makes sure the student-athletes are taking the right classes and staying on top of their assignments.
The collaborative effort of Hancock's academic and athletic staff resulted in dozens of athletes making their college choices Tuesday.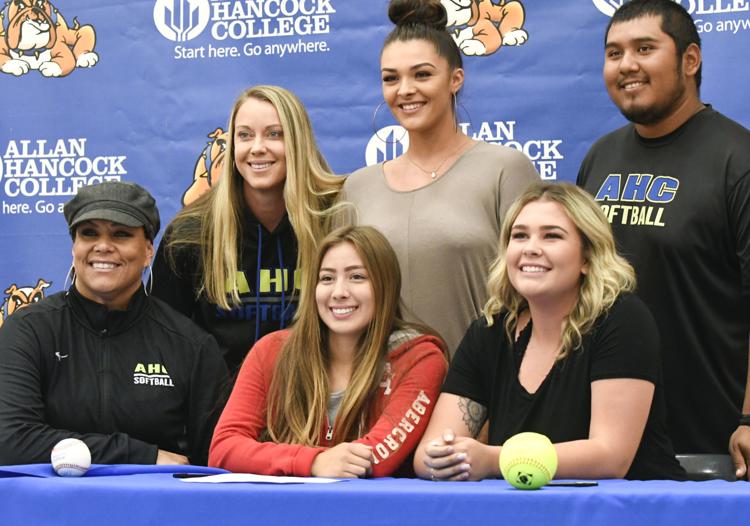 There was the Hancock men's basketball team, with Spirit Ricks going to Division I Norfolk State, Gabrys Sadaunykas signing with Humboldt State and Trenton Mitchell joining Chico State. Standout guard Glenn Jordan has signed with the University of Mary, located in Bismarck, North Dakota.
"We had eight guys that were eligible to transfer this year and we went 8-for-8," basketball coach Tyson Aye said. "They're all going to be transferring on and, for us, that's what it's all about."
You have free articles remaining.
Register for more free articles
Stay logged in to skip the surveys
Mitch L'Allier is going to play at Holy Names next year. VCA graduate Luke Nichols won't play at Biola University, but will transfer there as a student after spending the last two years with the Bulldogs basketball team. Diego Lucas and JT Riddick have yet to decide their future schools.
The Hancock football team was well represented with four-year transfers. Edjuan Works has signed with Benedictine College in Atchison, Kansas, an NAIA program. Angelo Ortiz signed with Western State Colorado. Nipomo High grad JJ Ramirez, a receiver, is set to play with the University of Laverne. 
Hancock's top player from a year ago, when the Bulldogs went 10-1 and won a bowl game, running back Ryheem Skinner has started to see offers flow in, but hasn't decided which school he'll attend next year. Skinner was named the Pacific League's Offensive Player of the Year as a sophomore. 
"We had a lot of positive things happen last season," football coach Kris Dutra said, "but at the end of the day, the sophomores in our program were real key to that kind of thing happening. Team chemistry in football is super important with as many guys as we've got. These guys were responsible for that and this is what matters the most, that they're going somewhere and making something happen with their life."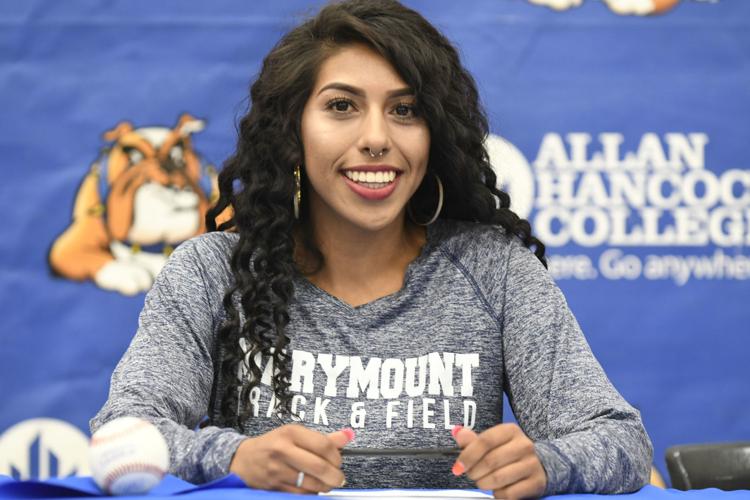 Four Hancock baseball players are headed to four-year schools, including Cabrillo grad Izzy Hernandez, a third baseman, pitcher-first baseman Jake Shusterich and catcher Cameron Hirahara. Hernandez is set to play for Campbellsville in Kentucky. Shusterich signed with St. Cloud University in Minnesota and Hirahara is signed with Vanguard. 
"I'll be playing third base and pitching when I can," Hernandez said. "I've always been around my family and this is going to be the first time I go out of California by myself. It's going to be something new, it's going to a learning life experience. 
"Going hard with this team at Hancock, coach (Chris) Stevens puts us to work and it's both on the field and off the field with study halls and practice. I'm prepared for this."
Hirahara and Shusterich are Arroyo Grande High grads. 
The rest of the signees on Tuesday were men's soccer players Alex Herrera (Lompoc), Anthony Herrera (Righetti) and Jose Sanchez (Orcutt Academy), who all signed with Waldorf. Women's soccer player Tatiana Silva, from Nipomo High, signed with Missouri Valley. 
Yadira Castellanos, from Lompoc High, signed with Marymount California University, where she will run cross country and study sociology.