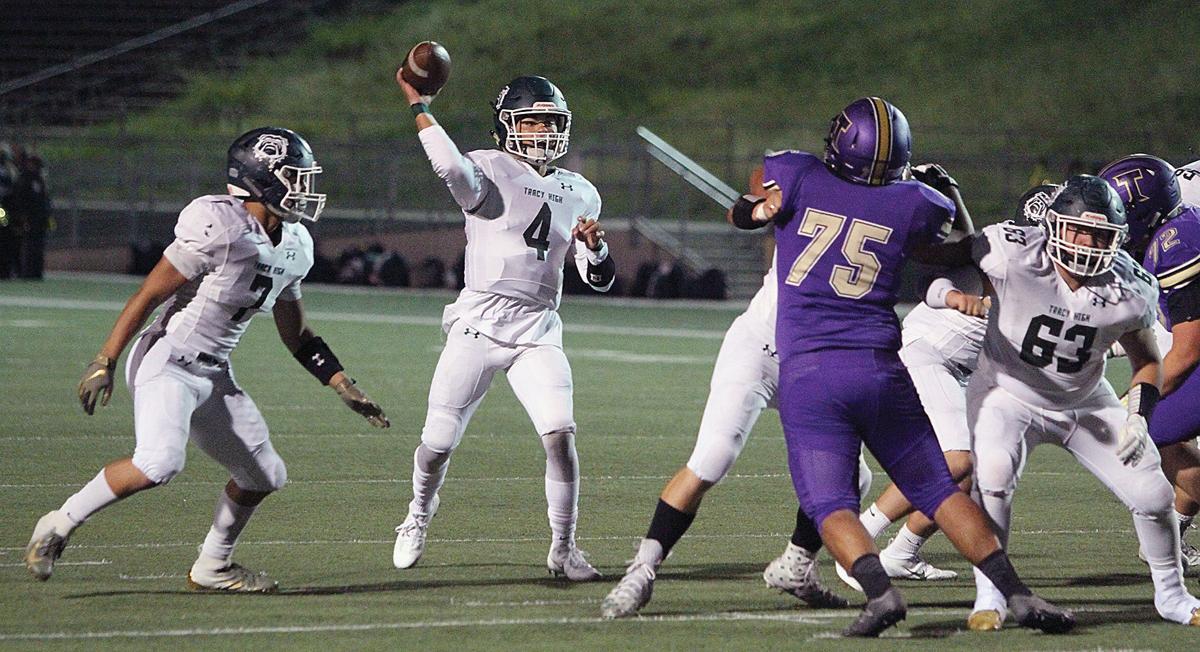 After throwing the football at Doerr Family Field on the Cal Poly campus on Sunday, quarterback Logan Fife took to Twitter to share three words to Mustang fans and the football program:
The Class of 2020 quarterback from Tracy High announced his commitment to Cal Poly following his camp performance Sunday evening – becoming the first '20 commit for the Mustangs.
"Committing to CP is one amazing feeling that makes me feel so blessed and it feels so right," Fife told The Times this week. "This is what my dream has been since before I could remember: giving back to my parents by getting school paid for and getting an amazing education while playing the game I love."
Fife first got on the Mustangs' recruiting board on Jan. 14 after landing offer No. 1 from CP. The 6-foot, 198-pound quarterback had spent time on the camp circuit by throwing the ball in front of coaches representing Fresno State, San Diego State, Oregon State and Colorado.
But even with the interest from colleges representing the Football Bowl Subdivision, Fife decided to no longer sit on the Mustangs' offer and decided San Luis Obispo will be his future city.
"I was planning on committing soon and I was just very excited to get back to SLO and be able to have a great camp and talk to my future coaches," Fife said. "With a frustrating recruiting process, I had lots of talks with my parents and coaches and also other people talking to me about how great Cal Poly was and it would be a great fit. The more I thought about it, I love SLO and whenever I talk to the Mustang staff I feel wanted and loved."
Known as a dual-threat passer in the 209 region, Fife combined for 35 touchdowns – 27 through the air – and 2,519 total yards for Tracy High last season. Fife says he's already familiar with the triple-option attack that the Mustangs' run – because it was the offense he operated in during his youth football days.
"My QB traits will for sure mesh into the Cal Poly offense because I have run this type of offense since I was seven years old," Fife said. "I have run the veer and triple-option my whole life and have expanded into lots of throwing every year because of me and my teammates' capabilities."
You have free articles remaining.
Fife concludes he plans to pursue a degree in the agricultural field at Cal Poly and will aim to sign in December.
Brother of Mustang lineman lands Cal Poly offer
Could there be another Williams from Tesoro High joining the Mustang roster?
Bradley Mickey has retired from wearing No. 20.
Fast-rising offensive lineman Justin Williams announced on Monday morning that Cal Poly extended an offer to him, making him one of the few camp participants to score a Mustangs' offer.
The scholarship gives him a chance to perhaps join older brother James, who currently plays on the Mustang defensive line.
"I am very excited to receive the offer. The school itself is great and I love the area. Along with the offer, the opportunity to be with my brother is amazing," Williams told the Times.
Williams competed in the Sunday edition of the camp where he showed his quick feet and upper body strength during one-on-one drills. His brother, James, was part of the Mustangs' 2018 recruiting class.
Williams takes pride in his versatility, which allows him to believe he would adjust immediately to Cal Poly's blocking schemes and offensive line expectations.
"I see myself as a good fit for the Triple Option because I can fill almost any position on the line, allowing me to fill in any missing gaps," Williams said.
Williams has recently added Ivy League opportunities from Cornell and Columbia during the week of June 24.
The once spectacularly loud roar of the crowd goes silent.