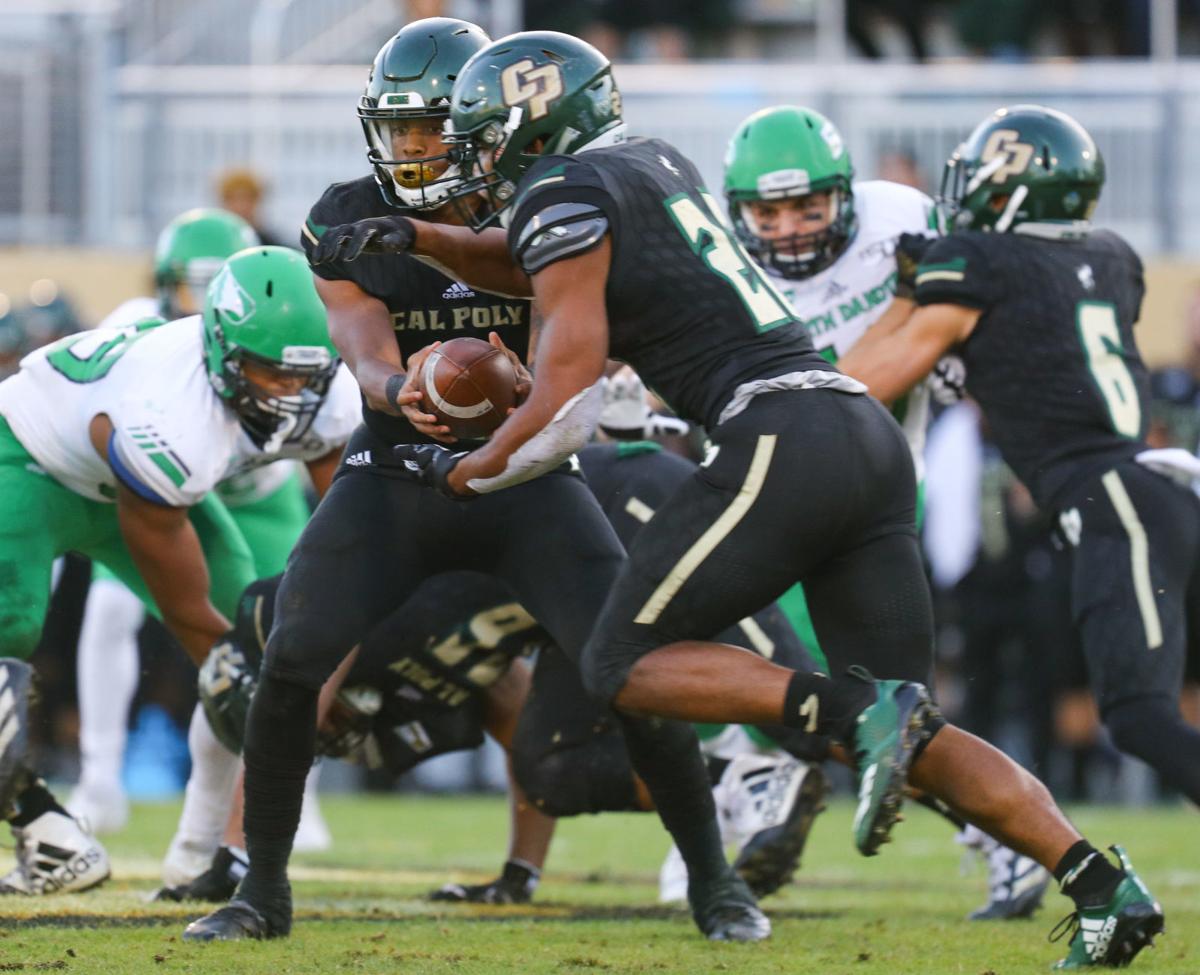 As area high schools have had to shut down summer conditioning programs, the Cal Poly football team hit its practice field Monday morning.
The Mustangs began their summer access period at Doerr Family Field on the Cal Poly campus then. The 11-day period as mandated by the NCAA opened Monday, 25 days prior to Cal Poly's first permissible preseason practice date. The summer access period ends July 23.
San Luis Obispo County high schools had hopes to begin or continue summer conditioning programs for various sports but were shut down by county health officials. Most high schools had July 6 as their summer start date for athletics.
On July 2, Michelle Shoresman, a County of San Luis Obispo health department spokesperson, said those programs were shut down after the county determined the "activities (were) not allowed by the California Department of Public Health," Shoresman said earlier this month.
"We are allowed to be more strict on control measures for COVID-19 than the state, but not more lenient. In other words, we cannot authorize anything at the local level that is not already authorized by the State."
The Mustangs, though, hit the practice field for a workout divided by position groups.
Cal Poly was able to practice after the athletics program developed a plan to repopulate its facilities and resume workouts, a source said. That plan was submitted to the Emergency Operations Center and then supervisory governing bodies.
During this summer access period, players will engage in eight hours of weight training, conditioning and film review per week. Film review cannot be more than two hours a week.
Prior to the summer access period, the Mustangs were allowed to participate in voluntary and virtual activities for a total of eight hours per week. Players started checking in June 15 and were allowed to work out in groups no larger than 10.
From July 24 through August 6, the football coaching staff will be allowed to conduct walk-throughs and team and individual meetings, the school said in a press release issued Monday.
"During this period, weight training and conditioning are limited to eight hours per week while walk-throughs, with use of a football permitted, are limited to six hours per week. Team meetings, including film review, also will be limited to six hours per week," the school's press release said.
The Mustangs are slated to start their preseason practice schedule on Aug. 7. The camp will start with "five days of acclimatization," the school-issued statement said.
"Pads will be added Aug. 12. Limits are four hours per day and 20 hours per week."
Two-a-day practices were banned by the NCAA in 2017. Teams are allowed to conduct 25 practice sessions.
Cal Poly is scheduled to open its season Sept. 5 at ULM (formerly Louisiana-Monroe).
Cal Poly said the NCAA adopted a modified summer practice schedule in June, "taking into account the fact that many Division I football programs, including Cal Poly, were not able to conduct spring drills due to the COVID-19 pandemic."
No changes were made to the preseason practice schedule (Aug. 7 through Sept. 4), the school said in its release.
Cal Poly is under first-year head coach Beau Baldwin, who was hired Dec. 11. Baldwin spent the past three years as an assistant at Cal after coaching Eastern Washington for nine seasons.
Baldwin replaces Tim Walsh, who coached the Mustangs for 11 seasons.
Baldwin welcomes back an experienced crew with 80 returning lettermen, redshirts and squad members. They will be joined by nearly 40 newcomers.
"Cal Poly has 17 total returning starters -- 10 on offense and seven on defense -- led by quarterback Jalen Hamler, fullback-turned running back Duy Tran-Sampson and linebacker Matt Shotwell," the school said, adding that the program's biggest holes to fill are at wide receiver (J.J. Koski), the offensive line (Paul Trujillo-Langdon, Tyler Whisenhunt and David Chellsen), linebacker (Nik Navarro and Matt Wright) and five defensive backs who started at least six games last fall (Kitu Humphrey, Sharky Reza, Carter Nichols, Kameron Dennis and Kevin Howell).
Cal Poly's home opener is Sept. 19 versus San Diego inside Alex G. Spanos Stadium.
The Mustangs are expected to feature their some local talent this season, with Bradley Mickey (Arroyo Grande) and Fenton Will (St. Joseph) expected to see playing time on defense while CJ Cole (St. Joseph), should see more of the field on offense.
Jason Anderson is the Digital Producer for the Santa Maria Times. He can be reached at 805-739-2213
Be the first to know
Get local news delivered to your inbox!