Bradley Mickey is in the midst of his fifth year at Cal Poly. He seems to be making the most of his time there.
Mickey, who graduated from Arroyo Grande High School in 2016, is a senior on the Mustang football team. He's also set to graduate this spring after majoring in Recreation, Parks and Tourism Administration while simultaneously earning minor degrees in both Psychology and Sales.
Mickey has also developed into a leader in the defensive secondary, trying to help his unit in any way he can.
Cal Poly will open its 2020-21 football schedule with a pair of contests inside Alex G. Spanos Stadium, hosting Southern Utah on Feb. 27 and UC Davis in the Battle for the Golden Horseshoe on March 6.
"With the young guys that we have, it's great to be in a position to mentor them and see this group grow in the short amount of time that we've had together," Mickey said at the team's second practice of the fall last week. "It's going to be a special group over the next couple years. I'd love to be around them and help them grow into the best players that they can be while I'm still here."
Theoretically, Mickey could earn an additional year of eligibility as the NCAA has given an extra year to players affected by the coronavirus pandemic. Mickey said he'd have to join a masters program to continue playing as he's set to graduate next year. 
"I'd love to play as long as possible, but ultimately it's not up to me," he said. "We'll see what happens."
Mickey has spent some time pondering what he'll do once he leaves the game of football behind. 
"I'd like to get into the scouting department of some NFL team and work my way up from there," he said. "Or it could be something in tech sales. I had a great internship over the summer in that area, so tech sales is definitely something that I'm really interested in. We'll see, it could also be running a business somewhere and being on the business side of an organization."
Clearly, though, Mickey is ready for another year of football at his hometown school. The former Arroyo Grande standout has patiently developed into a contributor on the team. He had his most productive season last year, making 21 total tackles in 11 games, coming up with his first career interception. 
Mickey has played in 23 games with the Mustangs after red-shirting in 2016. He's made 32 career tackles, with one tackle-for-loss, one fumble recovery and four pass break-ups. 
With first-year coach Beau Baldwin installing a new defensive coaching staff, Mickey has changed positions. 
"They've got me at field safety, which is more in space. Last year they had me at boundary corner, which is more in the box," Mickey said last week. "I like playing field a little bit more. It's nice to get out there and get in the open field and use your instincts to make some plays. I'll use that to my advantage and see what we can do."
Mickey shined in space while playing at Arroyo Grande, intercepting 21 passes in his prep career. He also made 205 total tackles and was a factor on offense with the Eagles, producing 3,484 all-purpose yards and 24 offensive touchdowns, with six defensive touchdowns. 
"I love it," Mickey said of the defensive scheme the Mustangs are employing this year. "We're going to be flying around and we're trying to simplify things but still bring a lot of different looks at the offenses we face. It's a unique defense, it's different and it's a style that plays to the players' strengths. The staff came in and is looking at what we're good at and teaching us all the ropes in a short amount of time."
Cal Poly will open its 2021 season with a pair of contests inside Alex G. Spanos Stadium, hosting Southern Utah on Feb. 27 and UC Davis in the Battle for the Golden Horseshoe on March 6.
VOTE: Tatiana Dunlap voted Girls Basketball Player of the Decade!!
GBB: Player of the Decade Final Round
Updated
Kaitlyn Flowers vs. Tatiana Dunlap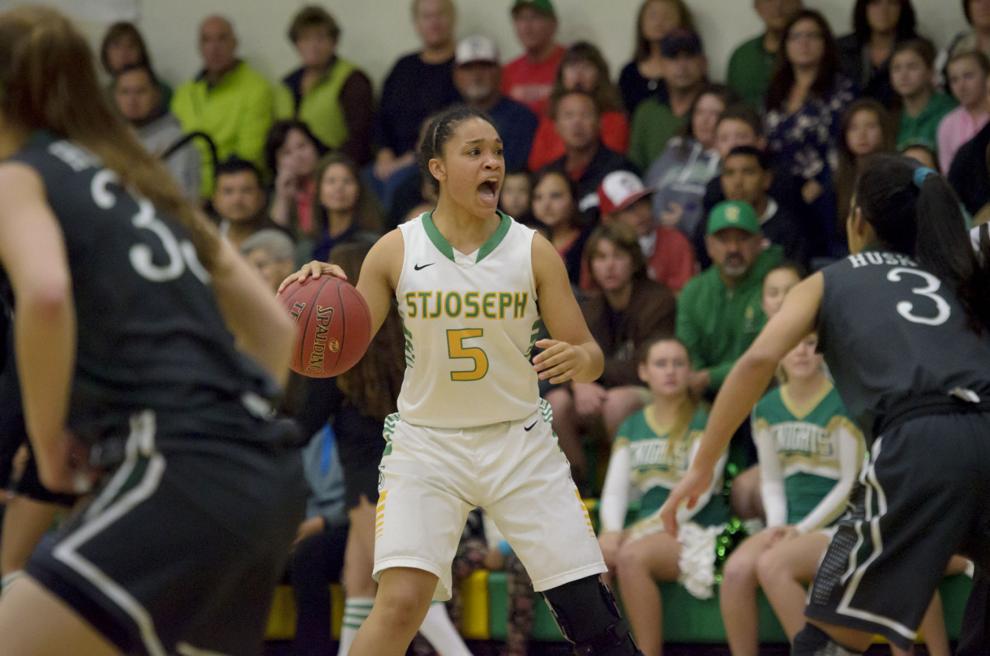 Flowers made it to the final round without too much drama. Dunlap, on the other hand, had to grind out a win over the top remaining seed.
Dunlap narrowly fended off Ashlyn Herlihy of Arroyo Grande in the semifinals. It was a close fight, but Dunlap pulled away late to score the victory, 1,089 to 876.
On the other side of the bracket, Flowers cruised past Heather Madrigal, who played at both St. Joseph High and Arroyo Grande with Flowers and Dunlap, in the semifinals. Flowers voters have consistently led the round-by-round voting. 
In this round, Flowers received 1,443 votes, edging Madrigal, who tallied 1,023 votes as of 4 p.m. Tuesday. 
Voting ran from Wednesday, Oct. 28 to closing at 4 p.m. Tuesday.
In all, 4,431 votes were cast in the semifinal round. There were 3,044 votes cast in the quarterfinals and 4,500 votes in the opening round, meaning readers have cast about 12,000 total votes in this contest.
Flowers led the opening round with 446 total votes. She then had 520 in the quarterfinals before taking in over 1,400 votes in the semifinals. Dunlap had 422 votes in the opening round, then 351 votes in the quarterfinals before hauling in 1,089 votes in the semifinals.
Flowers defeated Lompoc grad Danielle Morgan 446-187 in the first round and Cabrillo High grad Erin Jenkins 520-88 in the quarterfinals before defeating Madrigal in the semifinals. Dunlap beat Santa Ynez grad Hailey King in the first round 422-76 and Righetti grad Mariah Cooks 351-260 in the quarterfinals.
Dunlap won a CIF state title in her sophomore season with the Knights. Flowers was a freshman that year and, as fate would have it, filled in for an injured Dunlap in the state title game, giving the Knights valuable defense and rebounding in their win over Bishop O'Dowd.
In Dunlap's three seasons at St. Joseph, she scored over 1,300 points and the 5-foot-8 guard averaged 23.7 points, 3.0 assists, 9.2 rebounds and 2.6 steals per game as a senior.
Dunlap earned one All-Area MVP award, during her senior season. For her career, Dunlap averaged 15.1 points over 87 games with the Knights. As a junior in 2011-12, Dunlap averaged a double-double for the season, with 15.3 points and 10.3 rebounds per game, while also dishing out 3.0 assists and swiping 2.4 steals per game. 
A 2014 St. Joseph graduate, Flowers eventually scored over 1,400 points during her Knight career. As a senior in the 2013-14 season, she averaged 17.9 points, 7.3 rebounds, 3.7 assists and 4.8 steals per game. 
As a junior, Flowers averaged 18.1 points, 4.5 rebounds, 4.9 assists and 4.7 steals. As a sophomore, she scored 18 points a game, adding 4.3 rebounds, 3.2 assists and 4.4 steals per game. She finished her St. Joseph career with 1,448 total points, 503 total rebounds, 326 assists and 391 steals in 110 games. She averaged 18 points a game over the 75 games she played in her sophomore, junior and senior seasons.
Flowers also averaged nearly five steals a game in that span.
Readers have cast votes on the Santa Maria Times' three websites, santamariatimes.com; lompocrecord.com and syvnews.com. The voting for the final round is now live on those three websites and will close on Tuesday, Nov. 10 at 4 p.m. The Times polled current and former coaches to develop its list of nominees for Player of the Decade.