After having one of the best individual seasons in recent program history in 2019, Cal Poly volleyball junior right side hitter Maia Dvoracek …
After letting 3-0 and 7-2 leads slip away, Cal Poly rallied for two runs on sacrifice flies by Cole Cabrera and Tate Samuelson in the bottom o…
Not every college basketball player who competes in the NCAA Tournament ends up in the NBA. While some don't turn pro at all, others end up as…
Karla Sanchez takes the reins as the first head coach of Hancock College's rodeo team
Junior right-handers Taylor Dollard and Dylan Villalobos combined on a two-hit shutout as Cal Poly defeated UConn 5-0 in a 2020 baseball seaso…
One school's beloved pastime might annoy the heck out of everyone else. Here are 21 school traditions that other college sports fans find loat…
Graduate guard Jamal Smith scored a career high 19 points and junior forward Nolan Taylor finished with a season high 11, but the Cal Poly men…
After dropping its first two conference games, the Hancock College men's basketball team has won seven of its last eight.
After going a combined 4-0 to help the Cal Poly women's tennis team pick up two wins over the weekend to remain undefeated, freshman Delanie D…
COLUMBUS, Ohio - Two defensive players for the Ohio State University football team have been charged with rape, accusing them of participating…
Austin Liu's 68 in the opening round and a 72 by Tanner Podres in the suspended second round helped the Cal Poly men's golf team to a 13th-pla…
Cal Poly, which finished one victory shy of a Big West Conference championship in 2019 and its fourth NCAA Division I regional playoff berth i…
Duke's Mike Krzyzewski let the NCAA have it last week.
The Battle at The Rock women's golf tournament scheduled for Monday and Tuesday at Oak Quarry Golf Course has been canceled due to high winds …
First-round co-leader Austin Liu of Cal Poly remained in the top 10 before darkness forced a halt in the second round of the Orange County Col…
The sweet, sweet sounds of "Sweet Georgia Brown" will soon be filling Hancock College's Joe White Memorial Gymnasium.
Check out this collection of Cal Poly Athletics briefs provided by the Cal Poly communications department. Find out more information on indivi…
Songs, chants, mascots, taunts, timeouts and more that make game day special.
Freshman guard Colby Rogers hit a three-pointer with 21.5 seconds remaining in overtime to lift Cal Poly to a 79-75 victory over Hawai'i in a …
First-year Cal Poly head football coach Beau Baldwin has filled three more positions on his coaching staff with assistant coaches from Boise S…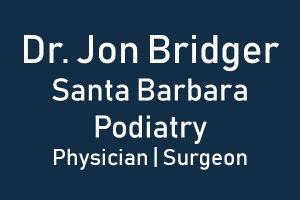 Dr. Jon Bridger - Santa Barbara Podiatry
The highlight of the ceremony may have been the signing of swimmer and 2019 state champ Izzie Fraire, the former Righetti High standout who si…
Sophomore guard Junior Ballard scored 22 points and sophomore forward Tuukka Jaakkola added 16 as Cal Poly won its third straight home game We…
After signing 13 players during December's early signing period, Baldwin added 15 more players to his 2020 signing class as the regular signin…
It was a busy night of Channel League sports action for the Santa Ynez Pirates on Monday.
Cal Poly, which announced the signings of 13 recruits in the Early Signing Period in December, has added 15 more football players — 14 from hi…