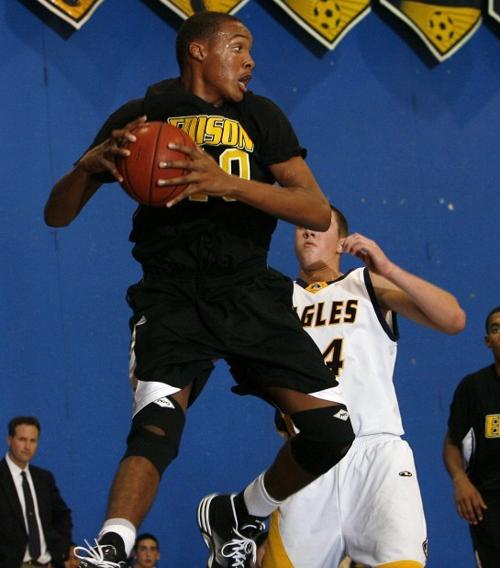 For the second straight night, an opponent caught fire vs. the Arroyo Grande boys basketball team.
This time, the Eagles could not survive the damage.
Edison rallied from a 10-point halftime deficit behind Jordan Batts' scorching performance behind the arc to issue Arroyo Grande its first loss of the season at the Arroyo Grande-hosted Optimist Tournament on Friday night. The tournament, which features a mix of eight local and visiting teams — including a couple very accomplished Southern and Central section powers — concludes today.
Sure, Edison had a 6-foot-7 bulwark and a 6-foot-10 tower.
Still, the 3-point contest sure was fun.
Batts, a sophomore, finished with eight 3-pointers, countering six from AG point guard Michael Escobedo.
Edison moved to 2-0 in the tournament and now has the inside track to face Thousand Oaks in the title game — pending early-morning results today.
"We played two guys the last two nights that just shot the ball really well," AG coach Ryan Glanville said. "Those are two good players."
The previous night, Angel Pacheco sunk seven 3-pointers in a 31-point effort, albeit a loss to the Eagles, who look to rebound today vs. Santa Barbara at 1:30 p.m. before the "place games."
Coming in, the challenge for AG was to deny the ball to 6-10 power forward Robert Upshaw down low and do its best on bulky senior leader Steven McClellan.
The Eagles rose to the occasion in the first half.
"We came out and we weren't in awe of their size," Glanville said.
Upshaw — a sophomore with limitless potential but undeveloped skills — was often fronted by Derick Beasley. Beasley didn't pick up his first foul until early in the third quarter.
And though McClellan — the younger brother of a Vanderbilt forward — did get his "muscle points," he struggled to find a rhythm.
Down 34-24, Edison charged into the second half.
The frenetic pace suddenly became a bit more controlled. McClellan and Upshaw feasted in the paint. Batts rediscovered his stroke; he missed his two long-ball attempts in the second quarter. And AG looked flustered on offense.
You have free articles remaining.
That 10-point halftime lead dissipated in three minutes. AG scored the first basket of the third quarter. Edison scored the next five — accruing a 13-point unanswered rally.
AG limped into the fourth.
Escobedo did his best to bring the Eagles back, but Batts sunk two 3-pointers to kick off the final quarter and the Tigers converted their free throws late to seal the win.
The Eagles looked strong early. The defense forced four straight turnovers, and the offense provided a small lead that dwindled to 16-14 as the first stanza ended.
Escobedo owned the second. He opened the quarter with five straight and capped it with seven. He had 17 points at halftime, and finished with 29.
Batts had 28, Upshaw 11 and both Jereol Walker Jr. and McClellan had 14 for Edison.
Santa Maria 44, Santa Barbara 35
The Saints turned a close game into a win with a big fourth quarter. Santa Maria outscored Santa Barbara 13-6 in the deciding period.
A day after scoring 31 points, Pacheco again led his squad with 13. Kevin Lindgren contributed 10.
Pacheco followed up a night that saw him sink seven 3-pointers with three more on Friday.
The Saints' win was impressive considering Santa Barbara nearly knocked off Edison the previous night. Edison is a defending CIF Central Section champ.
Cabrillo 78, Golden West 60
Outscoring Golden West 25-9 in the first quarter, Cabrillo earned its first win of the tourney in a romp over Golden West.
Senior David Terrones provided 28 points in a monster effort, while Brian Engler had 11. Terrones sank four 3-pointers.
Cabrillo takes on power Thousand Oaks today at 10:30 a.m.
Thousand Oaks defeated Atascadero 75-47 on Friday and has yet to be truly tested in the three-day event.