The late John Rudometkin, who starred at Santa Maria High School, Hancock College and USC before playing in the NBA, was elected to the California Community College Men's Basketball Coaches Association Hall of Fame, the CCCMBCA announced Tuesday.
Rudometkin will be inducted along with Denny Aye, the father of current Hancock College coach Tyson Aye, and former Chabot College standout and current high school coach Tony Amundson.
Denny Aye coached basketball for 40 seasons, winning a state title in 1993 with Columbia College in Sonora.  Amundson, the current head coach of Central Valley powerhouse Clovis North, will join the two to complete the 2020 Hall of Fame class. 
The trio will be inducted at the Hall of Fame and Final 8 Banquet on  Thursday, March 12 at Lemoore's Tachi Palace Hotel.
John Rudometkin, Santa Maria High/Hancock
Rudometkin starred at Santa Maria High School in the mid-1950s, graduating in 1958. He was named the CIF Player of the Year as a senior after leading the Saints to the CIF semifinals. 
He was a smooth player for his size, standing at 6-foot-6 and playing center, weighing 190 pounds as a high school senior.
In his final year with the Saints, Rudometkin shattered the Southern California record for points in a season with 966. He averaged 30.2 points per game over 32 contests playing under Saints coach Bob McCutcheon. Rudometkin scored 781 points as a junior at Santa Maria.
He went on to play one season at Hancock College before joining the University of Southern California. In his lone season at Hancock, Rudometkin averaged 18.2 points over 30 games. He then joined USC where he played 79 games for the Trojans, averaging 18.8 points and 10.5 rebounds during his USC career. His 1,434 career points was the school record until it was broken 23 years after he graduated. 
Rudometkin was named a consensus Second Team All-American in his final season at USC. According to the CCCMBCA, Rudometkin was nicknamed "the Reckless Russian" by Chick Hearn, then USC broadcaster who went on to a storied career calling games for the Los Angeles Lakers.
Legendary UCLA coach John Wooden said, "the only way to defend Rudometkin is to keep him from getting the ball."
After his college career, Rudometkin played three seasons in the NBA, spending two years with the New York Knicks and one with the San Francisco Warriors. In 1965, he was forced to retire from the NBA after being diagnosed with non-Hodgkin's lymphoma, a blood cancer.
Rudometkin battled the disease and eventually overcame it, working as a real estate investor, minister and motivational speaker.
Rudometkin was inducted into the USC Athletic Hall of Fame in 2001 and his No. 44 jersey was retired in 2010.
Denny Aye, Columbia College
Aye spent 23 years as a community college coach in California, coming to Santa Maria occasionally to take on the Hancock College Bulldogs.
Aye's greatest work as a coach came at Columbia College in Sonora, where he won his state title in 1993 and also coached the Claim Jumpers to the state final in 1989. 
After decades on the job, and multiple league championships and playoff berths, Jonathan Osborne stepped down as Cabrillo High School's baseba…
From 1985 through 1994 Aye's teams made nine postseason appearances and advanced to seven state tournaments. Aye's state title came when Columbia pulled off an upset over Ventura.
Aye's Columbia teams won 25 games or more seven times and 30 games or more four times in his nine seasons in charge at Columbia. 
Aye also coached for three seasons at Fresno City, leading the Rams to the state finals twice, and 11 years at Chabot College, where Aye won 211 games and took the Gladiators to the Final Four in 2014.
During his time as a coach at California community colleges, Aye amassed an overall record of 548-212, good for a .721 winning percentage.
In his 40-year career, Aye compiled a record of 837-419. He ranks eighth on the all-time win list for California community colleges.
Tyson Aye has coached Hancock for seven years, leading the Bulldogs to back-to-back 23-win seasons in 2017-18 and 2018-19. Aye's Bulldogs are currently 21-6 on the season and play at L.A. Pierce Wednesday night at 7 p.m. in their regular season finale. Aye coached his team to the state tournament Elite Eight in 2017-18.
Tony Amundson, Chabot College/Clovis North
Amundsen, currently the head coach at Clovis North, has built the Broncos into one of the premier programs in the Central Valley. He has won seven league championships as a prep coach. He led the Bullard Knights to three CIF Central Section Division I championships.
During his player career at Chabot, he was named to the All-Golden Gate Conference first team and was honored as the Northern California State Player of the Year. He left the school as its all-time leading scorer at 1,498 points.
Amundson's Broncos play Fresno San Joaquin Memorial in the CIF-CS Open Division semifinals Saturday night.
Santa_Maria_Times_Fri__Oct_7__1966_.jpg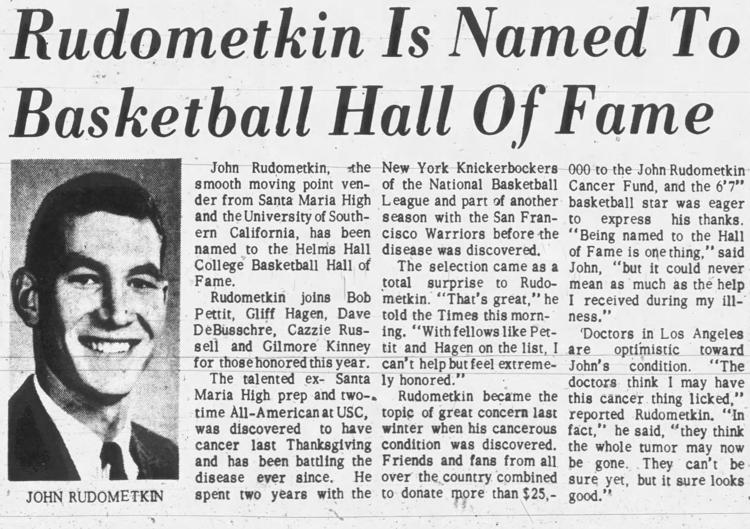 Santa_Maria_Times_Mon__Feb_10__1958_ (1).jpg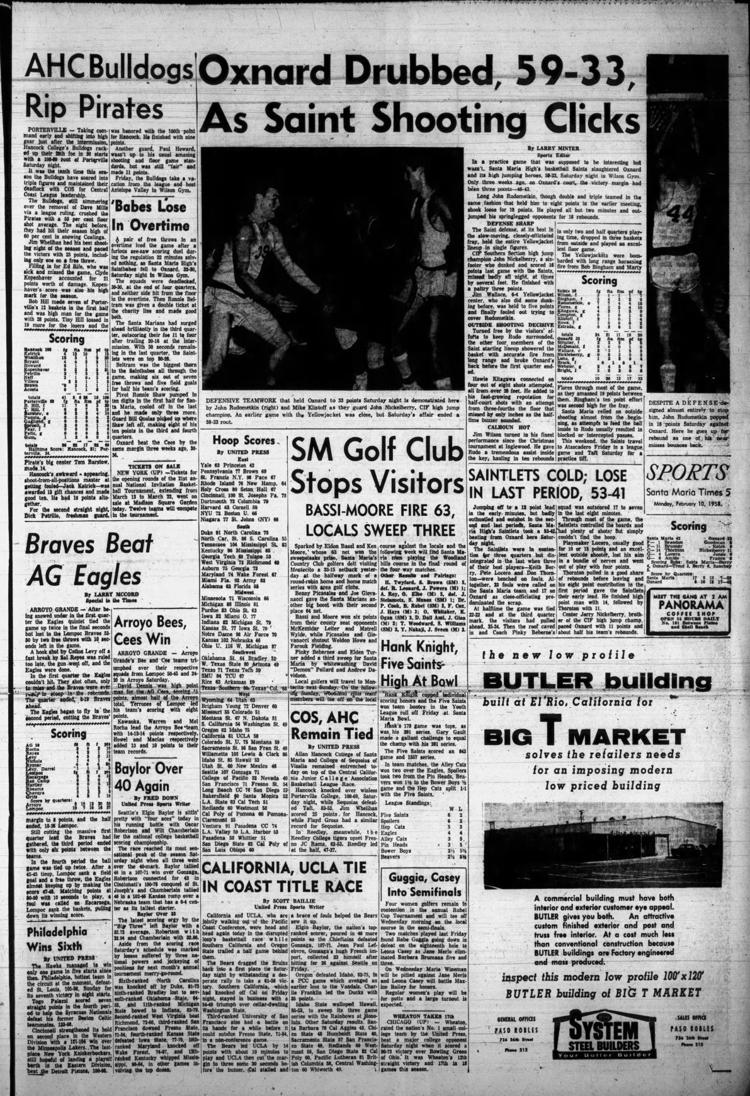 Santa_Maria_Times_Mon__Feb_10__1958_.jpg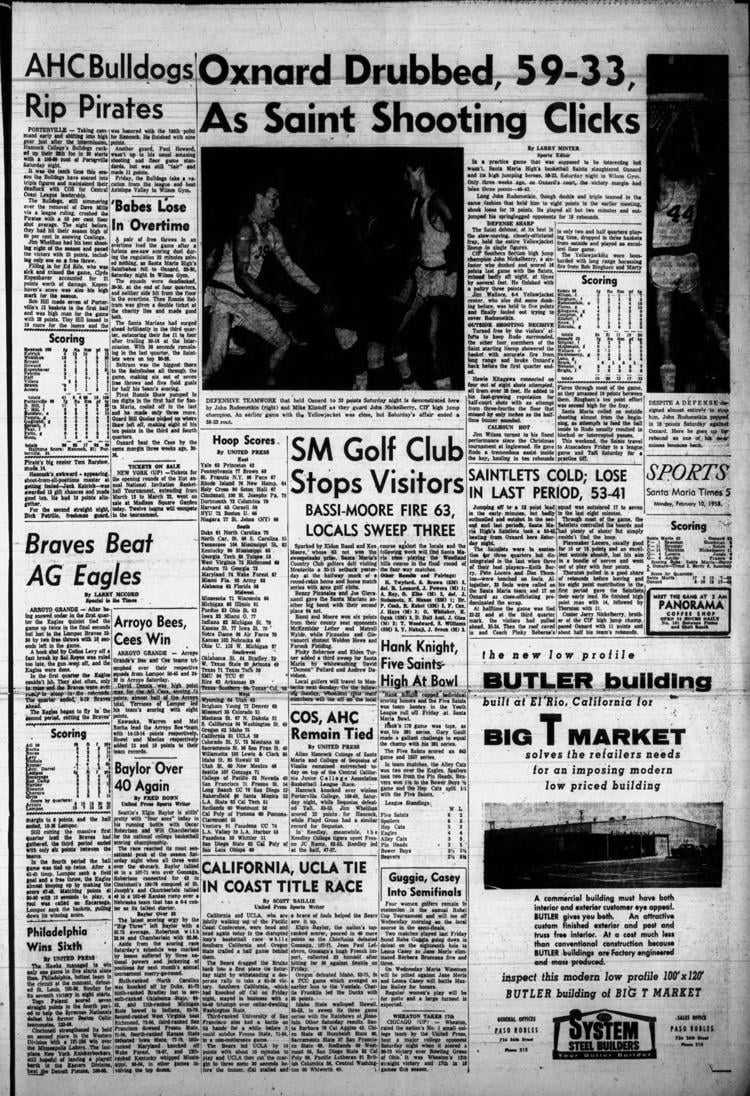 Santa_Maria_Times_Tue__Dec_7__1965_.jpg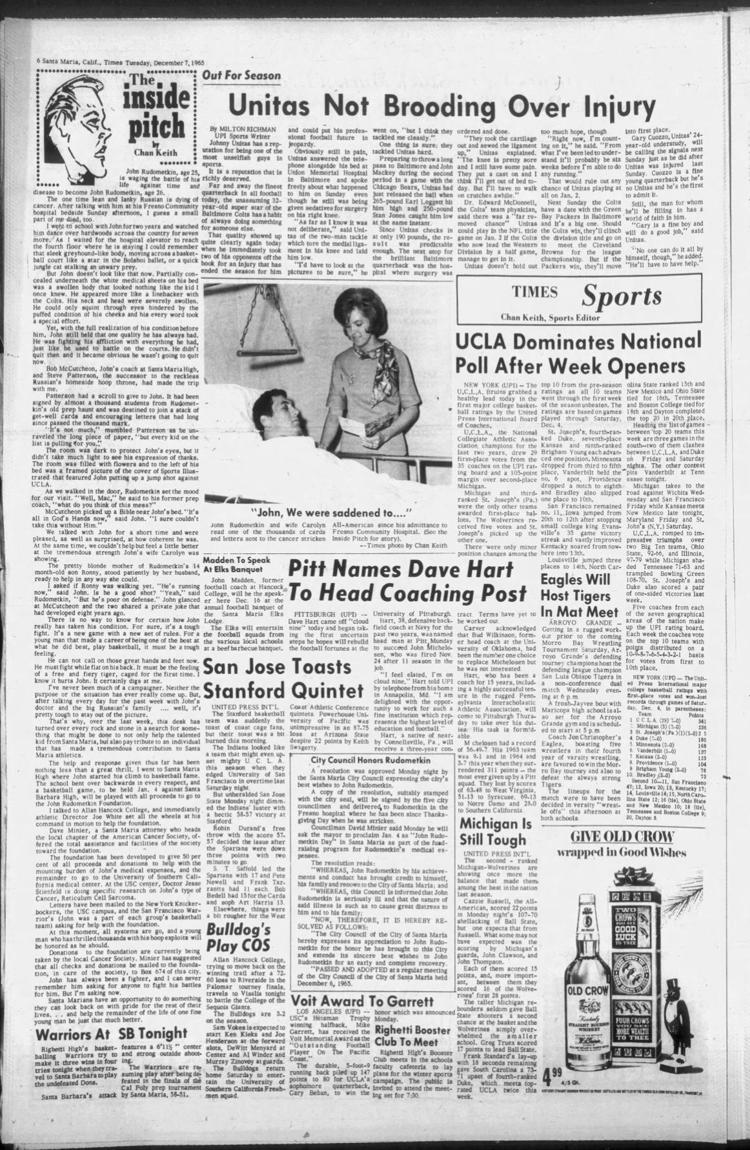 Santa_Maria_Times_Tue__Dec_21__1965_.jpg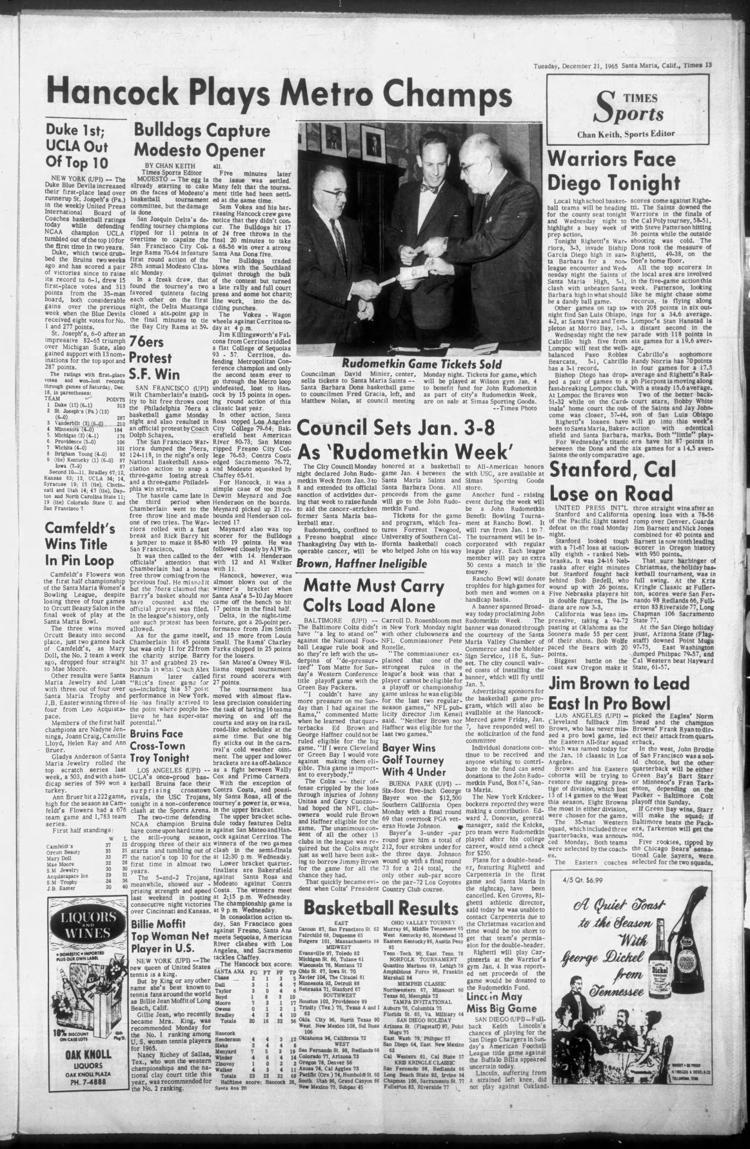 Santa_Maria_Times_Tue__Dec_30__1958_.jpg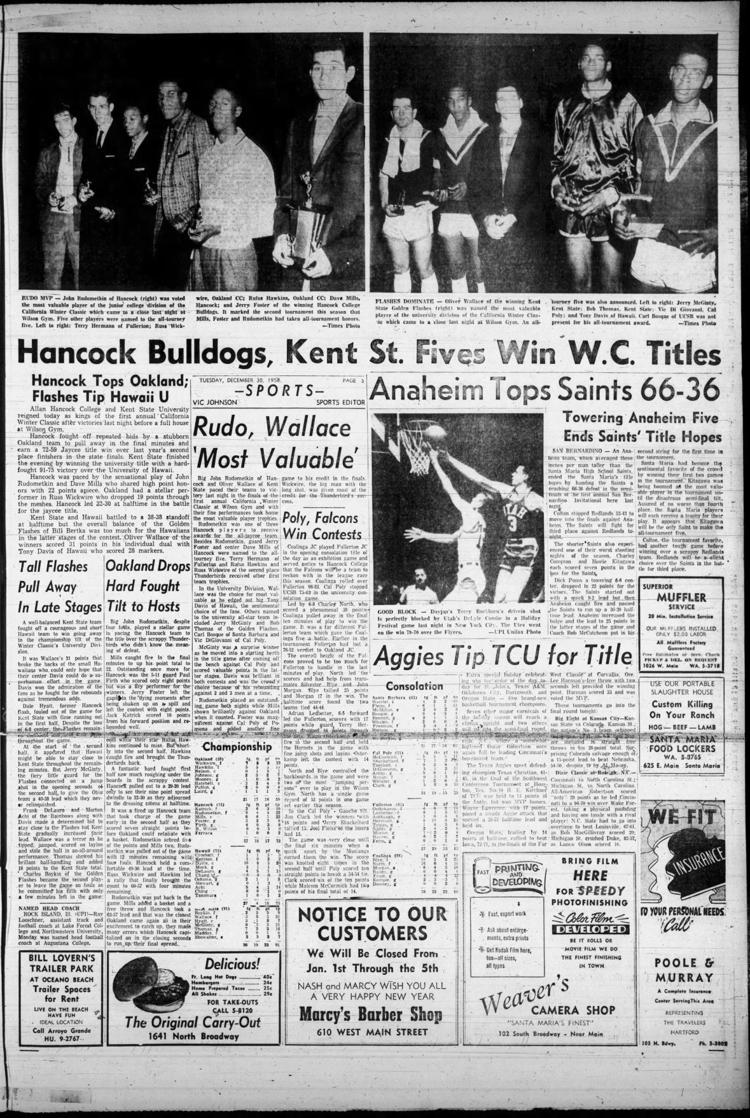 Santa_Maria_Times_Tue__Mar_4__1958_.jpg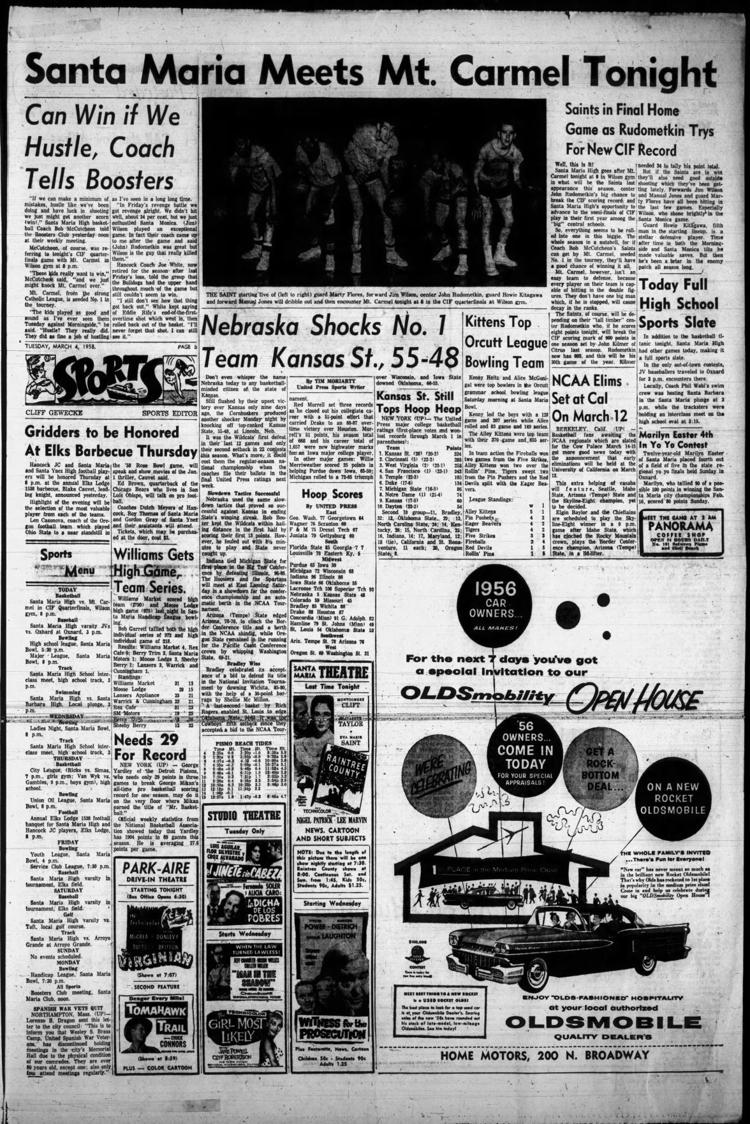 Santa_Maria_Times_Tue__Mar_18__1958_.jpg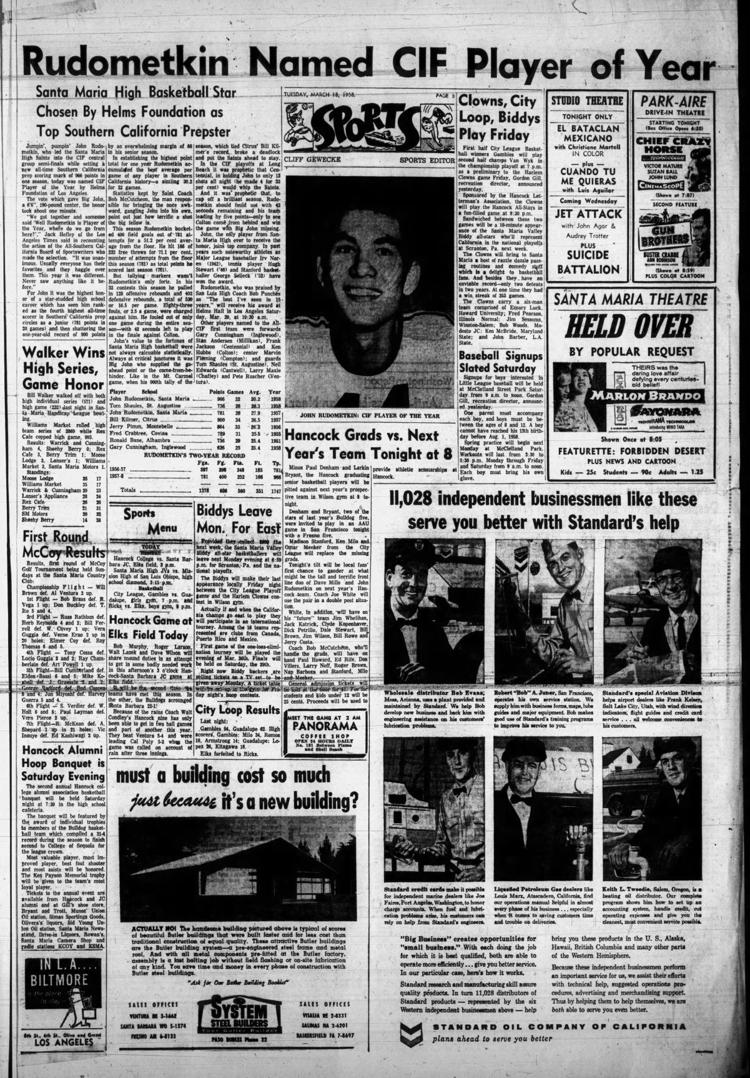 Santa_Maria_Times_Tue__Nov_30__1965_.jpg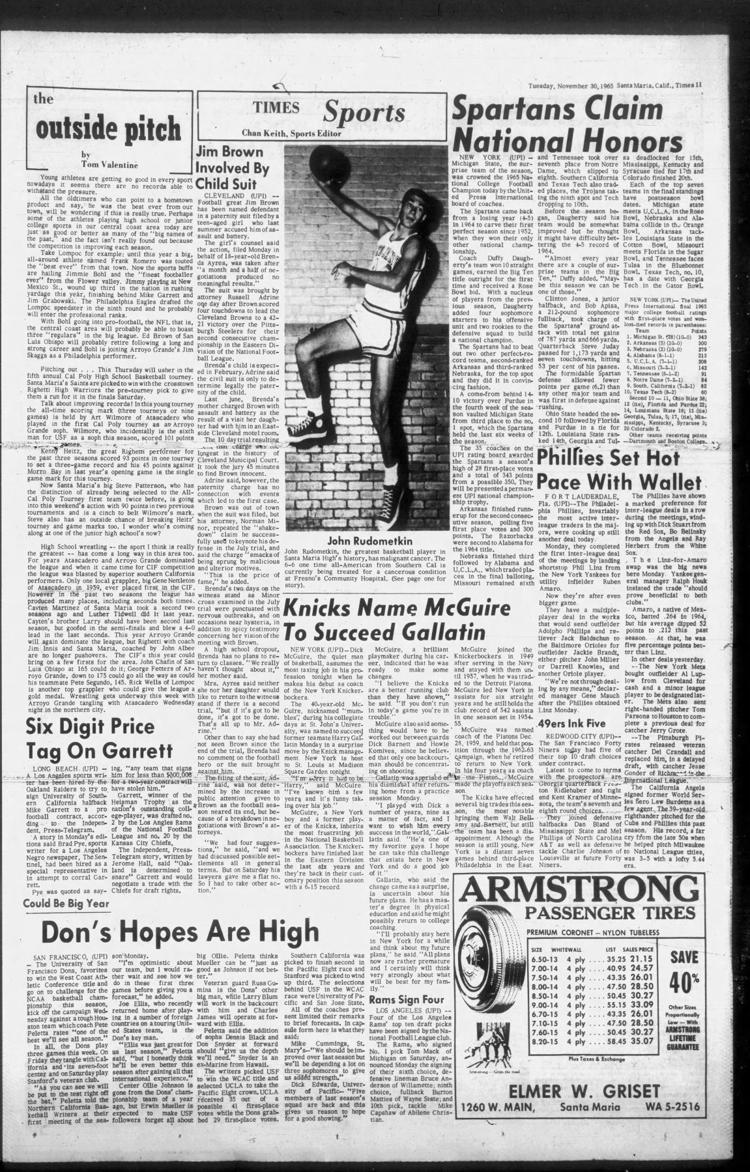 Santa_Maria_Times_Wed__Mar_6__1957_.jpg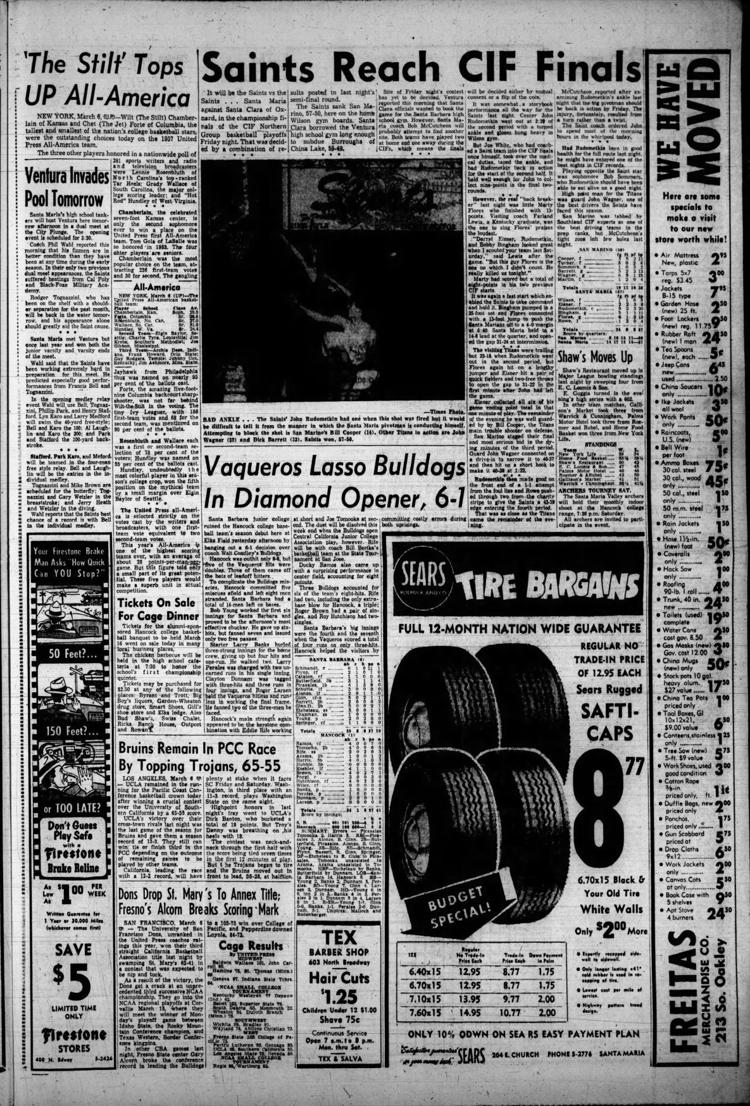 Be the first to know
Get local news delivered to your inbox!