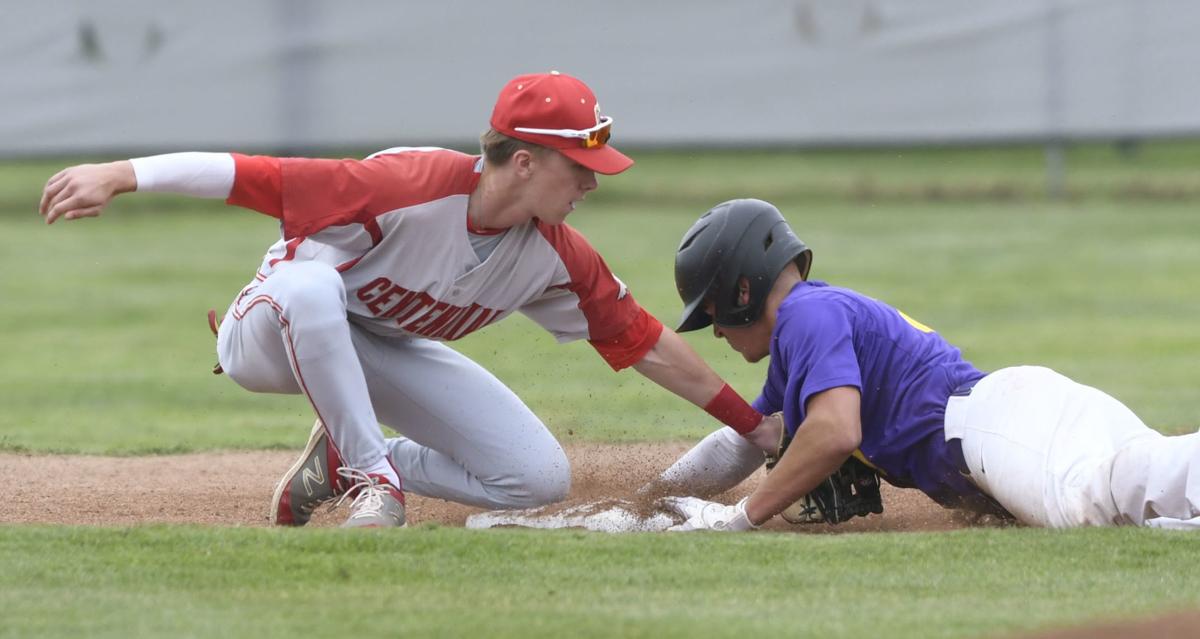 Ryan Delgado guessed right in the sixth inning, and he delivered.
"I was looking for a high fastball," Delgado said.
He got it, and Delgado smacked a two-run home run to left off Bakersfield Centennial right-hander Tyler McCurtain. That was the game-winning hit, as No. 4 Righetti held off the No. 13 Centennial for a 5-3 win at Righetti Wednesday in the first round of the CIF Central Section Division 1 Baseball Playoffs.
The Warriors (21-5) will play either No. 5 Bakersfield Liberty or No. 12 Clovis East Friday at Righetti in the quarterfinals. The tentative start time is 4:30 p.m.
Righetti players rush Ryan Delgado after he got the last out against Bakersfield Centennial in a CIF-CS Division 1 first round baseball playof…
Centennial finished 14-14. Though the Warriors finally got to McCurtain in the later innings, McCurtain was a handful for the Righetti hitters. He struck out seven and walked just one. The Warriors stranded four runners in scoring position against McCurtain, who pitched a complete game.
Righetti came from behind twice. The Golden Hawks scored an unearned run in the first inning and, after Isaiah Navarro tied it for the Warriors with a double in the bottom of the first, Spencer Jenkins put the Golden Hawks back ahead, 2-1, with an RBI single in the fourth.
"They didn't look like much (in the pre-game warm-ups), and we came out flat," said Righetti shortstop Sutton Tompkins.
"There are no easy wins in the playoffs," said Tompkins. "Every game in the playoffs is going to be a battle."
Delgado, who started at designated hitter, came on for Righetti starting pitcher Caleb Dulay to start the seventh and got the save, concurred. "There are no knockoff teams in the playoffs," Delgado said.
Righetti's Brandon Giddings dives past Bakersfield Centennial catcher Chris Gerek to score during a CIF-CS playoff game at Righetti in 2019.
Tompkins struck out in the first inning and again in the fourth with a runner on second base and two outs, but he delivered in the fifth. He jumped all over a high fastball and drove in Brandon Giddings from second with the go-ahead run.
"I had struck out twice, and I was just looking for something to drive," said Tompkins.
Though Jenkins put the Golden Hawks ahead in the fourth, Dulay gave the Warriors a boost by giving up just one run after Centennial had the bases loaded with no outs.
"We talk about minimizing, and Caleb kept the damage (in the fourth) to a minimum," said Righetti coach Kyle Tognazzini.
"That was big. They were in a position to break it open."
Righetti evened the score for the second time in the fourth, with an unearned run. Andrew Gonzalez plated Quigley Espinola with a sacrifice fly.
Righetti's Ryan Delgado gets congratulated by a coach after hitting a two-run home run against Bakersfield Centennial in 2019.
Dulay made a lot of his best pitches when he was in the toughest spots.
After five innings the Golden Hawks had out-hit the Warriors 8-6, yet Righetti was ahead 3-2. Centennial stranded five runners in scoring position against Dulay.
"The palm ball was working really well for me today," said Dulay. "That was my main 'out' pitch when I was in the toughest spots."
Delgado had plenty of stuff in the seventh, and he threw plenty hard. Maybe a bit TOO hard at times, he acknowledged.
Righetti's Isaiah Navarro applies the tag to pick off Bakersfield Centennial's Spencer Jenkins at first base on Wednesday.
Delgado struck out the first batter he faced. He struck out the next batter, Jenkins, as well, but the third strike missed outside so badly Jenkins made it to first base ahead of the throw from catcher Gonzalez.
Delgado hit the next batter then got a force at second on a grounder to Tompkins. Jenkins came home on a wild pitch, but Delgado finally caught Mason Moccardini, the potential tying run, looking to end it.
Jenkins and Moccardini had two hits each. Steels had two hits for Righetti. Seven other Warriors had one hit.        
Be the first to know
Get local news delivered to your inbox!