The Lompoc All-Stars moved into the District 65 Little League 10-11-12-year-olds Tournament championship round with a 3-1 win over Orcutt American Thursday night in the winner's bracket final on field one at host Lompoc's Johns-Manville Park.
Ignacio Lara scored the eventual winning run on a throwing error in the top of the third. Lompoc starting pitcher Jonathon Ortiz pitched 5 2/3 innings of three-hit ball and Ricardo Sanchez, the starting third baseman, got the last out to preserve the win.
Lompoc won despite getting just two hits. Orcutt American had just three itself. 
Afterward, Lompoc coach Gary Jones said his Little League's board made an important decision much earlier.
"This is the first year the board allowed 11-year-olds," to play at the 10-11-12-year-olds All-Star level, Jones, said.
"We have three 11-year-olds on our team, and all three of them played a big part in the win tonight." Jones said.
Lompoc will play at 12 p.m. Saturday in the championship round on field one against the Orcutt American-Santa Maria Northside winner. If Lompoc wins, Lompoc wins the tournament championship. If Lompoc falls, a 12 p.m. Sunday game on field one will determine the District 65 champion.
Orcutt American will play Northside, which beat Orcutt National 14-10 on field two Thursday night for its fourth win in an elimination game, at 6 p.m. Friday night on field one in the loser's bracket final. 
"My arm was a little tired but (near the end), people on the bench were telling me, 'You don't have long to pitch,'" said Ortiz. His teammates knew Ortiz was nearing the end of his 85-pitch limit. 
Lara is one of Lompoc's three 11-year-olds. Enrique Morales-Esquivel became the first baserunner against Orcutt American pitcher Jacob McMillan, who pitched a two-hit complete game, when he led off the third with a double.
Morales-Esquivel, running from third on a one-out Lara ground ball, beat the throw from shortstop home to tie the game for Lompoc. Lara raced to second on the play.
Lara broke for third on a ground ball to the shortstop. The throw to first was in time for the out, but the throw on the try to double Lara at third was off. The ball scooted into foul ground, Lara raced for home and scored.
Meanwhile, Axel Adame and Kasch Kubasiewiz, the other two Lompoc 11-year-olds, were the main guys in the defensive play of the game.
An Orcutt American baserunner tried to score from second base on a Blake Thayer two-out single to right in the fourth. Adame, the right fielder, threw a strike to shortstop Kubasiewiz. Kubasiewiz's throw to catcher Ruben Gaitan was just ahead of the runner, and Gaitan tagged the runner out.
A brief consultation between the umpires to determine whether the third baseman obstructed the runner took place, but it was ultimately determined that no obstruction took place and the call at home stood.
Gaitan doubled with one out in the sixth and ultimately scored on an error.
You have free articles remaining.
Register for more free articles
Stay logged in to skip the surveys
McMillan, who drove in Noah Farris with a sacrifice fly in the bottom of the first for the first run of the game, singled with one out in the bottom of the sixth. Ortiz gave up a walk, a sacrifice bunt put runners at second and third with two outs then Ortiz and Sanchez switched positions.
Kubasiewiz snagged a hard line drive that was hit right at him for the last out.
Farris led off the bottom first with a single. That was the only hit off Ortiz until Thayer singled with two outs in the fourth.
Adame made his big throw from right field on the play, Kubasiewiz made his from shortstop and Lompoc was on its way to the title round.
Northside 14, Orcutt National 10
Santa Maria Northside won its fourth straight elimination game Thursday night, beating Orcutt National 14-10 at the 10-11-12-year-old District 65 Tournament.
In a game played at Johns-Manville Park in Lompoc, Northside's Thomas Zepeda hit two home runs and finished with eight RBIs in the win. 
Julien Diaz-Resendez drove in three runs for Northside. Diaz-Resendenz went 2-for-4 and also scored twice.
Orcutt National lead-off hitter Gunner Morinini had another big day setting the table for the ON offense. Morinini went 3-for-4 with two runs and two RBIs. Connor Chanley also drove in two runs and had two hits for Orcutt National, which was eliminated in the defeat.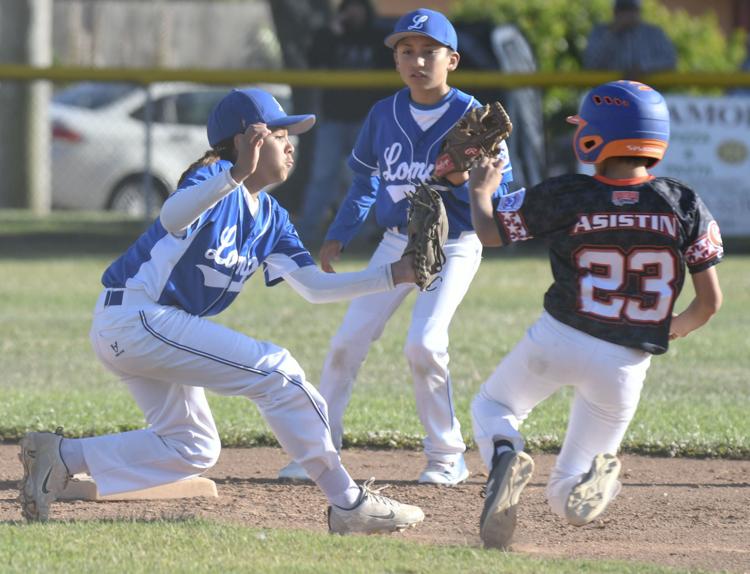 Ezra Ornelas, Tim Devan, Torin Ellis, Connor Kimball and Maddox Hageman each had an RBI.
Mornini and Kimball each doubled.
Santa Maria Northside lead-off batter Daniel Salgado went 2-for-4 with two runs and an RBI. Aiden Palcencia drew three walks, scored once and drove in a run. Malachi Jordan had a hit and an RBI.
Orcutt National pitchers struck out nine batters but did issue eight walks. Northside pitchers struck out just four batters. They also walked four. 
Orcutt National out-hit Northside 15-13. Santa Maria rode a seven-run second inning and held off Orcutt National as it scored six runs in the final two innings. 
Northside advances to play Orcutt American on Friday night at 6 p.m. The winner plays Lompoc Saturday at 12 p.m. in the District 65 title game. If Lompoc loses that game, a final winner-take-all game will be held Sunday at noon. All games are played at JM Park in Lompoc.
Northside started its tournament with a 1-0 loss to Orcutt American last Saturday.