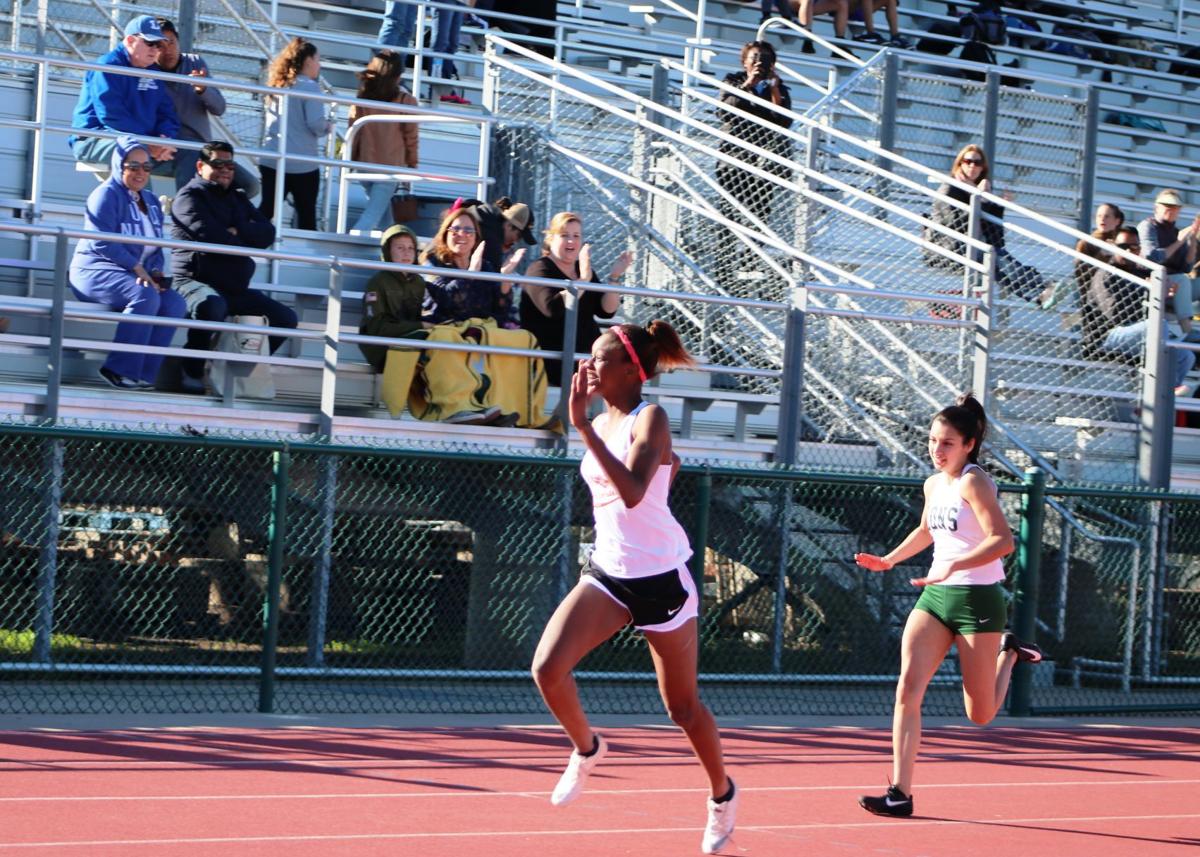 Note: Due to space limitations, individual results from the Santa Ynez girls track meet on Wednesday, March 13, were omitted from the March 19, edition of the Santa Ynez Valley News. Here is the girls' summary of the event.
In an unusual format, Santa Barbara, Lompoc and Santa Ynez High Schools competed, simultaneously, in two dual meets.
Lompoc defeated Santa Barbara 75-61 in their boys varsity meet while Santa Barbara topped Santa Ynez 86-49.
In the girls varsity meets, Santa Barbara bested Lompoc 72-54 and Santa Ynez ran past Santa Barbara 90-46.
Santa Ynez's Neta Ofiaeli was a three-time winner as was Lompoc's Kylie Yanez while Lompoc's Julie Sheperd picked up two victories.
Ofiaeli won the 100, in 13.03 seconds, and 200-meter (27.61) dashes and led off Santa Ynez's winning 4x100 relay team.
 "I can't say 13 seconds is good enough, I need to go faster," said Ofiaeli after winning the 100. "But for my first real track meet it was pretty good. It was a hard race. The other girls were pretty fast."
Ofiaeli teamed with Claire Chirgwin, Amelia Villa and Emmy Withrow to win the 4x100 relay in 52.78.
Santa Ynez also won the 4x400 relay behind Chirgwin, Villa, Christiana Heron and Peyton Lishman (4:34.35)
Shepard won both the discus and shot put.
Sheperd's 105-11 throw edged teammate Esperanza Zepeda (103-08) in the discus with Santa Ynez's Alaynna Garza and Morgan Blunt finishing third and fourth, respectively.
Sheperd's 33-foot throw won the shot put, edging Garza and Santa Ynez's Quincy Valle.
Santa Barbara's Elena Everest won the 1600 (5:54.93) ahead of Santa Ynez's Hanni Richter and Lompoc's Mallory Branum. Everest also won the 3200 (13:39.12) ahead of Santa Ynez's Nayeli Torres.
Richter picked up a win for Santa Ynez in the 800 (2:45.28). 
Lompoc's Kylie Yanez won the 100-meter hurdles (16.23) ahead of Lishman and then won the 300 hurdles (50.65) ahead of Lishman again.
Yanez also won a third event, the triple jump (31-08) edging Santa Barbara's Mila Speer (31-07).
Speer won the long jump (15-07) ahead of Santa Ynez's Lishman and Lompoc's Mary Ann Swan.
Santa Barbara's Laila Goodman (1:03.73) edged Chirgwin and Heron to win the 400.
Valle won the pole vault with as jump of 8-feet, edging teammate Grace Morrell and Lompoc's Swan.
"I think this was a good day for us," said Santa Ynez head coach Ashley  Coehlo. "Neta was great, she could have broken 13 seconds in the 100 if she didn't slow down to smile for the finish line camera. Our 4x100 team is all freshman and  three of the four in the 4x400 are freshman along with senior Christiana Heron. Claire Chirgwin, Peyton Lishman, Amelia Villa, Quincy Valle and Hanni Richter all had good days. It was a good meet, a good start to the season."