OUR VIEW Whatever cannabis regulations are finally approved need to protect Santa Barbara County's agricultural industries, because growing an…
OUR VIEW Given the pervasive nature of crime in our state, it seems that debate on and discussion about the pros and cons of expunging crimina…
OUR VIEW Taking the long view on the county going with electric vehicles it makes sense, even with the high start-up costs. For one thing, cou…
OUR VIEW Santa Maria and Lompoc share a common problem, which is homeless people camping out in riverbeds.
OUR VIEW Santa Maria police officers have had their hands full this year, with a big increase in car crashes and driving-under-the-influence arrests.
OUR VIEW Fridays are the starting point for a fun and/or restful weekend, but with state, national and global news trending toward the negativ…
GUEST COMMENTARY The system is broken. With all of our help, I believe Sen. Bernie Sanders can fix it. That's why I'm voting for Bernie on March 3.
OUR VIEW California already takes longer than other states to count votes, and allowing ballots postmarked by March 3 to be counted as long as…
OUR VIEW With the best interests of our country, state and community in mind, we encourage a huge turnout at Monday's census town hall meeting…
OUR VIEW: How was your President's Day? Maybe you didn't notice because of the sameness of the American presidency since the birth of this nation.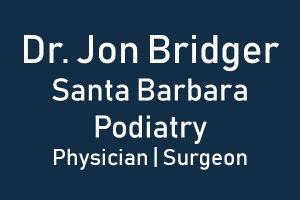 Dr. Jon Bridger - Santa Barbara Podiatry
OUR VIEW The "What Were You Wearing" exhibit forces us to examine attitudes and beliefs about sexual assault, and that what a person chooses t…
ROSES & RASPBERRIES Educators love it when something comes up that can be a teachable moment. But sometimes the moment leaves a bad taste.