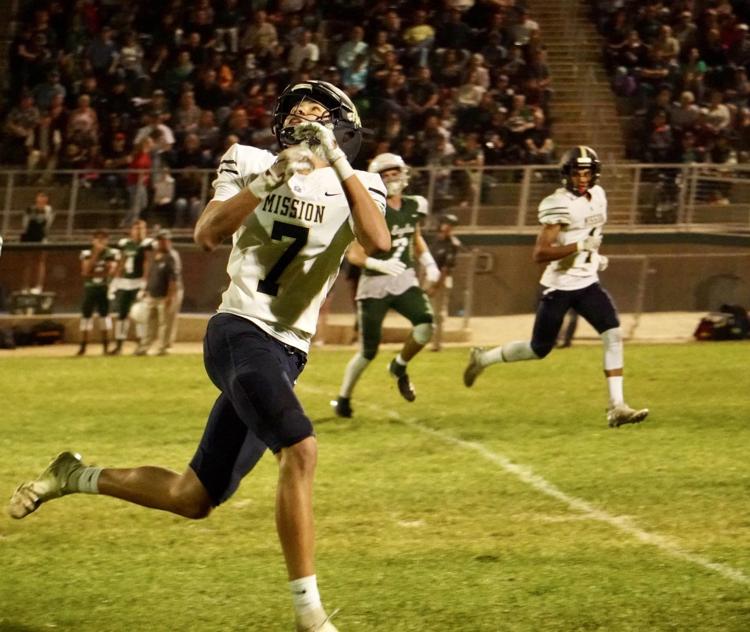 High School: Mission Prep
Height: 6-6
Weight: 200
Class: 2021
Offers (10):
Oregon State
Fresno State
Utah State
UNLV
San Diego State
Nevada
Liberty
Cal Poly
Utah
UC Davis
The Details
The first time I saw Carlton Brown was on the basketball court. And I thought he was a very good basketball player. But, now, it's clear his future lies on the football field. 
Brown has a very rare combination of skills. Playing against some of the smaller schools Mission Prep played last year, Brown at times looked like Mike Evans, when he's split out wide, or George Kittle, as an in-line tight end. Brown even lined up as an edge rusher on the D-Line.
Now, as a basketball player who's also a tight end/receiver hybrid, you wouldn't be surprised to see Brown as a finesse player. But he is not. He's shown an appetite for cracking down on smaller defenders, pushing tiny DBs 5 or 10 yards down field. Again, he's also played some D-end, and he gets after it there, too. 
Watch his film. It's really good. He's physical. He's aggressive. And it's easy to see how he had nine offers with a couple Pac-12 schools thrown in there. 
Now, I will say I want to see him against some of the better competition in the Central Section and around the Central Coast and how he holds up. Mission Prep, still transitioning from 8-man in 2018, didn't play the toughest schedule a year ago. Clearly Utah and San Diego State and Nevada, have no problem with that. But, a player like Brown, at 6-foot-6, has a big advantage against players from schools like Greenfield or Mira Monte.
Mission Prep's toughest opponents in 2020 are likely Nipomo, Atascadero and Central Valley Christian.