Santa Barbara County has had so many wildfires over the years that firefighters brought in from other areas to help fight the big ones have joked that it should be renamed Wildfire County.
State and federal officials have listed every city, town, village and cluster of homes in the county as "at risk" of wildfire, even places like Santa Maria and Guadalupe, which are surrounded by thousands of acres of farmland.
Fire officials attribute Santa Barbara County's high risk, in part, to its location in the wildfire "Goldilocks zone." The county sits far enough north to get the winter rainfall needed to grow a healthy crop of fuels, but it's also far enough south to feel the Southern California summer heat that cooks those fuels tinder-dry.
And, because it's close to the large So Cal population centers, the county also draws hordes of weekenders and vacationers who raise the risk another notch.
"Generally, the [areas] most at risk are in close proximity to public involvement," said Jimmy Harris, fire chief for Los Padres National Forest. "Ninety percent of fires are human-caused. … Most fires start within 20 feet of a roadway."
Hot embers blown from an exhaust pipe, sparks scattered from a chain dragging along the asphalt and the extreme heat of a catalytic converter beneath a car pulled onto the shoulder are prime ignition sources for the dry grasses and brush that line the county's roadways.
"Cars and power lines are the No. 1's" for causing fires, Hazard said.
Firefighters look at the ingredients for cooking up wildfires as a triangle. One side is weather, another is topography and the third is fuels.
Hot and dry or cold and wet, flat and level or steep and rugged, virtually barren or a dense forest — combined in various ratios they define wildfire risk, which in the North County is different than that along the South Coast.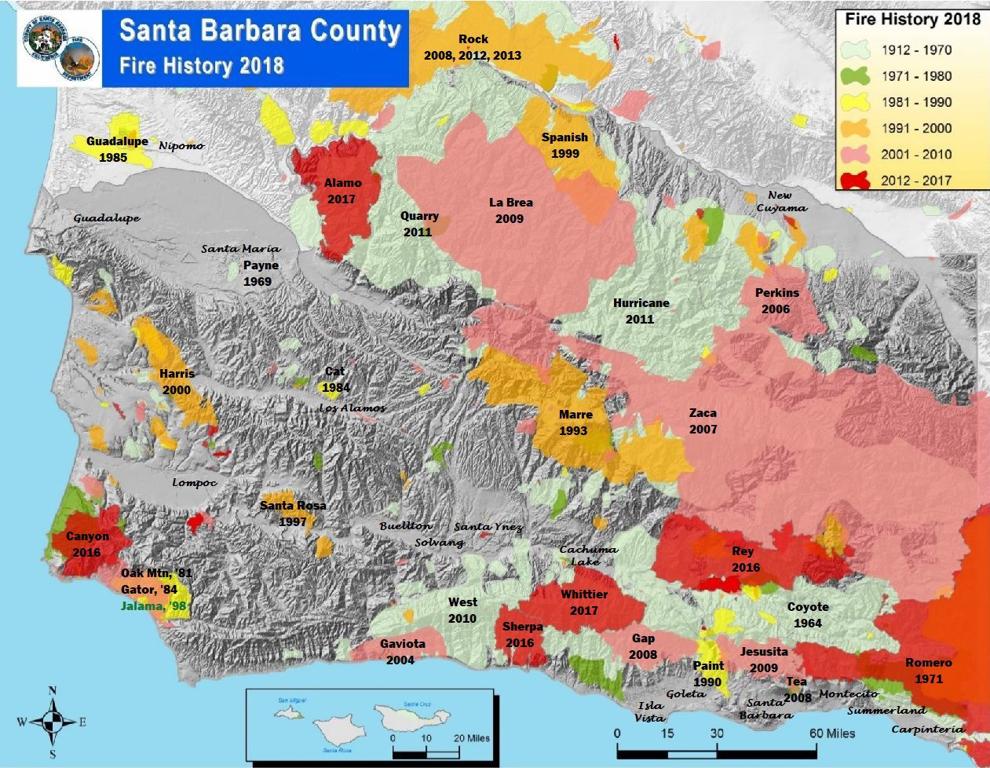 On the South Coast, the steep slopes of the Santa Ynez Mountains, covered with chaparral and close to dense urban areas, create "a classic wildland-urban interface" where wildfire risk is high, Hazard said.
The average slope in the county's mountains is 40%, and that steep terrain with a lack of access roads makes it difficult for hand crews and bulldozers to fight South Coast fires, leaving much of the battle to aerial assaults.
In fact, some firefighters from other areas have said they would rather fight wildfires almost anywhere than southern Santa Barbara County because of the rugged terrain, baking heat and gale-force winds.
"We have our own unique wind condition," Hazard said. "When there have been large fires, there have always been Sundowner winds at some point during the fire."
The Sundowners not only drive the flames forward but heat the air as they rush downslope.
Without even consulting a map or list, Hazard cites the Coyote fire in 1964, the Romero Canyon fire in 1971, the Sycamore fire in 1977 and the Painted Cave fire in 1990 as wind-driven blazes that swept the steep South Coast slopes.
"All those fires burned down those ridges," he said. "You can see it's cyclical, the fires in the 1960s and '70s.
"Of course, the 1955 Refugio fire burned all the coast," he added.
But there have also been significant fires without the push of the Sundowners: the Zaca fire in 2007, the Ray fire in 2016, the Marre fire in 1993 and the La Brea fire in 2009.
While the county is blanketed with areas at risk for wildfire, there are some areas where the risk is significantly higher.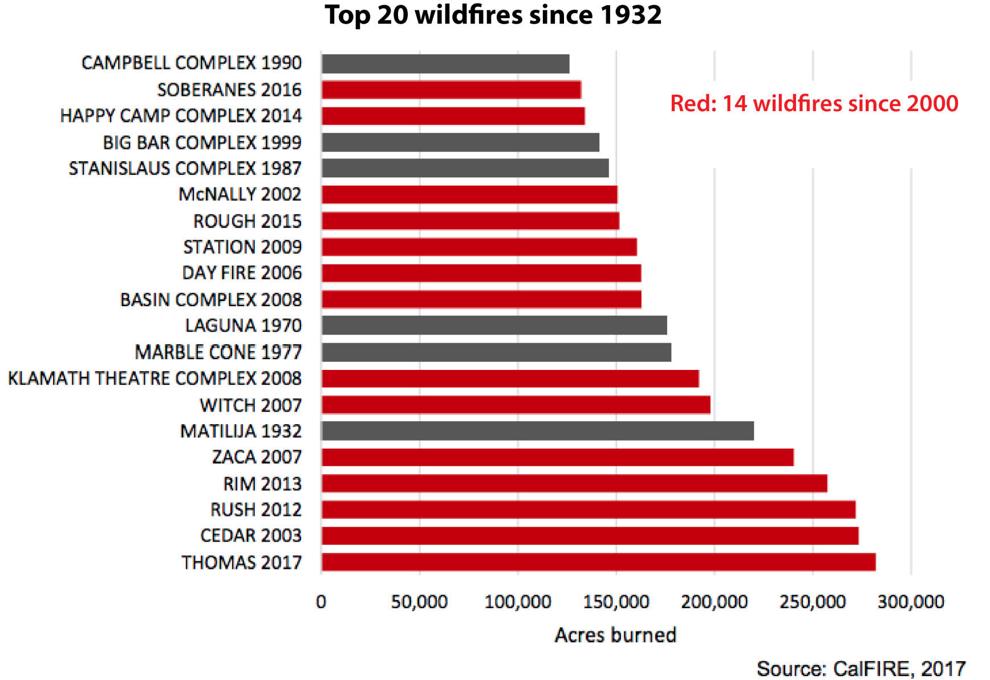 In Los Padres National Forest, the most at-risk areas are in the "backcountry" along highways 154 and 166, around the numerous campgrounds, astride the Santa Barbara urban-rural interface and in the areas that haven't recently experienced a wildfire, Harris said.
"In areas that haven't burned in a long time, the fires are a lot more intense, harder to put out," he said. "Those include the Tepusquet and Pine Canyon areas where it hasn't burned in a long time, the Cuyama Valley north of the Zaca fire and around Figueroa Mountain.
"There's a lot of growth around Figueroa," he added. "Figueroa is one of the spots we need to focus on. And the [Highway] 166 corridor." 
In fact, the Tepusquet area east of Santa Maria hasn't burned since 1953 when the Big Dalton fire raged through the area.
So for 65 years, the chaparral and trees have grown and matured, dropping leaves and branches to create a thick carpet of duff below a forest of fuels primed to burn.
Lower risk 
In the Santa Ynez Valley and the foothills surrounding Santa Ynez, the ratio of elements in the wildfire triangle change, and so does the risk.
"The risk [there] is more defined by hotter days throughout the summer, but there are also lighter fuels," Hazard said.
Harris agreed, noting the rolling hills are mostly covered with grasses, "light, flashy fuels, where fires are easier to suppress, easy to put out with aircraft and bulldozers."
But grass fires also can move fast.
Occasionally there are fires in the wine country, Hazard said, but the topography is different — the hills are not as steep, and irrigated crops aren't as volatile.
There are areas in the county where many wildfires ignite, but none of them burn large areas, much less balloon into monsters.
"We have lots of ignitions where there are no fire hazards," Hazard said. "Where we don't have a history of big fires is Buellton, Los Alamos, Orcutt. The topography consists of lighter fuels, there's lots of access and they have moderate weather."
A map of fire history in the county bears out that assessment, as a swath of land sweeping from Buellton through Guadalupe shows a lot of ignition points but burn footprints sometimes too small to even show up.
Hazard said the risk to Santa Maria and Guadalupe is extremely low because they are insulated by miles of agriculture, perhaps the best buffer there is against wildfire.
Santa Barbara County's mix of topography, abundant fuels and Sundowner winds presents a specific set of challenges for firefighters who say they'd rather fight wildfires almost anywhere than the place some of them have dubbed Wildfire County. 
Chaparral is the fuel that makes Santa Barbara County wildfires so dangerous and difficult to control. It most areas of the county, it makes up one arm of wildfire's triangle of ingredients — fuels, weather and topography.
While Santa Barbara County's fire marshal Rob Hazard doesn't believe wildfires are becoming more unpredictable in their behavior, he does acknowledge conditions are changing making them bigger, longer lasting, and being more difficult to contain.
Steve and Renée O'Neill consider their 70-acre ranch near the top of Tepusquet Canyon one of the most beautiful properties in Santa Barbara County. 
Residents who lived in Mission Hills during the 2017 Rucker fire share their experiences from what was a frighteningly close call that highlighted local wildfire dangers and risks.
With about 14,000 homes in the communities of Vandenberg Village, Mission Hills and Mesa Oaks located on and around the reserve, and with wildfires becoming increasingly stronger and more dangerous, protecting the region from wildland blazes has become a renewed priority for the Santa Barbara County Fire Department.
Biologists, botanists, ecologists and fire scientists generally embrace the concept that fire is a necessary part of the natural life cycle of…
"Firenado" sounds like the title for a campy science-fiction flick, but it's a real phenomenon that firefighters say they're seeing more often as wildfires worldwide become more intense.
The Cave fire that erupted Nov. 25 was a textbook example of Santa Barbara County wildfires, encompassing virtually all the elements that, in one combination or another, have characterized the South Coast's most significant blazes.
Sundowners blow over, and through, the Santa Ynez Mountains onto the coastal plains around Santa Barbara. The bane of firefighters, they heat the air by compression as they push it downward against the land below, squeezing out its moisture and helping wildfires ignite and spread