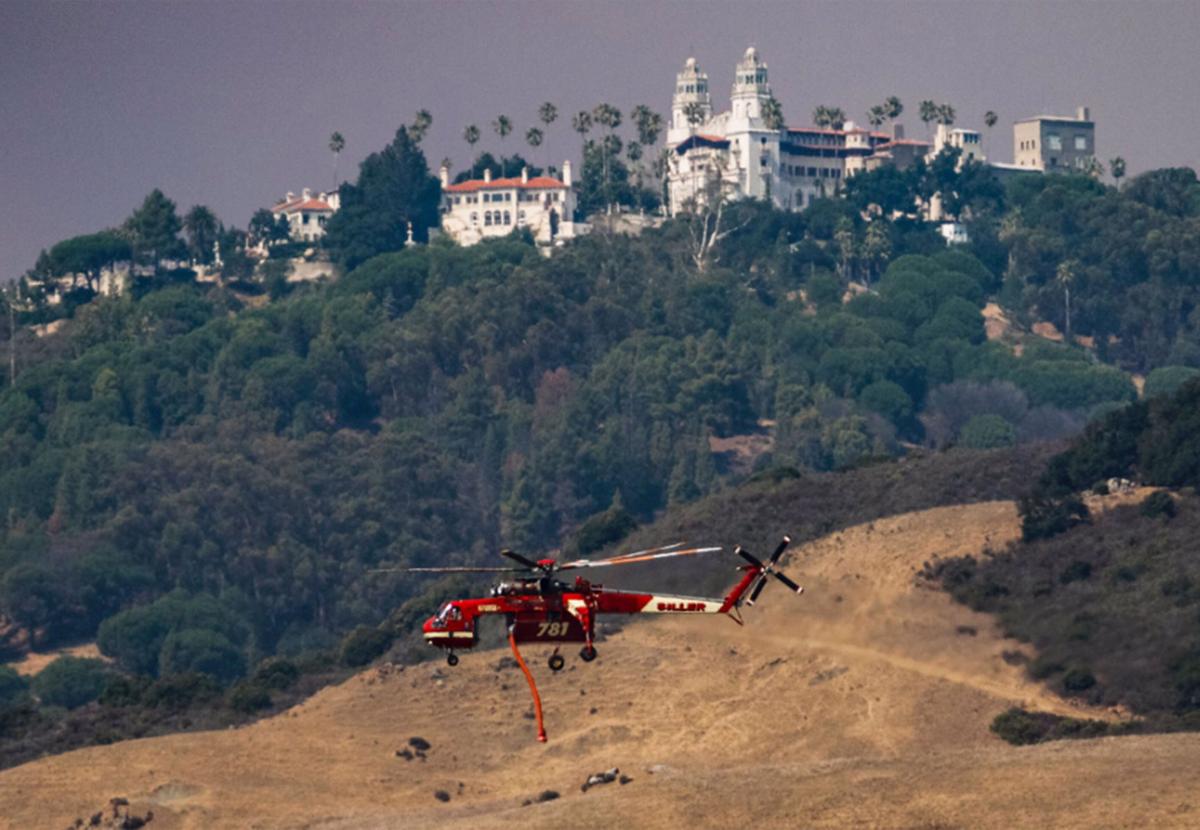 A wildfire burning in northern San Luis Obispo County grew to more than 33,000 acres Monday, while the number of structures threatened jumped from 1,032 to 1,898.
More than 3,800 personnel now are assigned to the battle for control of the Chimney fire that's burning in steep terrain west of Nacimiento Lake and as of Monday evening remained 35-percent contained.
"Overnight, fire behavior was extreme for this fire," Cal Fire spokesman Daniel Berlant said Monday. 
The number of hand crews rose Monday from 93 to 104 — supported by 311 engines, 44 water tenders, 14 helicopters, seven air tankers and 46 bulldozers — to fight the fire that started on the afternoon of Aug. 13 just south of Nacimiento Reservoir, the Cal Fire spokesman said Monday.
On Saturday night, San Luis Obispo County Emergency Services Director Dan Buckshi declared a local emergency due to the Chimney fire. 
Buckshi proclaimed the local emergency status because, "conditions exist that are likely beyond the control of the services, personnel, equipment and facilities of the county of San Luis Obispo and require combined forces of other political subdivisions to combat." 
Evacuation orders are in place for Christmas Cove, Oak Shores, North Shore Boat and Ski, Laguna Vista, South Shore Lake San Antonio, Sapaqua Valley, and Bryson Hesperia in both San Luis Obispo and Monterey counties.  
Cal Fire officials are urging any residents that have not yet evacuated to do so immediately due to increasing fire activity in the immediate area.
You have free articles remaining.
G14 Interlake Road from Lake Nacimiento Dam to Bryson Hesperia Road is closed. Traffic control points are being manned by California Highway Patrol personnel at Interlake Road at Bryson Hesperia Road, as well as Interlake Road at Lake Nacimiento.    
Evacuees should be sure to take any medications, pets, family valuables etc. with them, close all windows including window coverings, and leave all doors closed. 
Officials still are estimating they'll have the fire fully contained by Aug. 29, but the steep terrain and timber, chaparral and grass stressed by drought are challenging firefighters' ability to control the lines, the spokesman said.
A wide range of weather conditions, from highs in the 70s and 50-percent humidity on the western perimeter to the 90s and humidity in the teens east of Rocky Butte Truck Trail, resulted in erratic fire behavior over the weekend, the spokesman said.
So far, one person has been injured by the blaze that has destroyed 34 residences and 14 other structures, damaged seven more and burned 31,000 acres. Damage assessments are ongoing.
The fire continued to move north Sunday and by that evening was moving east toward San Antonio Reservoir. Six communities in SLO and Monterey counties remained under evacuation orders.
On Saturday, the Hearst San Simeon State Historical Monument closed Hearst Castle and canceled tours. On Monday, California Department of Parks and Recreation officials decided to keep Hearst Castle shuttered until Aug. 28. Fire conditions will be re-assessed Sunday to determine when the landmark will be reopened to visitors. 
The Hearst Castle Visitor Center, five miles from the castle, will remain open. 
State Parks officials said they would monitor conditions on a daily basis to determine when the castle, located almost due west of the fire, might reopen.
The cause of the fire remains under investigation.