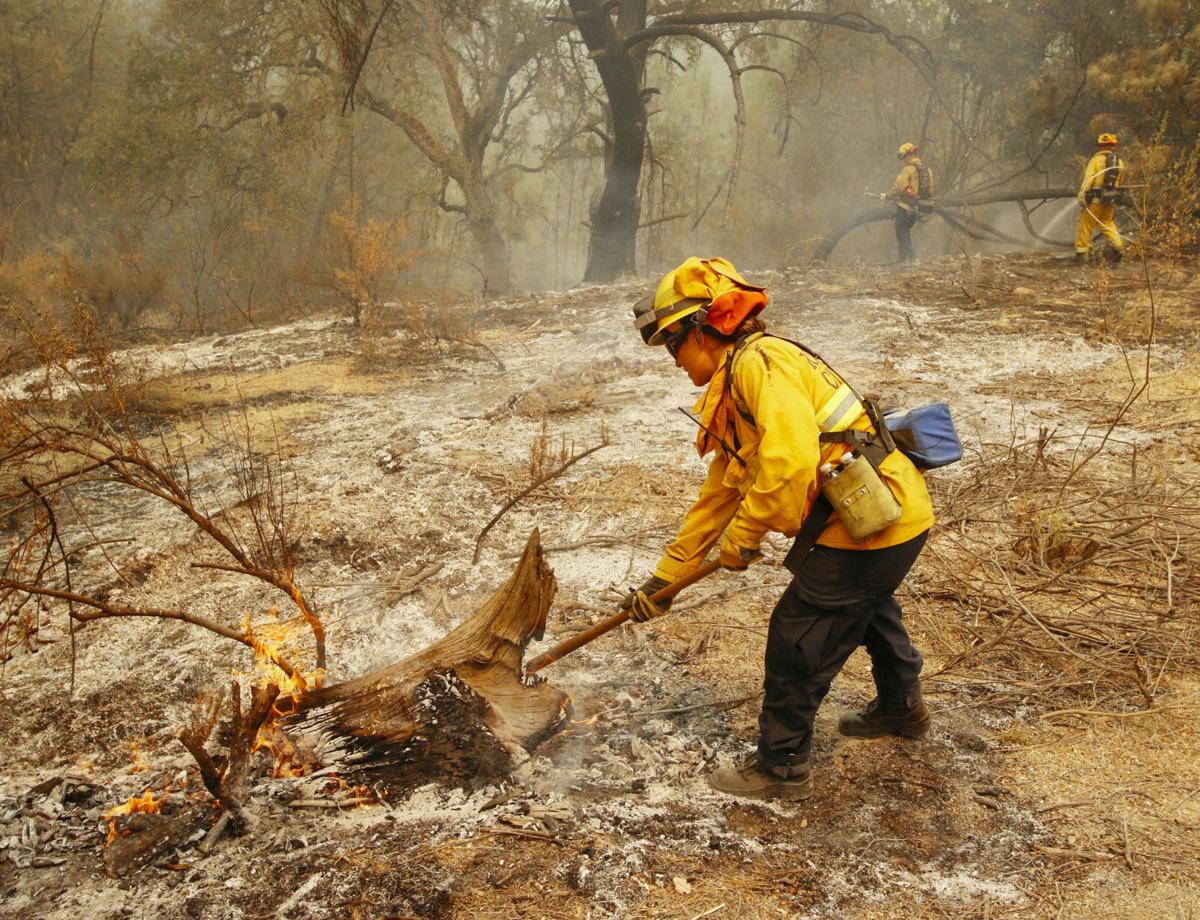 A wildfire burning in the northern area of San Luis Obispo County had grown to almost 39,000 acres as of Tuesday night with 35-percent containment.
The number of structures threatened by the Chimney fire, burning in steep terrain west and north of Nacimiento Lake, remains at 1,898, with 45 residences and 20 other structures destroyed, and seven damaged. 
The Las Tablas arm on Lake Nacimiento is closed. All boating activity and vessel launching are closed west of the Las Tablas arm on Lake Nacimiento. All residents are asked to create and maintain defensible space ready their homes against flying embers and prepare for possible evacuations. 
More than 3,980 fire personnel now are assigned to battle the Chimney fire that has been burning south of Lake Nacimiento and along Chimney Rock and Running Deer roads. The fire is continuing to grow and move toward the northeast direction of the lake as of Tuesday night, according to county fire officials.
Since Monday, the number of resources assigned has increased, with 324 engines, 62 water tenders, 17 helicopters, 107 hand crews, 46 bulldozers and seven air tankers fighting the fire that started Aug. 13 just south of Nacimiento Lake. 
A local emergency that was declared Saturday by County Emergency Services was ratified by the San Luis Obispo County Board of Supervisors on Tuesday morning.
The proclamation allows county staff and partner agencies to respond even more quickly by streamlining the approval process necessary to obtain additional assistance and resources. 
You have free articles remaining.
"As the Chimney fire spreads at an accelerated pace, there are extremely perilous safety conditions for people and property in the county, and it's become harder to mitigate the fire, despite firefighters' best efforts," said County Emergency Services Manager Ron Alsop. "We have to be able to respond and change course quickly. This proclamation allows us to do that." 
Officials said fire behavior remained extreme overnight Monday, continuing to burn in steep terrain, along with very dry brush and timber.
Winds are expected to increase out of the south to southwest at 10 miles per hour with gusts up to 20 miles per hour. Temperatures and relative humidity will become widespread, with temperatures in the 70s on the western perimeter and 90s east of Rocky Butte Truck Trail. Winds blew northwest Tuesday, which caused smoke to drift toward the south-southeast portion of the Chimney fire. 
Threats remain to Oak Shores, Christmas Cove, South Shore Village, Rancho Del Lago, Cal Shasta, Bryson Hesperia and Lake San Antonio.
More than 2,400 people have been affected by evacuation orders. Evacuation orders are in place for Christmas Cove, Oak Shores, North Shore Boat and Ski, Laguna Vista, South Shore Village, Rancho Del Lago, Cal Shasta, Lake San Antonio, Sapaqua Valley and Bryson Hesperia in both San Luis Obispo and Monterey counties. 
Officials are urging any residents who still have not evacuated the area to do so immediately due to increasing fire activity. Flamson Middle School, at 2405 Spring St. in Paso Robles, has been established as an evacuation center.
Road closures are issued for G14 Interlake Road from Lake Nacimiento Dam to Bryson Hesperia Road. Traffic control points are being manned by CHP at Interlake Road at Bryson Hesperia Road, as well as Interlake Road at Lake Nacimiento.
The fire also continues to create health risks for many areas of the county. Public Health officials recommend taking certain precautions to reduce the harmful health effects associated with smoke exposure. The agency and the San Luis Obispo County Air Pollution Control District are working together on the challenges, and APCD's website dedicated to the Chimney fire can be found at www.slocleanair.org/
The Chimney fire began around 4 p.m. Aug. 13. The cause remains under investigation.
Gina Kim covers crime and courts for Santa Maria Times. Follow her on Twitter @gina_k210