For COVID-19 survivor Melissa Meza, there are certain aspects of her battle against the virus, which included 10 weeks of hospitalization, life support and a long period of recovery, that she will never forget. 
She remembers waking up on April 15 in a Santa Monica hospital after entering a coma in Santa Maria three weeks before, and immediately longing for her husband, Louis. She also remembers learning that she almost didn't survive the illness, and that her two children had written goodbyes to her just in case. 
However, she also recalls the small victories along the way — hearing her voice for the first time after her lungs improved, taking her first steps after weeks of physical therapy and, finally, returning home, where she has continued to slowly make progress since May. 
Now, she is coming to terms with everything she and her family have endured. 
"Everything stopped for us," recalled Melissa, 43, sitting with her husband in their Santa Maria home. "I can't even imagine what my family must have been feeling."
Melissa's story about the seriousness of the virus has impacted countless people throughout Santa Maria and beyond, thanks to Louis, who shared about his family's situation through a series of Facebook videos that garnered thousands of views. 
After Santa Marian Melissa Meza received a plasma donation from a COVID-19 survivor that aided in her fight against the virus, her husband vowed to pay it forward by making his own donation once he recovered. 
In the videos, Louis spoke about his own experience being hospitalized with COVID-19 in March, when he spent six days in isolation struggling to breathe before finally improving. The same day he was discharged, Melissa, who has no underlying health problems, was admitted to urgent care for COVID-19 and put on a ventilator. Louis continued to provide updates about her status while she remained in the hospital. 
"I have people reach out to me all the time, just to ask how she's doing and to hear some of the stories," he said. 
Since being discharged from Marian Regional Medical Center in May, Melissa has slowly been regaining her strength to the point where she has hit milestones like walking up the stairs, although her scarred lungs make it a challenge. 
Compared to where she was just months before, working full time at Mechanics Bank and being considered "the life of the party" alongside Louis, the long road toward normalcy can be frustrating. 
"COVID just ravaged my lungs. I get fatigued so easily, just from walking across the room. It's really frustrating, because I'm such an independent person," she said. "I'm always pushing the limits, going against my doctors' wishes. I told myself, 'I'm going to do those stairs.'"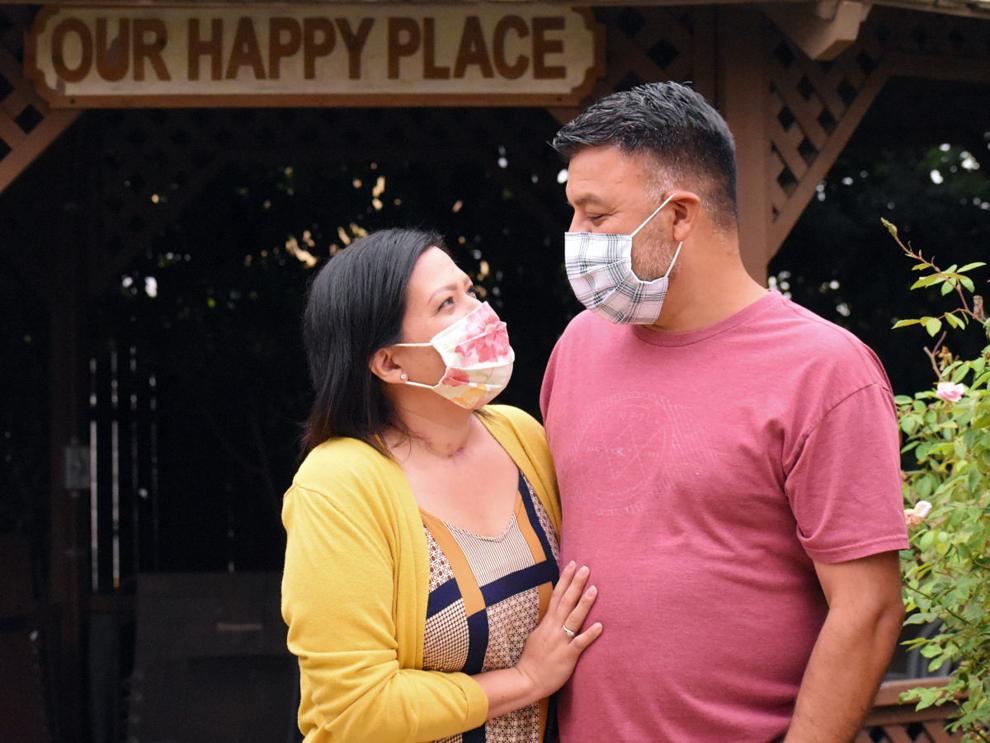 Melissa's time in the hospital included intensive and sometimes rare treatments — relying on a ventilator for oxygen, receiving a plasma transfusion from another COVID-19 patient as a form of antibody treatment, and being placed on an extracorporeal membrane oxygenation (ECMO) machine, a last-resort form of life support that oxygenates blood through an artificial lung and heart.
Along the way, she said there were doctors looking out for her and communicating with Louis, especially at Marian Regional. Most staff did maintain heavy distance, often standing outside her isolation room in full protective gear, but one nurse in particular always put her at ease.
"Jenna was the only one who would touch me. These nurses are putting their lives at risk every day, but she didn't care. She would rub my arm, hold my hand and tell me it was going to be OK," Melissa said. 
Following her discharge, the Mezas have continued to communicate with Marian officials, who recently informed the family that the hospital has obtained its own ECMO machine through funds donated by the Mark and Dorothy Smith Family Foundation.
According to Marian spokeswoman Sara San Juan, the equipment will be used to treat patients like Melissa with serious COVID-19 cases, as well as other life-threatening illnesses. Once the equipment is ready, Marian will be the only hospital between San Francisco and Los Angeles to possess an ECMO machine. 
"It's amazing what the human body can endure," said Melissa, remembering her improvement after her ECMO treatment at Providence St. John's Health Center in Santa Monica. 
If anything, the Mezas hope their experience with COVID-19 will encourage others to take it more seriously. Four months after being discharged, Melissa still has an enduring cough, a reduced sense of taste and smell, and deep leg pains, along with periods of hair loss and hives. 
While she is afraid of getting sick again, she still manages to join Louis on outings, going on drives and getting caramel apples in Pismo Beach. Looking ahead, they are eager to get back to enjoying life the way they were. 
"We're not done yet. We still want to travel," Melissa said with a smile.
Santa Barbara County has passed 9,000 total confirmed COVID-19 cases after 30 new cases were reported Thursday by the County Public Health Dep…