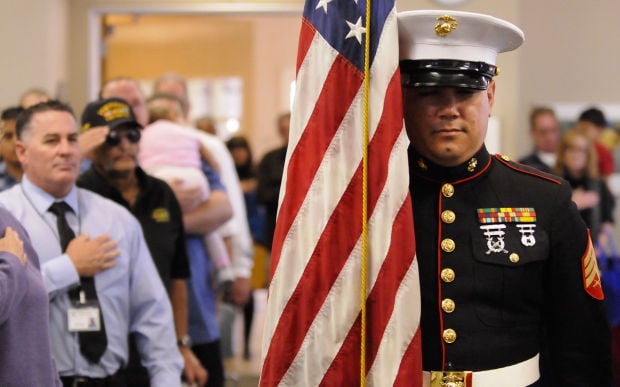 Editor's Note: This is the third article in an occasional series about the Veterans Treatment Court of Santa Maria.
Every 65 minutes, a veteran ends their life. That's 22 suicides a day.
And Marine Corps veteran Steve Baird could have easily become a service-related suicide statistic instead of a success story — his mother visiting her son's grave, instead of celebrating his graduation from the Veterans Treatment Court of Santa Maria.
"It's going to signify an end to a long tour of duty," Baird said about Friday's commencement ceremony, where he took his final steps toward a new life. "I get to let go of stuff that haunted me."
The 37-year-old Orcutt man was among 11 veterans — men and women — who graduated from the treatment court program that's been overseen by Superior Court Judge Rogelio Flores since its inception in November 2011.
Family, friends, fellow veterans and local dignitaries filled Shephard Hall at the Santa Maria Public Library for the graduation ceremony, which was both celebratory and somber.
"We call this, 'Welcome Home,'" Flores said of the event. "Today, they officially made it all the way back home."
Santa Maria's veterans treatment court was established to offer individuals who have served active duty, been arrested and are struggling with substance abuse, addiction, serious mental illness and/or co-occurring disorders, rehabilitation rather than incarceration.
The goal is to assist veterans through mandatory counseling, substance abuse treatment and other programs, while reducing the recidivism rate, ultimately giving the soldiers a second chance at life.
"That's what I love about this program — second chances," said Peter Flores III, a retired U.S. Navy command master chief, who spoke at the graduation. "You're all being given second chances, and you're not alone or any less for being given that second chance."
Similar to a step-based rehabilitation program, veterans treatment courts have largely been established — California has 15 such courts — during the past several years to address the needs of soldiers, such as Baird, returning from tours in Afghanistan and Iraq.
It's estimated 770,000, or one in five of the 2 million post-9/11 combat theater veterans, suffer from post traumatic stress disorder (PTSD), which left untreated, raises the risk the soldiers will commit crimes, according to studies.
"None of us ask for it," Baird said about the invisible, mental scars so many of the country's soldiers bring home. "We don't know how to get out."
• • • • 
Baird joined the Marine Corps in 1994, fresh out of high school. He served for four years, and as a sergeant of an infantry platoon, he saw more combat and casualties than he cares to remember. The unforgettable images and sounds of war tormented him for years after he returned home.
"I'd be the one holding the person's hand when they died," Baird said, adding he joined the military because he wanted a challenge and to do something for his country. "I was happy to go."
The father of two young boys planned to make the military his career, until he met someone. The pair married and shortly after, Baird was sent back overseas for a seven-month emergency deployment. When he returned, his new wife didn't want him to re-enlist. So, he didn't.
"I broke the cardinal rule. I got married," Baird said, explaining how his plans for a lifetime of military service ended when he said, "I do."
Soon after his discharge, the newlyweds separated, however. Baird moved to Montana, where his father lived, and quickly slipped into a world of isolation, spending his time riding alone on his motorcycle.
"I felt out of place ... and I could tell I was completely different (from when I went into the service) than when I got back," Baird said, adding the onset of those invisible scars, such as PTSD, often take time to manifest.
It wasn't until several years later when the Northern California native was forced out of his job as a journeyman lineman that the affects of war started to wear Baird down. He was becoming increasingly paranoid, suffering from separation anxieties and began self-medicating with pain pills.
"That was the beginning of the end," he said.
Baird continued to self-medicate and his mental health steadily declined as a result. He was barely keeping it together when Hurricane Sandy ravaged the East Coast. With skills as a lineman under his belt, Baird decided to pack up his gear and headed across the country to help restore electricity.
It was on a return flight to California that he got arrested. He had a weapon inside his luggage, which he believed to be legal, but was not.
"It was the first time I got in trouble," Baird said. "It was really tough on me. It made me rebel. I was lost."
He was arrested for a second time recently in Orcutt. At the time, the soldier was in such despair he was ready to go down with a fight — one he wanted to lose.
"Jail wasn't a place I wanted to be," he said about the day police were called to his home. "I had it all planned out. I had my knife, bayonet and KA-BAR. I would've wound up dead. There was no way of fighting out of it."
However, when two sheriff's deputies entered his yard, Baird said a sense of calm came over him and he opted not to fight. Instead, he surrendered. His life has never been the same since.
"I laid on the ground and prayed," he said. "I felt it was going to be OK. I knew the fight was over."
• • • • 
As more and more American troops return from Afghanistan, the casualties of war will continue to decline while the number of veteran suicides will likely continue to rise, making the need for veterans treatment courts even more urgent.
"It's going to be an ongoing problem," Flores said. "Our Vietnam vets are still suffering, and 40 years from now, we are going to see the same problems if we don't do something to help. We owe it to them."
To be eligible to participate in a veterans treatment court, a nexus must exist between an individual's military service, not limited to combat, and their suffering from PTSD, TBI, substance abuse, sexual trauma or other mental health problems related to their time served.
Upon successful completion of the 12- to 18-month program, participants earn the ability to check the 'No' box on job applications when asked whether they have ever been convicted of a crime. Completion also means their offenses — DUIs and substance abuse are some of the most common — are dismissed or expunged.
"(This program) was life saving for me," Baird said.
For more information about the Veterans Treatment Court of Santa Maria, call 614-6473.
Get local news delivered to your inbox!
Subscribe to our Daily Headlines newsletter.