The child molestation trial of singer Michael Jackson dominated Santa Maria Times' coverage for more than two years. Daily trial coverage, photos, coverage of the crowds that gathered outside of the trial and columns providing color from the courtroom made the Santa Maria Times' coverage the first start for wire services around the globe - and also generated one of the largest collections of stories in our Digital Archives.  Go to SantaMariaTimes.com/archives to see all of our coverage of the trial and our coverage of the Santa Maria Valley over the last 100 years.
In a special section of the June 14, 2005 Santa Maria Times, reporters and columnists write about their experiences - and reflections - covering the largest trial and media event to hit the city of Santa Maria.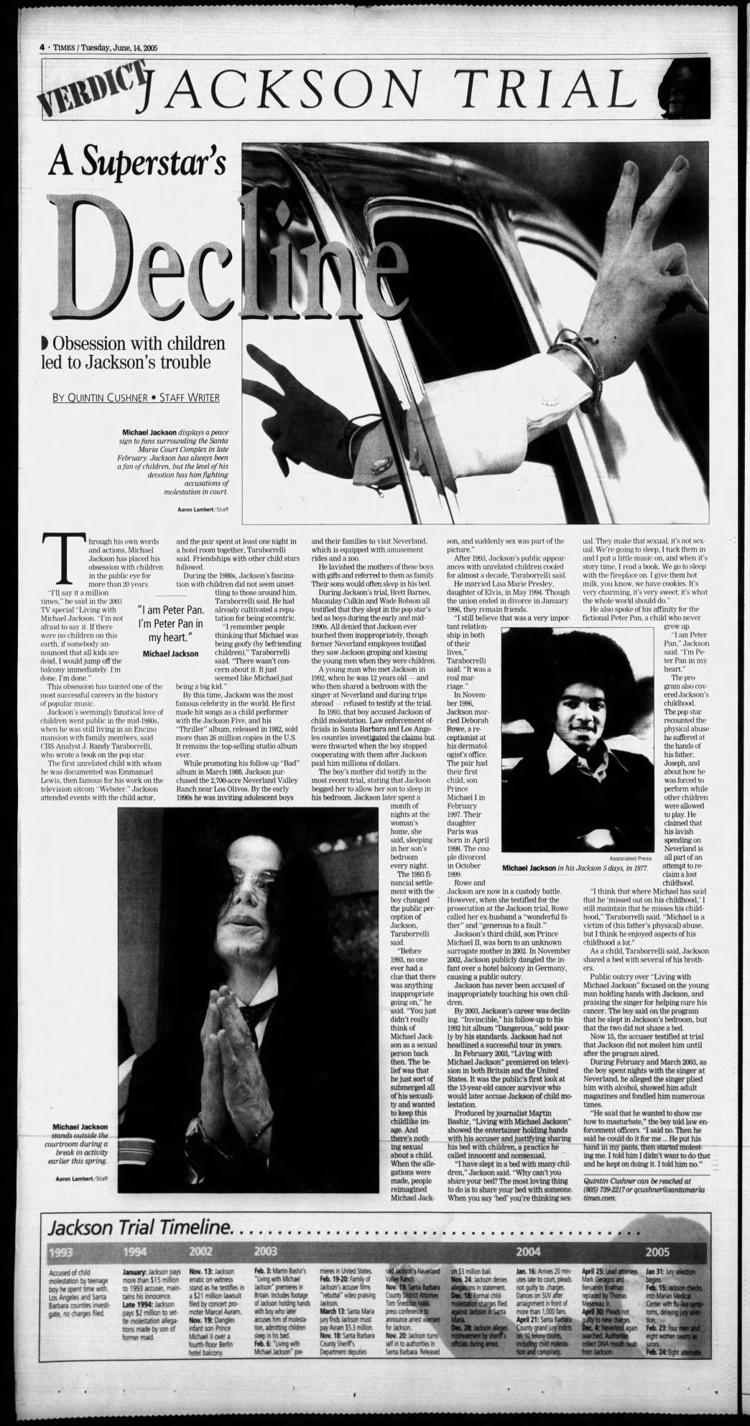 Obsession with children led to Jackson's trouble.
Through his own words and actions, Michael Jackson has placed his obsession with children in the public eye for more than 20 years.
"I'll say it a million times." he said in the 2003 TV special 'Living with Michael Jackson', "I'm not afraid to say it. If there were no children on this earth, if somebody announced that all kids are dead, I would jump off the balcony immediately. I'm done. I'm done."
This obsession has tainted one of the most successful careers in the history of popular music.
Jackson's seemingly fanatical love of children went public in the mid-1980's when he was still living in an Encino mansion with family members, said CBS Analyst J. Randy Taraborrelli, who wrote a book on the pop star. 
The first front page story from the trial was coverage of the surprise search of Jackson's 'Neverland Ranch' in Los Olivos.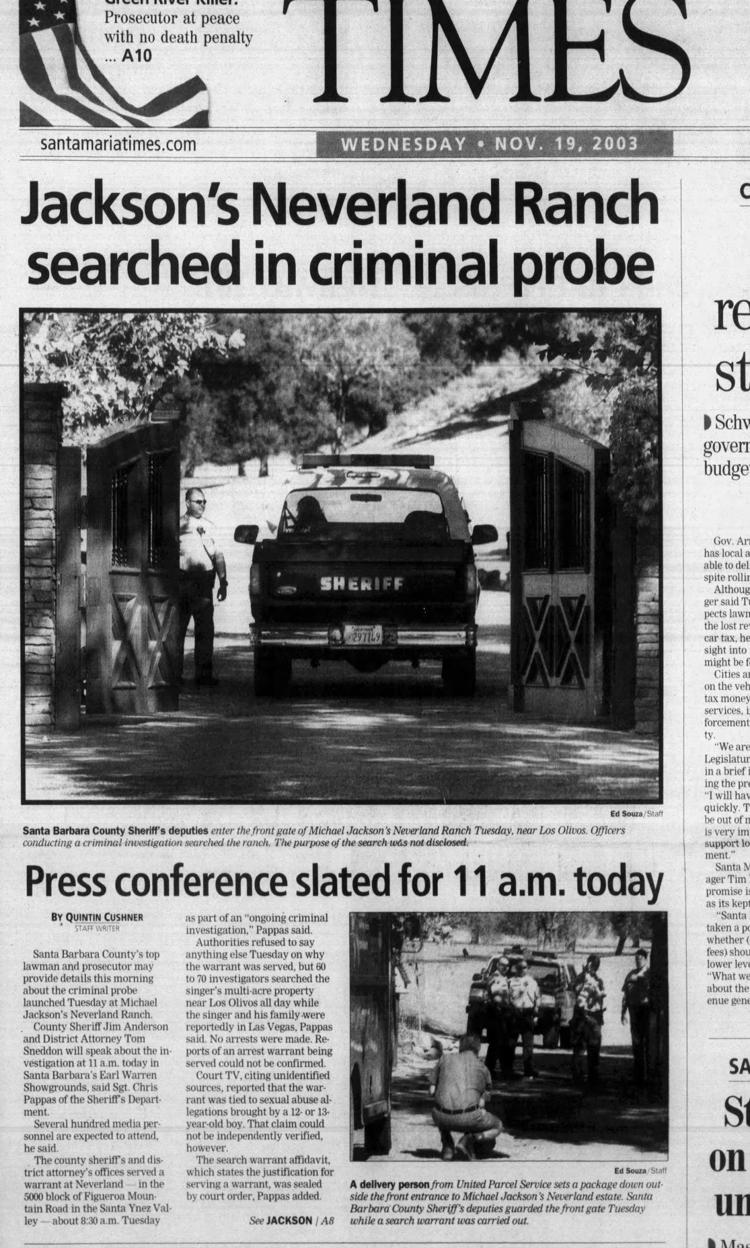 Jackson's Neverland Ranch searched in criminal probe
Santa Barbara County's top lawman and prosecutor may provide details this morning about the criminal probe launched Tuesday at Michael Jackson's Neverland Ranch.
County Sheriff Jim Anderson and District Attorney Tom Sneddon will speak about the investigation at 11 a.m. today in Santa Barbara's Earl Warren Showgrounds, said Sgt. Chris Pappas of the Sheriff's Department.
Several hundred media personnel are expected to attend, he said.
The county sheriff's and district attorney's offices served a warrant at Neverland - in the 5000 block of Figueroa Mountain Road in the Santa Ynez Valley - about 8:30 a.m. Tuesday as part of an "ongoing criminal investigation," Pappas said. 
News that charges were announced by Santa Barbara County District Attorney Tom Sneddon against Jackson was the top story on Dec. 19, 2003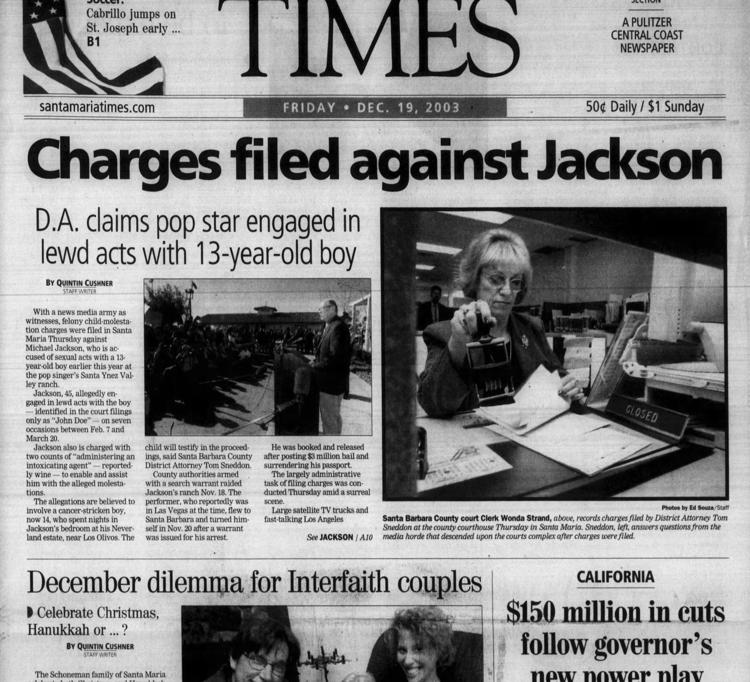 Charges filed against Jackson
D.A. claims pop star engaged in lewd acts with a 13-year-old boy
With a new media army as witnesses, felony child-molestation charges were filed in Santa Maria Thursday against Michael Jackson, who is accused of sexual acts with a 13-year-old boy earlier this year at the pop singer's Santa Ynez Valley ranch.
Jackson, 45, allegedly engaged in lewd acts with the boy - identified in the court findings only as "John Doe" - on seven occasions between Feb. 7 and March 20.
Jackson also is charged with two counts of "administering and intoxicating agent" - reportedly wine - to enable and assist him with the alleged molestations.
The allegations are believed to involve a cancer-stricken boy, now 14, who spent nights in Jackson's bedroom at his Neverland estate, near Los Olivos. the child will testify in the proceedings, said Santa Barbara County District Attorney Tom Sneddon. 
This front page announced the beginning of the trial, and the beginning of a 'circus like' atmosphere outside of the county courthouse in Santa Maria.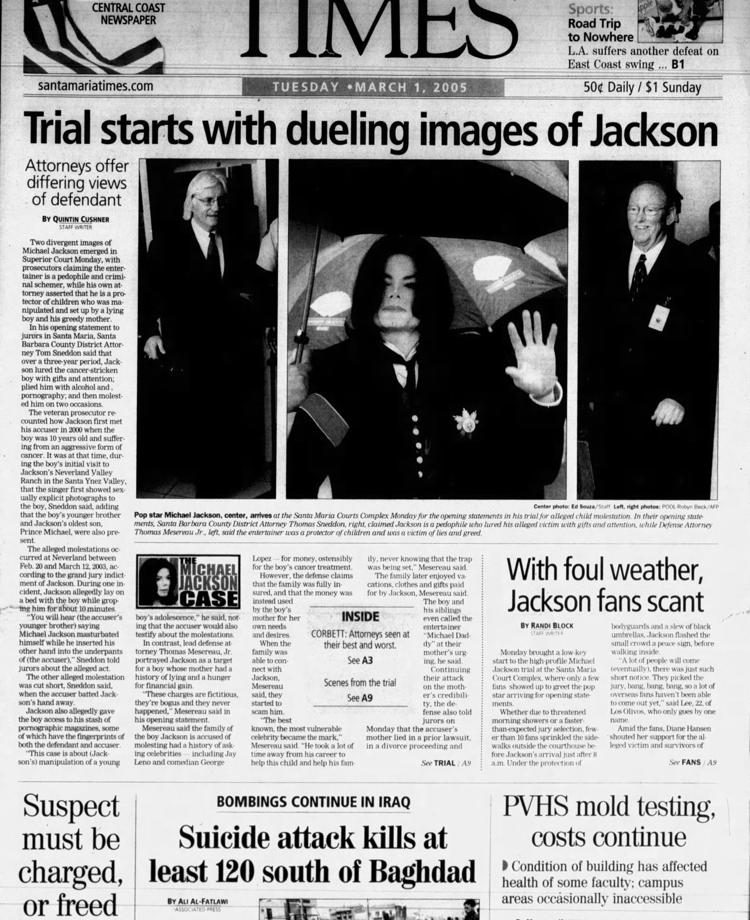 Trial starts with dueling images of Jackson
Attorneys offer differing views of defendant 
Two divergent images of Michael Jackson emerged in Superior Court Monday, with prosecutors claiming the entertainer is a pedophile and criminal schemer, while his own attorney asserted that he is a protector of children who was manipulated and set up by a lying boy and his greedy mother. 
In his opening statement to jurors in Santa Maria, Santa Barbara County District Attorney Tom Sneddon said that over a three-year period, Jackson lured the cancer-stricken boy with gifts and attention, plied him with alcohol and pornography; and then molested him on two occasions.
The veteran prosecutor recounted how Jackson first met his accuser in 2000 when the boy was 10-years-old and suffering from an aggressive form of cancer. It was at that tome, during the boy's initial visit to Jackson's Neverland Valley Ranch in the Santa Ynez Valley, that the singer first showed sexually explicit photographs to the boy, Sneddon said, adding that the boy's younger brother and Jackson's oldest son. Prince Michael, were also present. 
Whether it classifies as opportunism or capitalizing on a hot market, there were a couple of items in our classified section labeled Michael Jackson, items that were used by M.J., or items related to the 'King of Pop' like dolls and music videos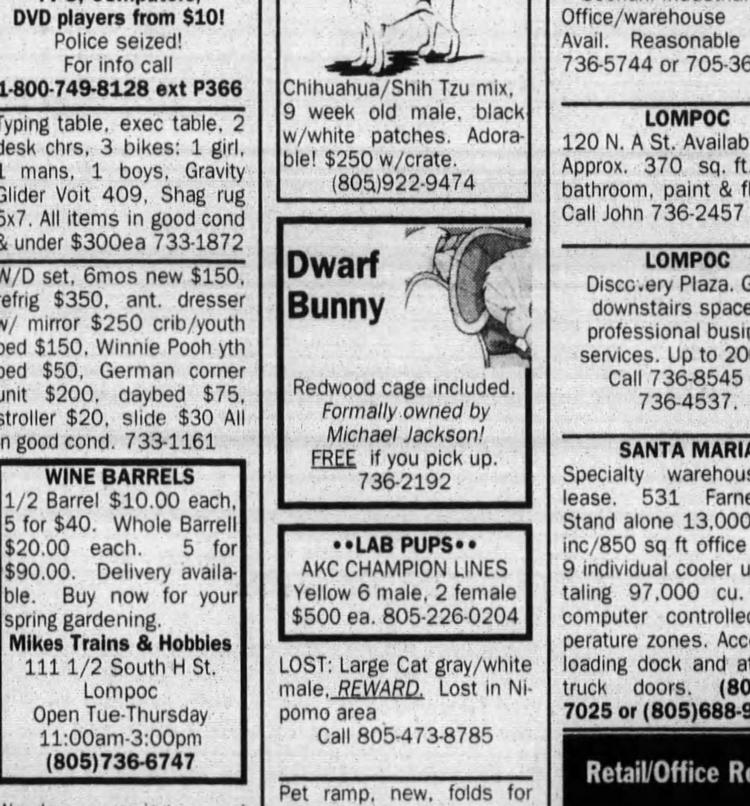 Formally [sic] owned by Michael Jackson!
The front page of the paper on June 14, 2005 announces the jury's findings and the reaction of the crowd of mostly Jackson supporters, outside of the courthouse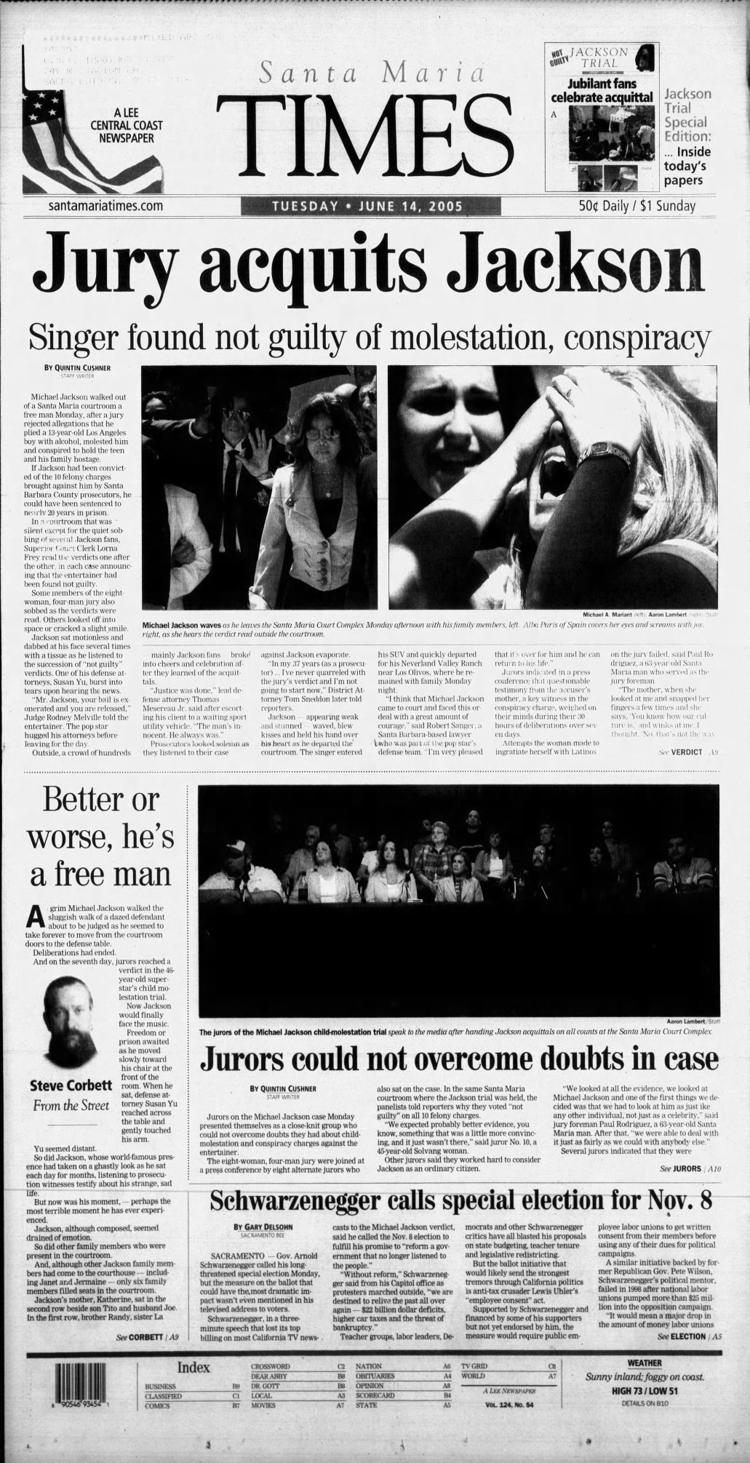 Michael Jackson walked out of a Santa Maria courtroom a free man Monday, after a jury rejected allegations that he plied a 13-year-old Los Angeles boy with alcohol, molested him and conspired to hold the teen and his family hostage.
If Jackson had been convicted of the 10 felony charges brought against him by Santa Barbara County prosecutors, he could have been sentenced to nearly 20 years in prison.
In a courtroom that was silent except for the quiet sobbing of several Jackson fans, Superior Court Clerk Lorna Frey read the verdicts one after the other, in each case announcing that the entertainer had been found not guilty.
Some members of the eight-woman, four-man jury also sobbed as the verdicts were read. Others looked off into space or cracked a slight smile.  
The 2005 Year in Review highlighted the unique and disjointed entertainment year.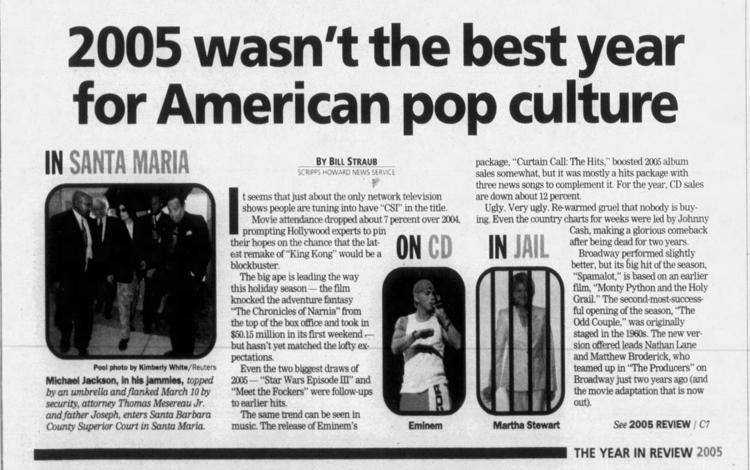 It seems that just about the only network television shows people are tuning into have "CSI" in the title.
Movie attendance dropped about 7 percent over 2004, prompting Hollywood experts to pin their hopes on the chance that the latest remake of "King Kong" would be a blockbuster.  
With more than 100 years as your local newspaper, today and every Thursday, to reminisce and honor the rich history of the Santa Maria Valley, the Santa Maria Times editors will reach into the archives to give you "Throwback Thursday". To access this memory and more, subscribe to Santa Maria Times' digital archives at SantaMariaTimes.com/archives