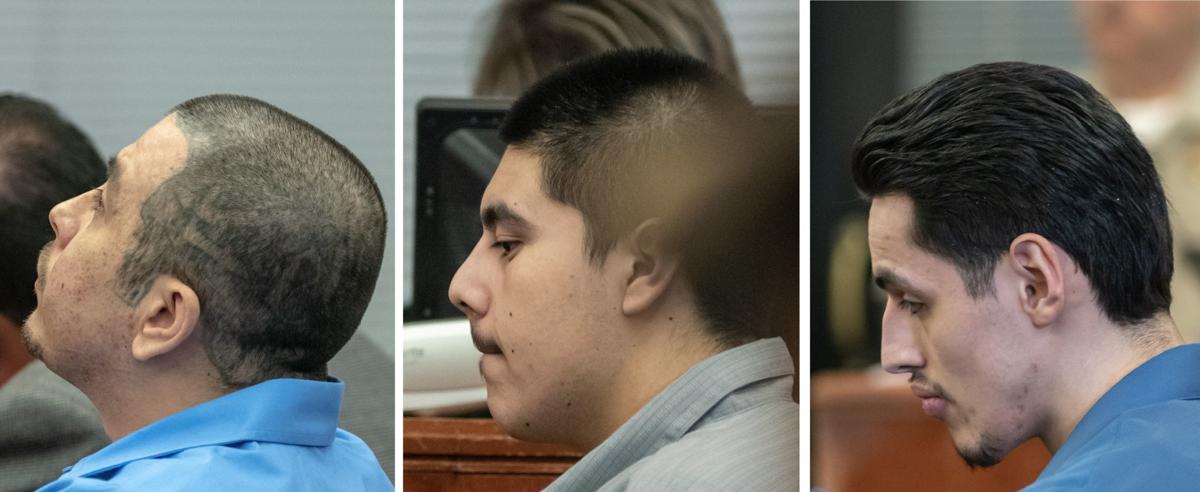 The three men charged in connection to the September 2017 shooting of Edward Ramirez will stand trial for criminal street gang conspiracy and a slew of related charges after a Santa Maria Superior Court judge ruled Tuesday that enough evidence exists to hold the men to answer. 
Despite insistence from their attorneys that evidence presented by Santa Maria Police detectives and gang experts was insufficient to prove a criminal conspiracy, Judge John McGregor held Thomas Castillo, Nicholas Guzman and Juan Contraras to answer all charges filed against them. The trio will reappear May 2 for their arraignment.
Just after 12:30 a.m. Sept. 3, 2017, police responded to reports of a shooting at a residence in the 2000 block Lazo Way. A Hispanic male, later identified as Ramirez, with a gunshot wound to his abdominal area was found lying on the ground inside a garage.
American Medical Response was called in to assist and stabilize Ramirez, but he was pronounced dead at 1:09 a.m.
Santa Maria Police announced the arrests last July, more than 10 months after the shooting took place. The suspects were formally charged that month and pleaded not guilty to all counts.
Castillo faces charges of criminal street gang conspiracy for Ramirez's murder, street terrorism and for being a felon in possession of a firearm; conspiracy to commit street terrorism; possession of ammunition as a felon as well as multiple gang enhancements. He also faces prior felony strike convictions.
Guzman faces charges of criminal street gang conspiracy for the murder and unlawful firearm activity; vandalism and unlawful firearm activity. He also faces multiple gang enhancements.
Contraras is charged with criminal street gang conspiracy to commit murder.
During the first half of the preliminary hearing in March, Santa Maria Police Detective Michael Parker told the court that Castillo, Guzman and two other alleged Northwest gang members formed a four-man unit called "The Squad" to revitalize the street gang and recruit new members. Texts and Facebook messages presented during the hearing show Castillo positioned himself at the head of the squad, while Guzman was placed below him.
Though Contraras was not named as a member of the four-man squad, Parker said he regularly supported their operations.
On Tuesday, Deputy District Attorney Mai Trieu, the lead prosecutor in the case, argued that the messages and other evidence presented during the hearing establish prior knowledge and active participation in the gang's alleged activities during a roughly two-month period from Aug. 25 to Oct. 12, 2017, including the night of Ramirez's death.
Sent primarily by Castillo and Guzman, the messages describe the gang acquiring weapons (described as "toys," "straps" and "sin nombre" — a reference to a homemade pipe gun used in a 2009 movie about MS-13), wanting "gunners" and violence and even desiring revenge.
While they did not pull the trigger the night of Ramirez's death, Trieu said all three were involved in the incident — Castillo directed the squad, Guzman was present at the time of the shooting and Contraras participated by driving the men to and from the scene — and stood to benefit from the alleged actions.
"All of the members of the gang benefit from the homicide," which Trieu alleges was committed by Jonathan Limon, a separate member of "The Squad" not charged in the case. "It furthers the strength, respect and power. They benefit from gun possession, because it allows them to commit the crimes and be active in the community."
Defense attorney Michael Scott maintains Castillo's innocence, pointing to his attempts to diffuse the situation and GPS evidence that places his client away from the scene. He said the messages sent by his client do not indicate his participation in or support of a criminal conspiracy.
"We have a lot of big talk — 'we have a squad', 'we need to get tough,' 'West Park is going after us' — [but] this is generalized braggadocio or bravado," Scott argued. "Where is the specific crime? Generalized talk is not necessarily a conspiracy."
Attorneys Andrew Jennings and Jessica Martinez, who represent Guzman and Contraras, respectively, said the evidence does not support the idea that their clients were involved in the shooting.
"The people need to show that there was an agreement to commit the homicide on Lazo," Jennings said, noting that Guzman never indicated his support or desire to kill. "If you take away Mr. Castillo, that falls apart."
Martinez called Contraras' alleged participation in the Northwest gang "nominal or passive," explaining that he has no gang moniker, no gang-related criminal history and no gang tattoos. 
Despite Scott, Jennings and Martinez's urging, McGregor denied calls to review the charges under Senate Bill 1437, a newly passed state law that prohibits individuals from being charged with murder committed during certain crimes if they did not aid or abet them.
Get local news delivered to your inbox!
Subscribe to our Daily Headlines newsletter.