Norah Mason's cursive handwriting is textbook perfect.
Her steady hand and flawless strokes create uniform shapes and slants. Tall and short letters, even in height and width, brush up against the headline, resting on the baseline. Spacing between letters, words and sentences is perfectly consistent. 
But even after a panel of judges named the Santa Maria third grader's cursive handwriting the best in the nation for her grade, Norah is not convinced. 
"It's kind of nice," the 8-year-old said, "but I think my sister's is a little better."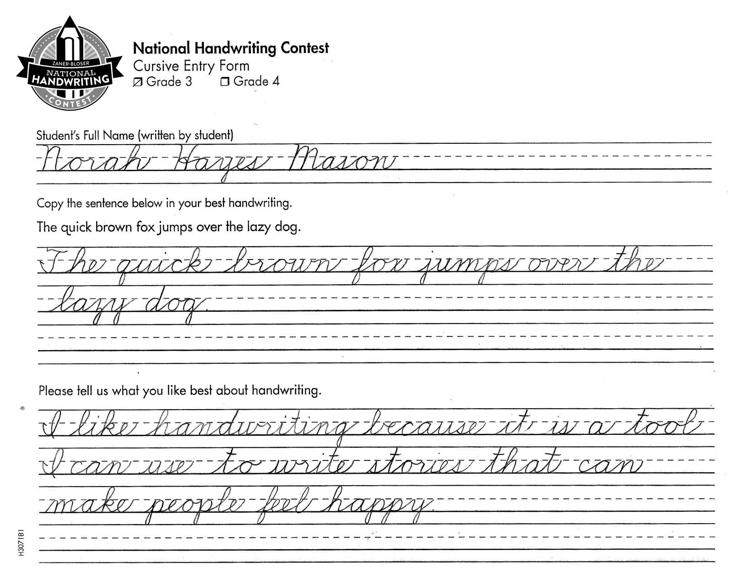 Norah's older sister, Elle, was the first person to teach her how to write in cursive. She learned the full alphabet in Cindy Taylor's second grade Valley Christian Academy classroom and has diligently worked to perfect it ever since.
"I didn't really think I would get very good at it," Norah admitted. "It was really messy when I first started, but it started to get a little easier as I kept practicing."
Now, the girls race to see who can complete their homework the fastest and the neatest without lifting their pencil. But aside from the friendly sibling rivalry, Norah and Elle both share the unique distinction of being grand national grade-level champion handwriters.
Columbus-based educational materials publisher Zaner-Bloser has run a National Handwriting Competition since 1991. The annual contest draws approximately 250,000 entries from students in grades K-8, and is open to students as young as 5 and old as 14.
Contestants are required to write "The quick brown fox jumps over the lazy dog" — a sentence that contains every letter in the alphabet — and explain what they like best about handwriting. Contest judges named Elle's handwriting the best in the country among all fourth grade contestants last year. This year, Norah took the top among all third graders.
"I couldn't believe it," said Charles Mason, her grandfather and the school's principal. "Zaner-Bloser called and they told me 'this doesn't happen,' ... but Norah's writing was the just so much better than everybody else's."
Cursive is integrated into the classroom curriculum at Valley Christian Academy. Students complete all classwork and homework by fourth grade, and handwriting lessons continue until sixth grade.
"Some of the kids let it go and some of them stay with it," he said, "but it's a skill they would have mastered by then."
In addition to bragging rights and the title, Norah will receive a trophy, handwritten plaque and $500 in prize money. She will be honored, along with other state winners, at Valley Christian Academy on Thursday during an open house.