The sound of a bugler playing taps and firing of a gun salute filled the parking lot of the Santa Maria Police Department headquarters Wednesday as 10 fallen officers were honored during the annual Peace Officers' Memorial ceremony.
The ceremony, which was attended by over 100 people, featured a procession of law enforcement vehicles, a flag-raising ceremony by a multi-agency color guard, horses from the Santa Barbara County sheriff's mounted unit and bagpipes played by pipe major Bill Boetticher.
Representatives from the Santa Maria Police Department, Guadalupe Police Department, California Highway Patrol, Lompoc Police Department, Santa Barbara County Sheriff's Office and the local Federal Bureau of Investigation field office were in attendance for Wednesday's event.
Nine California law enforcement officers who died in the line of duty and Officer Jason Michael Seals from the Slidell Police Department in Louisiana were honored during the ceremony.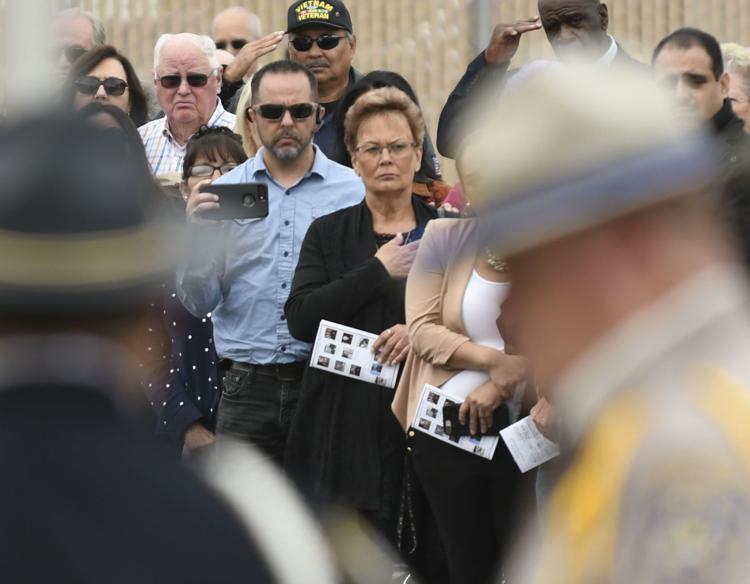 Seals' mother, Julie, moved to the Santa Maria area after her son's death, said Lt. Mark Streker, who served as the master of ceremony for the event.
"In this profession, no one grieves alone. Welcome to our family," Streker said, addressing Julie Seals.
Over the sound of bagpipes, Santa Maria Police Chief Phil Hansen read the names of the 10 officers who died during 2018. As Hansen read each officer's name, a member of the Santa Maria Police Explorers program marched toward the stage and placed white lilies inside vases that were placed behind photos of the officers.
Maj. James Nelson, who commands the 30th Security Forces Squadron at Vandenberg Air Force Base, gave the keynote speech in which he praised law enforcement officers for the sacrifices they make to protect communities around the country.
"The Bible states there is no greater love than to lay down one's life for one's friends," Nelson said. "I'd like to add that there's no greater sacrifice than to lay down one's life for a complete stranger. And that is what law enforcement officers are willing to do every single day.
"I cannot express in words the profound respect and appreciation I have for every person who raises their right hand to protect the foundation of this country," Nelson said. "I mean no disrespect to other first responders but law enforcement are the only professionals that are charged to go into action regardless of the circumstances, regardless of the dangers and regardless of the perceptions."
Nelson also addressed the issue of high suicide rates among law enforcement officers and military personnel during his remarks.
Since starting its surveillance camera registry six months ago, the Santa Maria Police Department has added over 80 homeowners and businesses …
"I want to ensure that everyone understands that I do not seek to honor those that commit suicide the same as those we honor today," he said. "But I do feel it is critically important to recognize that suicide is the leading cause of death in our professions."
While not considered a death in the line of duty, stressors from police-related work can set the stage for suicides to occur, Nelson said.
"I believe it is incumbent upon leaders in our organizations to promote help-seeking and recognize that the tragedies and horrors (law enforcement officers) experience takes a toll on the mind and body," he said.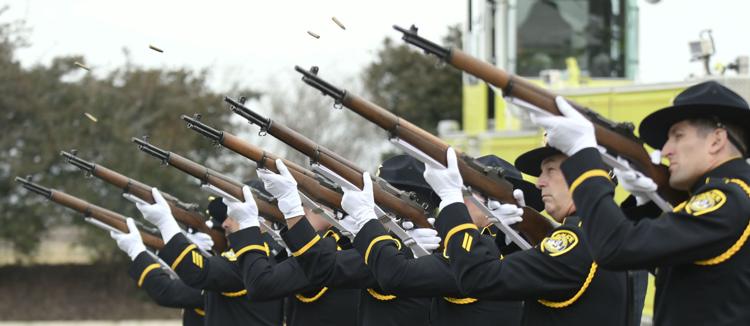 In a crowded room at the Santa Maria Veterans Memorial Center, high school students and youth advocates gathered for the second time to ask Santa Maria Joint Union High School District board members and administrators to realign their graduation requirements with those needed to gain admission to one of California's 31 public four-year colleges or universities.