A Pathfinder with the 101st Airborne Division during World War II, he parachuted into France the night before D-Day to light the way for fellow paratroopers.
Nearly 75 years later, sitting in his Guadalupe home with granddaughter Stacy Moody, herself a Desert Storm veteran, Grasso, 96, recalled the flight over France into enemy territory on the night of June 5, 1944, and shared memories of events that shaped the course of world history.
He had only a slight idea, he said, of what would be happening the next morning during the D-Day invasion of Normandy -- the climactic battle of World War II that paved the way for Nazi Germany's surrender.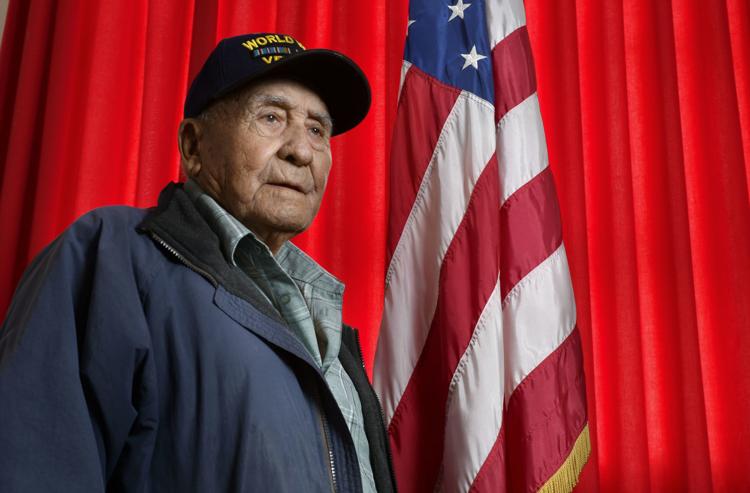 He and at least two other men were unexpectedly picked for the mission, he said. As they flew toward the drop sight at about 8 p.m., everyone inside the plane was slightly on edge but jovial.
"They didn't tell me nothing," Grasso said. "We were bull...ing with one another. There was John, Joe, and me."
Then, he said, his team jumped out of the plane and into the darkness.
He was among the first American soldiers to enter France during the war, and his job was to set up drop zones for subsequent paratroopers.
Their orders were simple: Make the jump 12 miles into enemy territory, establish radio beacons, and liberate the town of Sainte-Mere-Eglise from Nazi occupation.
But the mission didn't go as planned, he said. His team missed the drop zone and became separated from their group. One soldier, Joe, was shot and killed on the second day, Grasso said.
Bindo Grasso is one of the last of his kind. A Pathfinder with the 101st Airborne Division during World War II, he parachuted into France the …
Moody said the mission was only partially successful because the beacons were spread out, not in their planned locations, and some didn't work at all.
"It ended up being kind of a mess but they pulled it together," Moody said.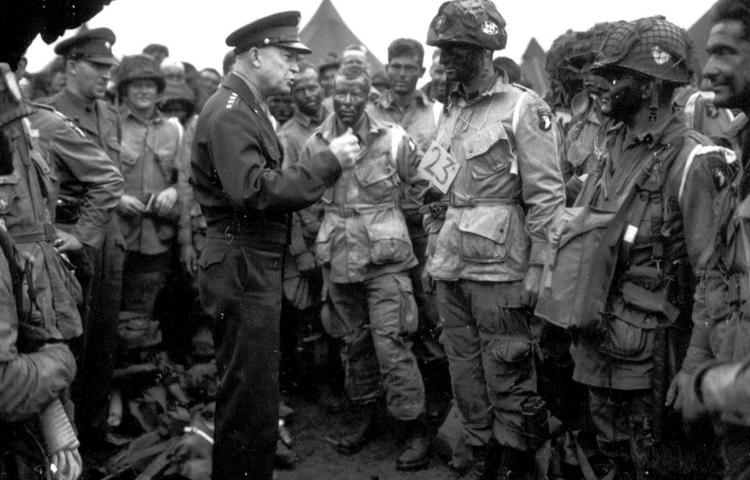 Technically, Grasso was part of the 515th Parachute Infantry Regiment. About a week after landing, the confusion of separation forced them to blend in and fight alongside other units like the 502nd and 501st.
Having lived nearly a century, it's difficult for Grasso to remember some details. Having conducted her own research, Moody helped him fill in some blank spots, and noted that only after many years did she learn the significance of his military service.
She encouraged Grasso to open up about his experience, eventually landing an interview with the Library of Congress.
For Grasso, there is one moment that sticks out in his mind.
In the famous photo of Supreme Allied Commander Dwight D. "Ike" Eisenhower meeting the soldiers of the 101st Airborne, Grasso was standing in the photo, although his face isn't clearly seen.
According to Moody, the original photo caption stated that it was taken after the invasion. But thanks to Grasso, she said, the date was rightly attributed to the night before.
The D-Day invasion isn't the only battle that Grasso was involved in during World War II. Shortly before Christmas 1944, he was in Bastogne, Belgium while it was under siege by the Nazis during the Battle of the Bulge -- Adolf Hitler's last attempt to regain control of the war before the Nazis surrendered months later.
The battle was the largest and deadliest of the war, according to historians. In his book "D-Day", Stephen Ambrose writes: "The lightly armored 101, cut off from its supplies, cold, hungry, unable to properly care for its wounded, running low on or even out of ammunition, with little artillery support, held off desperate German attacks for more than a week."
Grasso, however, recalled his part in the war as mostly "dull and boring." In Bastogne, he said he witnessed mostly exchanges of artillery and shot at Nazis from hundreds of yards away.
"We were shooting at them and they were shooting at us," Grasso recalled. "I didn't get to see anybody until l made the jump on the Rhine."
Four Central Coast veterans who fought in World War II were honored Saturday at an event that also served as a sendoff for a Douglas C-47B air…
Following that jump, Grasso found what he said appeared to be a prisoner-of-war camp, a discovery so disturbing that it changed his outlook on the war. Some of the men inside were so skinny that Grasso said he could clearly see their rib cages.
"I wanted to kill every goddamned Nazi I saw," Grasso said.
Prior to his involvement in D-Day, Grasso met his best friend and fellow Guadalupe resident Harry Masatani, longtime owner of Masatani's Market, who was incarcerated at a Japanese-American internment camp at Santa Anita. Inside the camp, Masatani enlisted in the Army.
While in Auxerre, France for rest and relaxation, Grasso received orders to fight in the Pacific. But by that time, he said, the war had ended.
In a strange twist, Grasso didn't receive his formal discharge papers until 65 years later.
Originally from New Jersey, Grasso returned following the war to Santa Maria, where he was stationed in 1942 before he said he was talked into becoming a paratrooper.
He started a highly successful concrete business and a family -- a big one. Grasso counts family members including 25 grandchildren, 32 great-grandchildren, and six great-great-grandchildren.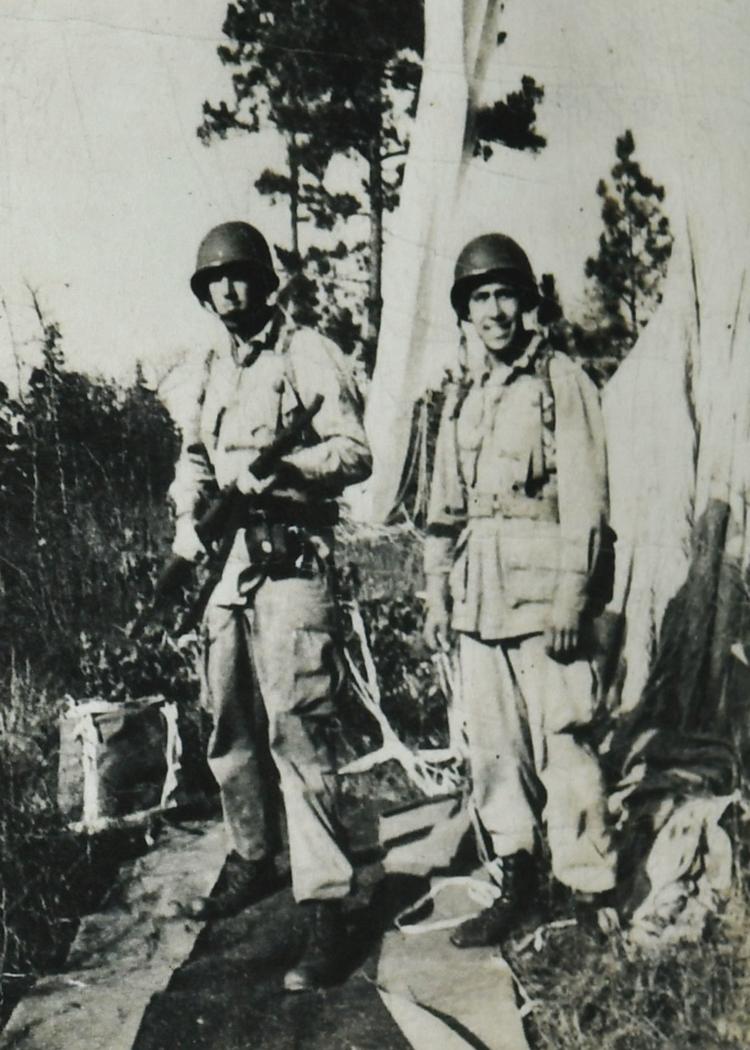 "People ask my age and I'd tell them," he said. "They'd ask, what's my secret? I used to smoke, I drank, I chased women, I did everything. I turned 65, I quit smoking, I quit drinking."
These days, Grasso spends time listening to Frank Sinatra, playing solitaire on his iPad, and handles finances at the American Legion in Guadalupe.
He doesn't think much about his military service. Having two brothers who fought in World War I, Grasso said it was simply his turn to fight.
"I just did what I had to do," he said. "I wouldn't change anything."
Moody believes Grasso may be one of the last of the D-Day Pathfinders. Not long ago, she said, she received a random phone call from the French consulate telling her that France wants to honor him with the Legion of Honor, the country's highest military award.
Grasso, however, said he hasn't been to France since the war and isn't sure he'd go back.
"They don't realize the significance more so than we do," Moody said. "We followed it through history. For him it's not history, it was his life."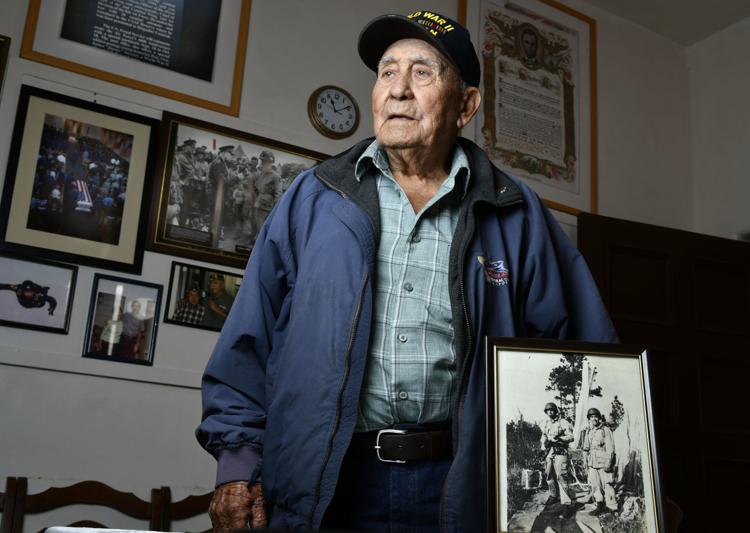 Many people know Lee Carroll as an easy-going CPA. But before he was crunching numbers, he learned attention to detail in the Army.  "I'm proud of it, but then I think anybody that does go around talking I was a Green Beret, then you kind of doubt what it is they really did."
'Stories of Honor' is a series spotlighting veterans on the Central Coast, their lives, and their contributions to our country. If you know someone who is deserving of being featured in 'Stories of Honor', please email Marga Cooley at mcooley@leecentralcoastnews.
Military service has always been a big part of Stacy Moody's family, and after a conversation with her older brother, who was a U.S. Army vete…
Get local news delivered to your inbox!
Subscribe to our Daily Headlines newsletter.