Many people know Lee Carroll as the easy-going, straight-talking certified public accountant who does their taxes. But before he was meticulously crunching numbers for a living, Carroll learned to pay extra attention to detail in the U.S. Army.
A native of Mission Beach in San Diego County, Carroll grew up in the 1970s in a household with a single mom on welfare. Carroll said his life would have taken a turn for the worse had it not been for two people: Jim Richwine, who Carroll met through Big Brothers and Big Sisters of America, and actor John Wayne. It was Wayne's character in the movie "The Green Berets" that inspired him.
"I know it's humorous but John Wayne was my hero," Carroll said. "That's what a man was supposed to be like. I didn't have a father."
Carroll joined the Army's delayed entry program at 17 years old and entered boot camp in May 1980. Military training changed the course of his life.
After graduating from boot camp in Georgia, Carroll immediately reported to the John F. Kennedy Special Warfare Center and School in Fort Bragg, North Carolina to be a Special Forces soldier, also known as a Green Beret.
Carroll, now 57, underwent three grueling weeks of training that pushed him to physical and mental limits. Sleep deprivation was part of the training. He'd get up at four or five o'clock in the morning and hike -- and run -- for miles with a ruck sack filled with 50 or 60 pounds of rocks. Carroll recalled that part of the training involved the Army sticking him and others out in the middle of the woods with a knife and a tent for a weekend, killing or finding what he ate and lived on.
Orcutt resident Lee Carroll talks about his time in the U.S. Army as a Green Beret, and his life after military service as part of our 'Storie…
The drop-out rate was high. Carroll recalled hearing the instructors play the song "Another One Bites the Dust," by Queen, early in the morning to signify when someone quit. He'd wake up the next day looking to see who was missing. Out of a class of 60 students, Carroll estimated that about 20 men passed the course. Carroll was still a teenager when he passed.
The training included jump school at Fort Benning, Georgia, where he learned to parachute and received extensive classroom instruction. While in school, Carroll learned to be a teacher. His job was to "train, assist, and advise" foreign military personnel.
"Special Forces training was in the classroom being taught about an M-16, being taught about a radio, being taught about a rocket launcher," he said. "Then putting together lesson plans and mock teaching it ourselves."
Carroll was briefly assigned to the 5th Special Forces Group as a communications specialist at Fort Bragg before receiving orders to the Defense Language Institute Foreign Language Center in Monterey, California to learn Spanish.
From there, he received orders to the 7th Special Forces Group, 3rd Battalion at Fort Gulick in Panama, where he taught at the School of the Americas training Nicaraguan, Honduran, Salvadoran, and Panamanian soldiers how to fight. While Central America was embroiled in warfare at the time, Carroll never saw combat.
He quickly moved up in rank, becoming an E6, or staff sergeant. During his time in the Army, Carroll also attended Ranger school (which he described as physically tougher than Special Forces training) and got married. He extended his enlistment by a year-and-a-half, serving a total of five-and-a-half years.
Carroll left the Army in September 1985 and immediately started school at Cal Poly full-time using the Veterans Educational Assistance Program, majoring in finance with a minor in accounting. He held down a job working as a truck loader for the UPS until he graduated, and recalled being interviewed by the student newspaper. Otherwise, he said, he doesn't talk about his service.
"There came a point where we don't talk about it," he said. "I'm proud of it, but then I think anybody that does go around talking I was a Green Beret, then you kind of doubt what it is what they really did."
His post-college career had a rough start. Carroll worked for a local unnamed federal agency, where his supervisors demanded respect no matter what. Coming from a military community where respect was earned, it wasn't something Carroll said he was used to.
"I don't like that and to this day it's part of why I'm self-employed," Carroll said. "The person gets promoted one degree beyond whether they're capable, and in government facilities, these people are in supervisory positions."
Carroll now runs his own accounting firm in Orcutt and is a member of the Santa Maria Rotary Club.
These days, Carroll believes returning veterans face more challenges. Part of that involves the two recent wars in Iraq and Afghanistan. Results from a U.S. Department of Veterans Affairs study released in April 2018 showed that 15.7% of veterans of operations Iraqi Freedom and Enduring Freedom screened positive for post-traumatic stress disorder. And a Pew Research Poll conducted in May 2019 showed that approximately 60% of veterans of each war interviewed indicated fighting those two wars wasn't worth the cost.
When asked about solutions, Carroll said more money and higher priority are needed for support.
"These young men [and women] are seeing things that I didn't," Carroll said. "You don't know what it's like to shoot at somebody until you do. Until you've been there done that, you don't know what it's like."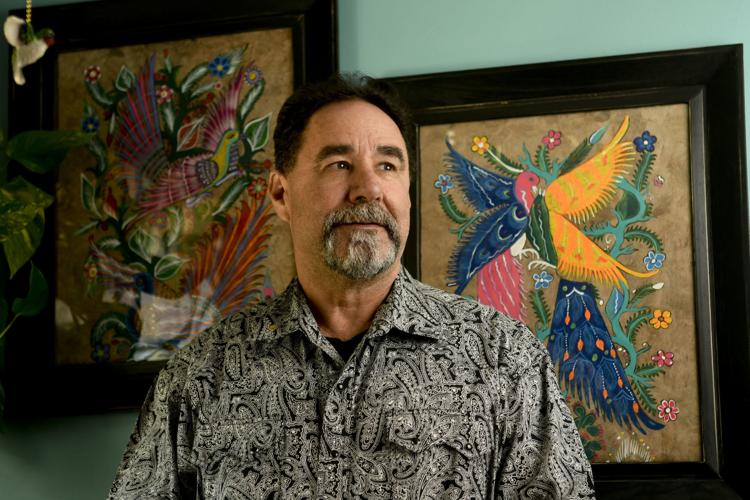 Get local news delivered to your inbox!
Subscribe to our Daily Headlines newsletter.