Two months after the official start of the school year in August, freshmen at St. Joseph High School in Orcutt saw their campus for the first time Monday as the school reopened for in-person learning. 
Since the initial COVID-19 shutdown in March, school administrators have been eager to reopen as soon as legally possible, with plans for an August return pushed off due to changing state guidelines. The school finally received the go-ahead Oct. 13, when all K-12 schools in Santa Barbara County were permitted to reopen after spending two weeks in the red tier. 
"We've been quadrupling our efforts to try to get students back on campus, so today is the day we've finally been waiting for," Principal Erinn Dougherty told parents in an Oct. 13 announcement. "We're incredibly grateful and excited, and this is fantastic."
Starting with the freshman class on Monday, the school will phase in sophomores, juniors and, finally, the senior class over the coming days, Dougherty said. 
While local public school districts have opted to delay returns to full in-person or hybrid learning, St. Joseph will have the majority of its 400 students back on campus for full-time learning, five days a week, by Friday.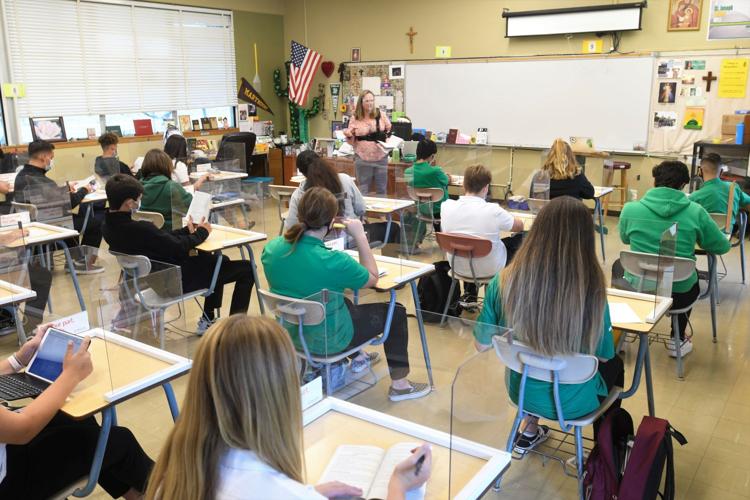 On Monday morning, freshmen in uniforms and masks could be seen filing into the school for their check-in, which involved completing a temperature check and presenting a health screening form completed via app before proceeding into classrooms. 
Inside, desks were equipped with sneeze guards and distanced to allow up to 20 students in the room at a time. Although rooms all were equipped with the same COVID-19 safeguards, the actual learning environment varied between classes. 
In some rooms, students worked in-person with their teacher present, while in other classes, students viewed lessons on their iPads with their teacher instructing from home over Zoom. 
While the majority of the student body is returning, around 20 students will continue with distance learning for the rest of the year, Dougherty said. Teachers will be expected to provide simultaneous instruction for students in the classroom and those watching over Zoom.
The school's COVID-19 reopening plan, posted on its website, outlines strict guidelines for sanitizing classrooms, one-way travel in hallways, separation of students by grade level during lunch, and procedures in the event of COVID-19 cases being confirmed on campus.
"The most important thing for students to remember is, if [they're] not feeling well, don't come to school," Dougherty said. "As long as we don't have an outbreak of three or more students, then we are allowed to be self-determinative."
While the majority of students have been participating in distance learning since March, a cohort of 14 students with specialized learning was permitted to return to campus beginning in September for further support.
As soon as schools were permitted to reopen Oct. 13, Dougherty said, those 14 students were able to enter classrooms with their teachers. 
Get local news delivered to your inbox!
Subscribe to our Daily Headlines newsletter.