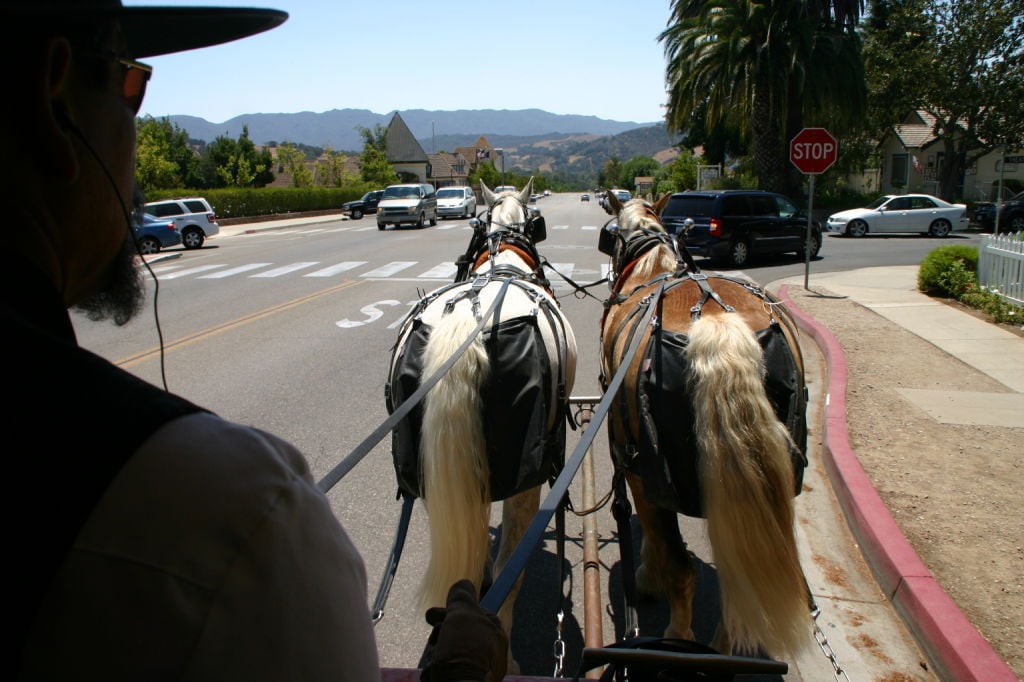 The Solvang Trolley & Carriage Company has catered to thousands of Solvang tourists since 1973.
A new five-year license to operate the trolley in downtown Solvang approved Monday night by the City Council will override the 1-year carriage license term established last year in September which expired on June 30.
"...This isn't the time to initiate dramatic changes for a struggling business, when they are already working through necessary modifications due to the pandemic," said Mayor Ryan Toussaint before Monday night's meeting. "We need to work together now more than ever, to ensure that Solvang will be able to move forward through recovery and emerge even stronger than before.
"In fact, I feel that the license period should be even longer than two years, in order to allow the family to reinvest in the business, the welfare of the horses, and all parties involved, to move the business forward. And now, we have the chance to accomplish what we set out to do, two years ago."
Solvang Trolley & Carriage Company owners and local horsepeople Lorena Rodriguez and Sal Sr. Orona, and their daughter Claudia and son Sal Jr. who help operate the horse-drawn trolley business, have spoken out against those locals railing against the company's license renewal over a concern for the aging Belgian draft mares and geldings that pull up to 20 people at one time, including during the summer months. 
On Monday afternoon, in an emotional appeal to the community via social media, co-owner Rodriguez said the family's business is "under attack" by a city council member and a few local community members who are circulating unsubstantiated lies which includes a reported monopolization of city resources by the company.
"A lot of people know how hard we work — a lot of people who are real horsepeople know [that costs for caring for] those horses are very expensive," Rodriquez said. "... this is so hard for me. Please don't believe all the lies that people are telling. I'm very sad about this happening."
In support of the family, a number of Solvang businesses leaders and local residents who submitted letters to the City Council to preserve the "Honen", which in Danish means "the hen" — named after a trolley line in Denmark, were agendized for Monday's meeting.
Among at least a dozen letters submitted to the city council, Oak Leaf Equine Veterinary Care founder and doctor of veterinarian medicine, Benjamin Bramsen, who attends to the Oronas' team of horses, wrote in support of renewing the license.
"Sal's compassion for his horses has been so strong that I can't think of very many horse owners, trainers, farm staff or other clients that can compare," he wrote.
The license renewal decision comes on the heels of the trolley's June 14 reopening after the COVID-19 pandemic forced its 3-month closure.  
Although the 2020 Presidential General Election is more than four months away, the clock will soon start running on deadlines for city, school district and special district candidates to meet as part of the filing process in Santa Barbara County.
Buellton celebrated Independence Day on Saturday afternoon with a 12-vehicle parade which rolled through town streets bellowing patriotic music and merrily tossing candy to onlookers clad in red, white and blue.
Lisa André covers Valley Life for Santa Ynez Valley News. 
Get local news delivered to your inbox!
Subscribe to our Daily Headlines newsletter.